5 Websites to Send Anonymous Email for Free – 2022 Hacks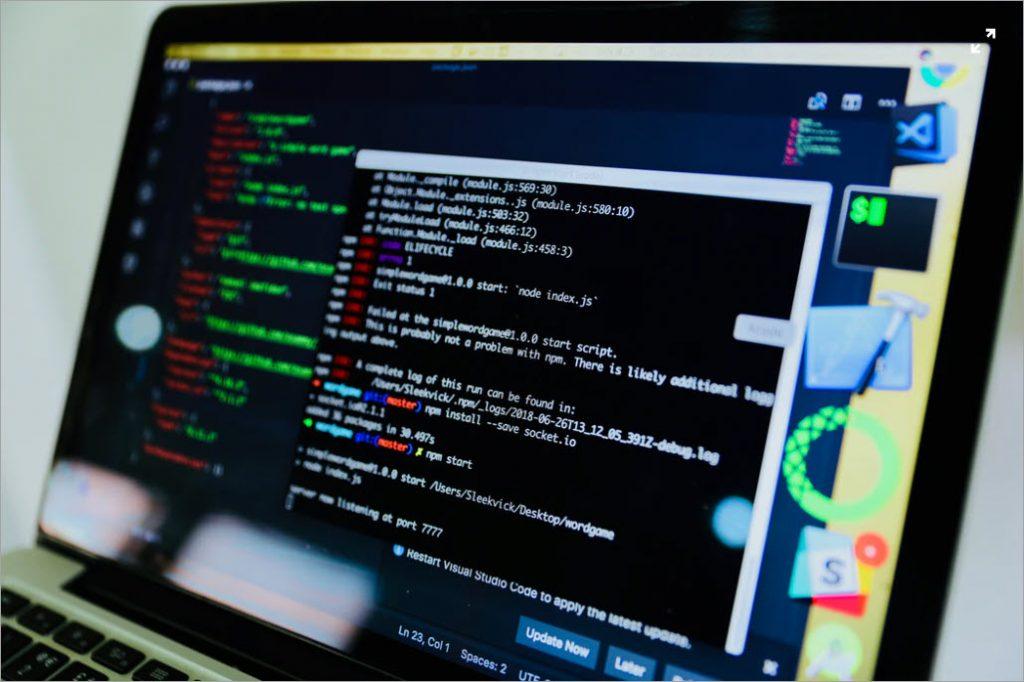 Are you looking for a way to tell on someone without being identified? Do you want to sign up for some websites secretly? Or maybe you just want to pull a prank on your friends or boss. Whether the reasons are legitimate or not, sending an anonymous email isn't as hard as you've imagined.
Right here you'll find 5 websites where you can get a temporary email address. And most importantly, they're all 100% free.
What is an anonymous email
In layman's terms, an anonymous email is a mail that employs all kinds of technologies to hide the sender's identity. You can think of a it as a new email account, but with only a few steps to register. (Sometimes you don't even have to register at all!) Unlike major email services such as Gmail, Outlook or Yahoo! Mail, anonymous email doesn't reveal the sender's information.
5 sites to send an anonymous email for free
Here're 5 websites that allow you to send an anonymous email for free. The first 3 of them send the email instantly and the other 2 send with a delay. All the sites are tested serviceable, so simply choose the one that suits you the best.
Send anonymous email instantly
1. ProtonMail
Being an open-source project, ProtonMail is many geeks' go-to site when they need to go anonymous. Based in Switzerland, the website features itself as world's largest secure email service. It stands out by using an easy-to-use interface and providing all-platform apps. The registration is free and doesn't require a phone number or a email address.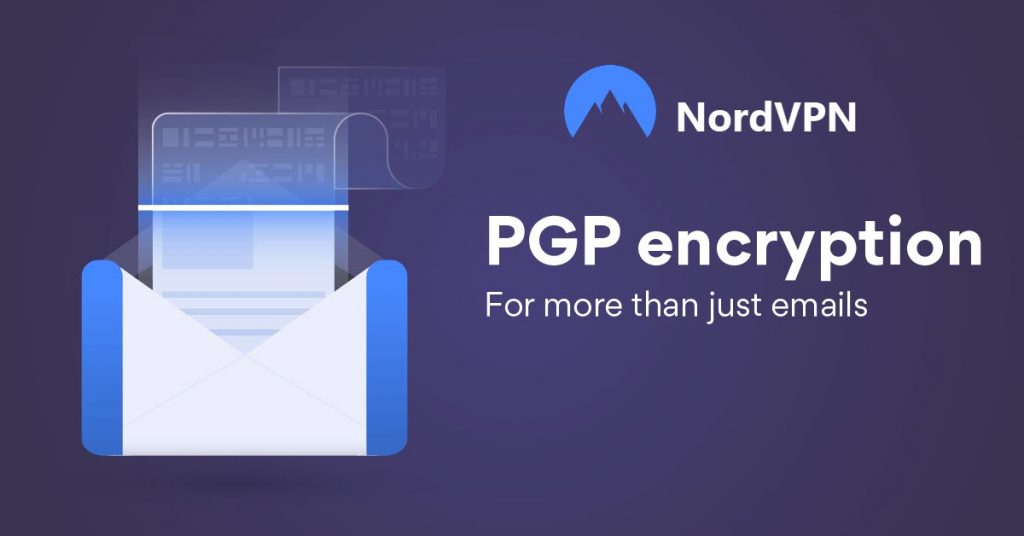 Go completely anonymous with NordVPN
Add an extra layer of identity protection and security
According to the website, ProtonMail employs end-to-end encryption and doesn't keep logs of its users. If time is an important factor to you, then ProtonMail should be your first option, as it sends and receives almost instantly.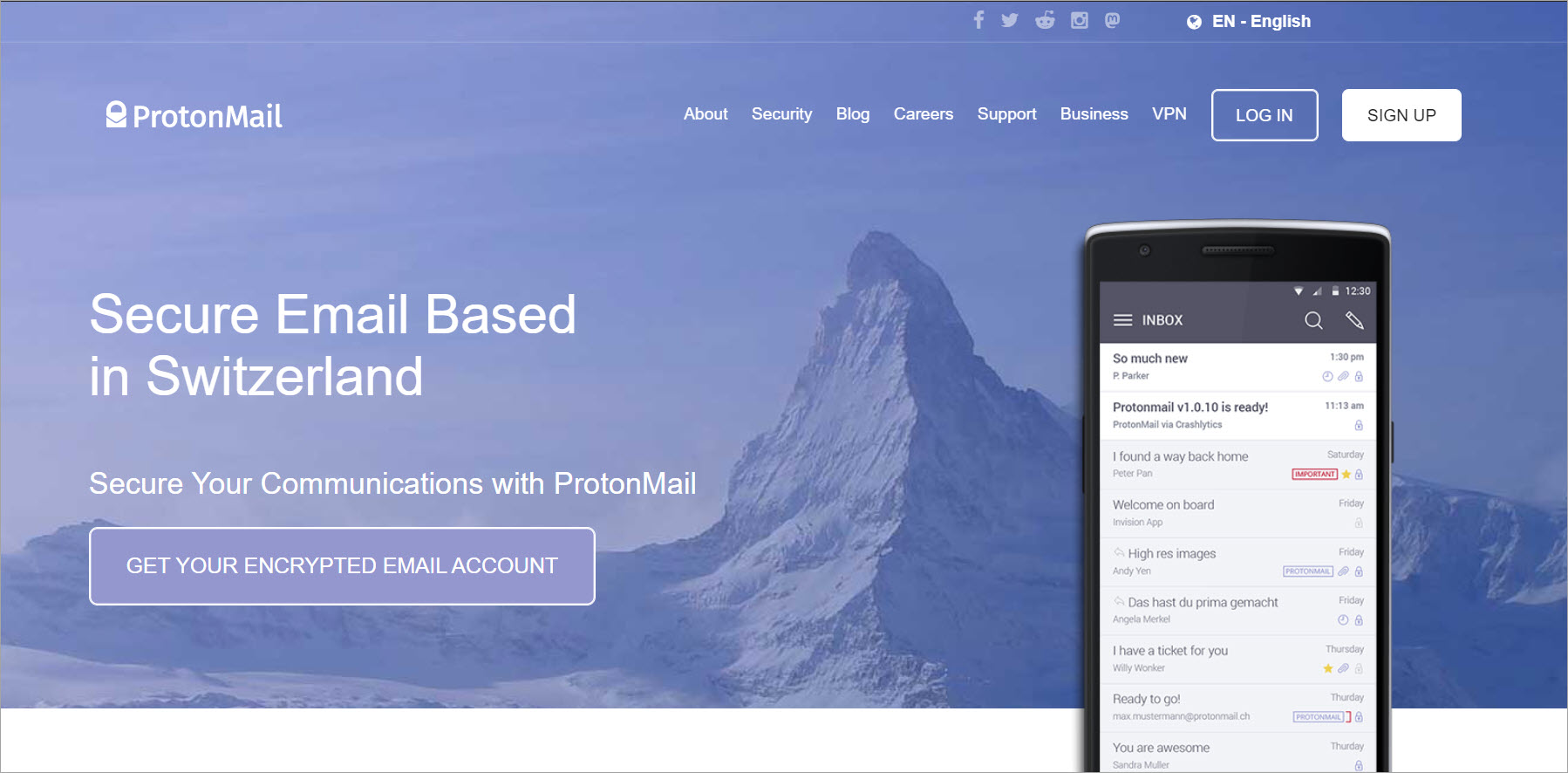 2. Tempmail
Tempmail is a free application that allows you to generate a temporary email address without any registration. It sends and receives email instantly, and will notify you when your email has been read. Tempmail has no limit on how many temp mail addresses you can generate. According to the website, email addresses along with the messages will be deleted automatically in 11 months.

3. Guerrilla Mail
Guerrilla Mail is a disposable email service. It provides you with a random email address, so the main idea is to avoid spam or send anonymous mail. Although Guerrilla Mail uses encryption software, note that it deletes the mail after an hour. That is to say, it might not be an ideal option if you're looking for a stable email service.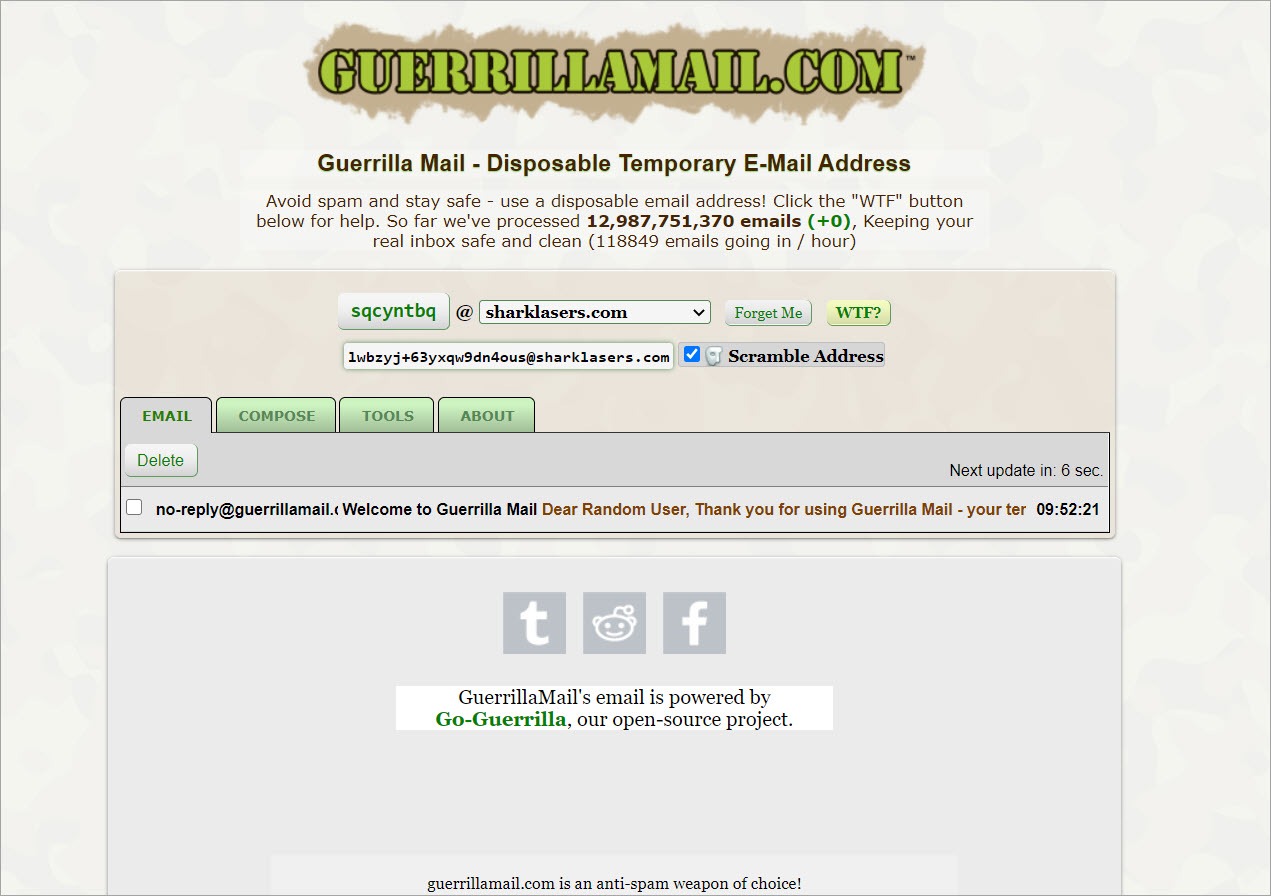 Send anonymous email with a delay
1. AnonEmail
To many of us, it might seem strange to send delayed email. But randomizing the time when the mail was sent actually increases your privacy, especially when you're using an insecure network connection.Anonymouse.org provides you an anonymous email service called AnonEmail. Like other websites mentioned above, it allows you to send anonymous email, for free and without registration. The major difference is that AnonEmail delays the email by a period up to 12 hours.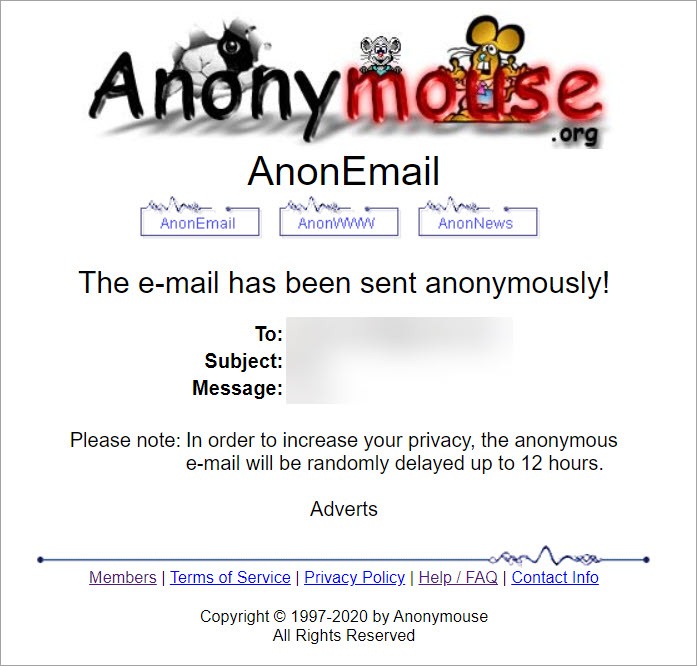 2. 5ymail
Similar to AnonEmail, 5ymail is another anonymous email service with more advanced features, and the delay is reduced to 15 mins top. It offers API support and SMTP services, ideal for internet developers. After sending an email, you'll receive an account for replies tracking.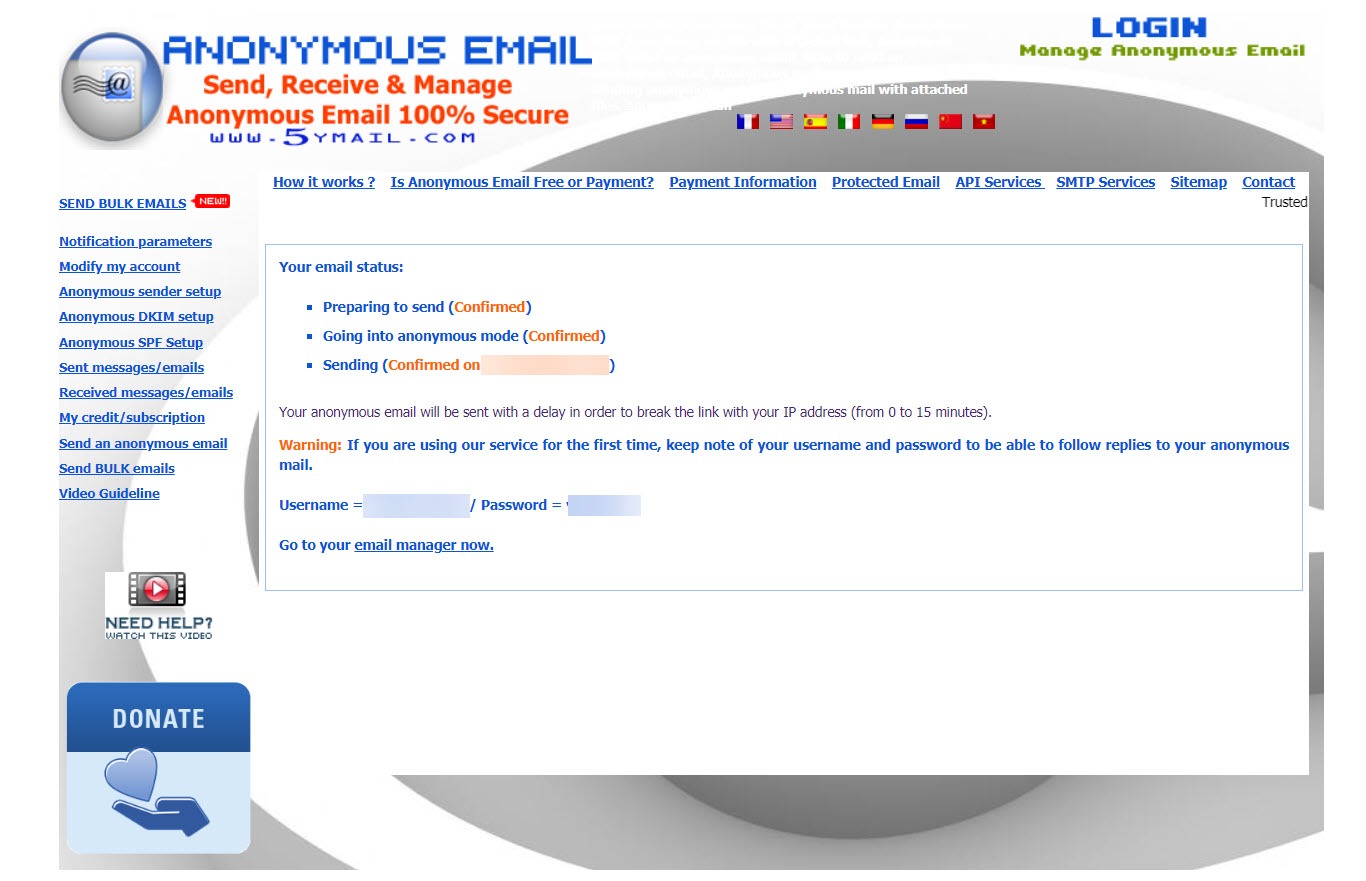 What's the catch
When all the anonymous email providers claim that they encrypt your data, email and never log your actions, keep in mind these gimmicks aren't 100% true. Also there's no guarantee that all these providers have the most secure system. In other words, your personal data is exploitable to both the providers and data thieves.
How can I be completely anonymous?
When you think you can send an anonymous email and get away with it, don't forget your network provider might be peeping behind you! There's no telling whether your ISP logs your network traffic. And no one really knows, how reliable are these anonymous email providers.
In order to increase anonymity, you should use a VPN to encrypt your network and hide your IP address. And we don't recommend using free VPNs, as they might be the ones that give your out.
So here we've selected some amazing VPN deals for you. Grab one before you press the send button.
Surfshark VPN: only $2.21 per month (83% off) with a 30 days money back guarantee
NordVPN: $3.71 per month (68% off), fully refundable for 30 days
CyberGhost VPN: $2.25 (83% off) per month with a 45 days money back guarantee
Conclusion
Privacy-leak is not a joke. Especially in this online world, all your information might be transparent and accessible to virtually anyone. Many major email providers have been reported to have security breaches, which means personal data of millions of users had been leaked. So whether you're a whistle-blower, a journalist, or simply a random guy who just wants to prank on his friend or boss, as long as you're a person who values online security, you should always remember to play smart and cover your tracks.