How to Recover Data on your iPhone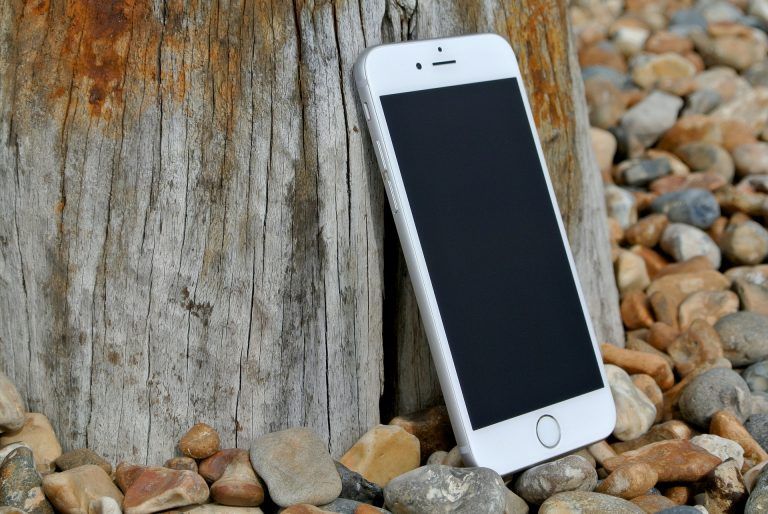 Tips to recover your iPhone data, with or without backups.
Many iPhone users have lost their data on their cellphone. This issue usually happens because the users accidentally deleted their data or a system or software corruption issue occurred.
This is a very frustrating issue. The lost data are very important for you and you extremely want to recover them. But you don't know how.
Don't worry. The following are a few methods that have helped many iPhone users recover their data.
Try these methods:
You don't have to try them all; just work your way down the list until you find the one that works for you.
Method 1: Recover your iPhone data from your iTunes backup
You can easily restore your iPhone data with the data backup and restore feature on iTunes.
NOTE: This method will only restore your text messages, contacts, notes, calendar and settings.
To recover your data with iTunes:
1) Open iTunes.

2) Connect your iPhone to your computer with a USB cable. (Select trust your computer on your iPhone if you are asked to do so.)
3) Click the iPhone icon in the iTunes window.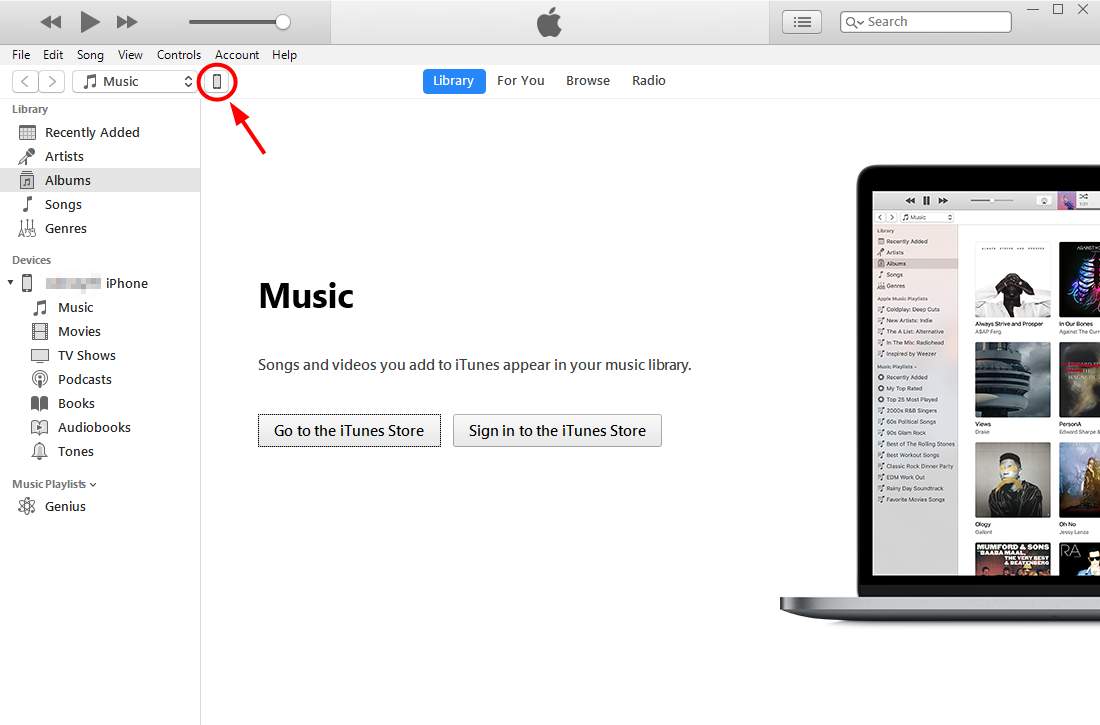 4) Click the Restore Backup button in the Backups section.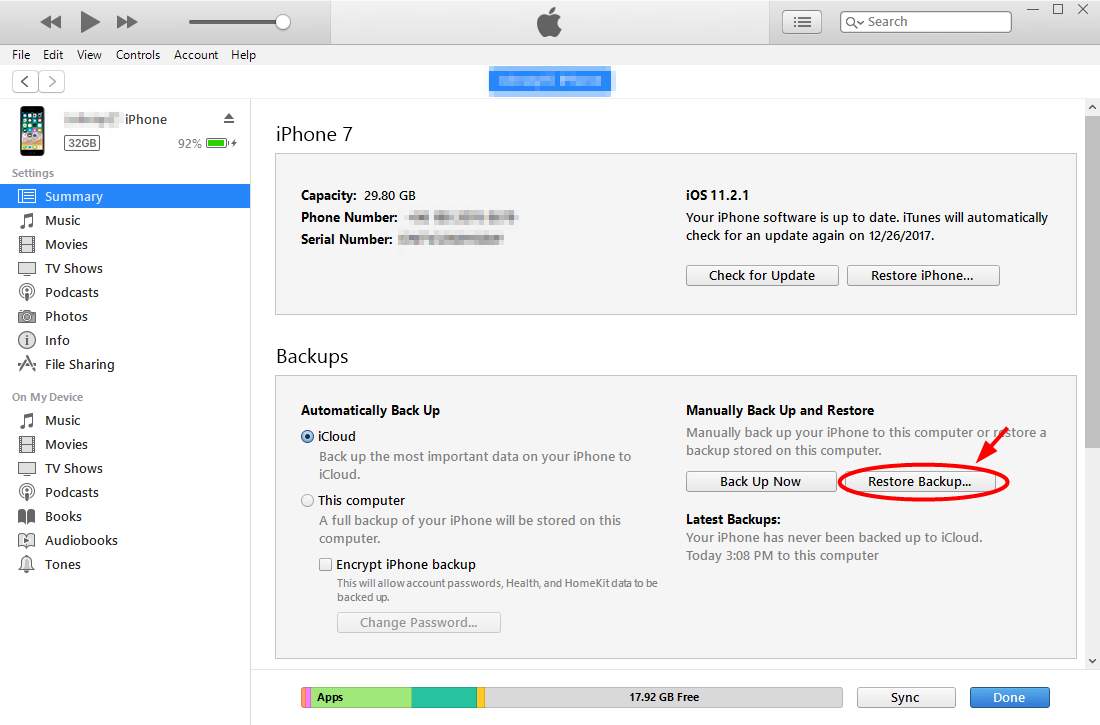 5) Choose a backup of your iPhone and then click Restore.
6) Wait for the restore process to complete. Your iPhone will restart and you will need to re-enter your passwords and configure the settings for your device. Keep your iPhone connected to your computer until it finishes syncing with your computer.
Method 2: Recover your iPhone data from your iCloud backup
If you have backed your data up onto iCloud, you can also use it to restore your iPhone. You can use iCloud to restore your photos, documents, configurations and settings, and so on.
IMPORTANT: You must erase your iPhone before you can use the method below to recover your data.
To recover your iPhone data using iCloud:
1) Open Settings and go to General > Reset. Then tap Erase All Content and Settings.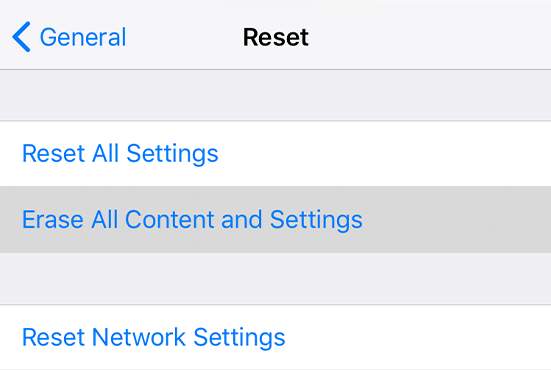 2) Enter your password or Apple ID passcode.
3) Wait for your iPhone to complete the process.
4) Turn on your iPhone and follow the on-screen instructions until you reach the Apps & Data screen. Note that your iPhone should be able to connect to the Internet. Then tap Restore from iCloud Backup.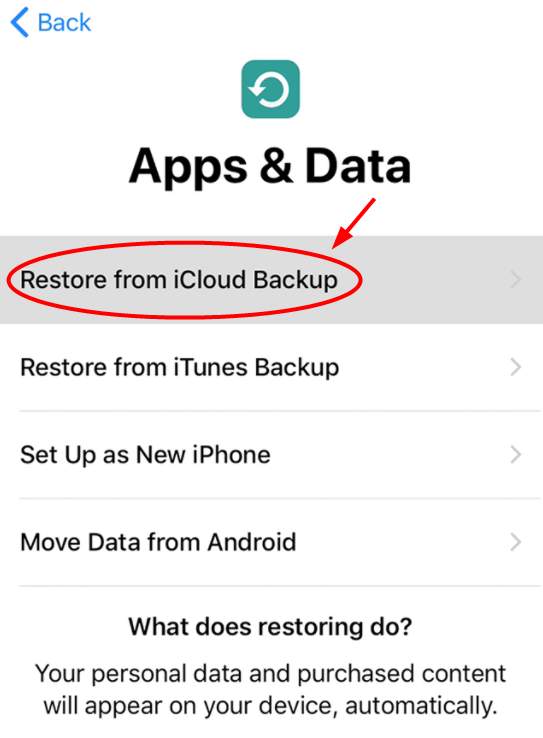 5) Sign in your Apple ID.
6) Choose a backup that you want to restore from.
7) Wait for the restore process to complete.
8) Finish the setup. Your data will then be restored.
Method 3: Recover your data with a data recovery tool
If you don't have any backup for your iPhone, you should use a data recovery program. We recommend using PhoneRescue.
PhoneRescue is an easy-to-use yet powerful cellphone data recovery program. You can recover most of your iPhone data with this program, and you do this with just a few clicks!
To use PhoneRescue:
1) Connect your iPhone to a computer.
2) Download and install PhoneRescue on that computer.
3) Run the program and click the left arrow button.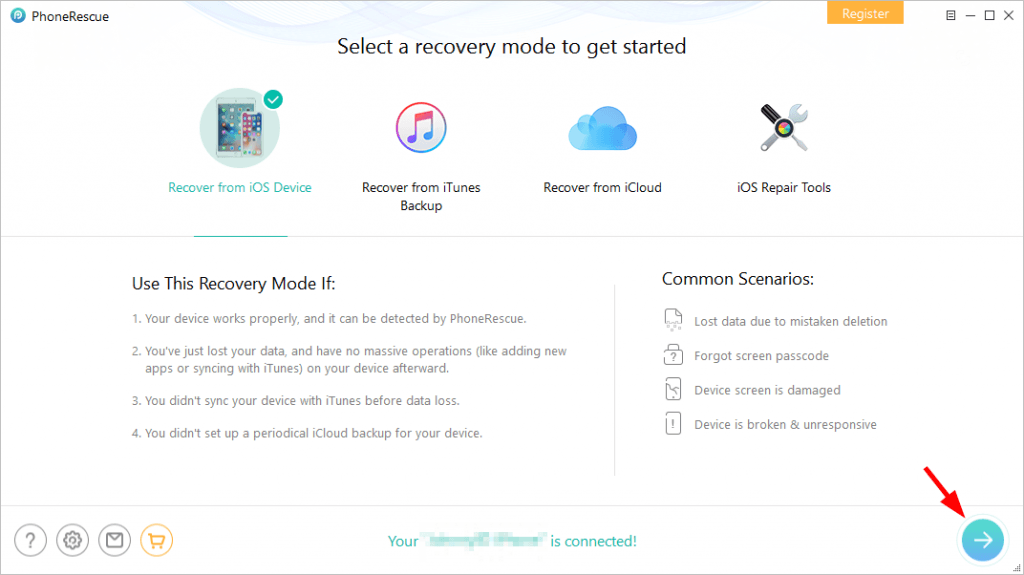 4) Check Select All to select all your iPhone data, then click the OK button.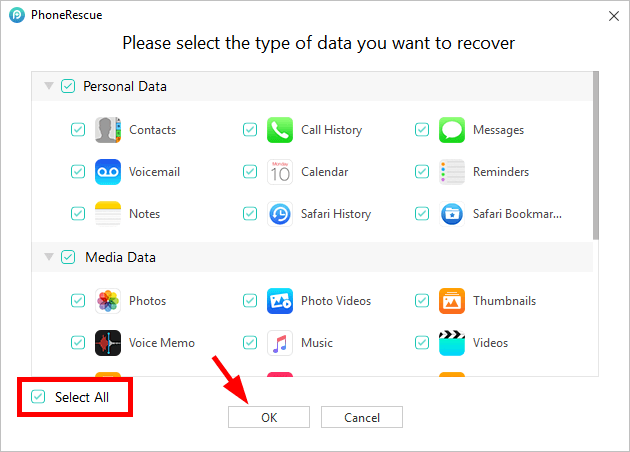 5) Wait for the scanning process to be complete.
6) Choose to recover your data to your iPhone or to your computer. (You're required to have a license to recover your data — you'll be prompted when the scan is complete or you click the buttons in the lower right corner).