2022 | How to Find Friends' Birthdays on Facebook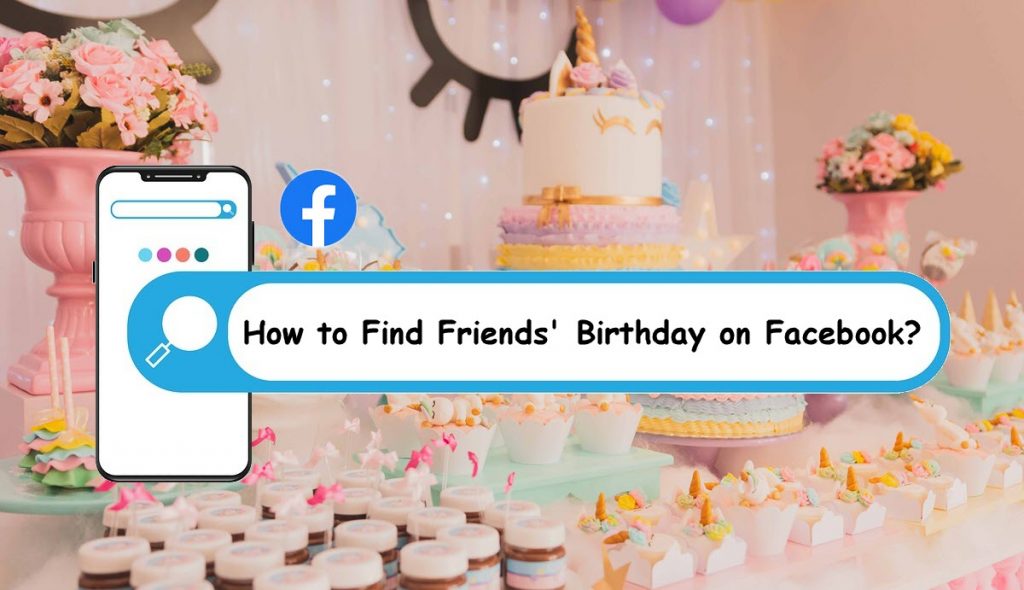 Date of Birth Finder
Find friend's birthday by name!
Forget your loved one's birthday? Want to throw a surprise party for your friends? Plan to get closer to your crash on his/her birthday? Look no further to figure out their date of birth. This article will show you 6 methods to find friends' birthdays on Facebook.
How to find friends' birthdays on Facebook?
1. Find friends' birthdays on Facebook events
Facebook makes it easy to view all your friends' birthdays on a single page. On that, you'll see today's birthdays, recent birthdays, upcoming birthdays, and birthdays arranged by month. Just follow the steps below.
Log in to your account on Facebook.
Copy and paste facebook.com/events/birthdays to your browser address bar.
Or, click Events on the left sidebar, and then select Birthdays.

You'll find all your friends' birthdays on the right pane.
2. Lookup friends' DOB on Facebook basic info
Your friend's Facebook profile is also a place to find their birthday details. Here's how:
Log in to your account on Facebook.
Open your friend's profile on Facebook. Click About.
Click Contact and Basic Info. And you can see his/her birthday is displayed on the page.

However, Facebook has allowed users to hide their information. If you fail to find a friend's DOB through the above two methods, that means your friend has chosen not to display their birthday publicly. But don't worry. Try the methods listed below.
3. Trace friends' birthdays with BeenVerified
Birthday Search by Username
Search username on 55+ social networks
People search engines have gathered momentum for years, one of the top-north among which is BeenVerified, a passionate team founded in 2007. For one thing, it enables users to search by username, phone number, email, name, address, and vehicle. For another, it offers a powerful database, an easy-to-navigate interface, and lightning-fast response.
1. Visit the BeenVerified website.
2. Fill in the Facebook username of whose birthday you want to know and click Search Now.
3. Then you'll be redirected to the result page and presented with a detailed report where you can find your friend's birthday.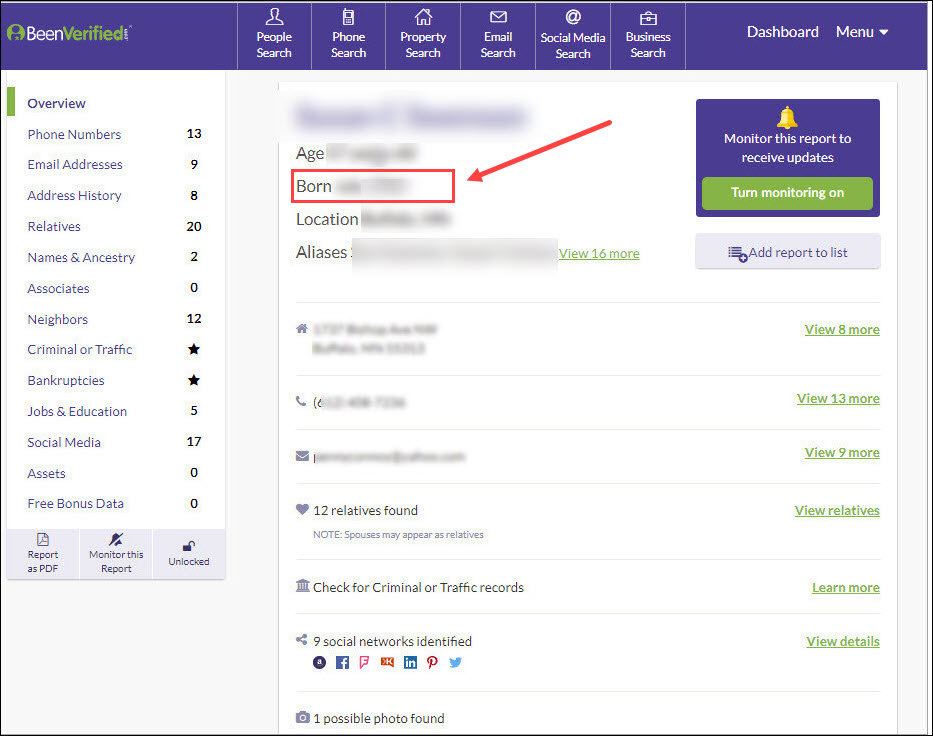 BeenVerified offers a 7-day trial for $1. So, don't miss out on the opportunity.
4. Locate friend's birthday with TruthFinder
If you know your Facebook friend's real name, you can try to find his/her birth info with TruthFinder.
TruthFinder is my favorite people search engine for it provides such a detailed report containing all the information I need. Personal info, birth record, contact details, criminal records, address history, assets, education, and job history, are part of what you may find in the report when available.
1. Go ahead to the TruthFinder website.
2. Enter your friend's full name and click Search Now.
3. The algorithm will run the search for you. It may take a while since it possesses numerous data records. Then check the report to find the birthday.


5. Search date of birth with Intelius
DOB Finder by Phone
Get Owner's Birthday & More!
When you have your friend's phone number, you can do a reverse phone lookup with Intelius to search for birthday info.
Intelius has helped people reconnect with old friends, do background checks, and look up potential relationships since 2003. Many people choose it to see what appears in their background check since it's an expert in this field. Therefore, finding a friend's birth info is just a piece of cake.
Go to the Intelius website. Choose PHONE and enter the phone number of your friend. Then click SEARCH.

Your report will be ready in minutes. Then check the information you want.

6. Uncover friend's birthday with Social Catfish
If your friend enjoys sharing life on Facebook, you can choose to do a reverse image search with Social Catfish.
Its image search tool enables you to find out what sites this picture or person in the image shows up. It may include social networks like Twitter, Instagram, Snapchat, etc. Based on the information, you can browse those sites and check the profiles for their birthday info.
Visit the Social Catfish website. Upload the image and click Search.

Check for all relevant info about this image.

---
That's all. Hope you find this post helpful in finding friends' birthdays on Facebook. Please feel free to leave a word below if you have any questions or suggestions.