What Is My Car Worth | Check Car Value by VIN or License Plate
What's my car worth? Find it out now!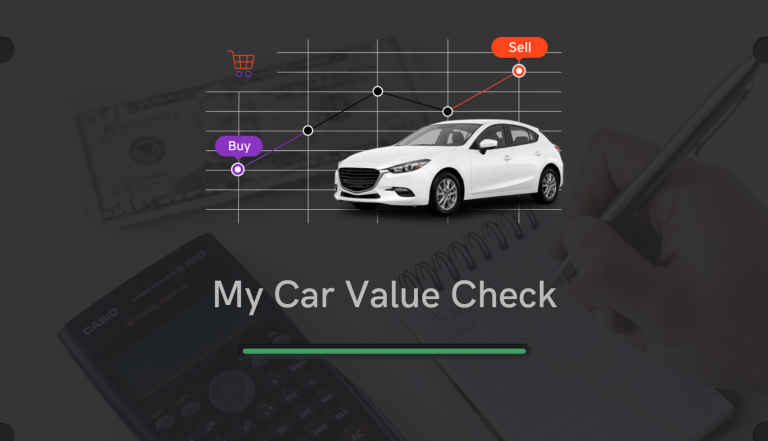 My Car Value Check by VIN
1. Enter VIN 2. View Report – Just Enter a VIN Number
Powered by Bumper, an Approved NMVTIS Data Provider.
There are various reasons you want to check the value of your car. Whether you're planning to sell it, trade it in for another one, or just want to check how much it has depreciated or appreciated since you purchased it.
To check your car's present market value, you can take your car to a dealer and have them appraise it. Or you can use an online valuation tool, which is the most effective way to get your car's value especially when you're selling or trading in it. In this situation, market value is important as this can help you sell your car fast at a fair price, without the risk of losing a potential buyer by overvaluing or suffering a big loss.
Car Value Check by License Plate
[1] Enter License Plate, Select State [2] View Report
How to find out what your car is worth online
To determine the value of your car online, you can try the following tools. All you need is to plug in the basic information, and you'll get an instant value estimate.
1. EpicVIN: Unlocking features beyond valuation
EpicVIN not only provides a valuation based on average mileage and standard equipment but goes beyond. Explore its unique features and benefits to enhance your understanding of your car's worth.

2. Bumper: A holistic view of your car's value
Bumper an NMVTIS Data Provider, offers a comprehensive approach to car valuation. Understand how its features and user interface set it apart, ensuring you get an accurate assessment.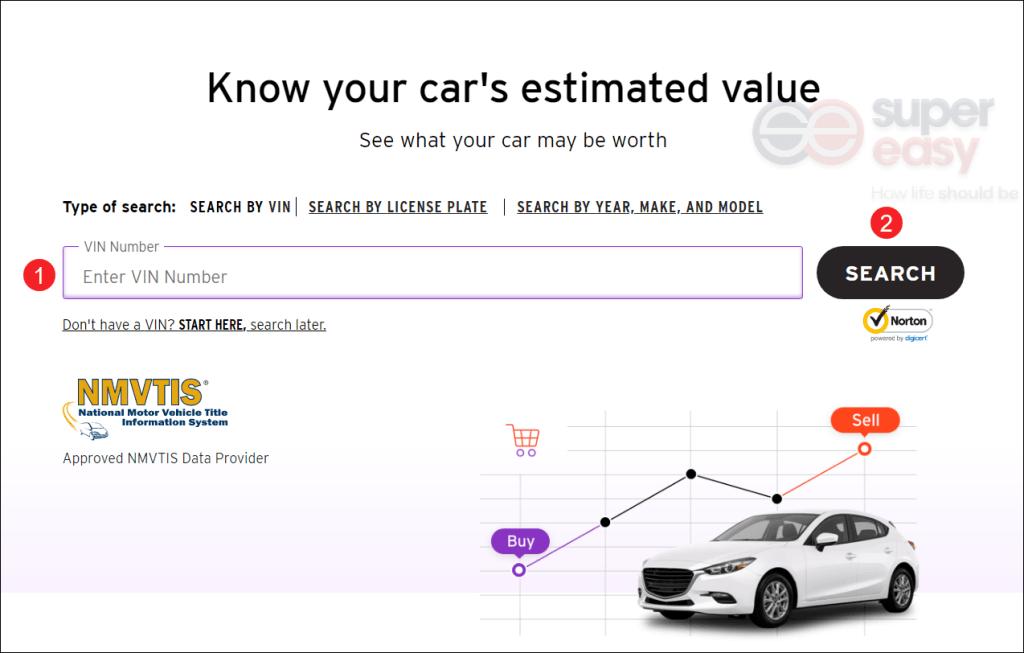 3. Edmunds: Navigating market trends
Edmunds focuses on analyzing market trends to estimate your car's value. Learn how its distinct criteria contribute to a reliable valuation and how you can navigate its user interface.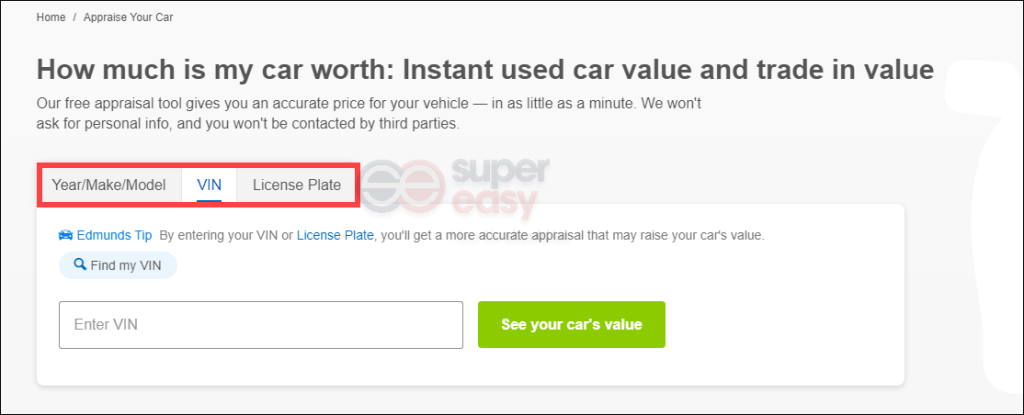 They use in-depth criteria to determine your car's value. Besides, they do not focus solely on dealer sales, they also include private-party sales across the United States while analyzing the trend to estimate the market value. With these tools, you can sell your car with confidence.
Generally, they provide both free and paid tools:
Free tool

You'll simply select a car make to find out what it's worth. The valuation is based on average mileage and standard equipment for that exact model.

To make the valuation more accurate, you should provide more detailed information including the make, model, year, features, and mileage.

Paid tool

To get the exact specs of the car, you should try the premium service. All you need is your VIN or license plate.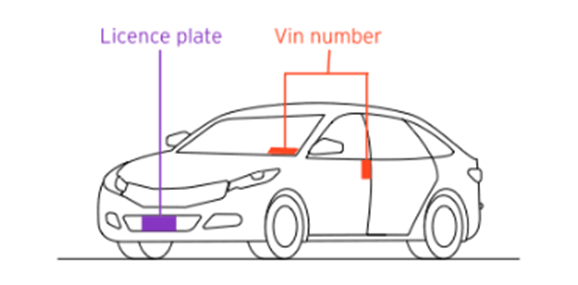 Which factors affect how much your car is worth
Suppose you've already got your appraisal. You'll be confused that your results are slightly different. It's fair to say that they are all accurate. The reason for the differences is that they have different algorithms. But what is actually playing a significant role when determining a car's value?
As a matter of fact, how much your car is worth depends on a number of factors. Below are some of them.
Make and model

Undeniably, certain models are more desirable. If yours is currently in demand, it might be worth more than you think.

The condition of your car

Having known this, you should keep your car in good mechanical and aesthetic condition, if possible. Also, try to clean your car before selling or trading in it to make it more appealing.

Mileage

Typically, the more miles your car has been driven, the less it is worth.

Service history

If you're able to show that your car has been serviced at regular intervals, your car will be more favored.

Number of previous owners

Generally, cars with fewer previous owners are more likely to have a higher value. As this indicates there are possibly fewer unsolved problems.
Manufacturer's warranty

Being able to provide buyers with a manufacturer's warranty will help you get the best deal.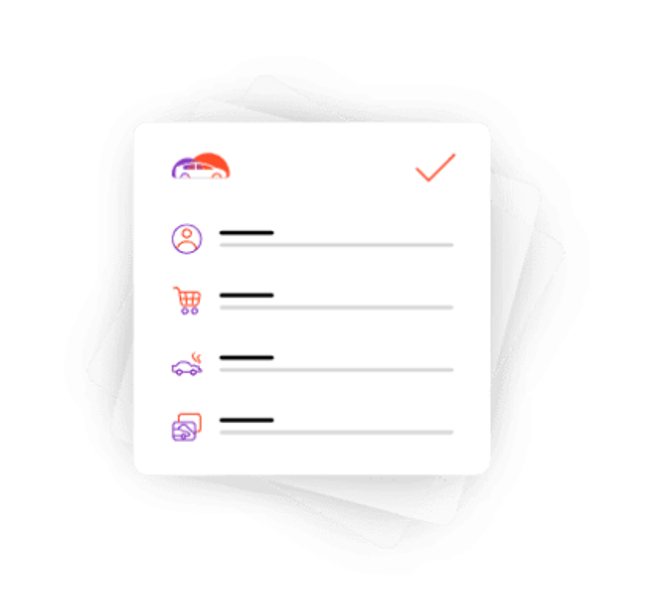 Frequently Asked Questions (FAQs)
Q1: What is a VIN and how to find it?
A Vehicle Identification Number (VIN) is a unique code assigned to each vehicle during manufacturing. It serves as a distinct identifier, providing essential information about the car's make, model, year, and other specifications. To locate the VIN: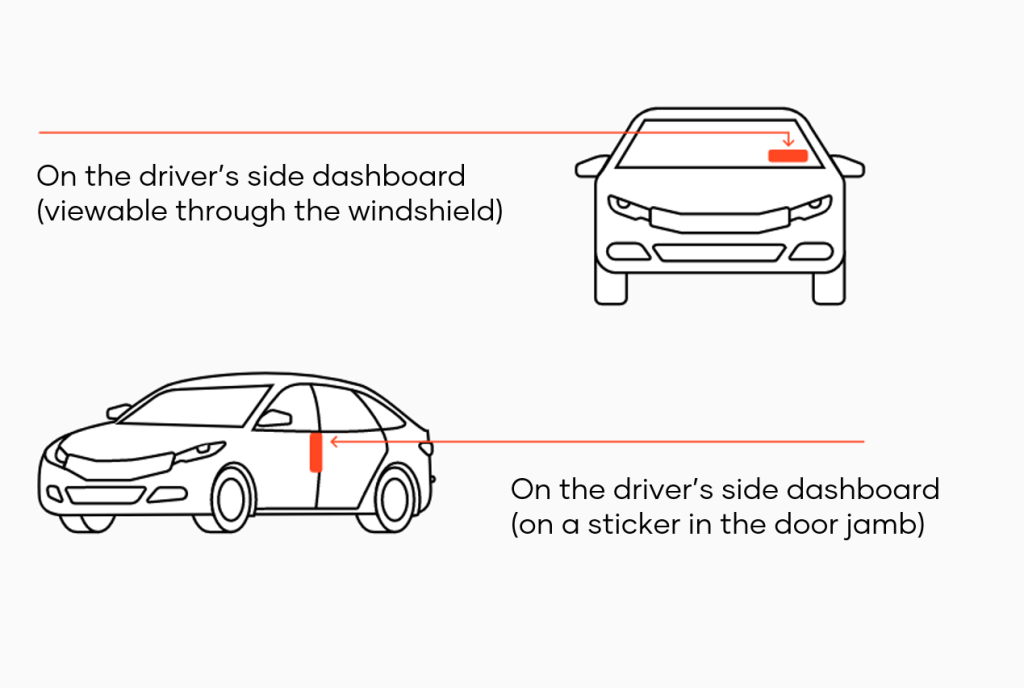 In conclusion, a thorough understanding of a car's value is vital for informed decisions. Whether using the VIN or license plate to obtain a report from EpicVIN, Bumper, or Edmunds, accessing comprehensive vehicle history reports ensures well-informed choices in the used car market.
The methods in this article provide you with easy access to public record information, but without a guarantee for accuracy and may include links to websites not listed as a Consumer Reporting Agency (CRA). Information acquired from these bodies is illegal to be used for employment, housing, credit, and other purposes alike, according to laws such as the Fair Credit Reporting Act (FCRA). If you're not sure whether your use of our methods is appropriate, click here for details.