TruthFinder review: One of the best public records search services in 2023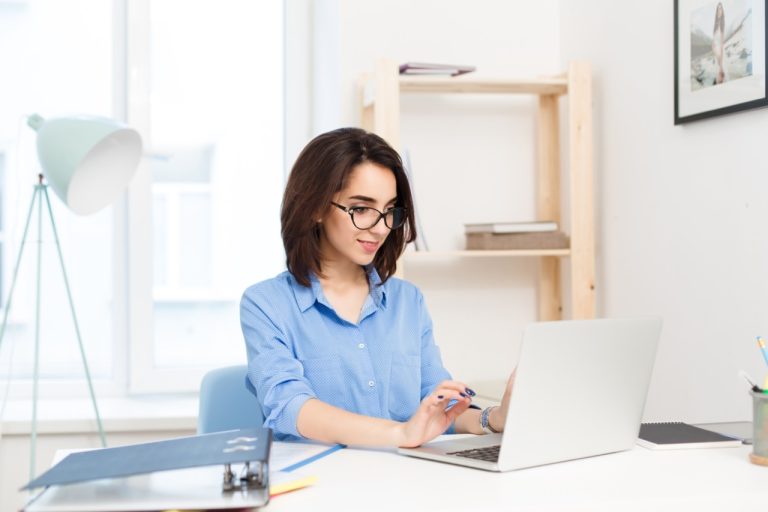 One of the most affordable & user-friendly public records search services on the market
OUR VERDICT:


TruthFinder is one of America's most popular people search tools. Since 2015, it has been TruthFinder's mission to give users easy access to billions of public records on just about anyone in the United States. With TruthFinder, you can search millions of records and find exactly what you're looking for in a timely manner. While TruthFinder is not free, it's one of the most affordable, user-friendly public records search services out there!
Pros
Cons
+ Simple to use
+ Quick (if you have a paid account)
+ Search by name, phone, email, address
+ Robust, well-organized reports
+ Up-to-date information
+ Background check
+ Dark web search
– No reverse username lookup
– No VIN lookup / license plate lookup
– No Tinder information
Try it now:
Introduction
In this information explosion era, more and more people are realizing that we actually know very little about a person. Out of curiosity, the more we realize we don't know much about the people we're letting into our life, the more we want to learn about them.
Perhaps you're curious about the person you're dating online, or you want to reconnect with an estranged family, or you need to reunite with old friends or schoolmates, or someone new moved in next door and you want to learn more about them.
If that sounds like you, then TruthFinder should be your go-to search tool.
As one of America's most popular public record search engines, TruthFinder is dedicated to giving you easy access to thousands of public records on just about anyone in the United States. Whether you'd like to reconnect with family and friends, or you want to learn more about the person, TruthFinder provides you with a simple way to look up public records online.
Read on to learn more…
This review is of TruthFinder's paid product. Nearly all of the features discussed in this post are limited to paid accounts only.
TruthFinder: Flexibility
Almost all the people search sites offer the reverse phone lookup, reverse name lookup and reverse address lookup features. TruthFinder is no exception. In addition to these features, TruthFinder also offers reverse email lookup, so even if you don't know the person's name, phone or address, you'll still have a good chance of finding them through TruthFinder's reverse email search engine.
Depending on your membership, you can search by various methods on TruthFinder. TruthFinder allows you to search by:
Name
Address
Phone number
Email address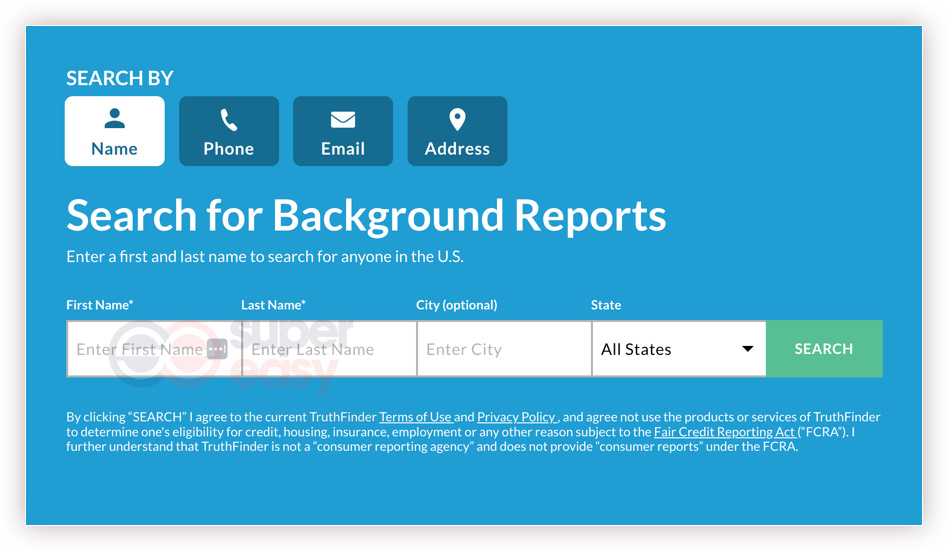 TruthFinder: Ease of use
It's pretty easy to search for someone with TruthFinder. As long as you know how to run a Google search, you know how to use TruthFinder.
To search for someone with TruthFinder:
Log in and choose one of the search tools.

Enter the information you know about the person (e.g. if you selected the reverse name lookup tool, you'll need to enter the person's first and last name), then click SEARCH.

Wait a few seconds for the search to complete. You'll then see a list of possible results.

Select the best search result from the possible matches according to the age, location and possible relatives, then click Open Report next to it to view the report.

Scroll down the report, or click a link in the Overview to jump to that section.

Take note of the information you're interested in. e.g. The person's phone numbers:

At the top of the report, there is a toolbar. Click an option if you'd like to do more. E.g. Click Report Monitoring if you want to stay up to date with the information you need. Once you turned on report monitoring, TruthFinder will send you notifications when the information in the person's report is updated.

The above images are from a sample TruthFinder report. Actual TruthFinder reports may contain more or less information.
TruthFinder: Speed
In our test, TruthFinder was fast:
| Action | Average time |
| --- | --- |
| Search by name: initial search | 3s |
| Open background report | 8s |
| View the person's timeline | <1s |
| Search by phone: initial search | 2s |
| Open phone report | 5s |
| Search by email: initial search | 5s |
| Open email report | 3s |
| Search by address: initial search | 3s |
| Open address report | 4s |
As you can see, for most actions, TruthFinder is pretty fast.
All the actions tested above are performed with a paid account.
Like other people search tools, if you don't have a paid account, TruthFinder is quite slow. Just take people search (search for name) as an example, in my test, after I enter the name into its search box and press the search button, I was asked several questions that may help TruthFinder narrow down the search results, then I saw a series of 'searching databases' animations lasting approximately 150 seconds. That is to say, after I enter the name, it takes about 2 minutes for the search results to appear.
In fact, it takes me another 8 minutes to get to the point where TruthFinder prompted me to start my trial, which is ridiculously slow!
TruthFinder: Anonymity
TruthFinder takes your privacy and safety seriously, and it does not notify the person you search that you've been doing something poking around. All the searches you run on TruthFinders are completely private, anonymous and confidential. So feel confident in your search.
Here's what TruthFinder says on this matter: ARE TRUTHFINDER SEARCHES CONFIDENTIAL?
TruthFinder: Information found
TruthFinder provides you with a simple way to look up public records online. After you enter a name, address, phone number, or email address, TruthFinder will scan hundreds of millions of available public records, social network data, and more to provide you with a robust report about the person you want to find. Not only does it gather information from search engines like Google and Bing, it also scours the deep web and databases to uncover information that ordinary search engines can't usually find.
Depending on your membership, you can find different types of information in different reports.
| | People Search Reports | Reverse Phone Lookup Reports | Reverse Email Lookup Reports |
| --- | --- | --- | --- |
| First and Last Name | ✔️ | ✔️ | ✔️ |
| Address | ✔️ | ✔️ | ✔️ |
| Photos | ✔️ | ✔️ | ✔️ |
| Social Media Profiles | ✔️ | ✔️ | ✔️ |
| Location History | ✔️ | ✔️ | ✔️ |
| Associated Persons | ✔️ | ✔️ | ✔️ |
| Related Persons | ✔️ | ✔️ | ✔️ |
| Birth Information | ✔️ | ❌ | ❌ |
| Phone Numbers | ✔️ | ✔️ | ✔️ |
| Email Addresses | ✔️ | ✔️ | ✔️ |
| Employment History | ✔️ | ✔️ | ✔️ |
| Educational History | ✔️ | ❌ | ❌ |
| Possible Associates | ✔️ | ❌ | ❌ |
| Business Ownership | ✔️ | ❌ | ❌ |
| Assets | ✔️ | ❌ | ❌ |
| Criminal Records | ✔️ | ❌ | ❌ |
| Traffic Records | ✔️ | ❌ | ❌ |
| Court Records | ✔️ | ❌ | ❌ |
| And More! | ✔️ | ❌ | ❌ |
TruthFinder: Cost
TruthFinder has several membership options, which costs between $4.99 and $29.73 per month. The exact price depends on which membership package you buy.
| Membership Options | People Search | Reverse Phone Lookup | Reverse Email Lookup |
| --- | --- | --- | --- |
| Pricing | $28.05/month(monthly); or $23.28/month (Bi-Monthly) | $4.99/month | $29.73/month |
| Unlimited Person Reports | ✔️ | ❌ | ✔️ |
| Unlimited Location Reports | ✔️ | ❌ | ❌ |
| Report Monitoring | ✔️ | ❌ | ❌ |
| Unlimited Phone Reports | ❌ | ✔️ | ❌ |
| Unlimited Email Reports | ❌ | ❌ | ✔️ |
TruthFinder: Legality & ethics
TruthFinder is a reliable and safe website, and it is legal to use in the United States and its territories. neither uses any illegal methods to search data, nor owns public record databases. It simply compiles public data. Technically, if you're good at research, and you have the time, money and patience, you could probably find this information yourself.
Note that it's illegal to use the data provided by TruthFinder to make decisions about consumer credit, employment, insurance, tenant screening, or any purpose that would require compliance with the Fair Credit Reporting Act (FCRA). TruthFinder is not a consumer reporting agency and it doesn't provide consumer reports.
In other words, using Truthfinder is completely legal and ethical, as long as you don't use the information for illegal purposes. It's only unethical if you use that information unethically. For instance, it is unethical to use the information you obtained from TruthFinder to stalk someone; it is unethical to use the information for blackmail; it's also unethical to use this information to harass someone.
TruthFinder: Verdict
OUR VERDICT:


We've reviewed a lot of people search tools, and TruthFinder is one of the best we've tested so far.
Try it now
Image by lookstudio on Freepik
All product names, logos, brands, trademarks and registered trademarks are property of their respective owners.
The methods in this article provide you with easy access to public record information, but without a guarantee for accuracy and may include links to websites not listed as a Consumer Reporting Agency (CRA). Information acquired from these bodies is illegal to be used for employment, housing, credit, and other purposes alike, according to laws such as the Fair Credit Reporting Act (FCRA). If you're not sure whether your use of our methods is appropriate, click here for details.