How to Get a Car's Trade-in Value by VIN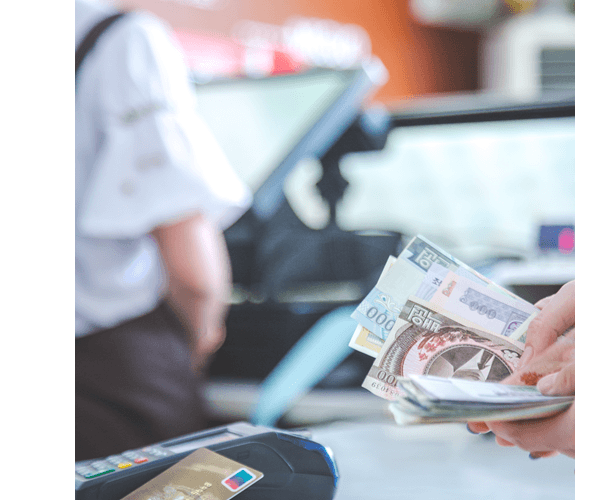 What's your car worth?
Enter VIN to get your car's trade-in value.
A vehicle's trade-in value is simple. It's the dollar amount a dealer will pay for your used car when you put that cash toward a new purchase. When it's time to sell or trade in your used wheels, you need its trade-in value in your back pocket. Without this knowledge, dealerships can lowball you – bidding super low so they can resell your car for much more profit.
Getting this insider trade-in number is crucial to negotiate the best deal. The good news is it's quite easy – all you need is your car's unique VIN. In this article, we'll show you 5 ways to look up the trade-in value using the VIN.
1. Look up car value with BeenVerified

Whether you're selling privately or to dealerships, you can easily look up your car's trade-in value with BeenVerified. By pulling best-in-class vehicle data from authoritative sources, BeenVerified allows you to search for a vehicle's VIN to price your car. This may include its trade-in value, retail price, market value, MSRP, and other key details pertinent to the sale.
Here is how to get an estimate of your car's worth with BeenVerified:
Go to BeenVerified Vehicle Search.
Enter your car's VIN and click SEARCH.

Sit tight while BeenVerified taps into its model-specific value databases and generates a report for you. Then in the Market Value section, you may be able to see a range of low to high estimates for your car based on its specs and condition.

2. Know your car's worth with Bumper


Bumper is an all-in-one vehicle marketplace that takes care of your car needs in one hood. With its market value tool, it can quickly assess your car's current market value based on recent pricing trends and factors like ownership history. This gives you a full picture of your car's value and trade-in value depending on the condition it is in.
To find out how much your car is worth, just head to Bumper Vehicle Search.
Enter the VIN and click SEARCH.

Wait a few minutes as Bumper checks your VIN against its database. Once it identifies a match, it will gather the associated records into a report. Unlock the report to check out the market value details of your ride.

3. Get trade-in value with EPICVIN

EPICVIN is another VIN lookup tool designed to help you get a fair trade-in offer for your old car. Not only does it look at dealer sales, but it also factors in private party sales to make reasonable projections of what your car is worth. With EPICVIN, you can feel confident that you are getting an accurate estimate of your vehicle's current market value based on real sales data and unmatched insights.
Go to the EPICVIN official website.
Pop in your car's VIN number as suggested, then click Check VIN.

EPICVIN will search its database and find matching records. Then it will organize the records and generate a custom valuation report.

4. Get history-based value with Carfax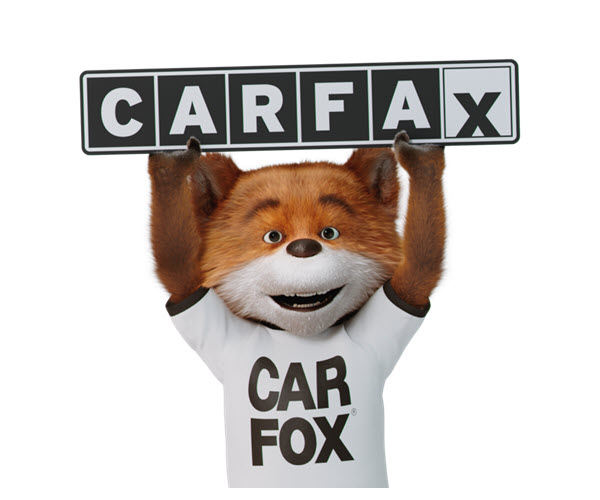 Carfax, the giant provider of vehicle history and valuation data, offers a free tool to understand your used car's true market value. By entering your VIN, you get a customized report with retail, trade-in, and private party values. These estimates update dynamically as you toggle the condition bar from fair to good to excellent. You can also input your exact mileage and select the color to further customize the valuation. With Carfax, you get data-backed pricing tailored to your car's specifics.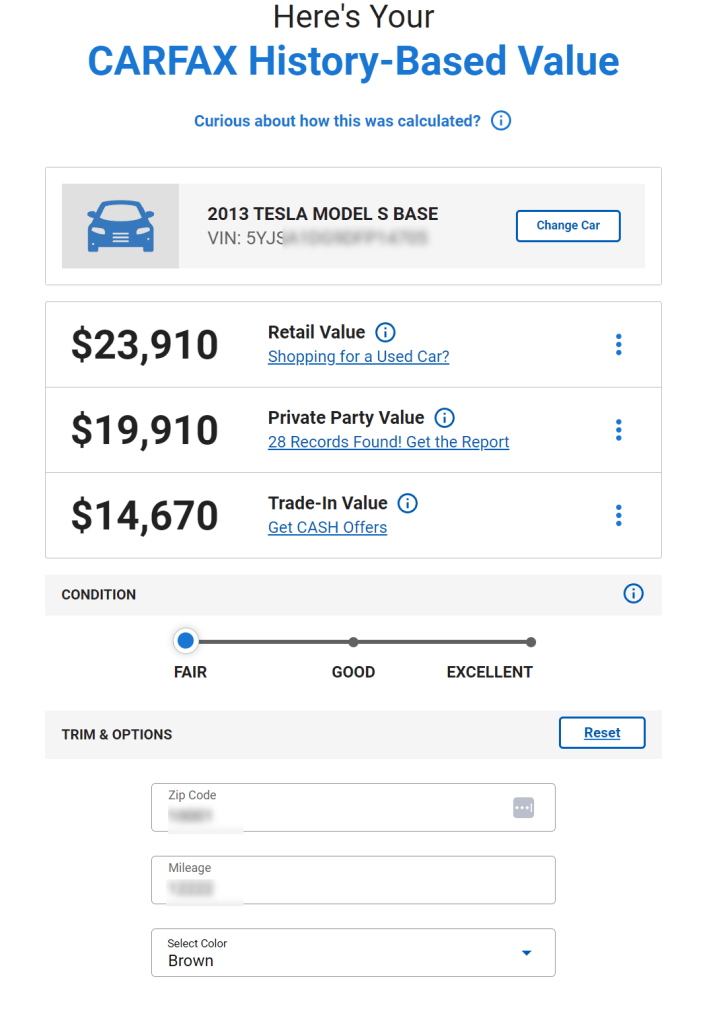 5. Get instant trade-in value with KBB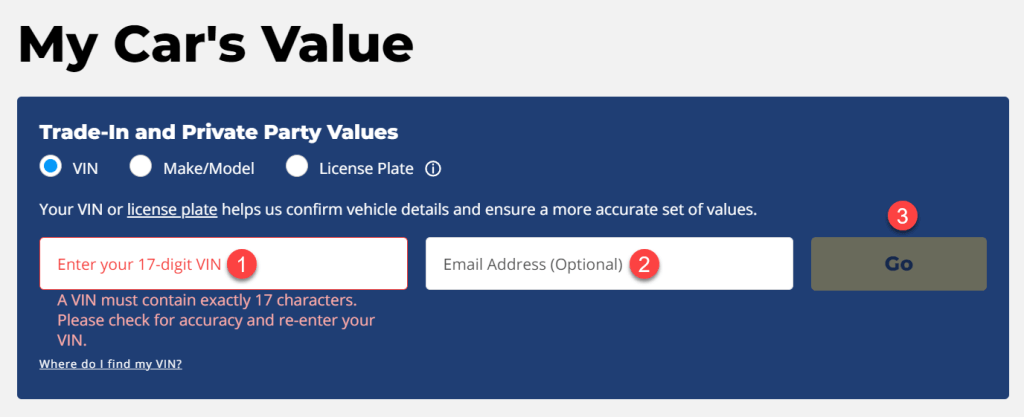 Last but not least on our list of trade-in estimation tools is Kelley Blue Book (KBB). Having been around for 90 years, KBB is a trusted resource for vehicle valuations, especially when it comes to trade-in values. 
With the KBB instant cash offer tool, you can get a quick trade-in value estimate after entering your VIN. KBB looks at your car's specs, miles, condition, and location to generate an estimated dealer bid.
The methods in this article provide you with easy access to public record information, but without a guarantee for accuracy and may include links to websites not listed as a Consumer Reporting Agency (CRA). Information acquired from these bodies is illegal to be used for employment, housing, credit, and other purposes alike, according to laws such as the Fair Credit Reporting Act (FCRA). If you're not sure whether your use of our methods is appropriate, click here for details.