Credit Score Checker | How to Check Credit Score for Free

Credit Score Monitoring and Privacy Tools
√ Credit Score Tracker
√ Credit Score Simulator
√ Credit Reports and Scores
√ Identity Theft Protection
It's vital to check your credit score is in a good shape, especially when you plan to apply for a credit card, loan, etc. To find out your real credit score, you need to request your credit report. A penny saved is a penny earned, thankfully there are ways to check credit scores and credit reports for free. Read on for details.
How to check my credit scores for free
It's normal to see you have more than one credit score and each of them is slightly different. Credit scores are calculated based on your credit reports, so if you spot your credit score drop, check your credit reports immediately.
1. Go to creditscore.com
Creditscore.com is part of Experian, you can get your Fico score and Experian credit report for free once a month. No credit card is required.
2. Check your credit card companies
Do you have a credit card? Many major credit card companies and some auto loan companies (Bank of America, Discover, Citi, American Express, etc.) provide a monthly Fico score for free with your account. Some popular lenders like Chase and Capital One provide credit scores, but not Fico scores. Be careful if you need a Fico score.
The score is usually listed on your monthly statement or can be found by logging in to your account online.
3. Get your FICO score from MyFico for free
Fico Score 8 is very popular and widely used by many lenders. myFICO is the official "FICO® Score retailer." You can get your FICO score from MyFICO for free.
Just go to myFICO website, click the Free tab and you'll see the free plan.
Then click Start Plan and follow the instructions to get your FICO score.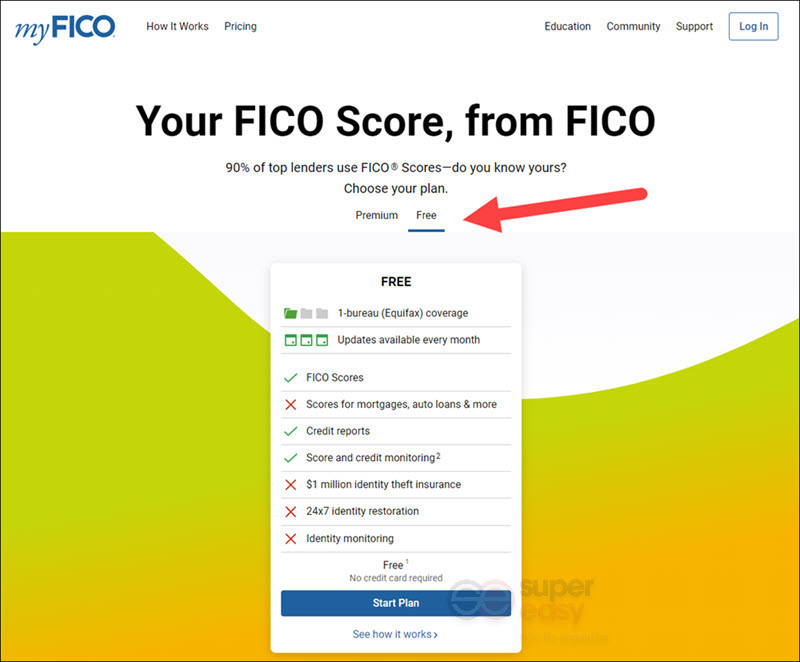 If you need more information, such as your mortgage scores, auto loans, and identity monitoring, you'll need to pay for the features. MyFICO provides 3 plans to meet your need.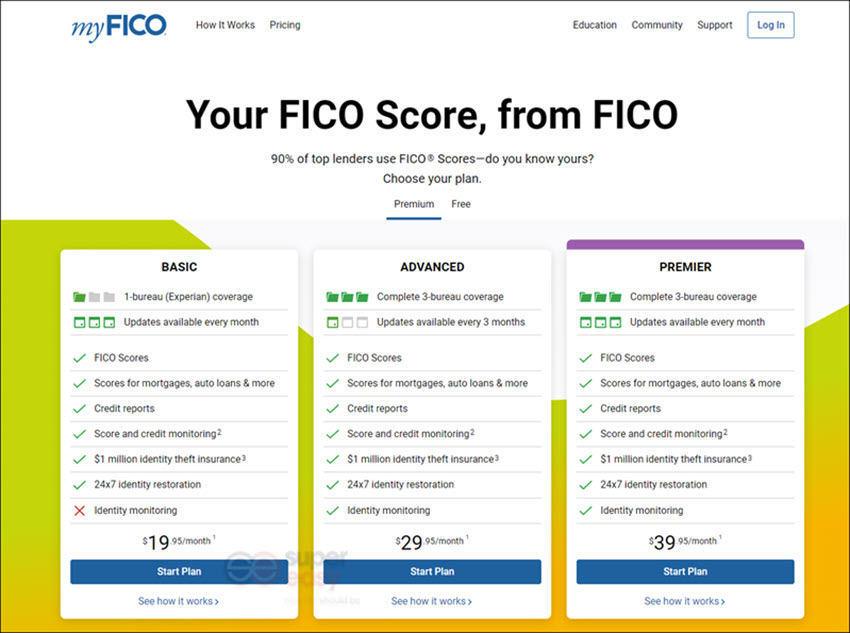 4. Use credit score services
WalletHub or CreditKarma are popular sites to get credit scores for free. But they give a different scoring model. CreditKarma uses Vantage scores that are not used by the majority of credit card companies.
5. Use LifeLock free trial
LifeLock is an identity theft protection service to protect people and information that matters. This powerful service also let you check your credit score and credit report if you're under their protection. Members of LifeLock can get credit reports, credit scores, credit monitoring features, and other identity protection. LifeLock technology protects your accounts and identity to avoid identity theft, it's essential to keep your credit score in a good range. Your credit scores will change over time, and identity theft is a huge threat. With LifeLock, you can get alerts to possible threats. Even if you're a victim of identity theft, LifeLock's specialists will work to resolve it from start to finish, and a $1 million stolen funds reimbursement would cover your loss.
Do credit checks affect credit scores?
Before checking for your credit report for free, some people worry checking credit scores would affect their credit.
In short, soft credit inquiry (also known as "soft pull" or "soft credit checks") won't affect your credit scores. And checking your own credit scores is reported as a soft credit check. You can check your credit scores as often as you want. In fact, regularly checking your credit reports and credit scores is an important way to ensure your personal and financial information is accurate and it also helps to make sure nobody's opened fraudulent accounts in your name. Checking your credit reports regularly is a way to detect signs of potential identity theft.
Tips: Soft credit checks are inquiries only visible to you if they were recorded on your report which depends on credit bureaus.
In contrast, a hard inquiry, or a "hard pull," shows up on your credit report and can affect your credit score. A hard pull happens when you apply for a new credit card or a new loan. A creditor, lender, or company requests to review your credit report as part of the loan application process and the request is recorded on your credit report as a hard inquiry that affects your credit score.
Check your credit report for free easily
There are three credit bureaus (Experian, Equifax, TransUnion) that hold the credit reports. They allow you to check your credit report for free once a year.
Which one to choose?
If you're applying for a credit card or a loan and you know which credit reference agency the issuing bank would use, obviously check that one. For yearly checks, you can check all three credit reports. They have different content and all have an impact.
How to check credit reports for free easily
Of course, you can go to the three bureaus' official websites to apply for your credit reports. But you can request your free credit report from Equifax, Experian, and TransUnion on annualcreditreport which is the only official site explicitly directed by Federal law.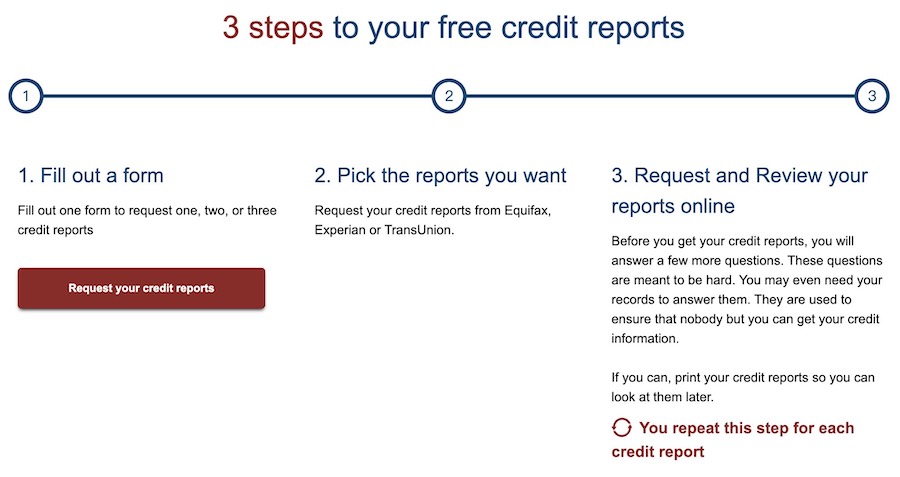 You were allowed to receive a free credit report once a year from AnnualCreditReport. Due to the COVID-19 pandemic, people are having a hard time. AnnualCreditReport offers free weekly online credit reports to help you in control of your finances, the service will end on December 2023.
How to monitor your credit report
If your identity is at risk, you'll need a credit monitoring and financial fraud protection service.
Aura's credit report monitoring will help you stay on top of your credit. Protect your credit score by receiving alerts if suspicious activity is detected. Their credit protections are comprehensive, their identity monitoring is robust, and their bonus features – the malware protection and the VPN – put their head and shoulders above many other identity theft protection services we've reviewed so far.
Aura Dark Web Scan
Has your personal data been leaked to the Dark Web?
Free Scan