Impound Vehicle Search | Check if a car is impounded by VIN or license plate
Vehicle Impound Search
Just Enter a VIN Number – Impound Records, Theft, & More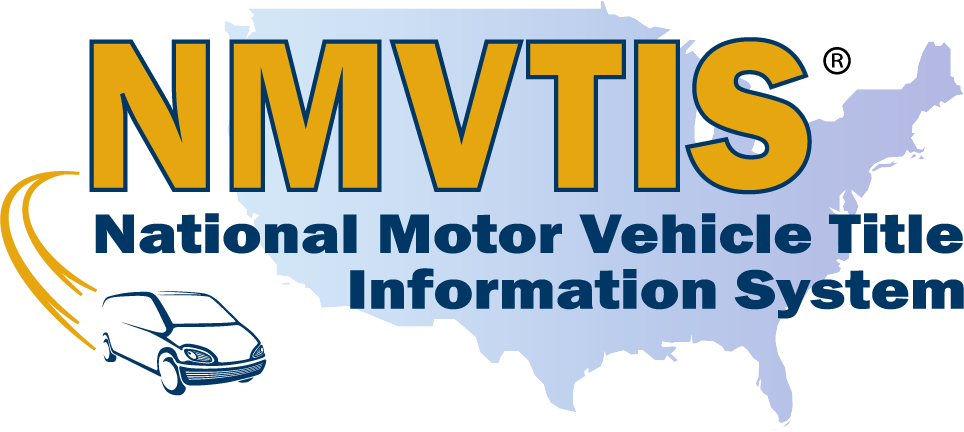 Vehicle impoundment is a legal process where authorities seize and store vehicles for various reasons, including traffic violations, unpaid fines, or involvement in criminal activities.
And understanding how to check if a car has been impounded or towed is crucial for vehicle owners and interested parties who want to locate their vehicles or determine their impound status.
In this comprehensive guide, we'll explore different methods to perform an impound vehicle search.
Method 1: Use online vehicle search tools
Online platforms such as Bumper and BeenVerified offer convenient and user-friendly interfaces to access impound vehicle information by a VIN or license plate.
Compiling reliable, regularly updated information from NMVTIS, JD Power, NHTSA, and many other top industry sources, these tools allow you to search a vehicle by VIN or license plate to look for impound records, as well as detailed vehicle history reports that have accidents, recalls information and more.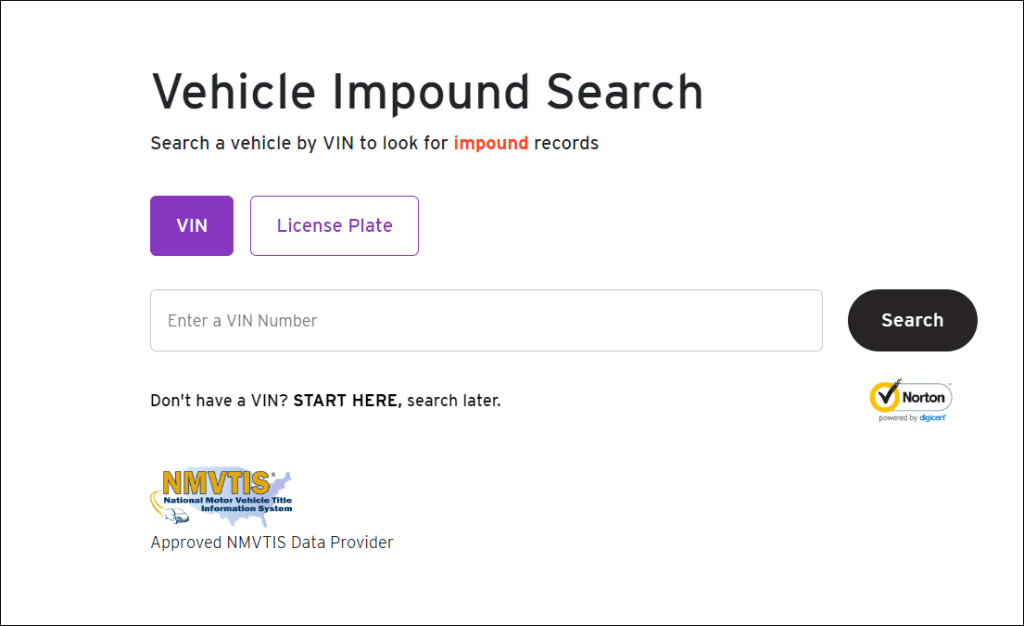 To perform an online search, follow these steps:
Bumper
Visit Bumper's search page.
Enter the VIN number into the search bar and click SEARCH to initiate the search process. You can also perform searches using the license plate.


Review the search results to determine the impound status of the vehicle.
Should you require any assistance, feel free to contact their support team.
BeenVerified
Input the VIN number into the search bar and click SEARCH. If you do not have a VIN, select the Search by License Plate option.


3. Wait for it to find your match. Once finished, you'll need to purchase a membership in order to view the full report.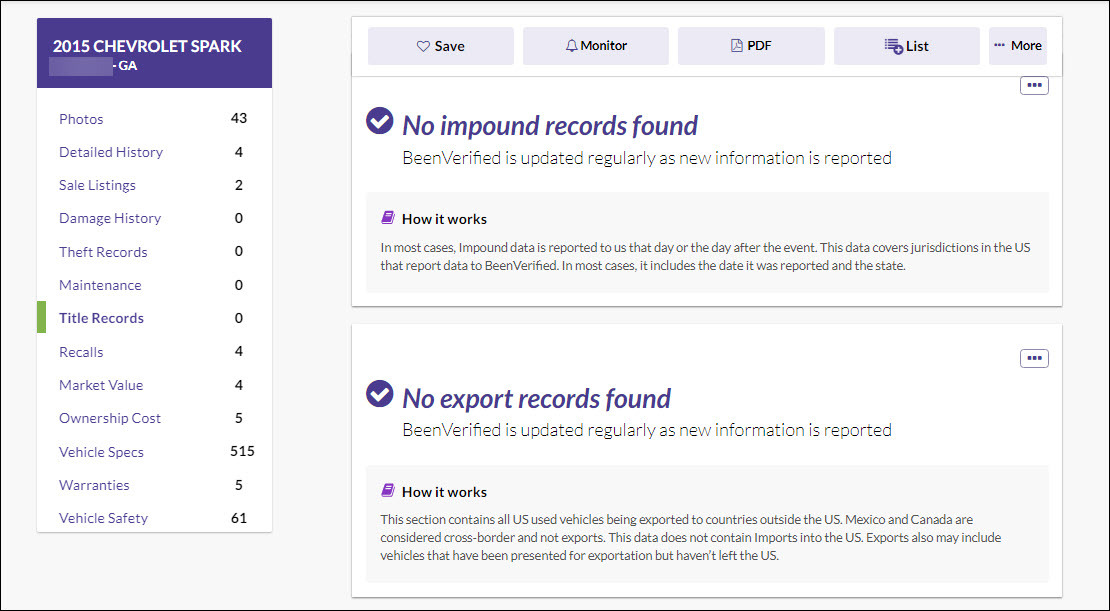 If you encounter any issues during your searches, do not hesitate to reach out to their support team.
Method 2: Search your local impound database
Local impound databases are typically managed by law enforcement agencies or impoundment authorities. To check the impound status of a vehicle, you can visit the official website of the relevant law enforcement agency or impound lot.
You can typically find this information through an online search using keywords like "[your location] impound vehicle search" or [your location] impound lot". For example, you can type utah vehicle search and hit Enter.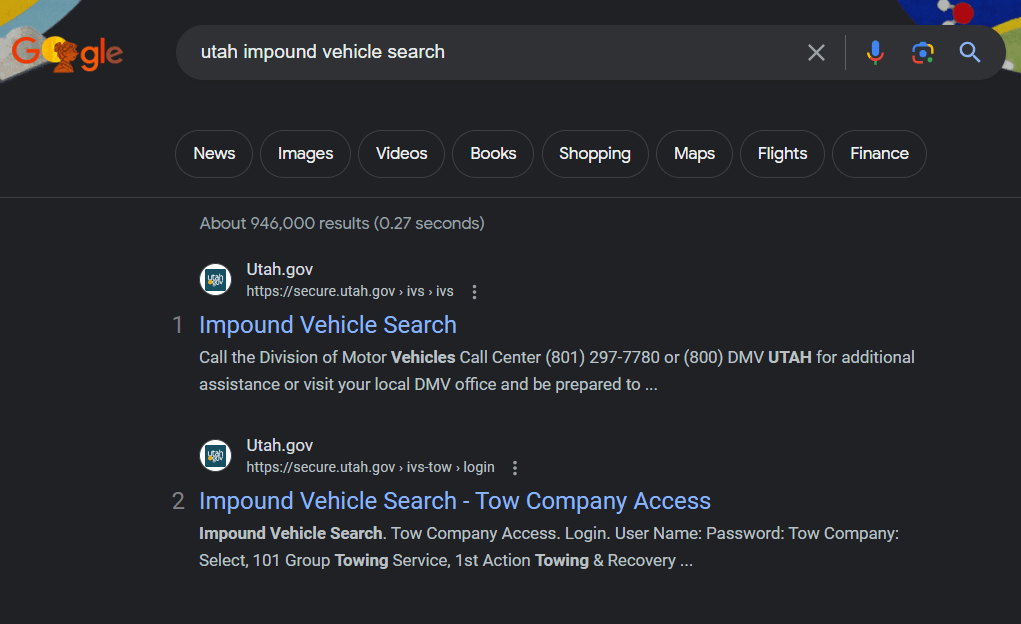 Once results show up, explore the official website to conduct your search by providing the necessary information. After initiating the search, review the search results to determine the impound status of the vehicle.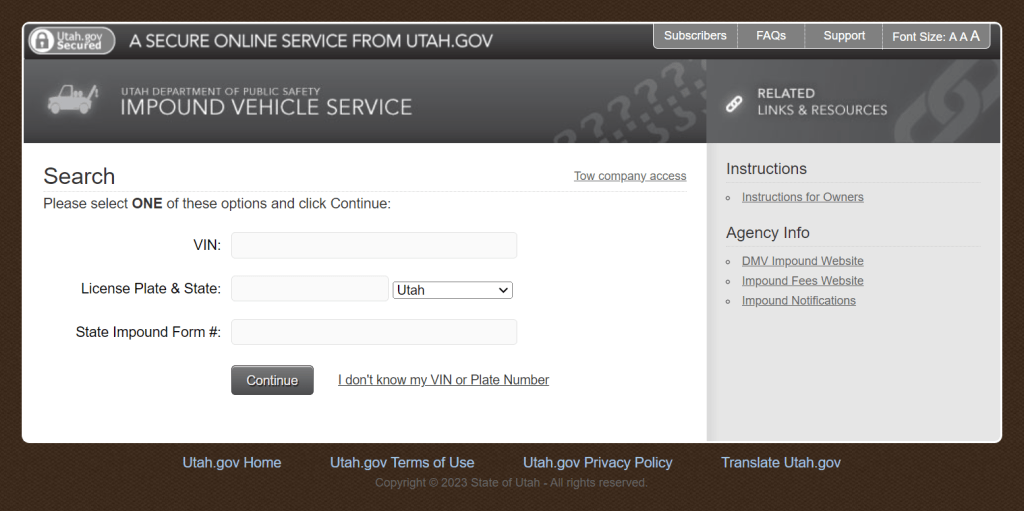 Keep in mind that the specific steps and availability of local impound databases will vary depending on your location and the governing authorities. It's important to consult the official websites or contact the relevant law enforcement agencies or impound lots in your area for accurate and up-to-date information.
Method 3: Contact the local police department
When performing an impound vehicle search or checking if a car is impounded, it is generally recommended to contact the police department. They will have access to the necessary databases and provide you with the most accurate and up-to-date information regarding impounded vehicles.
Look for the contact info of your local police department, which is often available on the official website or can be found through a quick online search.
Contact them and let them know that you would like to inquire about the impound status of a vehicle by providing the representative with specific vehicle details, such as the VIN or license plate number.
Follow the instructions to access the most reliable information about impounded vehicles.
---
So these are the useful ways to access information about impounded vehicles and have peace of mind – utilizing online vehicle search tools like Bumper and BeenVerified, searching local impound databases, and contacting the local police department for accurate information.
Let us know which one has worked for you, and if you have found other effective methods, don't hesitate to share them with us in the comment section below.
The methods in this article provide you with easy access to public record information, but without a guarantee for accuracy and may include links to websites not listed as a Consumer Reporting Agency (CRA). Information acquired from these bodies is illegal to be used for employment, housing, credit, and other purposes alike, according to laws such as the Fair Credit Reporting Act (FCRA). If you're not sure whether your use of our methods is appropriate, click here for details.