How to Find Someone on TikTok without Username (2023)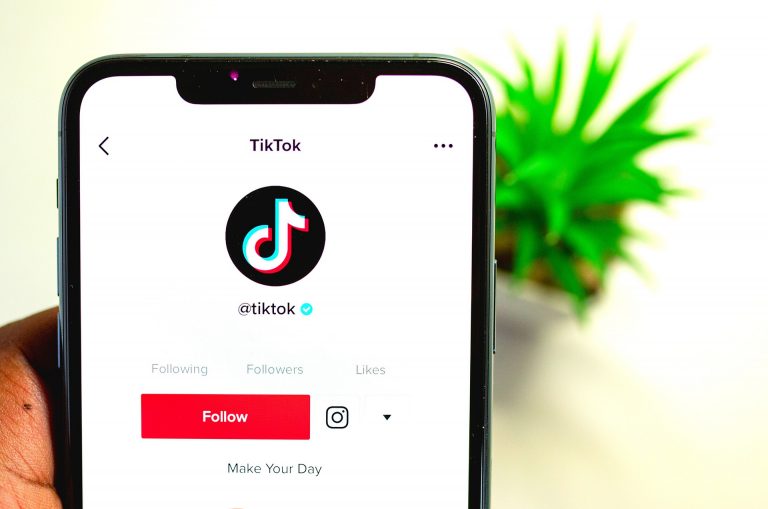 Search TikTok Account by Name
1. Enter a name 2. Click Search 3. Unlock and view profiles of detail
TikTok is without a doubt the most popular short video platform right now. As one of its many users, have you ever desired to know more about a person in real life by watching what's on his/her TikTok? If you are in the similar scenario, you might be wondering: how to discover someone on TikTok without a username.
It is sometimes tricky to find someone on TikTok since most of us can't directly have a person's username on TikTok when we're not very closed with that person. But don't worry, we can show you how in this post.
Find someone on TikTok via phone number
It's not always necessary to search for a TikTok account by username. If you have the person's phone number and have it saved in your contacts, you may be able to follow them on TikTok using that number.
To proceed, you must sync your contacts with TikTok first. If you've already done this before, you can just skip to step 5. If you haven't already, simply follow the steps below.
Step 1: Open and log in your TikTok.
Step 2: Tap on the 3-dots icon at the top right corner to open Settings, then tap Privacy.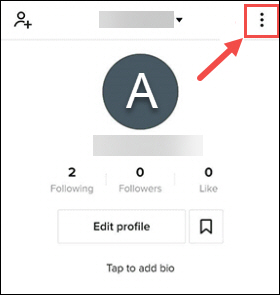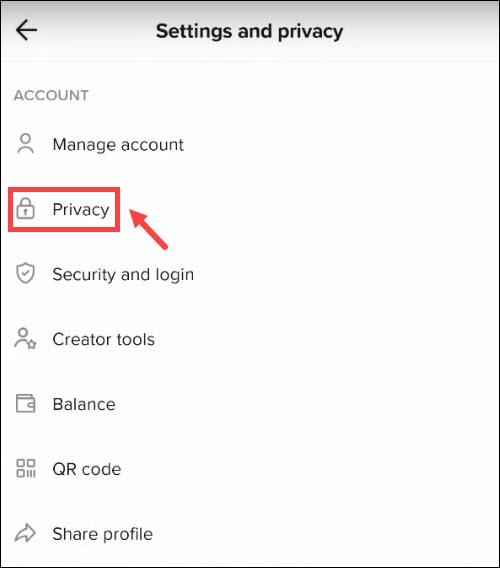 Step 3: Tap Sync contacts and Facebook friends.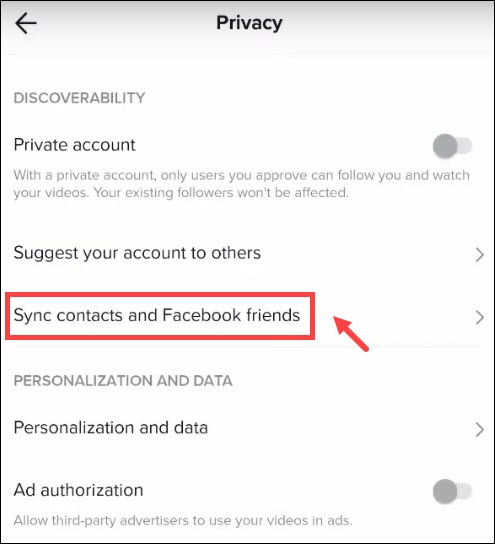 Step 4: Tap the toggle to turn on the Sync contacts setting. You can also turn on the Sync Facebook friends list.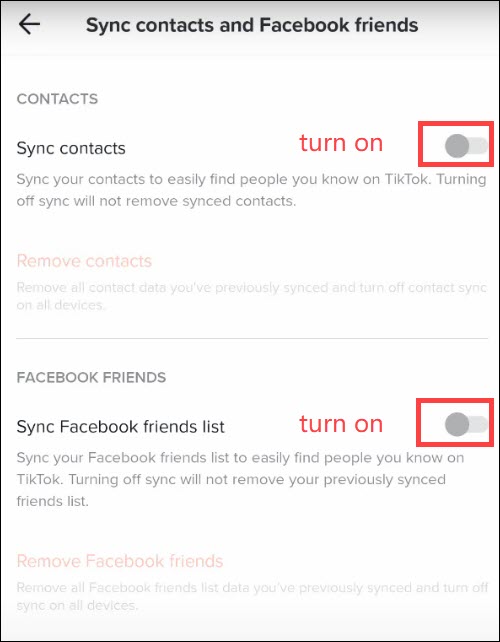 Step 5: Get back and tap the Me icon at the bottom right corner. Then tap on Find friends icon at the top left corner.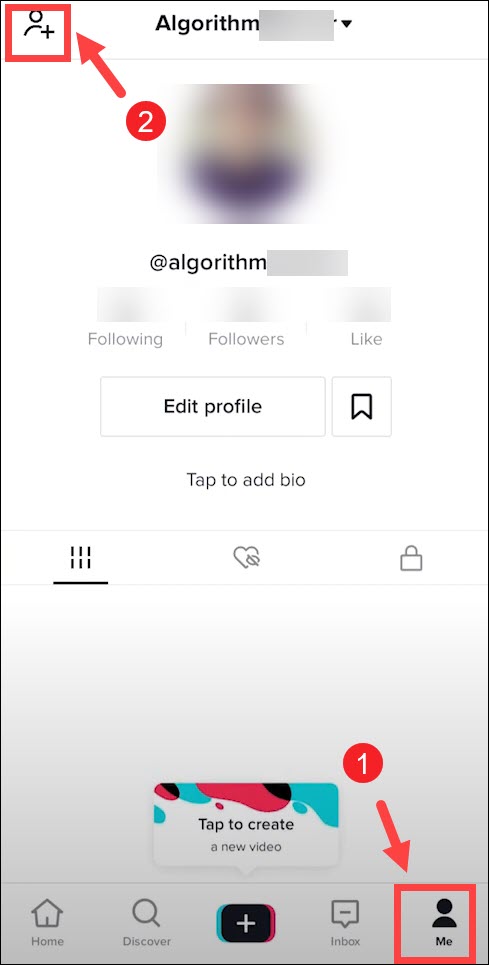 Step 6: Tap Find next to Contacts.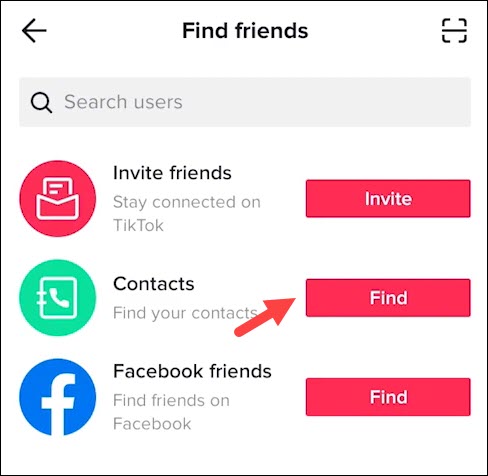 Step 7: Follow the person that shows up in the contacts.
If the person's TikTok account doesn't show up in the contacts, it's possible that the person doesn't have a TikTok account or hasn't enabled the private setting. If that so, navigate to the next method.
Find a TikTok account through Facebook friends
If the person is your Facebook friend, you can also find the person's TikTok account through TikTok's find Facebook friends feature. Here's how:
Before proceeding with the steps below, you should first sync your Facebook friends list as described in steps 1 – 4 of the method above.
Step 1: In TikTok, tap the Me icon at the bottom right corner. And then tap Find friends icon at the top left corner.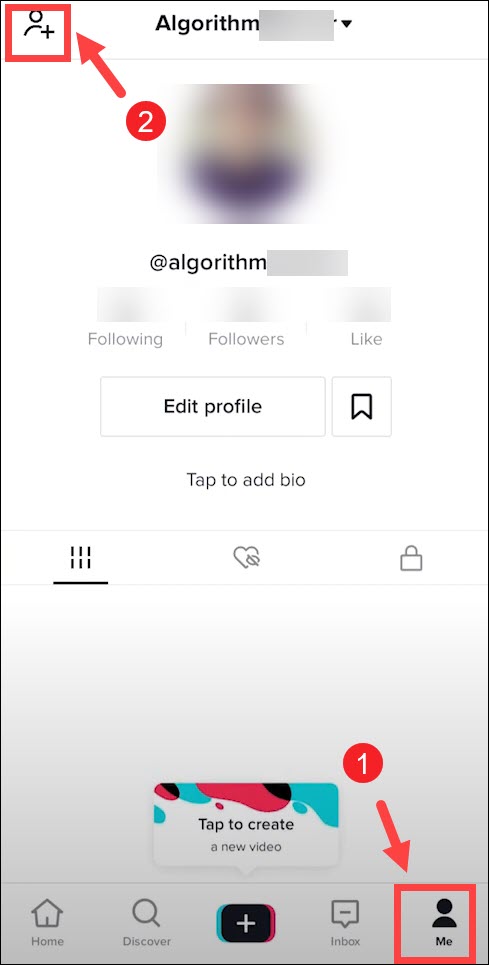 Step 2: Tap Find next to Facebook friends.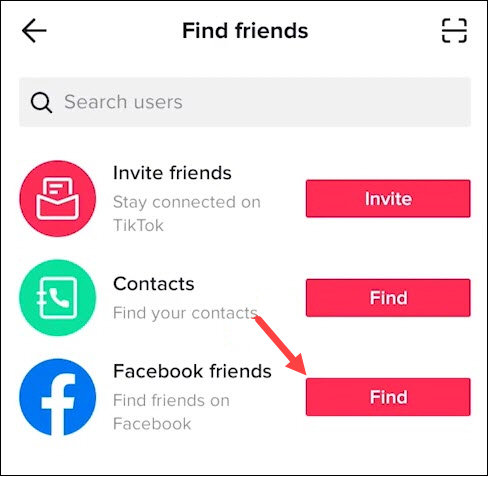 Step 3: You'll be prompted to sign in Facebook. Tap Continue.
Step 4: In the list of your Facebook friends, tap Follow next to the user you want to add.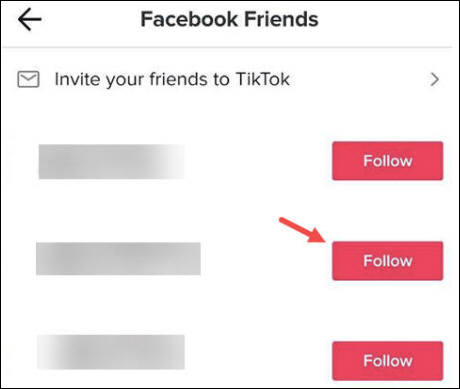 If the Facebook friends list doesn't include the account you're looking for, that's because the person has chosen not to be found on TikTok in this way. For a better guarantee, maybe you should give the next method a try.
Find someone's TikTok account by people search engines
People search engines are the professional and powerful tools for searching someone's information including contacts, social media accounts, current & previous address, education and many other info you'll be interested to know.
Besides, you can search not only by name or phone number, but also address, email and username, making it a more practical approach for you to find someone's TikTok account. Here are some reputable options we recommend:
Option 1 – BeenVerified
BeenVerified is a go-to option in people-searching. It can help you search for someone with a database of billions of public records collected from reliable sources and social networks. It's a multi-functional search-engine that's both powerful and reliable.

Go to BeenVerified.
Click a search type and type the info you know into the search bar, then hit SEARCH. You can limit your search down by state and city if you know.

Wait for a while as BeenVerified is scanning its database. Then a detailed report including social media info will be generated for you.

Option 2 – Social Catfish
If you merely have a picture of someone and want to see if he or she is on TikTok, Social Catfish is the helper for you. Social Catfish uses AI technology to perform strong image searches. This feature could help you identify who is in the picture, where they live, and which social network they are on.

Go to Social Catfish.
Click the search box and upload your picture. Then click Search.

A detailed report will be generated for you once it locates a person matching to your image. Associated social media accounts like TikTok may also be reveal in the report.

Option 3 – Spokeo
Spokeo is also a popular people-search engine that specializes in digital footprint tracking. Simply entering a name, an email, a number or an address, it will look up results for you from a data sources of 120+ Social Networks.

Go to Spokeo.
Click a search type and enter the info you know in the search box. Then click SEARCH NOW.

Spokeo will search for and display profiles that match the name you entered. Browse each profile to identify which is the one you're looking for.


Conclusion
Above are the all the methods we have to help you search for a TikTok account without requiring a username. Among them, we recommend trying the people-search tools like BeenVerified which could offer a lot more information of a TikTok account's owner.
If you have any questions or ideas, please feel free to leave us a comment below.