How to Find Someone on Plenty of Fish (2023)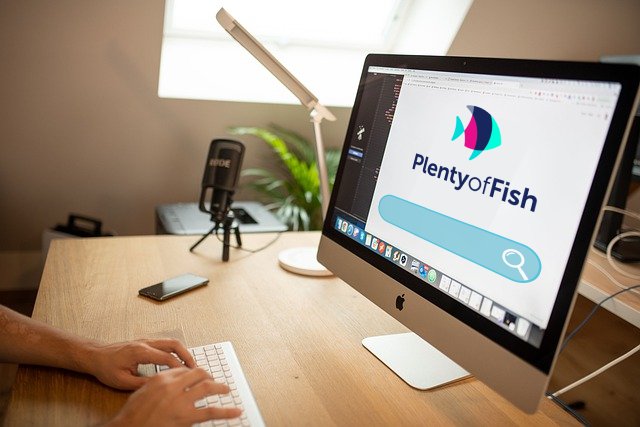 Are you trying to find someone's profile on Plenty of Fish (POF)? Fortunately, there are a few ways to try. From the conventional method of performing a search on the platform to the less common method of using a people search, in this post, we'll guide you on how to search for someone on POF.
1. Search on POF (Registration Required)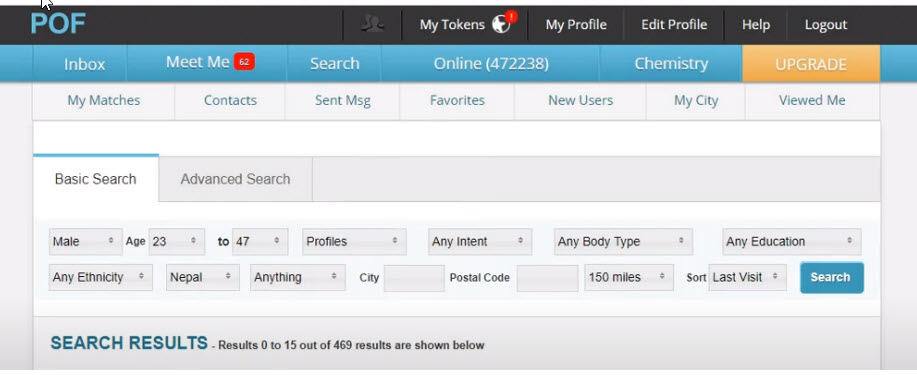 Let's start with the conventional method of searching for a profile on the website.
As an online dating platform, POF incorporates a comprehensive search tool integrated into its platform. The POF advanced search is quite comprehensive. If you know the person well – for example, you know where the person is from, their age, and more, it's usually enough to narrow down your search field so that you can find them by skimming through the results. Remember, the more details you can add to the search, the smaller the pool of results you'll have to sift through.
Here's how you can search for other POF profiles:
Go to Search on the top menu.
Select Refine Search. You can base your search on age, education, location and just about anything else that might help narrow down your search results.
Select Find My Match (or Go Fishing).
If the person you are looking for doesn't appear in the search results, try adjusting the age down or up a couple of years. There's a chance that people may have misrepresented their age out of insecurity. Also, ensure you check the location filter while searching. The POF location filter allows you to search for matches in over 60 countries, and narrow your search results to anywhere between 5 and 200 miles.
2. Search POF by Username
POF used to have a username search function that anyone could use, but it's now only available for upgraded members. If you wish to use the username search feature, you need to purchase a premium subscription.
Once you become a premium member, you'll be able to find the username search bar at the top of your POF app or website. You can then type in the username of the person you're looking for and view the results.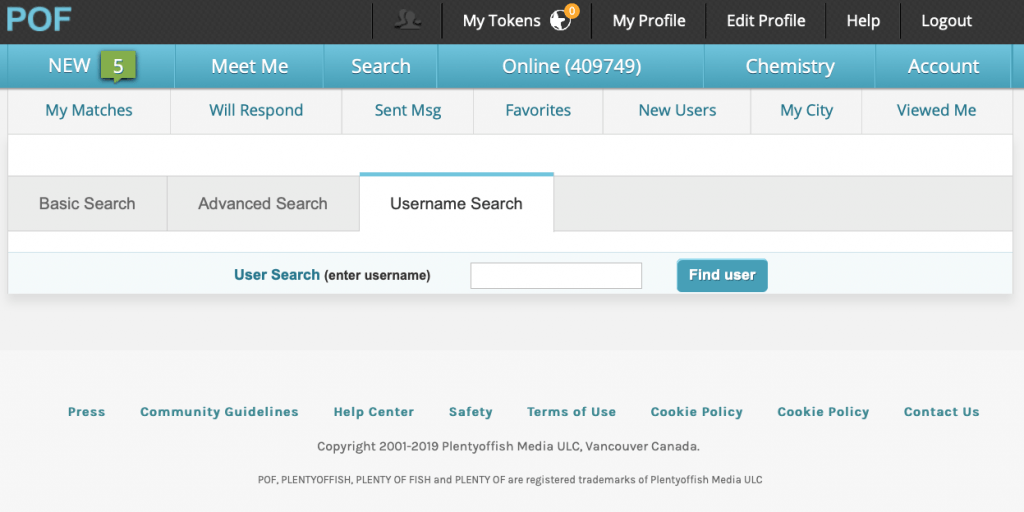 The POF upgraded membership costs between $7.50 and $13.00 per month. Here's what you will get with the membership:
Upload 16 images to your dating profile. (Basic users can upload up to 8 pictures.)
Unlock extended profiles of other members, which dives a little deeper into sharing new facts about your match.
See whether your messages have been read/deleted by the receiver.
Show up on the feature Meet Me ahead of the rest, your profile is moved up to the top of the pack
Ad-free experience.
Check out who viewed your profile down to the date and time they viewed it.
Send three gifts per day.
Stand out in all searches.
See who wants to "Meet" you from the Meet Me feature.
Access to Username Search.
3. Use a People Search
If all else fails, you might want to try a people search tool. People search tools collect information about individuals from government public records, social media profiles, and other online directories and compile it into one report. They allow you to search for someone by name, phone number, email address, or social media username, and might provide you with the person's profiles on multiple social networks and dating sites when available.
Before you proceed, note that the information you can find from these tools depends on many factors and there is no guarantee that any of these tools will be able to find the POF profile you're looking for, nor can they guarantee the accuracy of the information found.
TruthFinder
TruthFinder sources millions of detailed public records from federal, state & local agencies and from across the web to find people's background info, criminal & traffic records and online dating/social media profiles.
To see if you can locate someone's POF profile, you need to purchase a membership for $28.05 per month – which allows unlimited monthly searches. Search for the name of the person you're trying to find. If there is a report matching the information you searched for, go to the PERSONAL section to check the person's online profiles.
For example, below is a report I generated. Under the RELATED LINKS section, I was able to view profiles possibly associated with the person on websites such as LinkedIn, Facebook, and Twitter, which I found pretty impressive. However, there were a few links that were duplicated, and some were broken.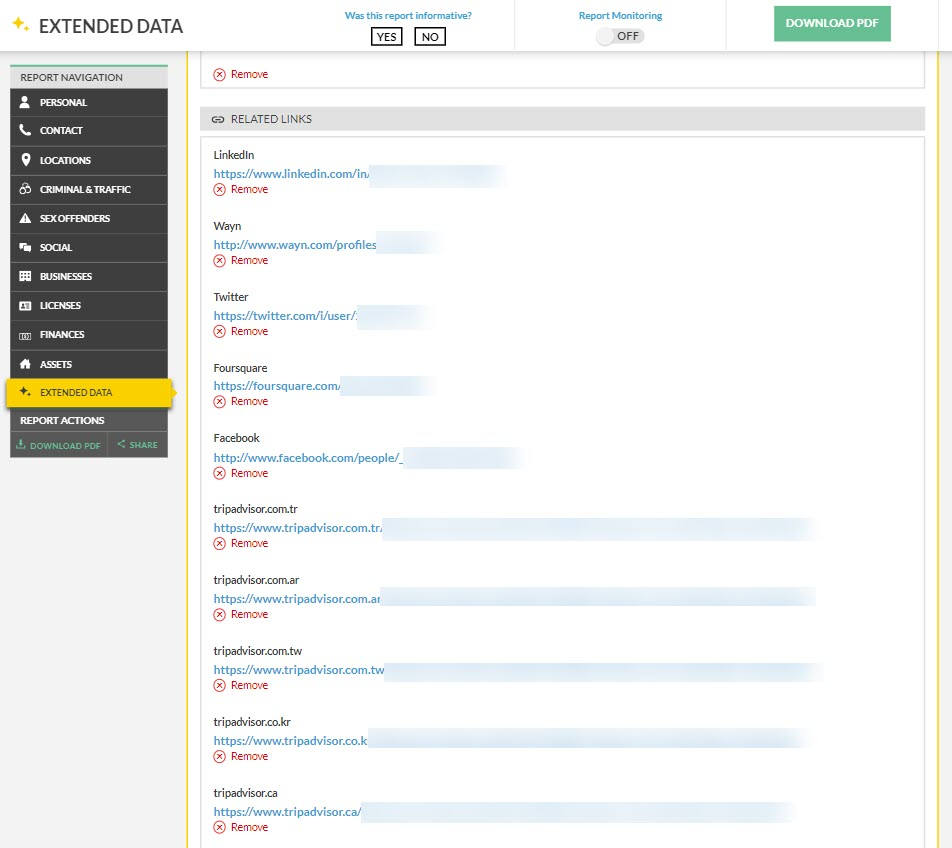 Spokeo
Another powerful people search tool to try is Spokeo. It gathers all available information from public sources and stores it in one database, providing an easy way to confidentially look up information about whoever you want to track down online.
To see if you can find someone's dating profile with it, purchase a membership with it and log into your account. You can search for someone by name, email address, phone number, address, or username with this tool. Once the search is complete, click SOCIAL PROFILES to view accounts linked to the individual. 
For instance, below is a report I received from Spokeo. It displays the individual's LinkedIn and Facebook accounts. Similar to TruthFinder, some links appear to be faulty, and there were several profiles that didn't seem to be owned by the person. But overall, it's convenient to have a tool that does the search job for you.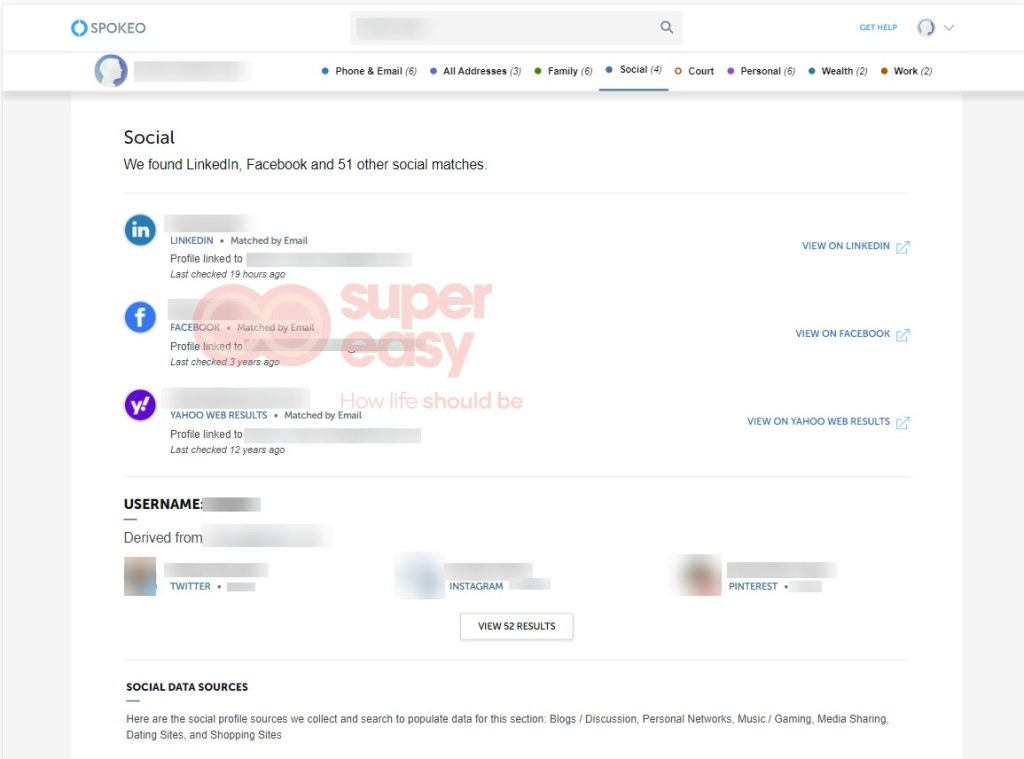 Conclusion
So that's the end of our guide on how to find someone on Plenty of Fish. Hopefully, it helped. Feel free to leave a comment below if you have any questions or suggestions.
All product names, logos, brands, trademarks and registered trademarks are property of their respective owners.
The methods in this article provide you with easy access to public record information, but without a guarantee for accuracy and may include links to websites not listed as a Consumer Reporting Agency (CRA). Information acquired from these bodies is illegal to be used for employment, housing, credit, and other purposes alike, according to laws such as the Fair Credit Reporting Act (FCRA). If you're not sure whether your use of our methods is appropriate, click here for details.