50% Off Wish Promo Code Hack for Existing Users 2023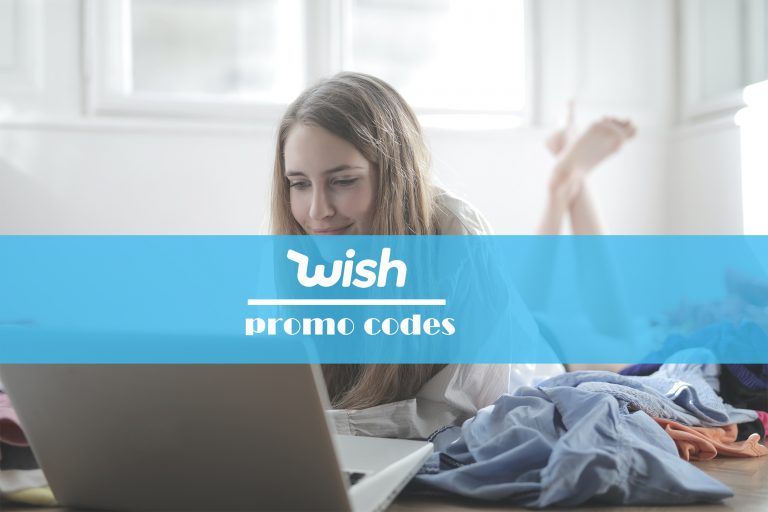 50%
OFF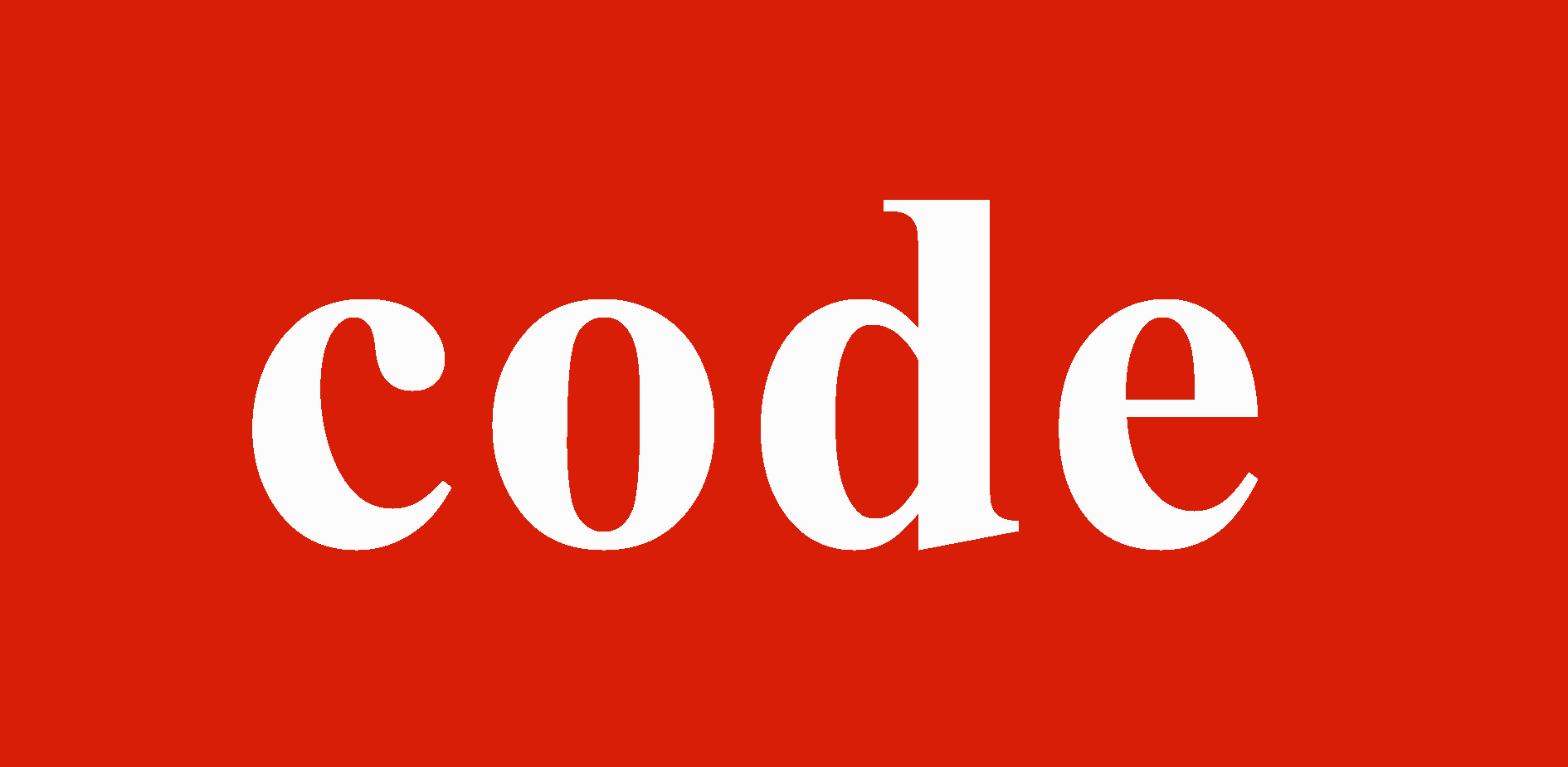 Wish promo code:
50% off sitewide
Wish.com is a discounted retailer offering clothes, food, beauty, and more at low prices. Many of you may have enjoyed New users $5 off and 3 days of deals.
However, you might wonder if there're other ways to save bigger since you shop a lot. In this post, we'll show you every possible way to grab bigger savings with our Wish promo code hack for existing users.
Can I find a Wish promo code online?
Of course, there're tons of Wish promo codes online, but you'll find that these codes seldom work. They're either "Oops, this code is invalid" or expired already. Why is that?
Coupon websites claim to give you 50% off or 10% off, with promo codes such as NEW10, SAVE50, NYBLXMH or even worse, their referral code.
The thing is it's nearly impossible to find Wish.com promo codes for existing users that really work. Still, you can save more if you play a few tricks.
Can't find the coupon you need?
Coupert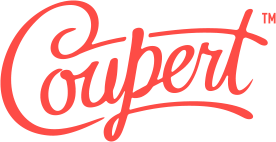 is a Chrome extension that tells you when there are coupons available for the site you're on. When you visit a site with available coupons, the extension will pop up an alert. You just click 'Apply Coupons', and it will try them all to find the one that gives you the best discount, then apply it for you automatically. So you get the best available discount without even lifting a finger!
Add Coupert to Chrome for free.

Sign up here and you're good to go now.

Just shop as you normally do, the discount code will pop up when you check out.
BONUS: The Coupert extension also gives you cash back when you buy from one 7,000+ participating stores. Each time you buy from one of those stores, you earn points (they call it 'gold'), which you can later redeem for cash.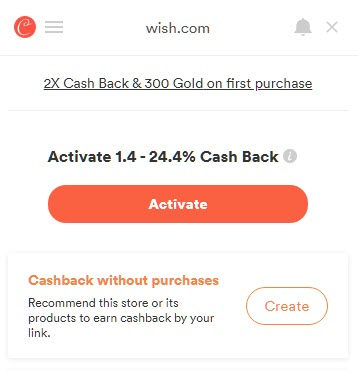 You can save at Wish.com this way
Instead of going through all the trouble searching online for a working Wish promo code, you can take advantage of the Wish promo code hack for existing users to enjoy 50% off every purchase.
1. View the top of your product list in Wish app
Sometimes your luck will shine when you open your Wish app or go to Wish.com, you'll be offered some promo codes like the below.
Note that these codes often have an expiration date. If you're unable to use your discount code before it expires, Wish.com is unable to recreate, or replace the discount.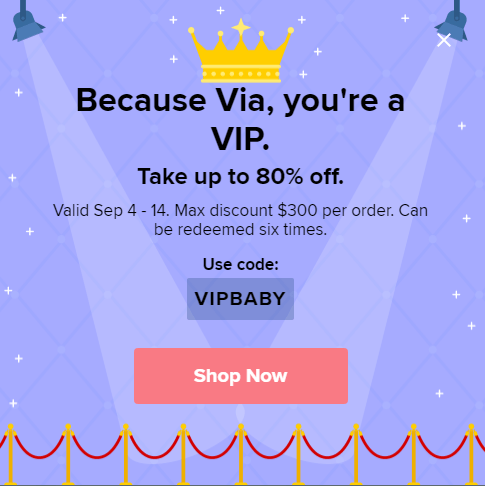 Wish promo codes can be redeemed several times, but the discount rate will probably decrease on your next order.
If you fail to see a popping-up code, you might as well try closing and reopening the Wish app/Wish.com multiple times. Still, you can try the following methods to save at Wish.com as an existing user.
2. Complete the Daily Login Bonus challenge
To win yourself a Wish promo code for an existing user, you'll just need to log into Wish for 7 days.
You'll get a stamp every time you log into Wish.com. After collecting 7 stamps within the allotted time frame specified on the Daily Login Bonus banner (usually 30 days), you'll be able to claim your coupon code for up to 50% off.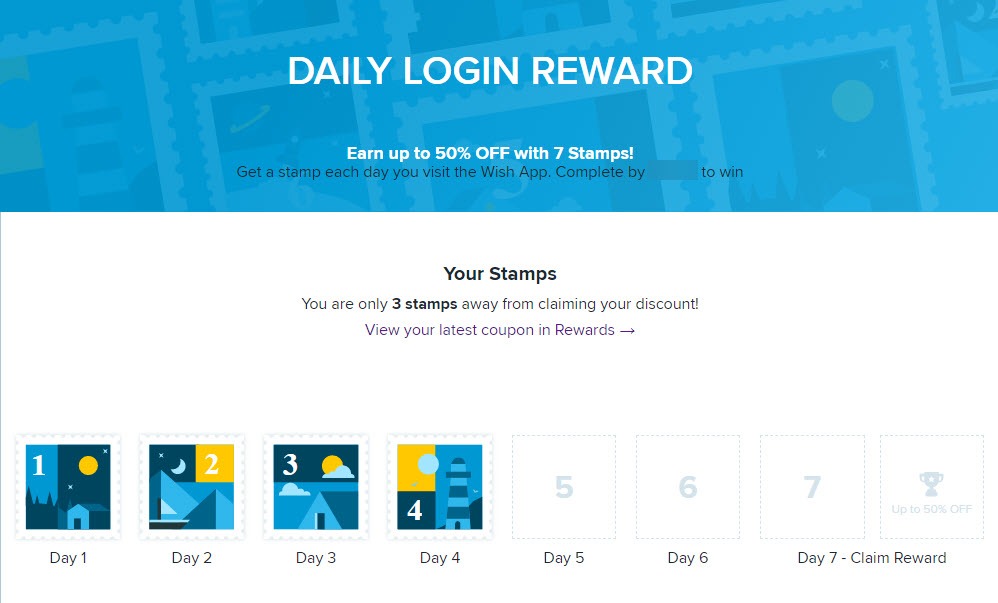 After completing the 7-stamp collection, you can start saving money on your next order. If you're interested in bigger savings, check out the following methods.
3. Earn points to save 15%
Just think of it – every time you make a purchase, review a purchase and upload a photo with a review, you earn Wish rewards points to take 5% to 15% off your next one.

Once you have earned points, you can redeem them for coupons accordingly, such as 5%, 10%, and 15% coupons in the Rewards section.
4. Check your push notifications for new promo codes
By default, Wish Push Notification is required when you download the app for the first time. By turning on Notifications, you'll receive daily deals, promotions, and flash sales, Rewards (gifts, rewards, and coupons).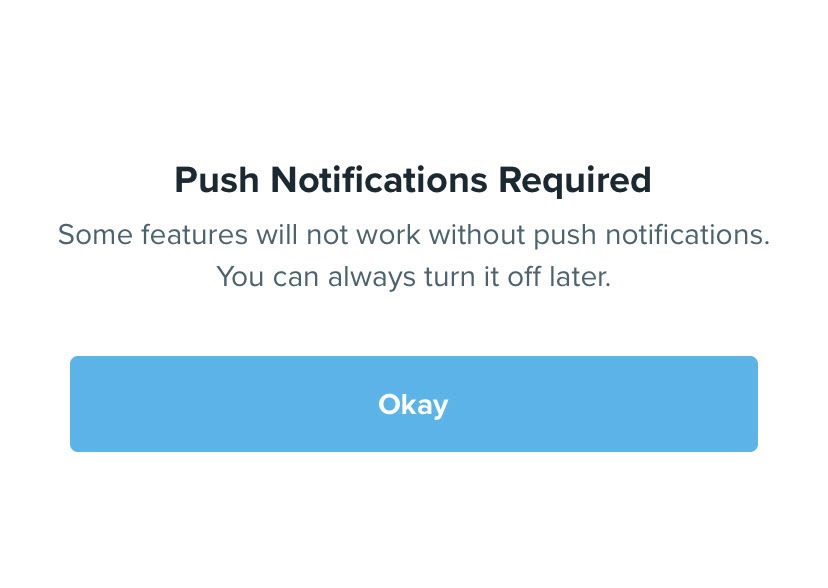 If you've turned off Push Notification for Wish, you can try turning it in on to see if you can receive some decent coupons to apply.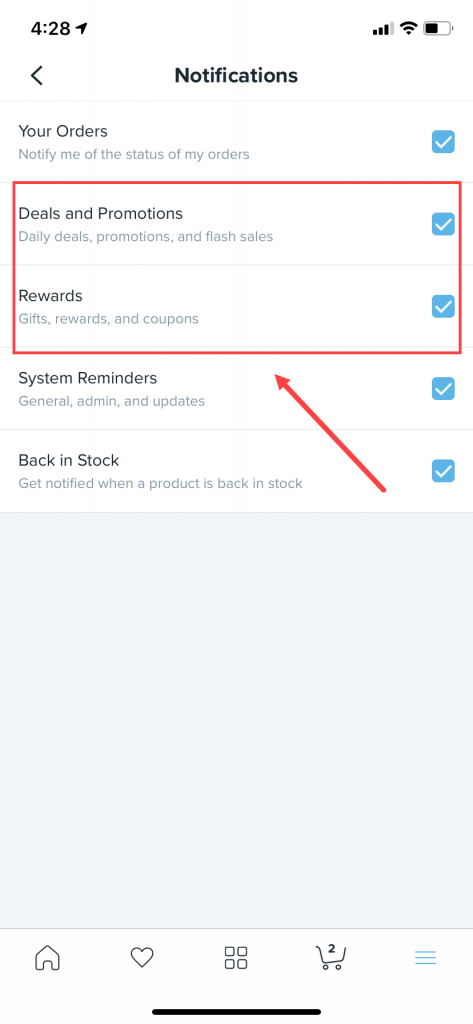 However, you can turn it off (how to turn off Wish notifications) later if this method doesn't work for you.
5. Open your emails to look for new promo codes
It's perhaps one of the most effective ways to receive new promo codes right from Wish. First, make sure you have your notifications enabled for your Wish account.
To enable email communications, just follow these steps:
Visit Settings at https://www.wish.com/settings.
Click Notifications on the left panel.
Check the appropriate boxes to determine the type of notifications you receive.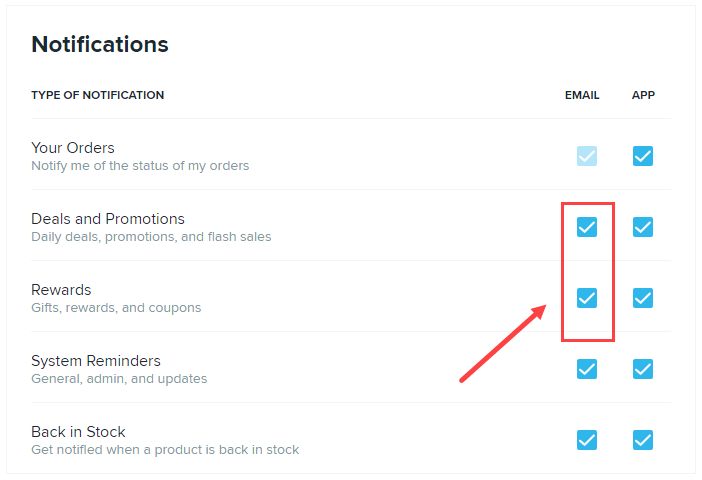 However, if you don't receive any emails from Wish, try checking your spam or junk folder. Make sure you can receive emails from notifications@wish.com by adding them to your address book.
Conclusion
If you're looking for Wish promo codes for existing users, they never come as easy as you imagine. And fake Wish codes are all over the Internet, wasting your time and spoiling your fun. We recommend sticking to the Wish official promo code. You can still save an extra 50% as an existing user.