Find out Who Owns this Car | VIN or License Plate Lookup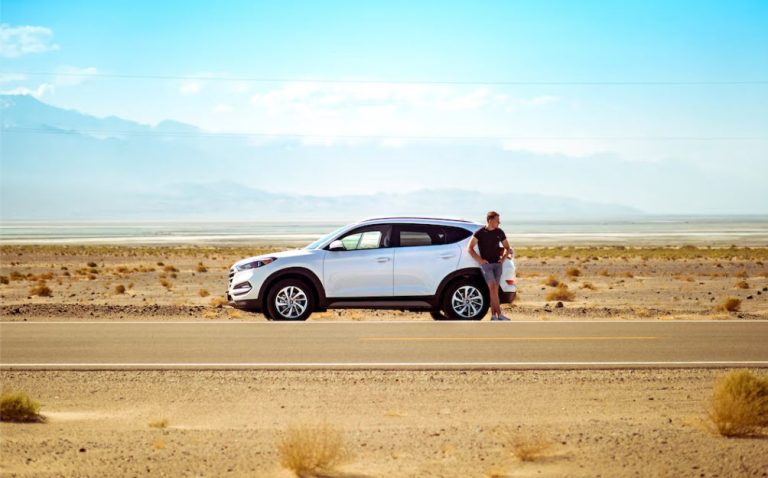 License Plate Lookup
Research a Vehicle by License Plate
Information about a motor vehicle and the owner is usually captured during the initial vehicle registration with the Department of Motor Vehicles (DMV). It is public data that can be found by looking up a car's VIN or License Plate. Whatever your reason for finding the owner of a vehicle, be it just out of curiosity or running a background check before buying or renting a car, this article is here to help. We provide 4 ways for you to check the owner of a motor vehicle.
Method 1: Search for a VIN or License Plate with BeenVerified

BeenVerified is a powerful vehicle lookup tool that collects public data from government agencies and top-level car industry partners. With BeenVerified, you can enter a VIN or License Plate to get a detailed vehicle report, includingownership information. In this in-depth vehicle report, you may find important information that you might be interested in, such as sales listings, accident and stolen history, estimated market value, vehicle specs and vehicle safety complaints.
BeenVerified is the most affordable vehicle search tool in the long run. Moreover, it keeps track of the status of a vehicle report and gives instant notifications whenever a detail about the subject is changed.
Follow the steps below to search a vehicle owner with BeenVerified:
Select to search by VIN/License Plate, enter that information and click SEARCH.
Wait a few seconds for BeenVerified to scan its database. Once it locates a match, it'll generate an in-depth vehicle report.
Method 2: Find the Vehicle Owner with EpicVIN

As one of the most popular vehicle search tools powered by an NMVTIS provider, EpicVIN is able to compile accurate and complete registration information on a motor vehicle, which would suggest its ownership history. You can also check odometer issues, accident and recall history, miles driven, ownership history, and more with EpicVIN, from just a VIN.
Here's how to find the owner of a car with EpicVIN:
Go to the search page of EpicVIN.
Select a search type, enter a VIN/License Plate and click Check.
EpicVIN will quickly return an easy-to-understand result page, disclosing some basic but essential car information.
General information on ownership history is available with free access. However, to access details of past and current owners, a premium membership is required.
Method 3: Run a Vehicle Title Search with Bumper

Bumper is another popular destination for mostly accurate and up-to-date vehicle information. Its database is composed of information from government agencies and various businesses, such as insurance providers, towing services, scrap metal yards, and salvage auctions. It allows you to find detailed car ownership history with just a VIN, License Plate or model type.
Follow these steps to locate the owner of a car with Bumper:
Select a search type, enter that information and click SEARCH.
It may take up to a few minutes for Bumper to scan its database and scour all vehicle ownership information that you need, when available.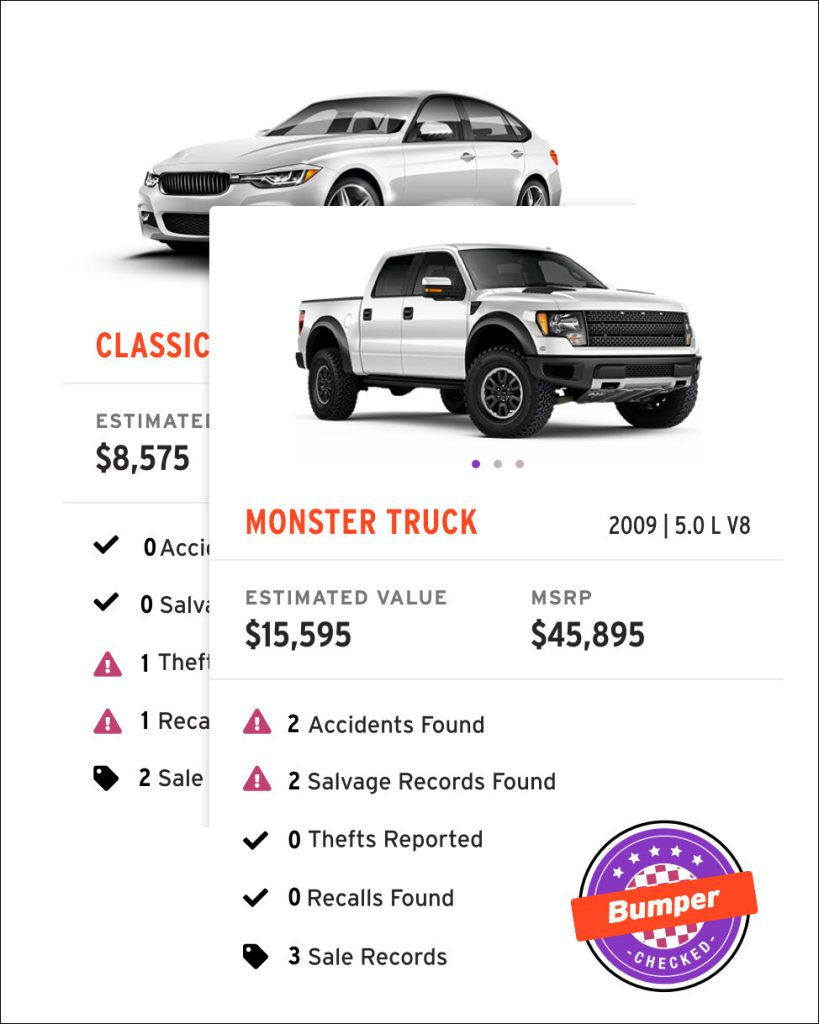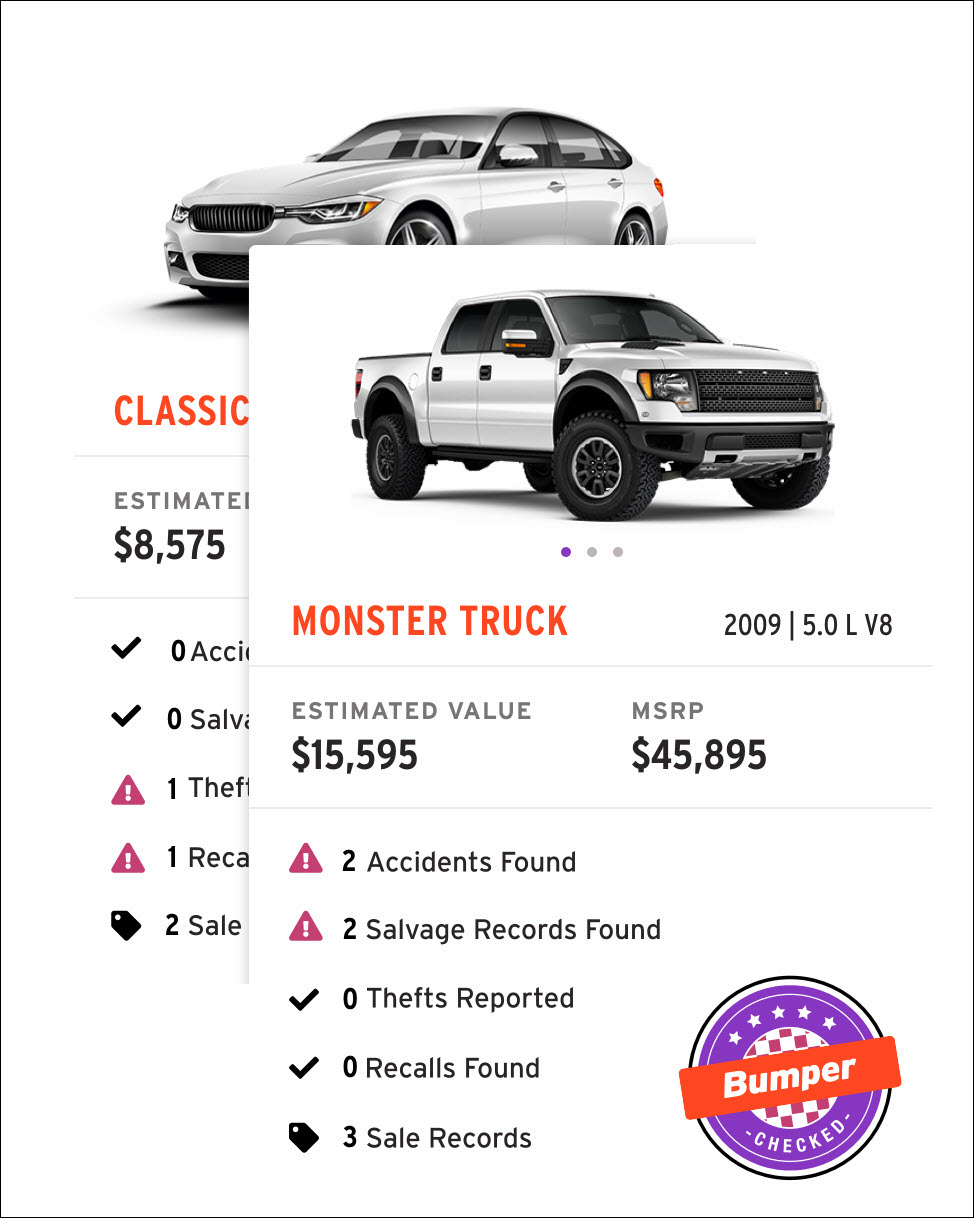 Method 4: Contact the Department of Motor Vehicles (DMV)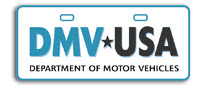 Another way to get a detailed motor vehicle report that reveals who the owner is would be to contact your local DMV. The DMV keeps a record of every vehicle in the state. The next step is to find DMV in your local area and submit your request online, by mail, or in person. Note that a small application fee usually applies.
That's all for finding the owner of a vehicle by VIN or License Plate. If you have any questions or suggestions, please don't hesitate to leave us a comment below, thanks!
The methods in this article provide you with easy access to public record information, but without a guarantee for accuracy and may include links to websites not listed as a Consumer Reporting Agency (CRA). Information acquired from these bodies is illegal to be used for employment, housing, credit, and other purposes alike, according to laws such as the Fair Credit Reporting Act (FCRA). If you're not sure whether your use of our methods is appropriate, click here for details.