5 Ways to Find Out Who Called Me From This Phone Number (Free & Paid)
Whose telephone number is this?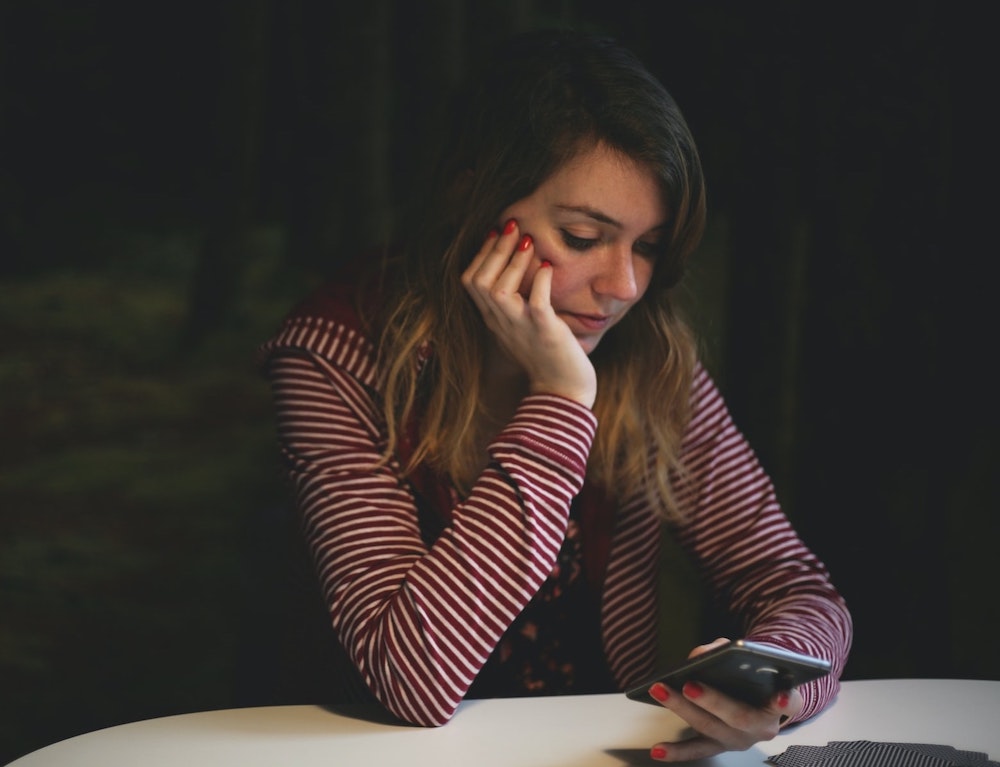 Find Out Who Called Me
[1] Enter Number [2] See Name, Age, Pics, Social & More.
If you're trying to figure out who called me from this phone number, you've come to the right place. As the growing number of telemarketers and scammers has gradually raised people's vigilance against unknown phone numbers, it's important to identify the phone number owner's name before picking up the unknown phone call. This post is here to help.
How to find out who called me
There are several ways to find out who called you from this phone number, including freeways.
1. Search on Google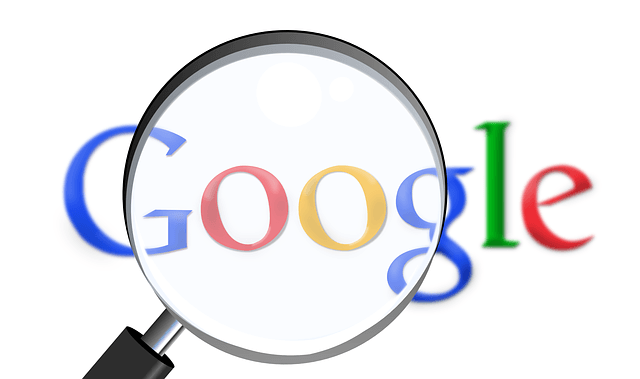 We recommend you search on Google to figure out who called you from this phone number. Especially when you don't mind taking some time digging around on the internet. Google is the largest search engine in the world. Most people leave their digital footprint online, so searching on Google may bring you some information if you're lucky enough.
Simply type the phone number in the search bar, hit Enter, then see the search result.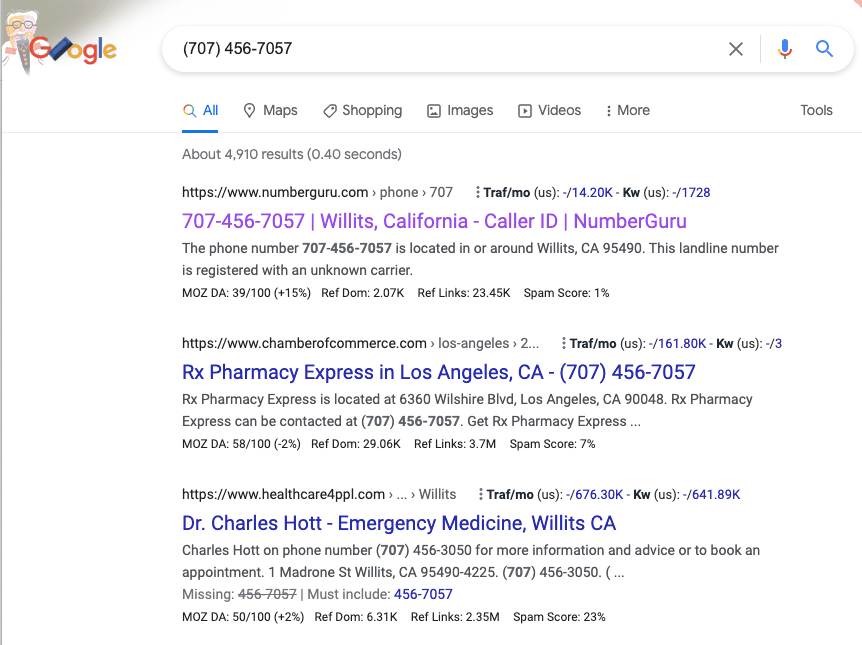 The location of the phone number may indicate whether it's a scam or not.
If you're greeted with "It looks like there aren't many great matches for your search", it means that Google cannot find a result for your search. In this case, you'd better turn to reverse phone number lookup sites for help.
2. Search on social media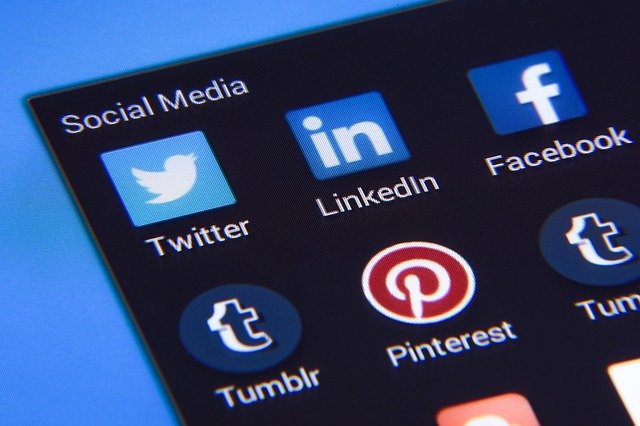 If you have no luck with Google search, you can try searching on social media platforms. Social media platforms are places for people to communicate with each other and have fun. More and more people like to share and watch others' life moments.
There is a chance to find someone using the phone number on social media platforms since many platforms require users to provide their phone numbers.
I recommend searching on Facebook and LinkedIn first. The 2 platforms give you more chances to find the right person. Because they are widely used around the world that have collected people's photos, phone numbers, email addresses, and more.
If there's no luck, you can turn to reverse phone number lookup sites for help.
3. Intelius
Intelius is one of the most efficient and reliable tools in the people search market. Because of its extensive database, you can get the most in-depth and accurate results in its reverse phone number report. You'll be impressed by the details they squeezed. With the fee you pay, you can get more checks than other services.
Go to Intelius.
Enter the phone number and click Search.

Follow the on-screen instructions then wait for a while, you can get a detailed background report including photo, address and more.

4. BeenVerified (Recommend)

BeenVerified is one of the most popular reverse phone number lookup tools on the market. By entering the phone number, you'll receive the report in minutes, which usually includes the name of the owner, current addresses, social media profiles, and more.
1) Go to the BeenVerified.
2) Click Phone Lookup, then enter the phone number and click SEARCH.

3) Wait for BeenVerified to search the databases. Once done, you'll see all the available social media profiles associated with this phone number.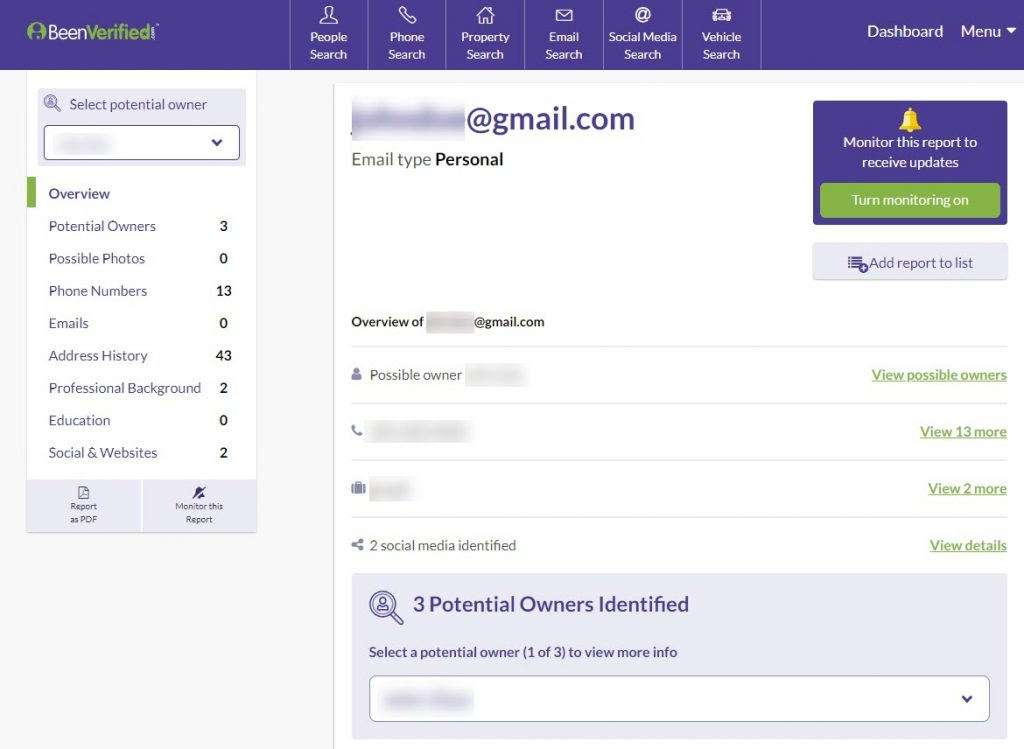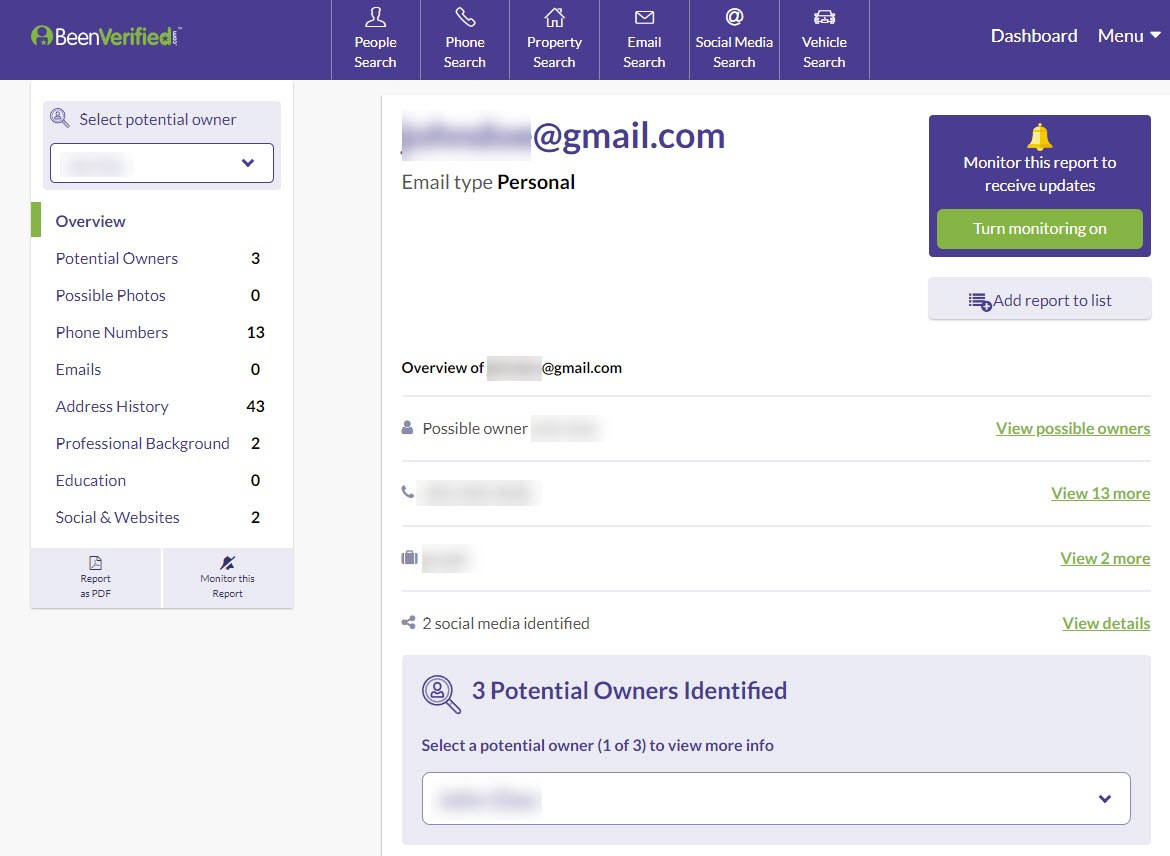 5. Spokeo (7-day free trial)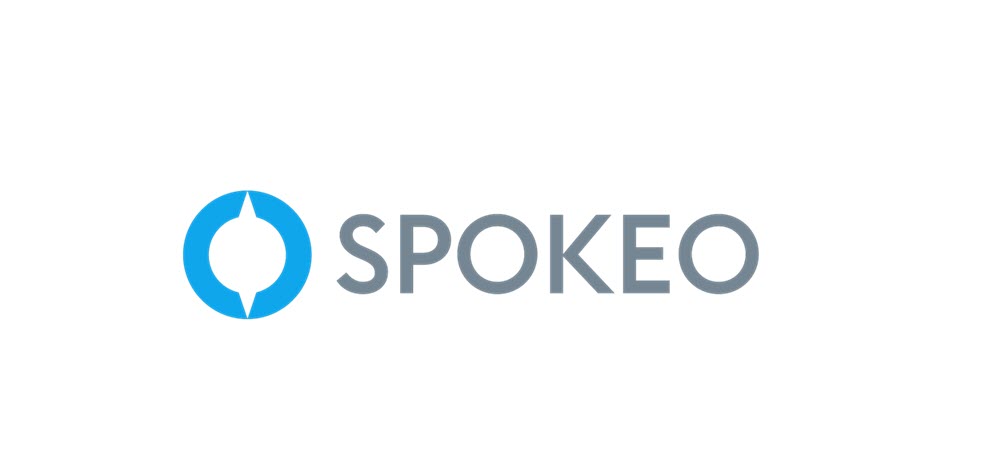 Spokeo is perfect for people who rarely use the service because it provides a 7-day free trial for some of the services. It is a comprehensive search engine with an extensive database with the records of thousands of people. Search people through a phone number and you'll find all kinds of information linked to it.
1) Navigate to the Spokeo official page.
2) Click PHONE and enter the phone number. Then hit SEARCH NOW.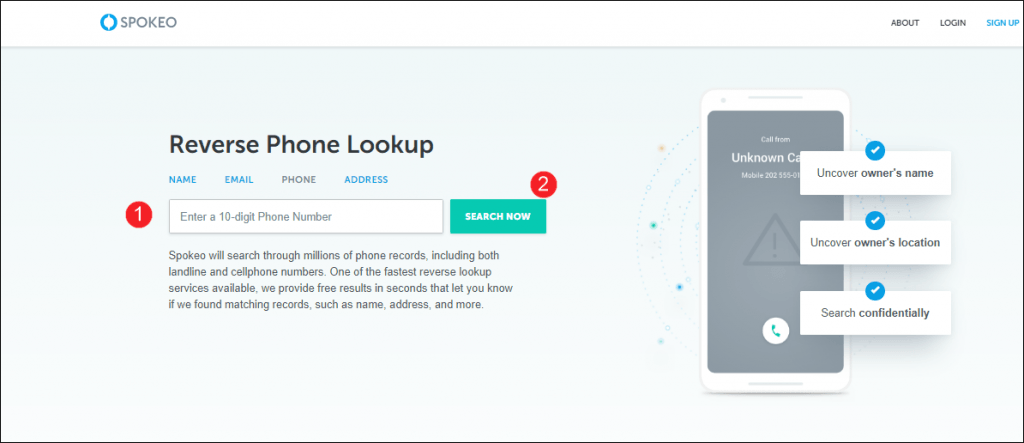 3) Click UNLOCK FULL RESULTS. Then click CONTINUE on the new page. You can see it provides a 7-day Spokeo Membership Trial for free in the left panel.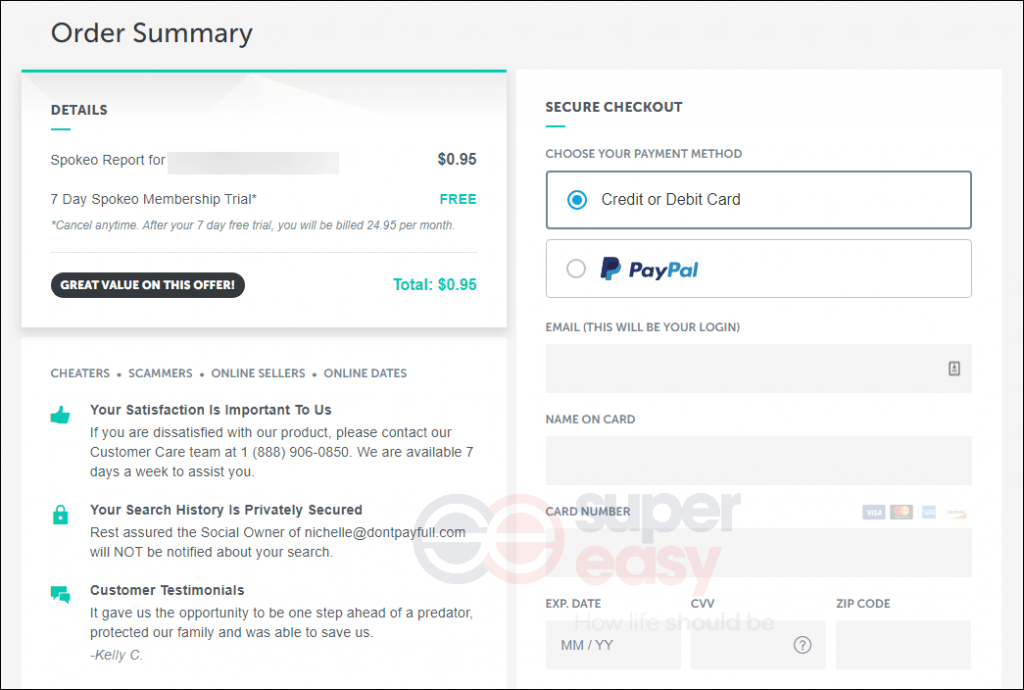 4) Enter the payment information and you'll get a report that contains a huge amount of information associated with the phone number.
6. PeopleFinders

PeopleFinders is another well-known reverse phone number lookup engine that allows you to find people online easily and quickly. It would help you find out more details about the person. The lookup address won't require you to sign up (which means no logs of your search), and the process is quick – all it takes is just a couple of minutes.
1) Go to PeopleFinders.
2) Choose the search option and enter the information you have.


Hint: You can also click Advanced Search to narrow down your search and get more accurate results.
3) Wait a while as PeopleFinders generates a report of the latest information about the people you're looking for.
If you don't want to pay for the service, you can try Spokeo's free trial or move to the next method.
Should I use free sites to find out who called me?
You'll see the easiest way to find out who called you from this phone number is using reverse phone number lookup sites. There are a lot of posts recommending free sites to you. So here comes the question:
Are these free sites safe? Can I trust these sites?
Well, some sites are safe, especially the ones with a big brand. But can they give you what you want? Probably no.
Many "free" sites will ask you to pay for the report to get the result. You go to these free sites trying to get the answer without payment, but in the end, you still need to pay for the report. It's not a free service at all.
Even if some sites offer you answers, you cannot simply believe them. Because many public databases require the company to pay for access, free people search sites usually don't have permission to get into the latest database. So the information you get is probably outdated or wrong.
Therefore, why not choose a reverse phone number lookup site which has a positive reputation to help you find out who called you from this phone number?
Conclusion
It can be tricky to do a landline or cell phone number search. However, as you can see, there are countless simple tools to identify an unknown phone number. Keep in mind, that if an unknown mobile number keeps calling you and requests personal information or big bucks, it's most likely a scam. Even if you believe it is a legitimate call, it is always smart to be vigilant. If you have a reason to suspect, end the call and use the tools mentioned in the article to avoid any botheration in the future.
That's all about how to find people online, both for free and paid. I hope this post will be helpful to you. If you have any suggestions or questions, feel free to leave a comment below.