What Is a Data Breach & How to Prevent It
Has Your Data Been Leaked?
Check if your email has been compromised in data breaches or on the Dark Web.
Have you ever been affected by a data breach? With increasing news reports about data breaches, people are more concerned about their online privacy. In this guide, we'll explain what a data breach is, how to prevent it, and what to do after a data breach.
What is a data breach
A data breach (also known as a data leak or data spill) is the unauthorized disclosure of sensitive or protected information. It may happen intentionally or accidentally. For example, if a website is hacked, the data of millions of users could be leaked and fall into the wrong hands. Or if you forget your USB flash drive in a coffee shop and someone finds it and views your sensitive documents, it's also a data breach.
Data breaches may involve personal information such as names, phone numbers, email addresses, usernames, passwords, Social Security numbers, or financial information like bank or credit card details. Cybercriminals may use the stolen data to commit fraud, steal your identity or sell it on the dark web.
How to avoid data breaches
Even large companies like Yahoo are not immune to data breaches, but there are some steps we can take to protect ourselves.
Shred sensitive documents before throwing them away.
Use secure websites. A secure website should start with HTTPS and have a padlock symbol before the web address.
Create strong, different passwords for all your accounts. A secure password should include numbers, symbols, and both uppercase and lowercase letters. Don't reuse passwords. If you can't remember all your passwords, consider using a password manager.
Use two-factor authentication when possible. Two-factor authentication makes it harder for scammers to log in to your accounts if they do get your username and password.
Keep your devices' operating systems and applications up to date. Make sure you're running the latest version of security software.
Back up your files to the cloud or any external storage device.
Delete personal information before disposing of a computer or mobile phone, as they might contain your personal information.
Regularly check your credit reports and review your bank and credit card statements. Watch out for suspicious activities.
Use a VPN when connecting to public Wi-Fi.
Close online accounts you no longer use.
Be wary of phishing attacks.
Consider investing in an identity theft protection service, like Aura, which offers all-in-one protection for consumers.

With Aura, you'll get: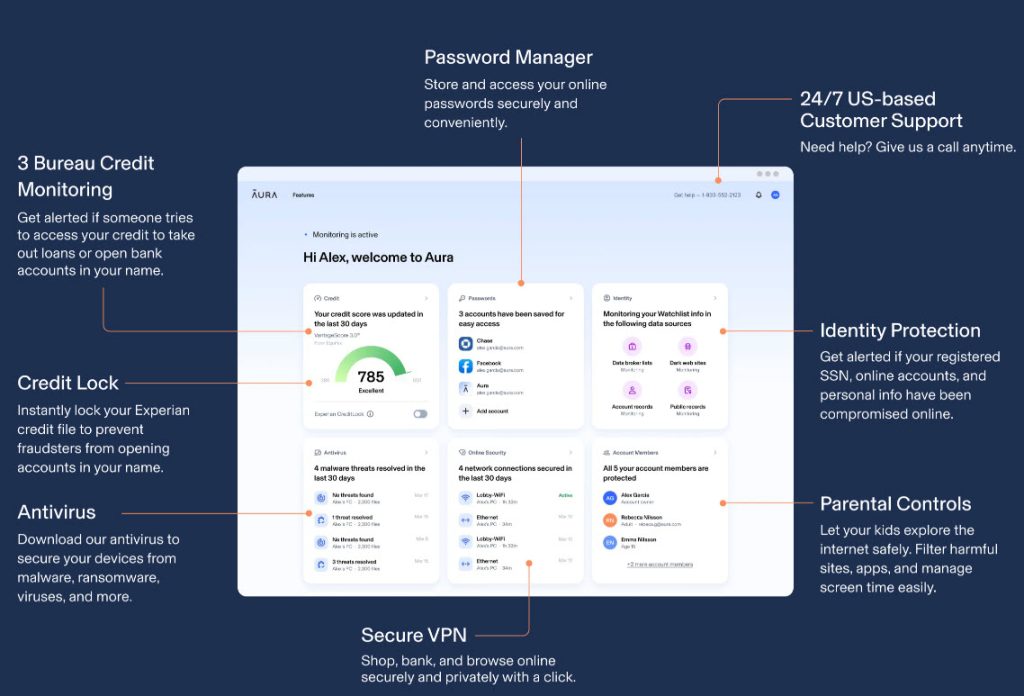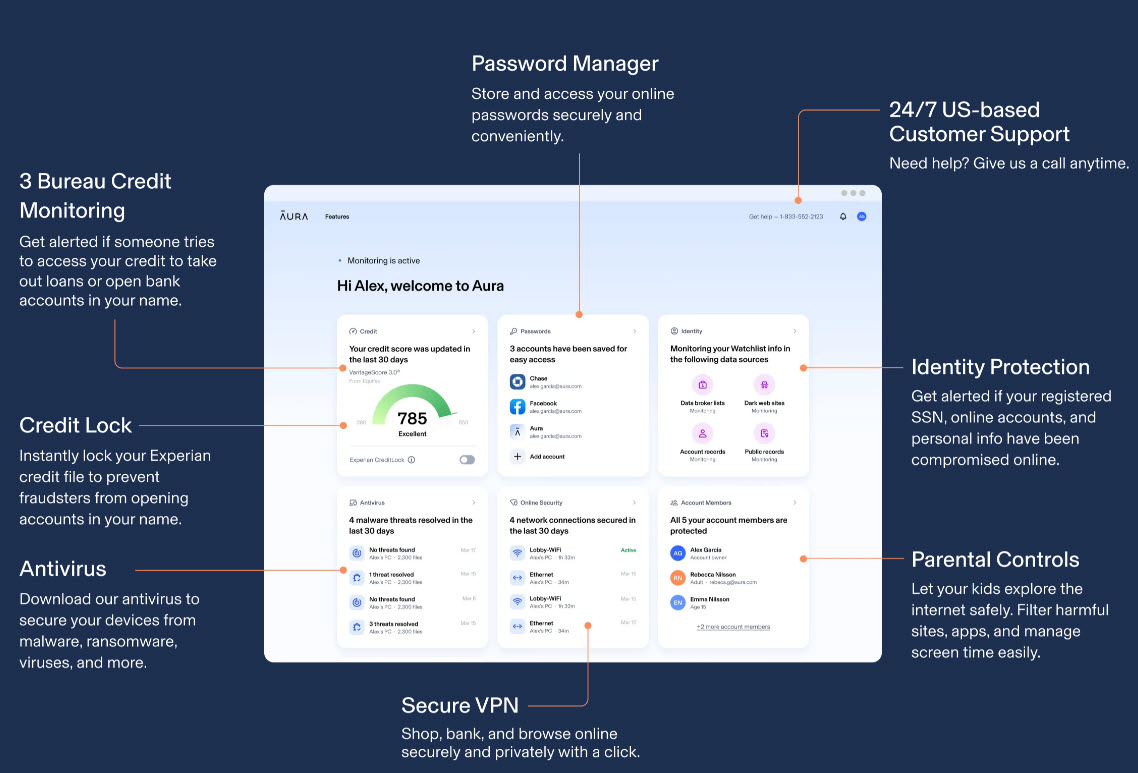 What to do if your data has been breached
If you're involved in a data breach, here are steps you should take immediately:
Step 1: Confirm the breach
When receiving a data breach notice, you should first confirm that it actually occurred. Cybercriminals often trick you into giving them your personal or financial information by pretending to be reputable companies and sending you emails claiming there's a breach or problem with your account. They may ask you to click on a link to confirm or update your information. Once you clicked on the link, your personal data will be at risk. Keep in mind that legitimate companies won't ask for your personal or financial data over emails or texts. To confirm a data breach, you can contact the company directly or search for news stories.
Step 2: Find out what data was breached
Depending on what information was exposed, there are steps you can take on IdentityTheft.gov/databreach to help protect yourself from identity theft.
Follow the recommended steps, including:
Change your password with the affected account and any other accounts using the same password.
Turn on two-factor authentication. This can add an extra layer of security that protects you from hackers.
Check your credit reports at annualcreditreport.com. Due to the pandemic, you can check your reports every week for free through December 2023.
Consider placing a free credit freeze or fraud alert on your credit report.
File your taxes early if your Social Security number was stolen.
Keep monitoring your accounts for suspicious activity.
Step 3: Accept the breached company's offers to help
Stay informed about the actions being taken by the company that lost your data. Some may offer special services, such as credit monitoring services, to help victims. If you're offered one, take advantage of it.
Credit: Featured Image by Darwin Laganzon from Pixabay