How to Cool Down Dogs | Walking Dog in Hot Weather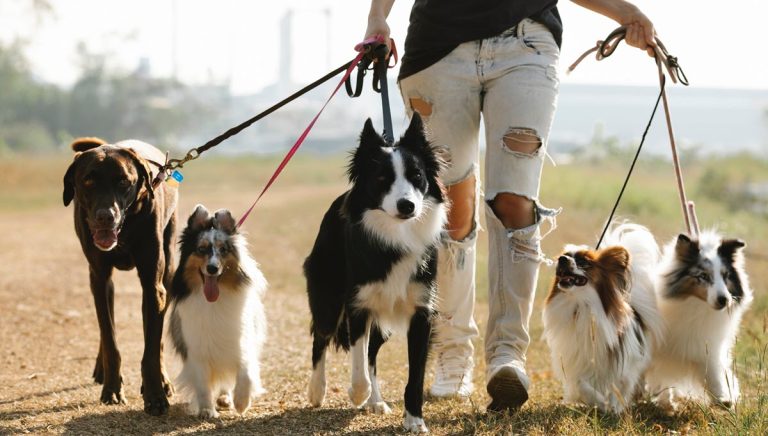 Summer is becoming hotter, longer, and more dangerous. While protecting yourself from wildfires, high temperatures, drought, and storms, you should give more care to your furry friends. Heatstroke can be fatal to dogs. How to walk dogs in hot weather? How to cool down dogs? Here are some tips for you.
How to walk dogs in hot weather?
Check the ground temperature
Before walking, place your hand on the ground. If you can't stay still for 3-5 seconds, it's too hot for your pup. Try to walk your dog early in the morning or after sunset when the air and the streets are cooler. Besides, seek out shady trials or sidewalks whenever possible. Get your pups some toys to keep them indoors while having fun and exercising.
Go well equipped
Puppy lower body temperature through panting, which causes water loss. Therefore, always carry water and a collapsible bowl, or a portable pet bottle when walking dogs in hot weather. Stop often to make sure your dog is sufficiently hydrated. You can feed them with water-abundant fruits but not too much.
Use pet sunscreen
Yes, there are pet-safe sun creams. Pups with white or light-colored fur are prone to sunburn while walking in hot weather. Apply sunscreen on their skin's exposed parts such as the nose and tips of ears. You know the pain of getting sunburned, so protect your canine pal well.
Watch out for fleas and ticks
Pests including fleas and ticks are everywhere in tall grass and woods during summer. And they can easily turn enjoyable dog walking into long-lasting discomfort, causing severe itching and skin damage. What's worse, there could be hundreds of eggs and larvae around your home. Consult your vet for treatment or purchase some online for the summer months.
Keep your pet groomed
Don't shave your pet coat as it works as insulation. But you can groom your pooch regularly to remove the dead hairs and help circulation on the outer layer of skin. Apart from spotting any irregularities on his skin, you can enhance the relationship between you through grooming.
Make house cool
When paying attention to walking dogs in hot weather, don't forget to make your residence cool for your furry friend. Pets respond differently to heat than humans do. Dogs do sweat through their paw pads, but it's by panting that dogs circulate the necessary air through their bodies to cool down. But a low-temperature environment can save them lots of effort. Get them some devices to keep cool in the house.
Signs of heatstroke
Excessive panting;
A deep red tongue;
Unusual drooling;
Extreme thirst;
Difficult breathing;
Lethargy;
Vomiting.
If your dog shows any signs of overheating, get them into cool water as soon as possible. If signs of distress persist, go to a vet immediately. On your way, cool down your dog with a cool wet towel or a cold pack. Organ failure can be rapid, irreversible, and fatal.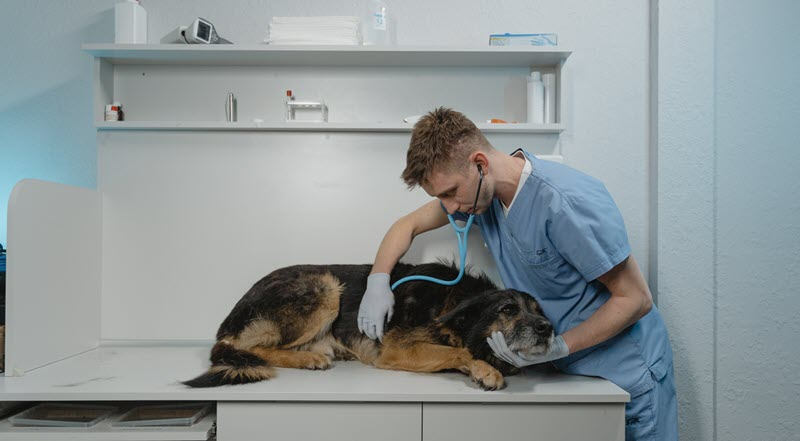 Hire a trusted pet sitter
If you're a travel lover or have frequent business trips, you may want to hire a trusted pet sitter to take care of your pooch.
TrustedHousesitters offers verified sitters, unlimited pet care, and expert veterinary advice. You can easily find a local sitter (also pet lover) on TrustedHousesitters, who can maintain your dog's much-loved routine. Instead of going to boarding kennels, doggies can stay happy at home with a new human friend who can give them loving care and company.
---
That's all for walking dogs in hot weather. Please feel free to share your tips below!