Vehicle Title Search by VIN | Lookup Title Records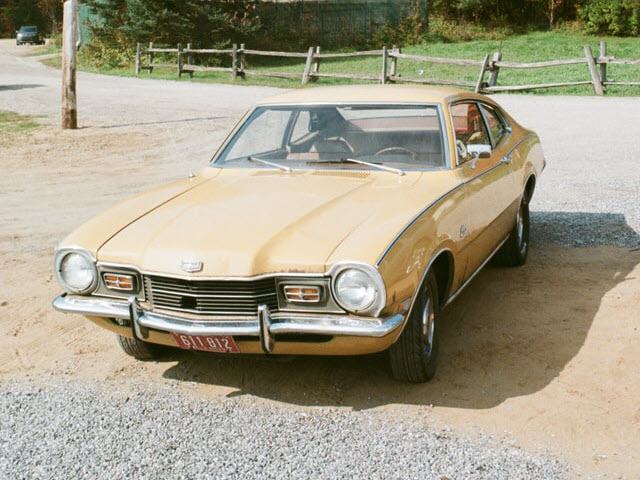 Car Title Search
1. Enter VIN 2. View title records
A car title is an official document that identifies who owns a vehicle legally. Generally speaking, you cannot buy or sell a car without a title. If you're planning to buy a used car, you should perform a car title search to ensure there are no title problems with it. Here we'll show you how to run a vehicle title search easily and quickly.
Why is a vehicle title search important
A vehicle title search can help you learn more about a car and make a better decision when buying or selling it. With a car title search you could:
Verify the legal ownership of a vehicle to avoid auto fraud and theft. If the seller's information doesn't match the information on the title, there's a probability the car is stolen.
Avoid purchasing a potentially unsafe vehicle. A vehicle title search report can tell you if a car has a brand, total loss, or salvage history.
Find out the true market value of the vehicle. The odometer reading can help you identify discrepancies in the vehicle's history, so you won't overpay for it.
What's included in a car title search
Running a vehicle title search will return a detailed vehicle history report. The report may include:
Vehicle identification information, including vehicle identification number (VIN), make, model, and year
Previous owners
Accident, salvage, and theft records
Title brands
Historical odometer readings
Safety recalls
Vehicle specs
Warranties
Estimated ownership cost
Market value
Sales listing history, including price and images of the vehicle
How to perform a vehicle title search
There are mainly two ways to find vehicle title information:
Method 1 — Contact your state's Department of Motor Vehicles (DMV) and provide the car's VIN or license plate number.
Method 2 — Conduct a title search on an NMVTIS-approved (National Motor Vehicle Title Information System) data provider of vehicle history reports.
The DMV can only offer you limited information displayed on a title, but with private vehicle history providers, you may be able to uncover other valuable information, such as market value, accident history, recall status, and more!
If you're not sure which service to go with, here are a few options:
1. BeenVerified
BeenVerified is one of the best-known public records search services. At BeenVerified, you can not only find information about people but also vehicles. BeenVerified's vehicle search tool is powered by Bumper, an Approved NMVTIS Data Provider.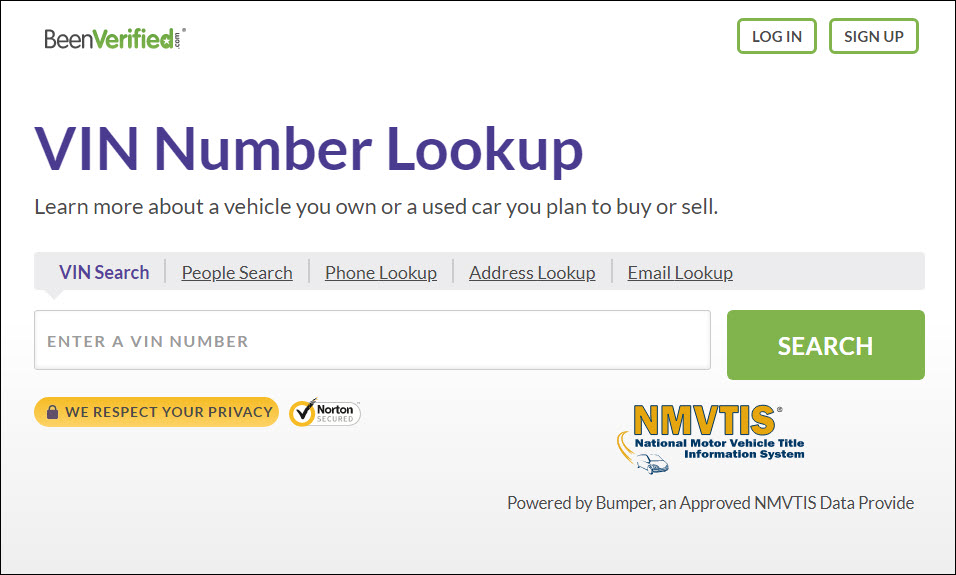 To run a car title search on BeenVerified, just head to the VIN Number Lookup page, enter a VIN and click SEARCH. Within seconds, you'll receive a detailed report that includes title records, brand history (if any), safety recalls, market value, and more.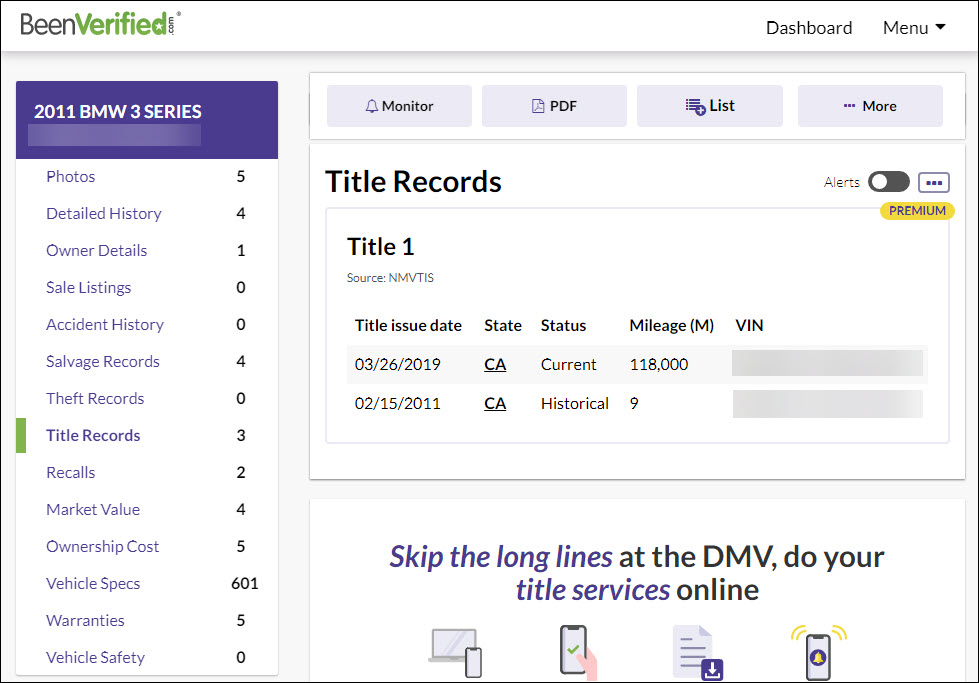 2. Bumper
Bumper is a leading vehicle history provider. Its database comes from government agencies, insurance providers, car industry sources, etc. With Bumper, you could potentially find a vehicle's history, specifications, accidents and salvage records, market value, and more.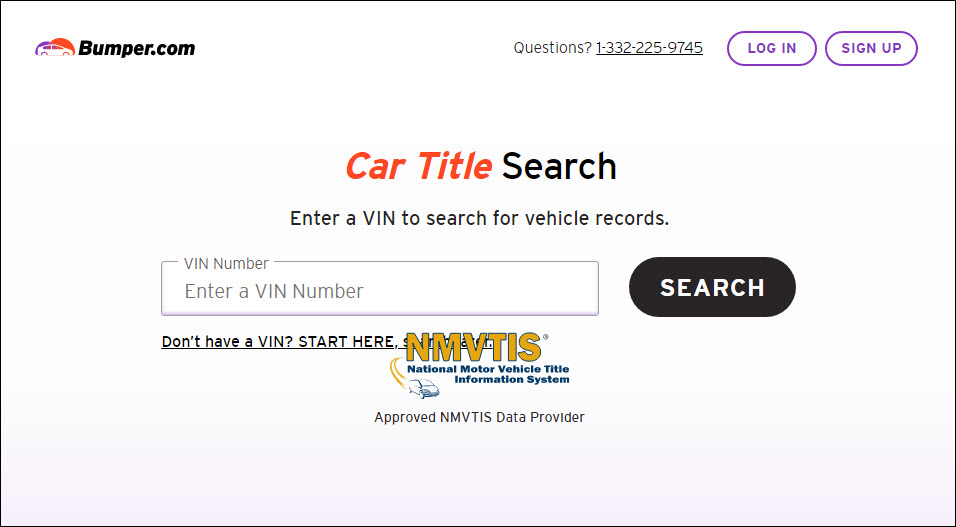 To perform a vehicle title search, simply head to the Bumper homepage, enter the VIN of the vehicle you want to search for, and hit the SEARCH button. Then Bumper will scan through its database and compile all available data into a detailed vehicle history report. If the vehicle has a branded title, like "junk," "salvage," or "flood", Bumper will alert you.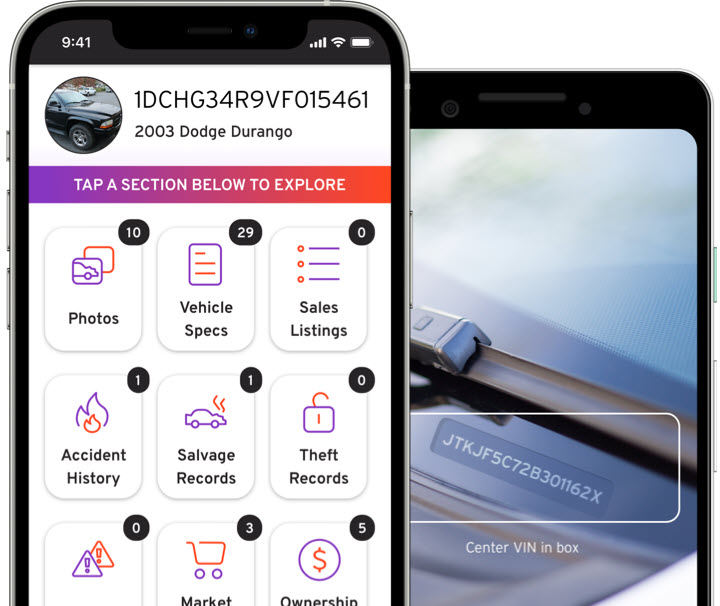 3. EpicVIN
EpicVIN is another NMVTIS-approved data provider. It has been providing customers with comprehensive vehicle history reports for about 10 years. EpicVIN reports may highlight a vehicle's odometer readings, title information, junk and salvage titles, flood damage history, accident or lemon history, etc.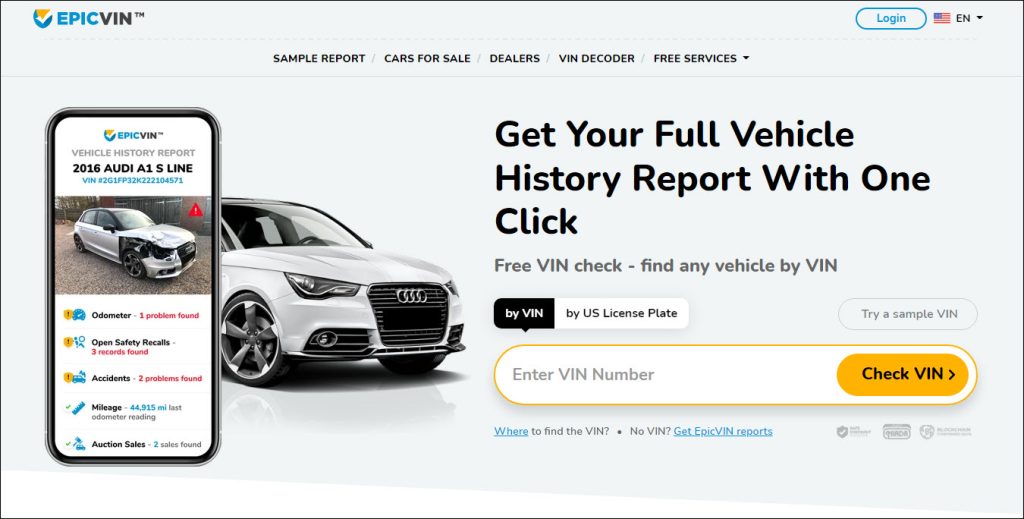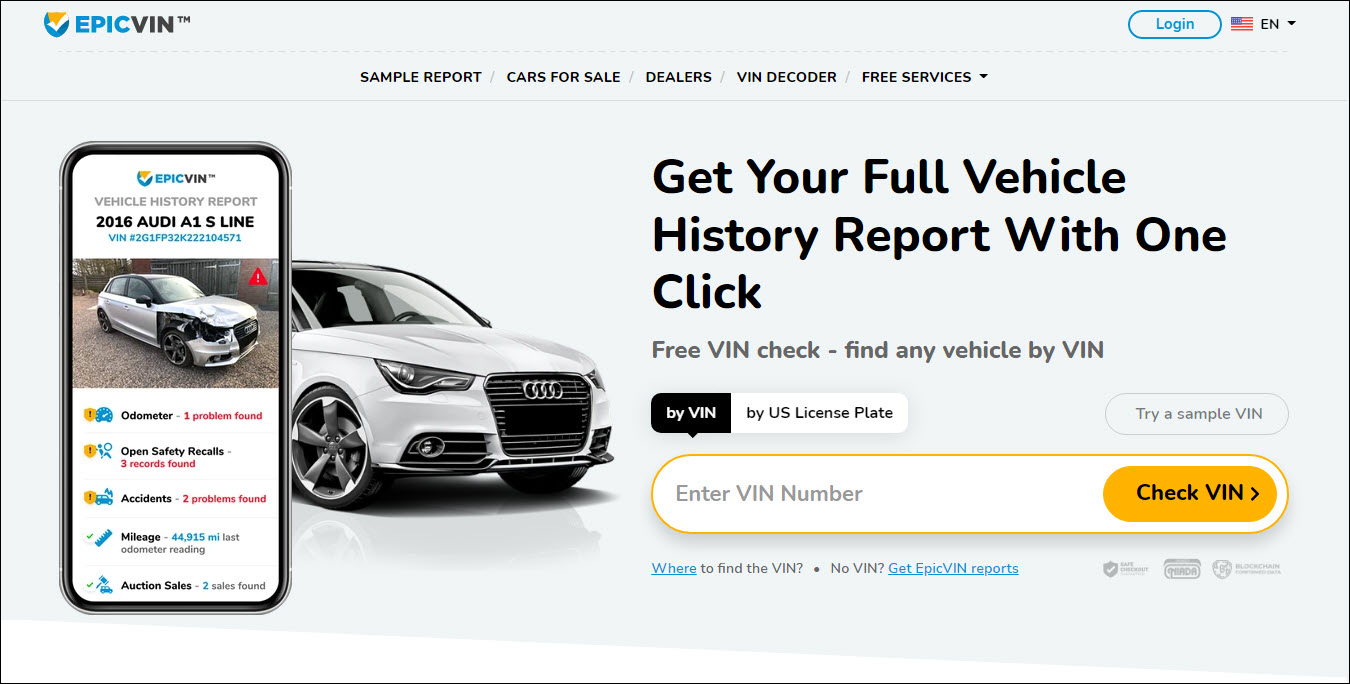 Just like other services, you can use a vehicle's VIN or License Plate Number to get an EpicVIN vehicle history report. The EpicVIN report may look like the following: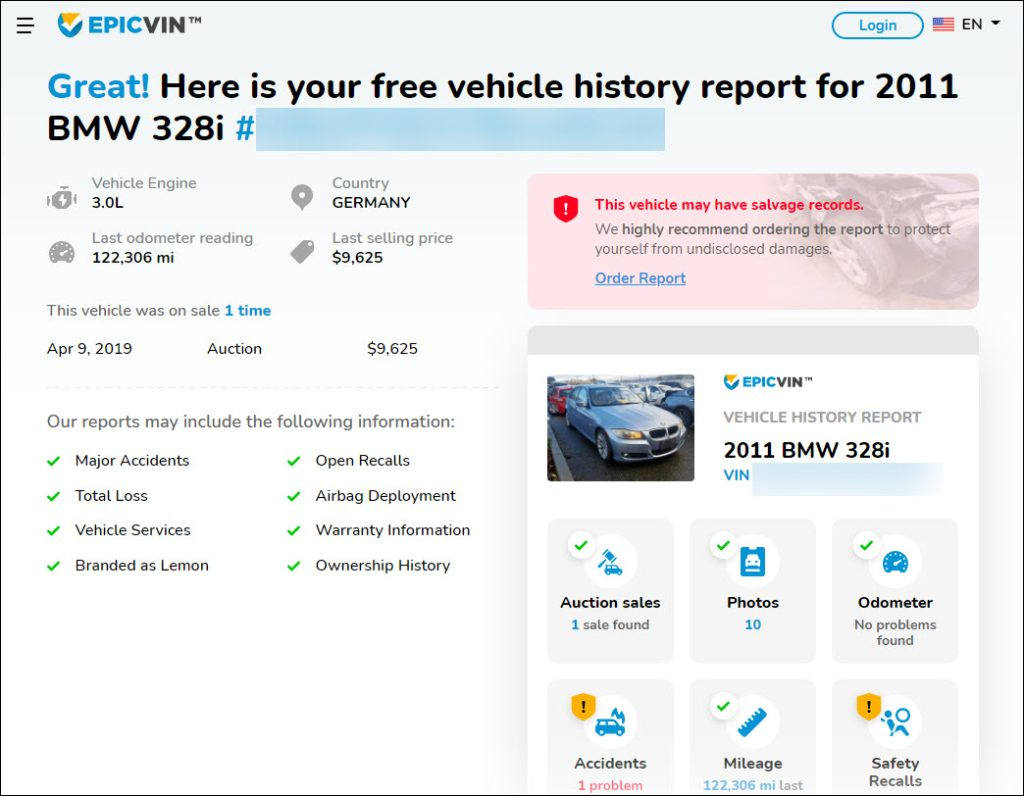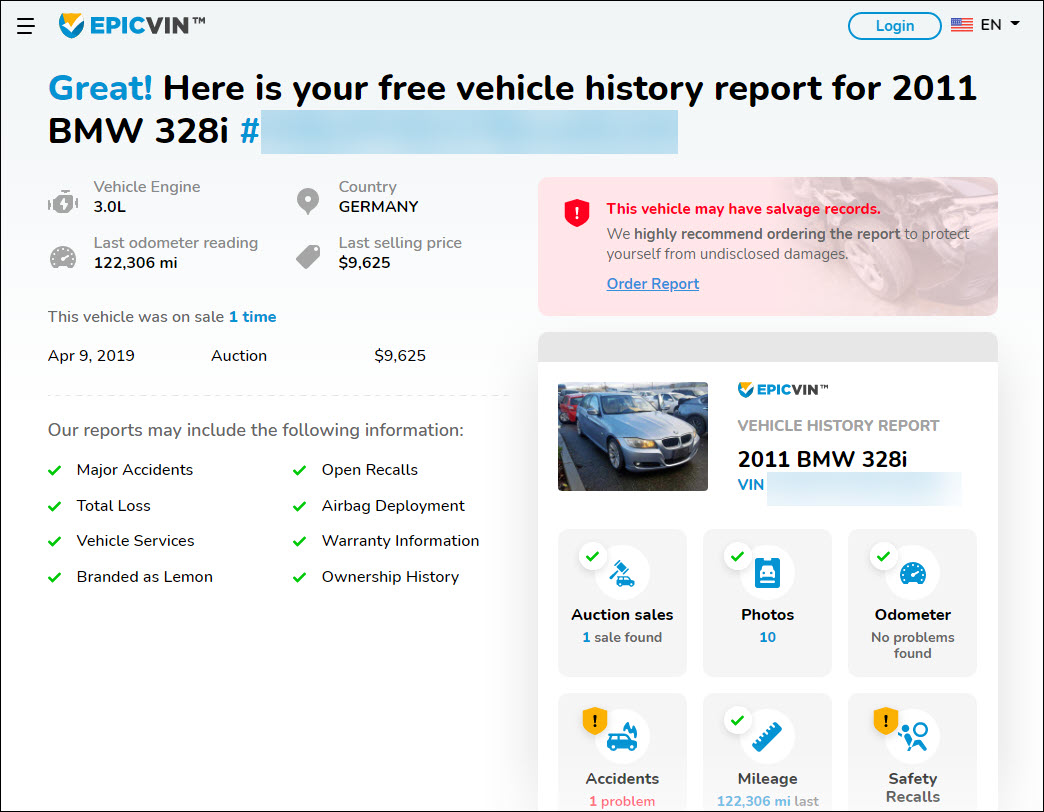 4. NICB
The National Insurance Crime Bureau (NICB) website offers a free VIN check tool. It lets you enter a VIN to find out if the vehicle has been flooded damaged, was stolen but unrecovered, or otherwise declared as salvage.