Vehicle Recall Checkers | Get A Detailed Recall History Report For Your Car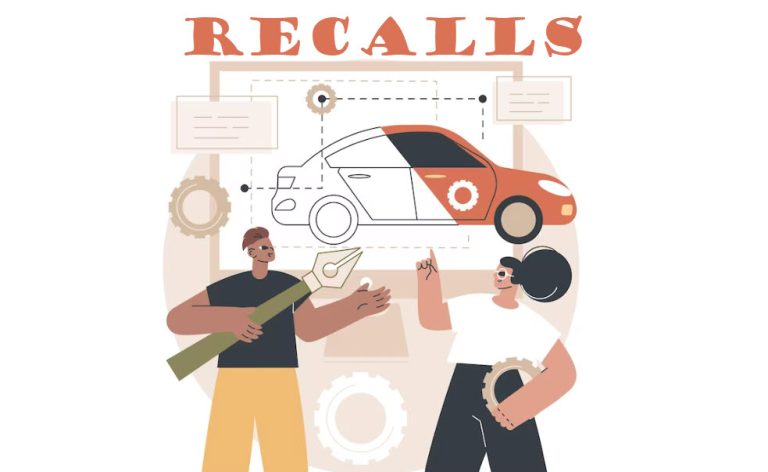 Vehicle Recall Checker
Enter a VIN and get a detailed recall history report.
A car recall suggests a defective or poorly performing component that needs to be replaced, or else it might cause safety issues and put people at risk. Checking up on recall status is always crucial as open recalls happen all the time, whether a car is new or used. This article provides 4 ways for you to check the recall status and history of your car by VIN number or License Plate.
Option 1: Car Recall History Search by VIN or License Plate with BeenVerified
BeenVerified is a powerful vehicle lookup engine that collects public data from government agencies and top-level car industry partners. With BeenVerified, you can enter a VIN or a License Plate number to get a detailed recall history report about that car, including the date it occurred, type of issue, summary of recalls, consequences, and remedies.
In this in-depth vehicle report, you may find other information that might concern you, such as miles driven, accident history, theft records, and vehicle safety complaints. BeenVerified is the most affordable vehicle search tool in the long run. Moreover, it keeps track of the status of a vehicle report and gives instant notifications whenever a detail about the subject is changed.
Follow the steps below to search vehicle recalls by VIN or License Plate number:
Enter a VIN/License Plate number and click SEARCH.
Wait a few seconds for BeenVerified to scan its database. Once it locates a match, it'll generate an in-depth report revealing the car's recall history, when available.
Option 2: Find Motor Vehicle Recall Records with Bumper

Bumper offers a powerful portal for you to get a deep dive into a vehicle's past. It allows you to find a car's comprehensive recall history with just a VIN, a License Plate, or by year, make and model. At Bumper, you may also find your motor vehicles' possible past accidents, repairs, and maintenance records.
Here's how to check a motor vehicle's recall records with Bumper:
Go to the search page of Bumper.
Select a search type, enter the information and click SEARCH.
Bumper will return a comprehensive report disclosing your vehicle's recall records, and more.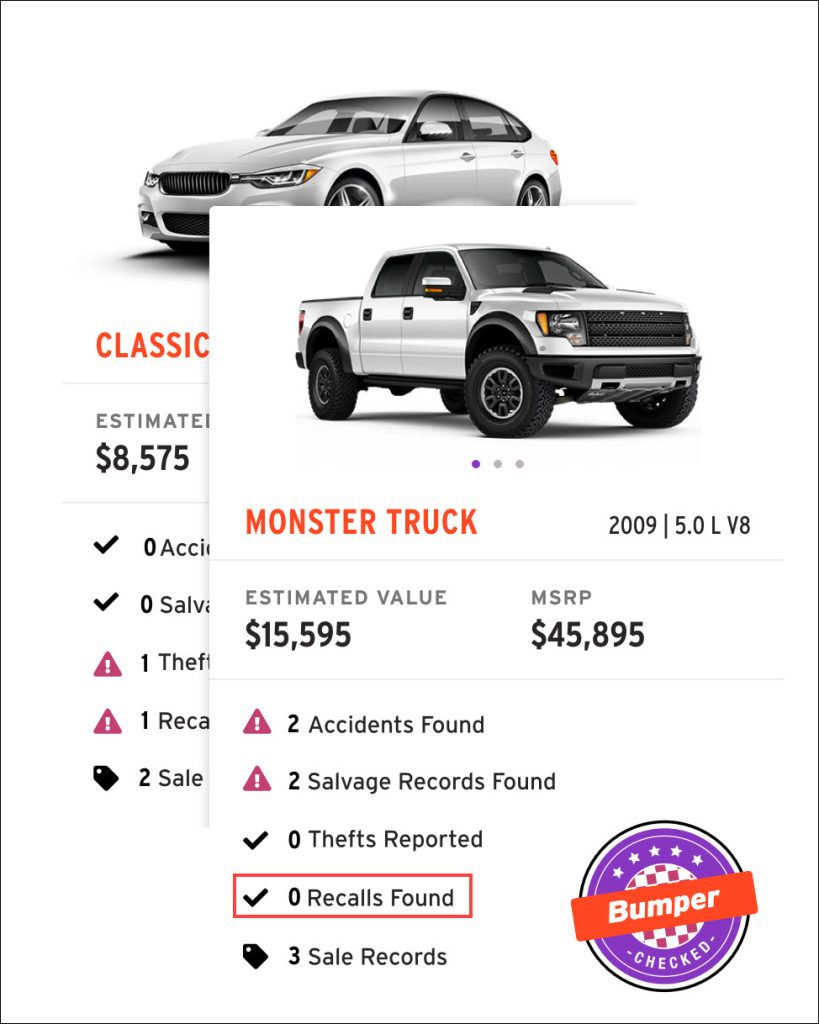 Option 3: Vehicle Recalls Lookup with EpicVIN

As one of the most popular vehicle search tools powered by an NMVTIS provider, EpicVIN is able to compile accurate and complete information on a motor vehicle's past, including recall records, accident history, odometer, from a VIN or License Plate.
Follow these steps to run a vehicle recall check with EpicVIN:
Go to EpicVIN's official website.
Select a search type, enter the information and click Check.
EpicVIN will show you a free report with some basic but essential car information, and you'll be able to see the number of safety recalls that happened to this car here. However, to access a full report for details of safety recalls, odometer manipulation, theft records, and undisclosed accidents or damages, a premium membership is required.  
Option 4: Check Vehicle Recall Status at NHTSA.gov
Another way to find the current recall status of your car is to go to the National Highway Traffic Safety Administration (NHTSA). NHTSA is an agency within the U.S. Department of Transportation that aims to save lives, prevent injuries, and reduce economic costs due to road traffic crashes through enforcing vehicle performance standards.
Follow the steps below to check the current recall status of your car at NHTSA.gov:
Go to NHTSA.gov.
Enter a VIN and click on the magnifier icon to perform a search.
You'll see an easy-to-understand result page in a second, revealing how many safety recalls your car currently has.
Information provided here is completely up-to-date and free!
Bonus Tip: How to find the VIN number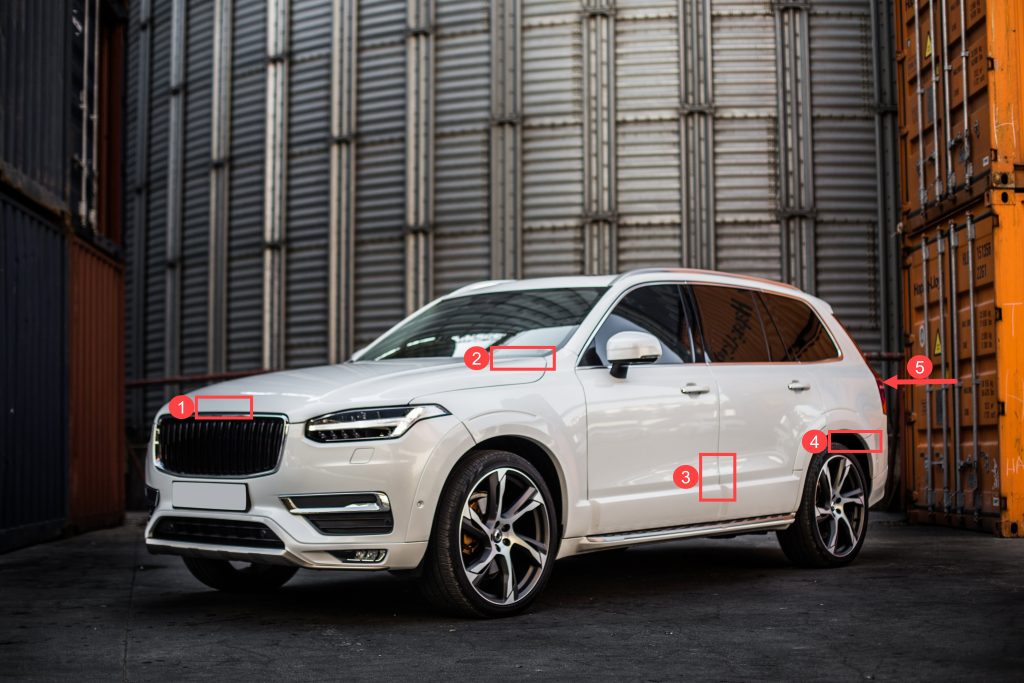 Places where you may find your car's VIN:
1. The front of the engine block (under hood);
2. The driver's side interior dashboard;
3. Inside the driver's side door jamb;
4. In the rear wheel well;
5. Underneath the spare tire in the trunk;
6. Check your vehicle's title records or insurance card.
Please remember that safety recalls happen more often than you know and regularly checking on your motor vehicle's latest recall status is crucial to keep you and your family safe. That's all for finding out the recall status or records of a motor vehicle. If you have any questions or suggestions, please don't hesitate to leave us a comment below, thanks!
Credit: Feature Image by Vectorjuice on Freepik
The methods in this article provide you with easy access to public record information, but without a guarantee for accuracy and may include links to websites not listed as a Consumer Reporting Agency (CRA). Information acquired from these bodies is illegal to be used for employment, housing, credit, and other purposes alike, according to laws such as the Fair Credit Reporting Act (FCRA). If you're not sure whether your use of our methods is appropriate, click here for details.