Vehicle Identification Number Lookup | VIN Decoder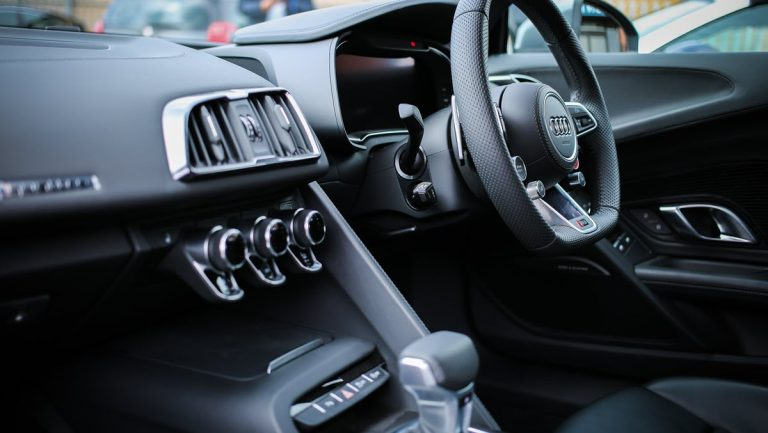 What can you get from a VIN report?
Previous owner
Estimated market value
Vehicle specifications
Salvage records
Theft records
Accidents history
Recalls & warranties
More…
Vehicle identification number, or VIN for short, contains much information about a vehicle. If you want to run a vehicle identification number lookup, whether on pre-1981 cars, classic cars, motorcycles, Jeep, or trailers, check this post to get your report quickly.
What is the vehicle identification number?
A vehicle identification number (VIN), aka chassis number, is a unique code to identify individual vehicles. Like a fingerprint, it distinguishes your car from others and also links to much vital information such as the vehicle's brand, engine size, manufacture place, year, and so on. Besides, since VIN is recorded by government agencies like a license plate, you may be able to find all public records about a car by entering its VIN.
The first VIN dates back to 1954 when it came in a variety of configurations, ranging from 5 to 17 characters. It was not until 1981 that the National Highway Traffic Safety Administration standardized it into a 17-digit. So if you get a vehicle identification number less than 17 characters, it's likely from a pre-1981 vehicle.
The VIN is mainly divided into 3 parts — world manufacturer identifier, vehicle descriptor sections, and vehicle identifier section.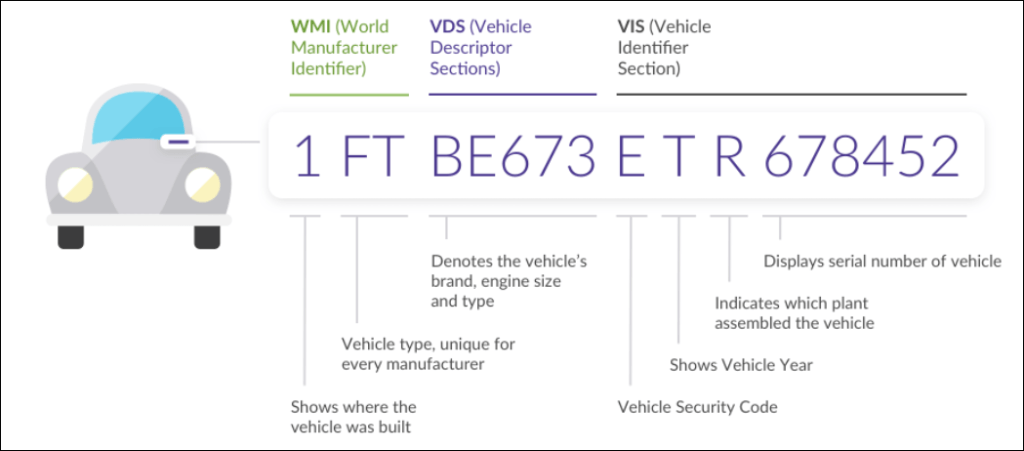 Each phrase or character also has its own meaning. For example, the 10th character indicates its model year (T means it's made in 1996). Some enthusiasts are keen to decode the VIN one by one. If you're also interested in it, check the VIN tables on Wikipedia to decode your VIN.
Where to find car VIN?
Locate the VIN on the car
The lower left-hand side of the dashboard
The front of the car frame, near the windshield washer container
In the trunk, covered by the spare tire
Driver-side doorpost or doorjamb with the door open
Peek in the rear wheel well
Find the VIN on the paperwork
Title document
Registration card
Owner's manual that comes with the car
Insurance card or policy
Call the dealership or manufacturer
If you fail to find the VIN, call your dealer or manufacturer and provide your car's make and model. They may specify where to find your VIN.
Search VIN by license plate
Enter your license plate to search for VIN in the below box.
VIN Search
Vehicle Identification Number Lookup by License Plate
How to get a vehicle report by VIN?
There are many reasons that you want to obtain a detailed report about your car, including but not limited to buying/selling a used car, figuring out the exact specs, finding previous owners, etc.
1. Run a VIN lookup with BeenVerified
Powered by an approved NMVTIS data provider, BeenVerified dives deep into a vehicle's past. You may find some facts hidden by car dealers in the report: theft records, accident history, salvage, damage, and others.
All you need to do is just fill in the box below with the VIN you find and click Search Now. (You can search for both pre-1981 and post-1981 vehicle identification number.)
You'll be redirected to a new page where a detailed report will be generated. Browse the report to check for different sections: owner details, title records, recalls, market value, vehicle specs, warranties and so on.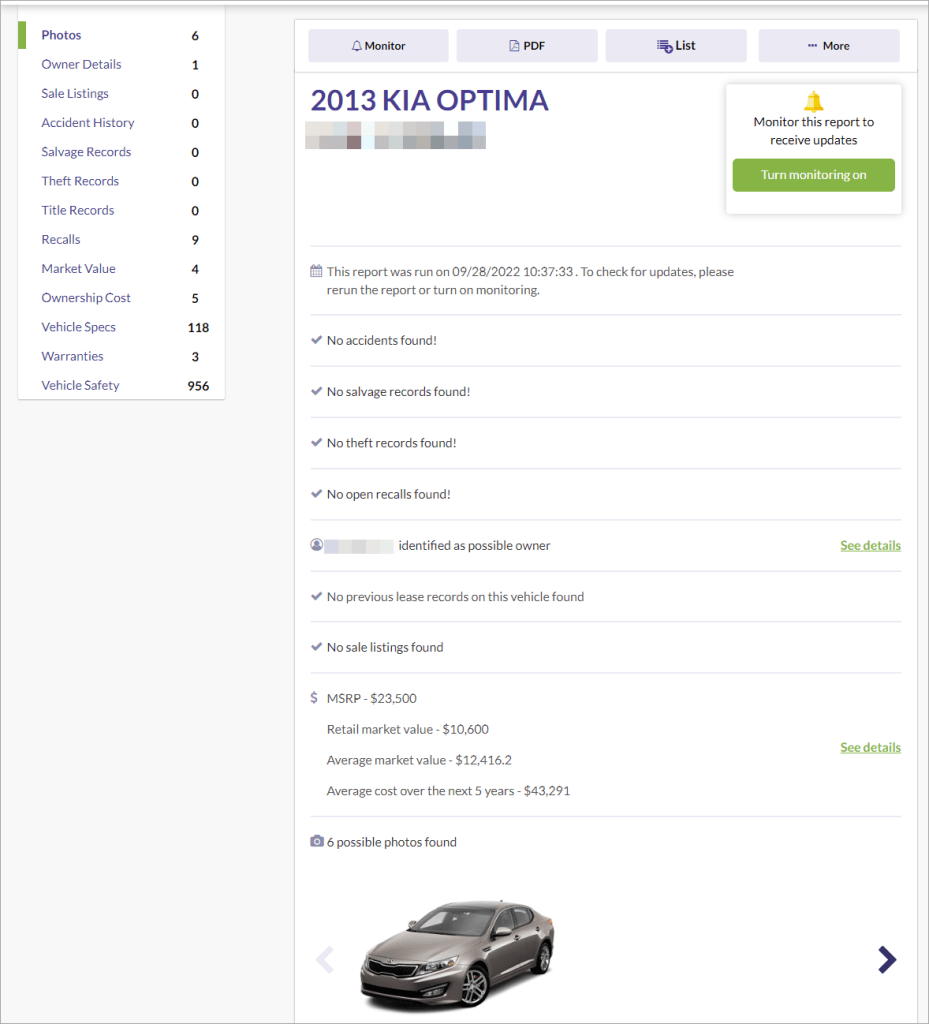 2. Search VIN with Bumper
With over 1 million monthly visitors, Bumper provides thousands of reports weekly to help people make informed car-buying decisions. It complies with reliable, regularly updated information from government agencies, insurance providers and car industry partners, and makes it accessible to the public.
Here's how it works:
Step 1. Go to the Bumper VIN search page.
Step 2. Enter a VIN number and click Search to perform a vehicle identification number lookup.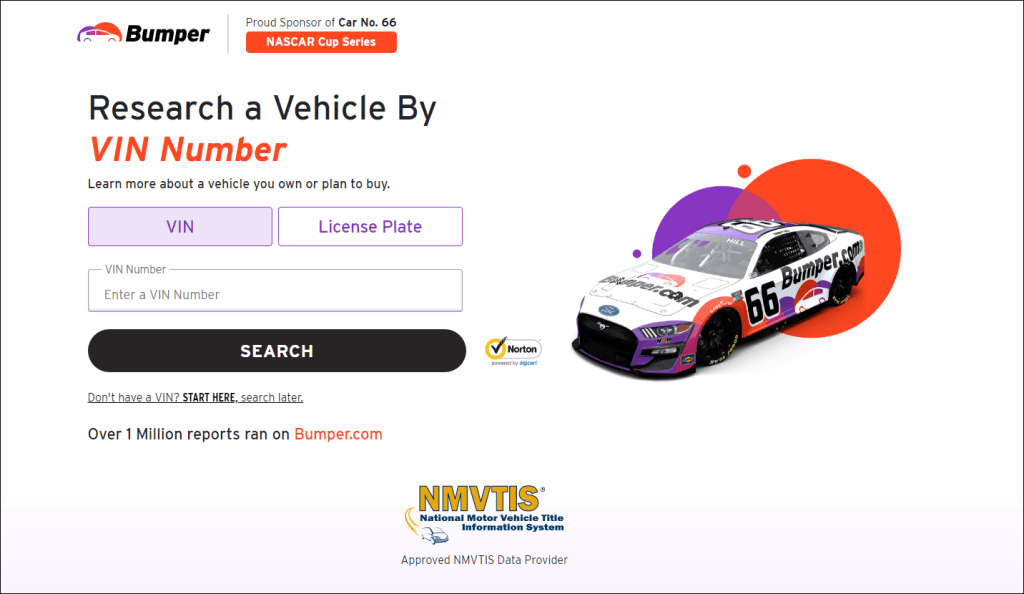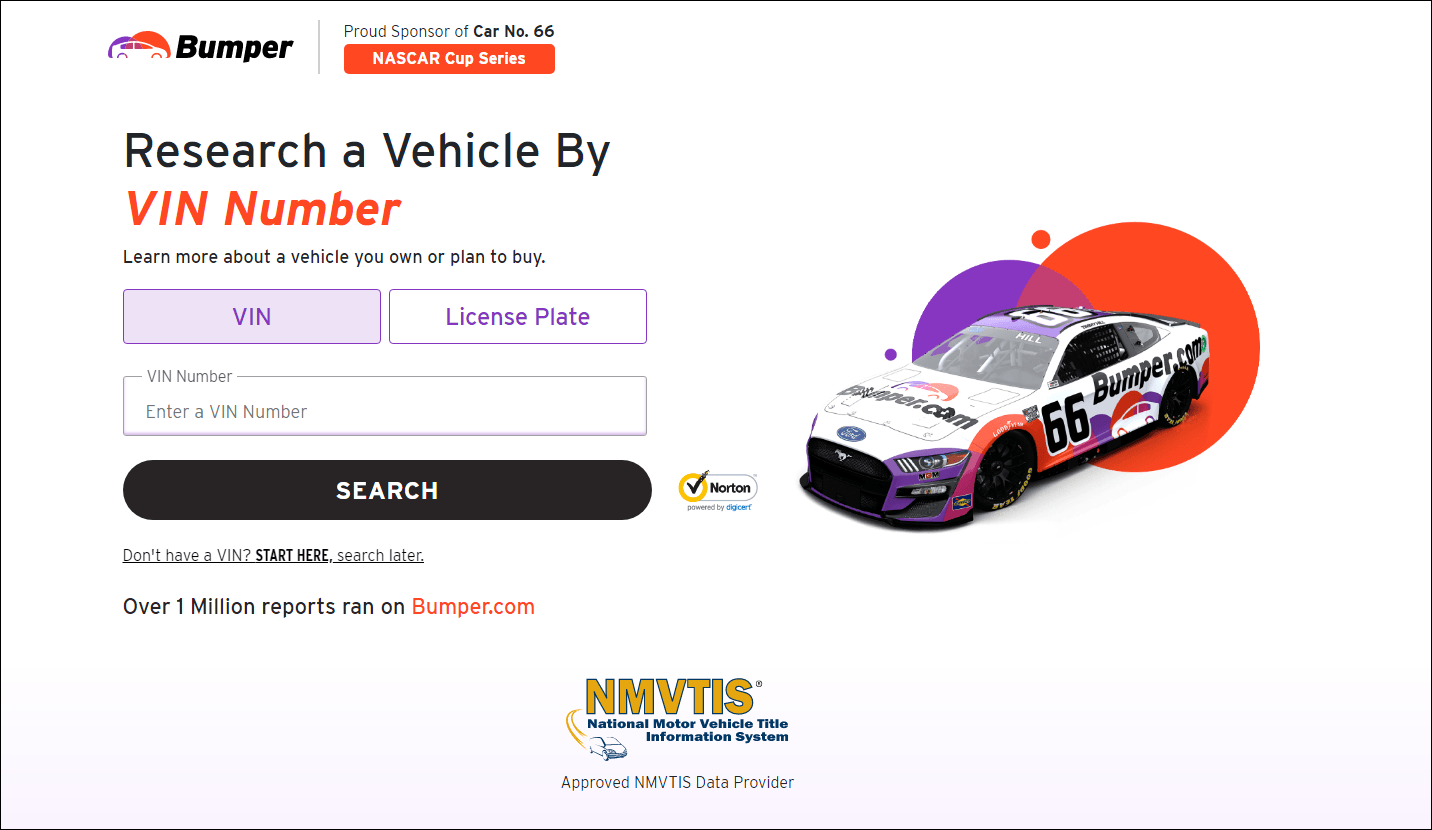 Step 3. Your report will be ready in minutes. You may find abundant information in the report to help you have a clearer idea of the car and make better negotiations with the dealer.
3. Uncover theft or salvage records with NICB
National Insurance Crime Bureau is a non-profitable organization dedicated exclusively to fighting insurance fraud and crime. You can make full use of its VINCheck tool to determine if your car has a record of an insurance theft claim or has been reported as a salvage vehicle.
Step 1. Head to NICB's official webpage.
Step 2. Enter a VIN or take a photo of a VIN to upload into VINCheck. Then check the box and click SEARCH VIN.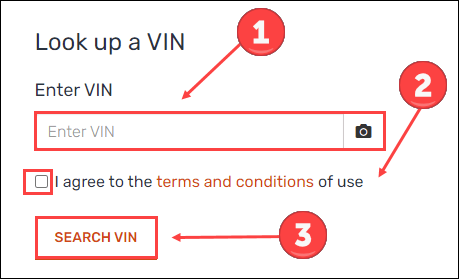 Step 3. It will list the search results.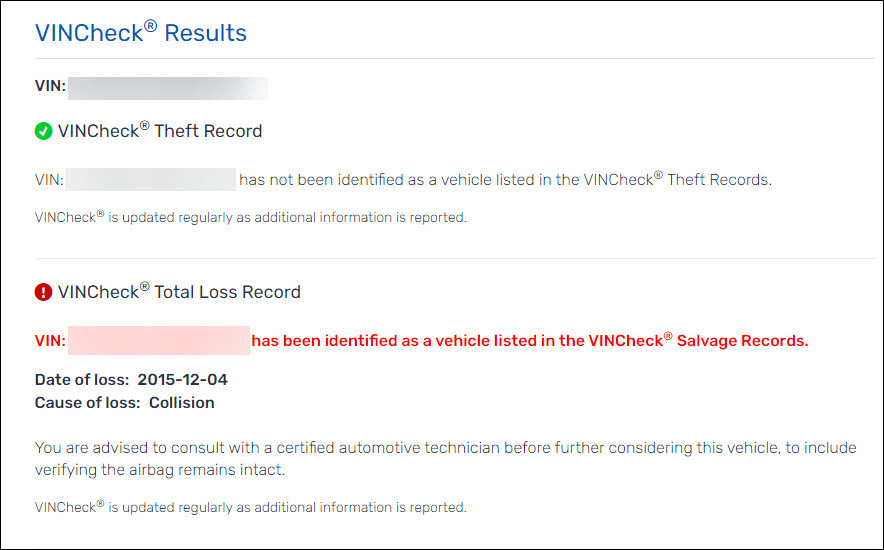 4. Request record from local DMV
Generally, you can submit a form and pay a fee to get car records from your local Department of Motor Vehicles. But rules may vary in different states. You can check a vehicle request document provided by the American Association of Motor Vehicle Administrators to find out your state's law. Follow its guideline to finish the request.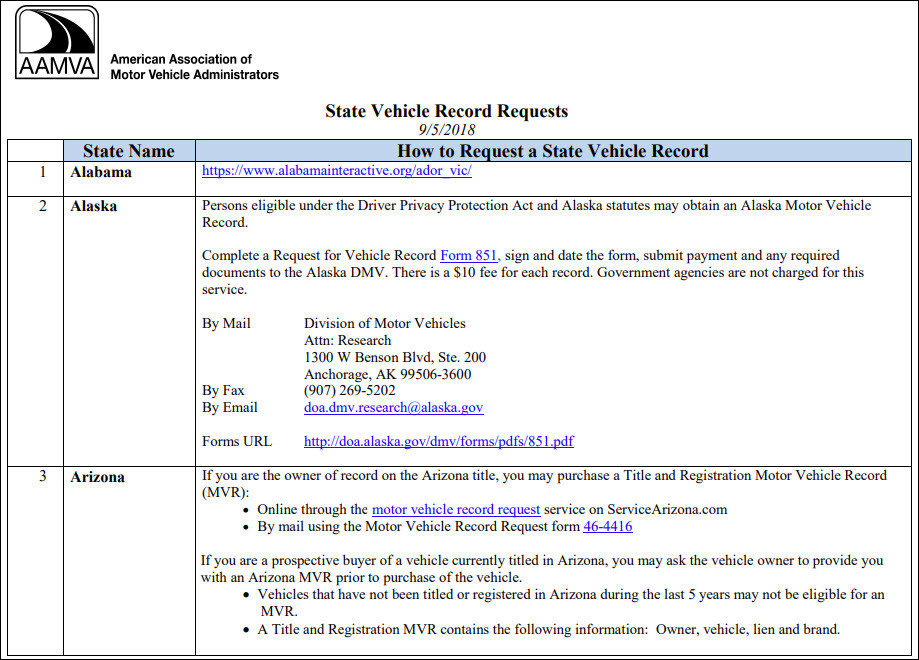 That's all for decoding vehicle identification numbers. If you have other methods or knowledge to share with us, please don't hesitate to leave a word below.