'User not found' on Instagram? 6 Reasons & Best Solutions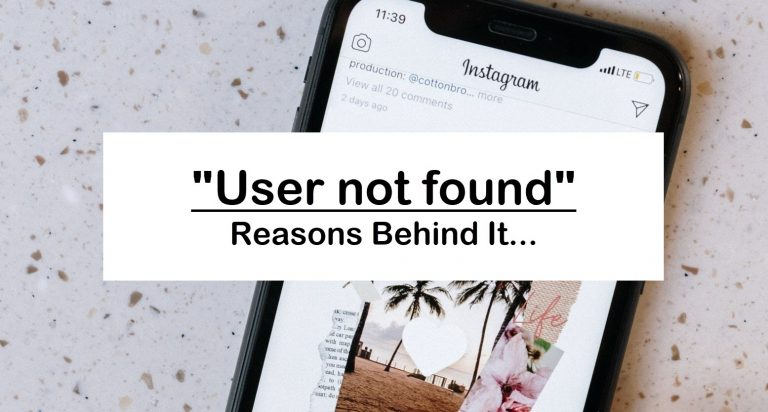 Have you ever bumped into this situation—you visit someone's Instagram profile, only to find the "User not found" error message. How come? Is it a bug? Or am I blocked?
Don't jump to conclusions yet. This error message can happen for various reasons.
If you wonder why this is happening to you, and how to view the person's profile and get rid of the "User not found" error message on Instagram, below you will find everything you need.
What does "User not found" mean?
Reason
How to confirm
You're blocked
• You will know you're blocked when you can view their profile by using another account.
• You can't search for them, but find them in your recent message list.
• It's a public account, but there's no image, no number of posts, no followers or following, and the photo grid mentions "no posts yet".
• Their likes and comments would no longer exist.
The username is incorrect/changed
Make sure you spell it right. Check your mutual friends' list or search with a real name.
The account has been disabled/deleted/banned
The error is exactly the same, perhaps with another error message "Sorry, this page isn't available."
The reasons why you see User not found error on Instagram.
How to find an Instagram user?
If you failed to search for someone using the username, you can try using the following ways to find their account.
1. Search by phone number

Instagram allows you to discover Instagram users through phone contacts. So if you have saved the number in your Contracts, you can try searching for them via Discover people > the Connect contacts option.
However, if you can't find their account this way, it's mainly because they have connected to Instagram using a different phone number.
2. Connect to Facebook to find your friends

If the person you are searching for is already on your Facebook friend list, then you can find them using another Discover people feature.
Choose Discover people, and navigate to the Connect to Facebook option. Once you have connected your account with Facebook, you will be able to find your friend on Facebook.
3. Search for someone on Instagram by name / Phone Number

Another method when you can't find someone on Instagram using the traditional ways is to use a People Search engine to find all social media accounts associated with their name or phone number.
You will be able to search for anyone's social media using their name/phone number/email address/location. This is usually done in no more than 5 minutes. And you get the following information:
Find People by Name
Look up contact info, photos & more!
Social Media Accounts
Contact Information
Personal Details
Location History
Wealth Data
Family and Associates
Criminal Records
To save your time finding a working site or app, below are some services that actually work:
---
So that's pretty much everything you need to know about the "User not found" on Instagram, and every possible solution to it. If you have any questions, don't hesitate to ask in the comments below.