Solved: PS4 turning off by itself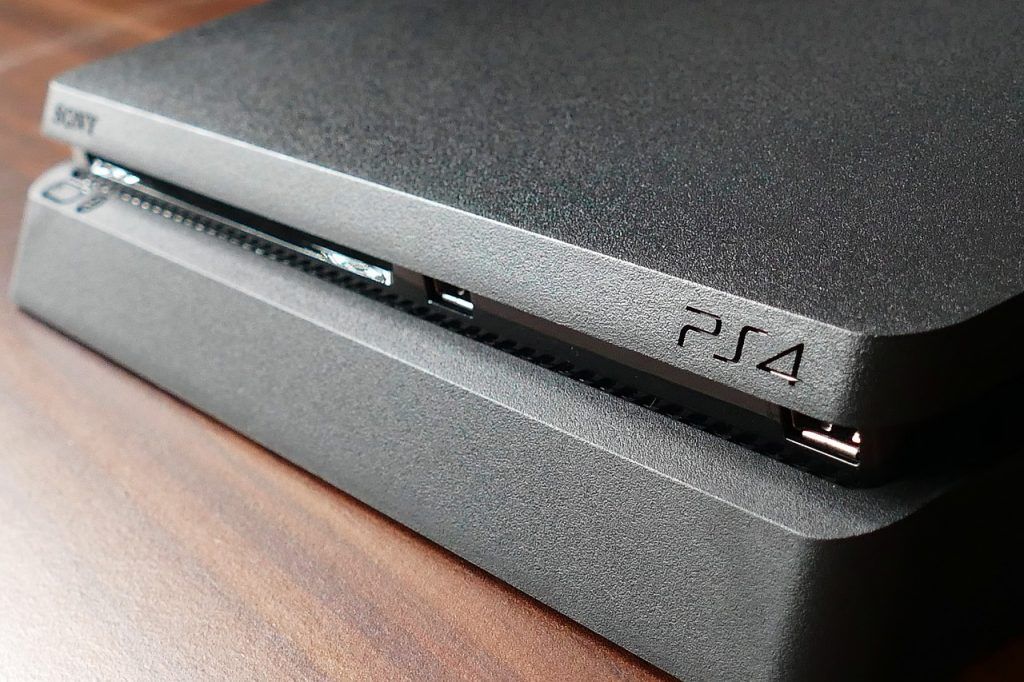 Your PlayStation 4 (PS4) randomly shuts off while you're in the middle of a game? This is indeed very frustrating and you're not alone. Many users are reporting it. But no worries. This is fixable. Here're 7 solutions to try.
Fixes to try:
You may not have to try them all; just work your way down the list until you find the one that works for you.
Fix 1: Check power connections
For your PS4 to work flawlessly, a stable power source is needed. So, checking the power connection of your device should always the go-to option when your PS4 can't power on/off normally. Ensure your PS4 power cord is securely connected to a working wall outlet.
If you are still having the problem, continue on to the next fix.
Fix 2: Prevent overheating
If you've been using your PS4 continuously, it might get overheated and shut down randomly. This is the most common cause of PS4 shutting down on its own. To fix it, let your device cool down for 30 minutes before turning on it again.
Make sure you place your PS4 in a well-ventilated area so it can release the heat it generates. Also, clean your PS4 regularly to prevent dust pile-up on the surface and interior – as serious dust build-up is usually the culprit of PS4 overheating.
Fix 3: Update PS4 system software
While in most cases, overheating is the trigger of PS4 shutting off issues, there are also cases when it's the PS4's firmware that causes the system to crash. If your PS4 has not been connected to the internet for a while, you'll need to check for system updates. Here is how:
1) On the home screen of your PS4 system, press the Up button on your controller to go to the function area.
2) Select Settings.

3) Select System Software Update, and then follow the on-screen instructions to update the system software for your PS4.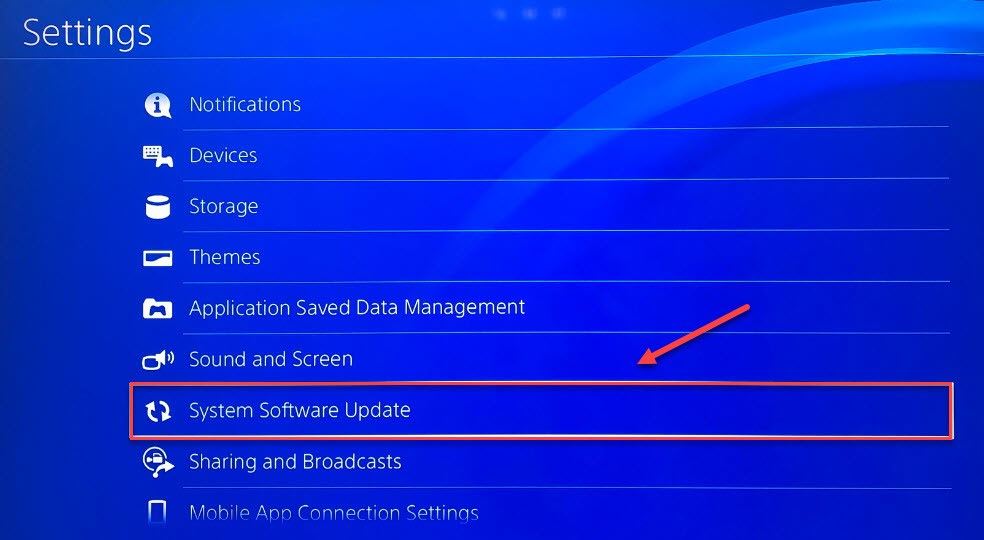 If the PS4 randomly turning off problem persists after the latest version of the system software is installed, move on to the fix below.
Fix 4: Rebuild PS4 database
Rebuilding your PS4 database reorganizes your hard drive to make it easier and quicker for the system to access files. It helps you get rid of corrupted files and decrease the chances of having your PS4 to fail. To rebuild your PS4 database, follow the instructions below:
1) Connect your PS4 controller to the console with a USB cable.
2) Press and hold the power button on your PS4 console until you hear the second beep. Then release the button. Your PS4 will be in safe mode and the screen will look like this: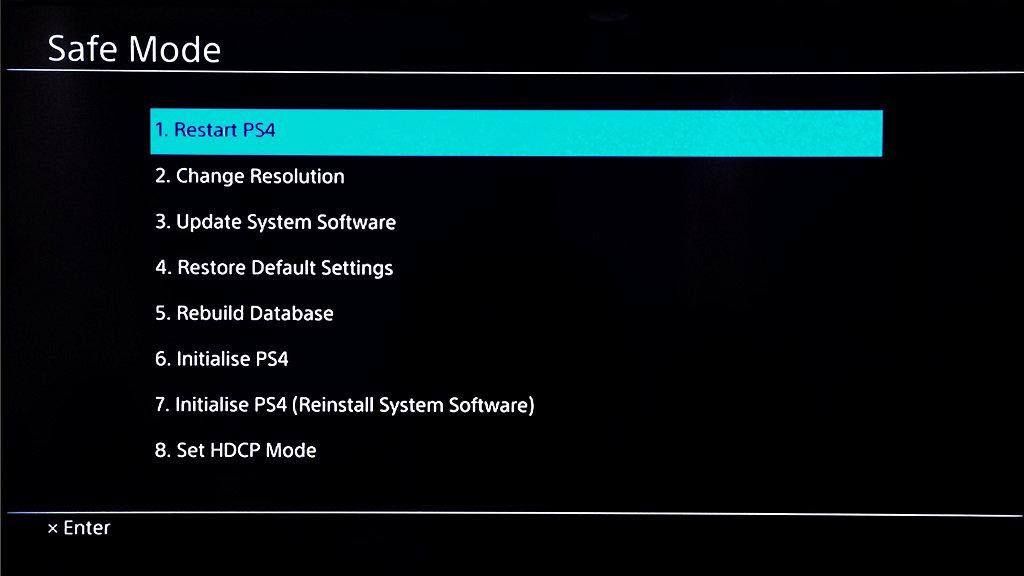 3) Select Rebuild Database with your controller.
4) Wait for the process to complete. Then check to see if rebuilding database helps fix your PS4.
If the issue continues to occur, then try the next fix below.
Fix 5: Troubleshoot the problematic game software
If your PS4 only had this problem with a specific game, it could be the game files being corrupted. If you haven't updated the game for a long time, check to see if there are any updates available.
But if you've just updated the game and your PS4 starts to shut off whenever you run it, chances are the update is not compatible with your device. In this case, you'll need to reinstall game updates.
Option 1 – Update the game (if you haven't yet done so)
To check for game updates, follow these steps:
1) On the PS4 home screen, highlight the game/application that needs to update.
2) Press the Options button on your PS4 controller, then select Check for Update.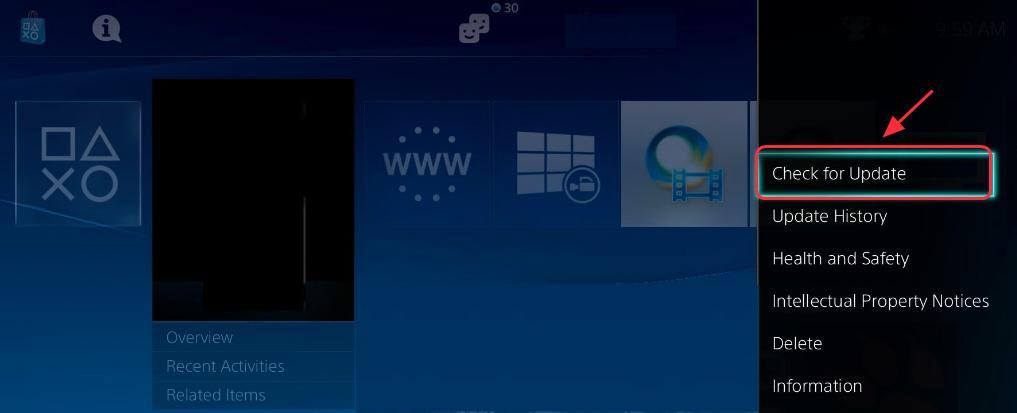 3) Follow the wizard to download and install any available updates.
4) Restart your PS4 and try to play the game to see if this resolved the issue,
Option 2 – Reinstall the problematic game (if the problem happens after update)
Save the game data first before you uninstall the game; otherwise, you might lose your game progress.
1) Go to PS4 Settings > Application Saved Data Management.

2) Select Saved Data in System Storage if you want to save it in your PS4 system, or you can select Saved Data on USB Storage Device in you have inserted the USB drive into your PS4.

3) Follow the instructions on your screen to finish.
4) After that, go to PS4 Settings > System Storage Management > Applications.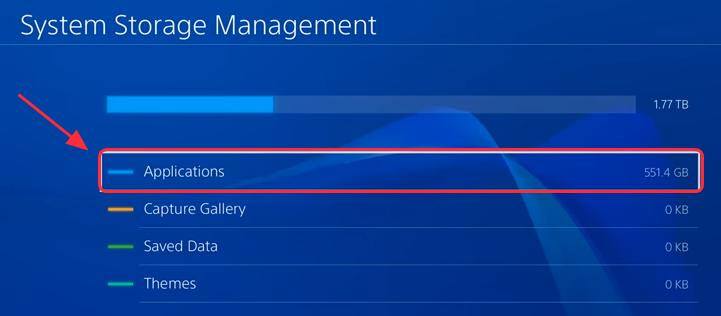 5) Find the game that occurs the problem and highlight it.
6) Press the Options button and select Delete.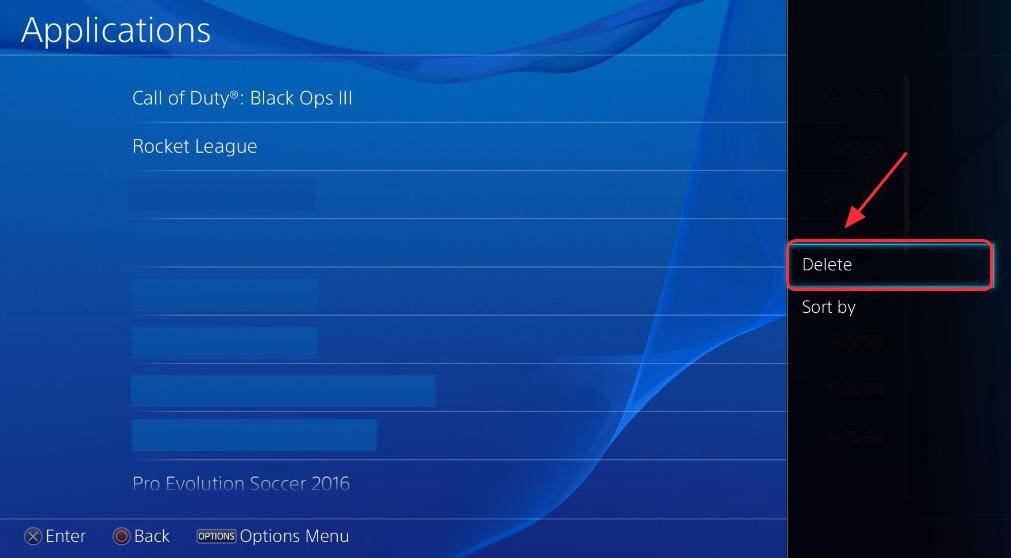 7) Restart your PS4 and reinstall the games.
Fix 6: Disconnect your soundbar
PS4 turning off by itself issue might occur when an incompatible device is connected to the PS4 system. If you have a soundbar connected, try having it off when playing PS4 to see if that's the core issue.
If your PS4 works smoothly after the soundbar is removed, console the support of the device manufacturer for assistance.
Fix 7: Switch to cable network
In some cases, the PS4 shutting off on its own issue is caused by the console's Wi-Fi modules. To see if that's the problem for you, try switching to a cable network,
Hopefully, this post helped in resolving the PS4 shutting off randomly issue. Enjoy your games! And if you feel like updating your PS4 library, don't miss the top coupons from the best game key selling sites.




Click the Get Coupon button to save a few bucks on your next purchase! If you have any questions or suggestions, feel free to leave a comment below.