Surveys for Money – 9 Best Websites to Earn Real Cash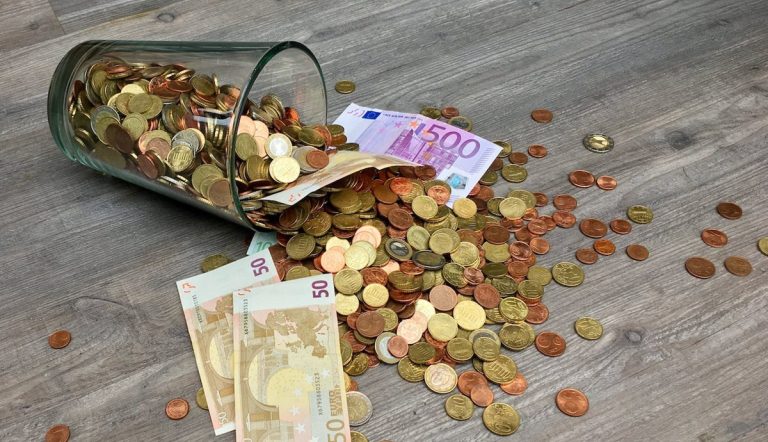 Looking to earn real cash online? One of the easiest ways is to take surveys for money. There are countless websites offering paid surveys and it may be overwhelming for you to find the best earning opportunities. To maximize the return on your time and effort, here are 9 legit and high-paying websites worth a shot.
#1 Branded Surveys
#2 Survey Junkie
#3 Toluna
#4 Swagbucks
#5 Ipsos iSay
#6 LifePoints
#7 InboxDollars
#8 MyPoints
#9 Opinion Outpost
1. Branded Surveys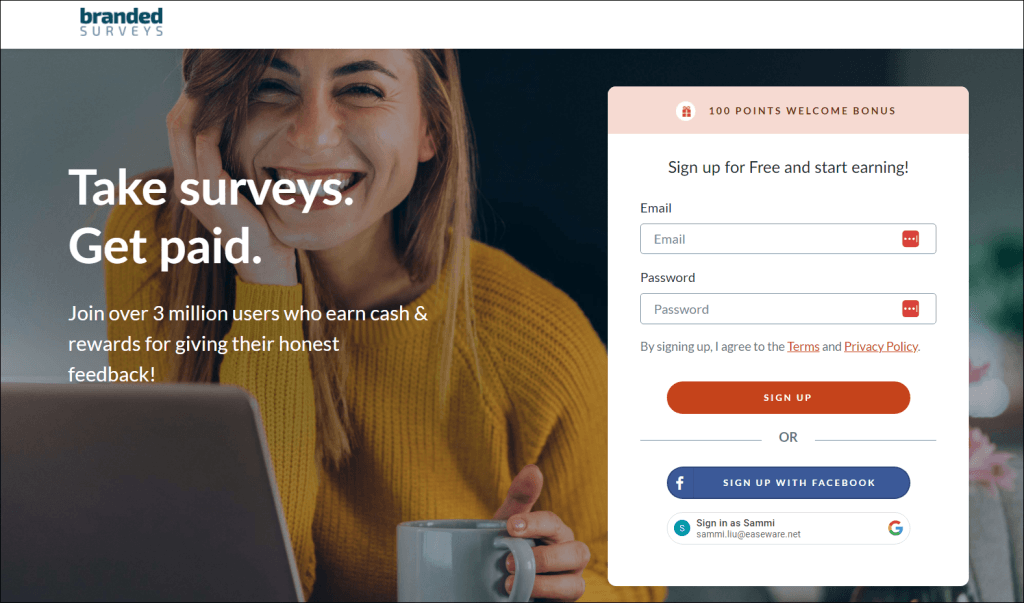 Branded Surveys is one of the world's leading market research communities that rewards people for their opinions. Simply fill in a profile with some demographic questions and you'll receive daily survey matches to earn points.
Upon completion of a survey, you can get an average of 50 – 500 points, equivalent to $0.5 – $5. Meanwhile, you can refer friends, complete service or product offers, participate in polls, or complete challenges to speed up your earning process. Once reaching 500 points, you can redeem them for cash or amazing rewards.
Make sure to verify your email during signup to keep your account safe and ensure smooth payouts.
If you complete surveys consistently, like 12+ surveys per week, you could upgrade to Brand Elite, a loyalty program that will offer you up to 19% bonus of your currently earned points. Users who rank into the daily, weekly, or monthly leaderboard will obtain an additional 50 to 300 points and win a random prize (50, 500, or 1000 points).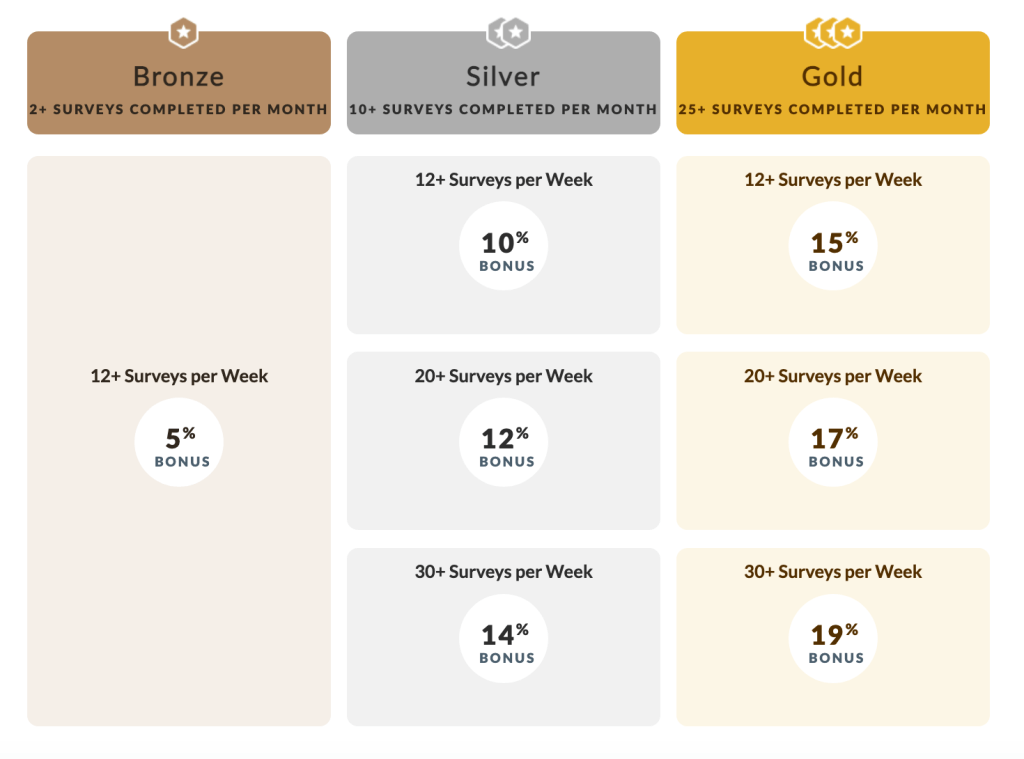 Availability: Anyone aged 16 or up in the U.S., Canada, and the UK
Average earnings: $0.5 – $5 per survey
Minimum withdrawal: $5
Rewards: PayPal, bank transfers, Branded Pay, e-gift cards, or charity donation
Sign-up bonus: $1
2. Survey Junkie

Founded in 2013, Survey Junkie is another popular community where over 10 million people are sharing opinions and ideas in exchange for rewards. It mainly provides two ways for you to participate in the community: taking part in surveys or focus groups (SJ Opinion) or sharing your digital activities by installing the SJ Pulse add-on. Phone surveys or focus groups can pay up to $150 per task.
Similarly, you'll need to set up your profile so that the website can deliver surveys that are more relevant to your background and interests. In some cases, you may be disqualified or terminated from a survey, but you can still earn $0.02 to $0.03 for the time spent.


Availability: People at least 18 years old in the U.S., Canada, Australia, or the U.K.
Average earnings: $1 – $3 per survey
Minimum withdrawal: $5
Rewards: PayPal, wire transfer, check, or e-gift cards
Sign-up bonus: No
3. Toluna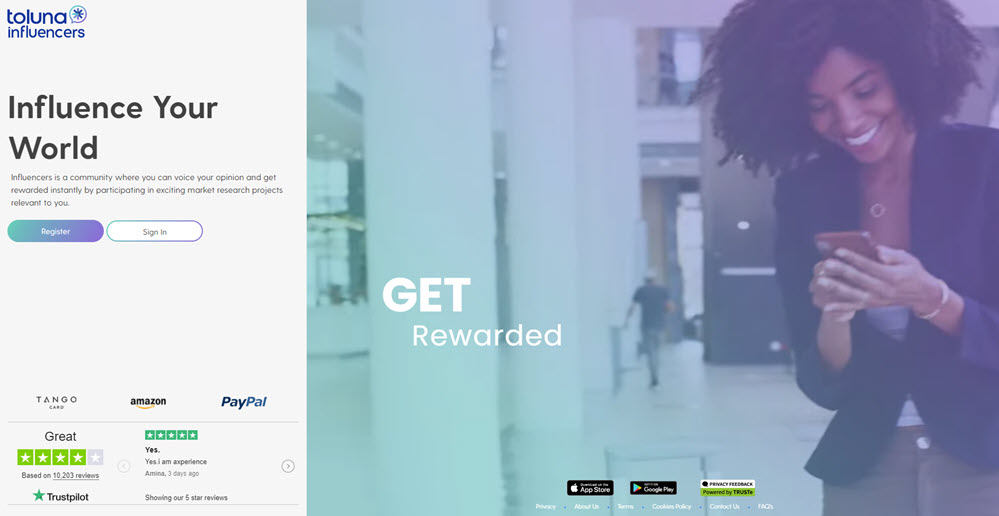 Toluna connects businesses and consumers who share their opinions about products and services to get rewarded. As a Toluna influencer, you get points for simple tasks such as filling out your personal profile, answering surveys, referring friends, playing fun games, and more.
Toluna allows you to choose what categories of surveys you're most interested in, and you could also choose surveys that are either short or long. When earning enough points, you can cash out via PayPal or redeem them for gift cards to your favorite retailers. The points will expire after 12 months.


Availability: U.S., Canada, India, Singapore, United Kingdom, and 49 other countries
Average earning: 15 – 50,000 points per survey
Minimum withdrawal: $10 gift cards (30,000 points) or $10 PayPal cash (35,000 points)
Rewards: PayPal, gift cards, or gifties (chances to win real-world objects)
Sign-up bonus: 500 points (3,000 points are worth $1)
4. Swagbucks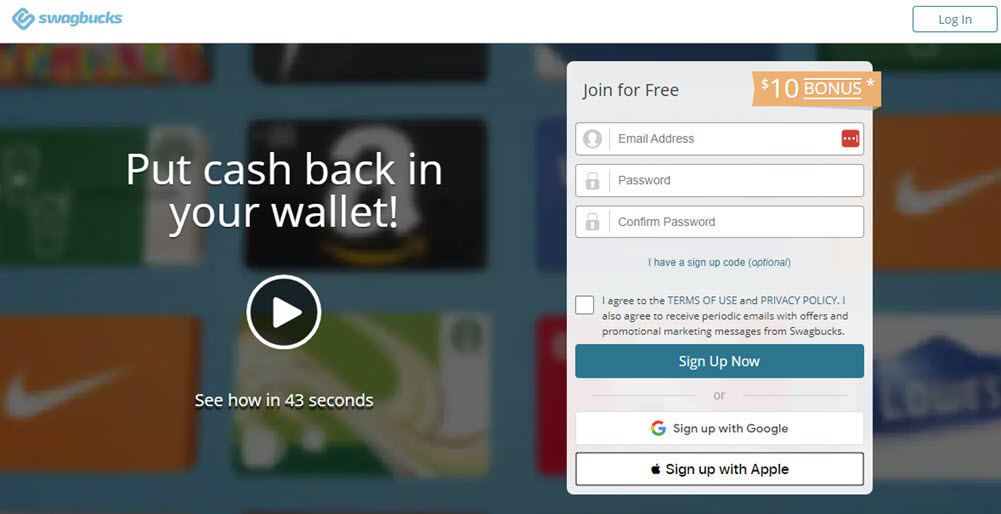 Swagbucks is a top loyalty and consumer rewards program offering diverse money-making opportunities. In addition to taking surveys for money, you can also watch ads or videos, play games, test samples, or just shop online or search the web as you normally do.
New users can earn a $10 bonus for account registration. And by completing a variety of online tasks, you can earn more Swagbucks points (SB points) that you can redeem for cash, checks, or gift cards. If you reach more than 250 SB points, there will be additional perks like double points and points discount for redemption. According to Swagbucks, most members are able to earn $1 – $5 a day.


Availability: U.S., Canada, India, Singapore, United Kingdom, and 49 other countries
Average earnings: $0.4 – $2 per survey
Minimum withdrawal: $10 gift cards (30,000 points) or $10 PayPal cash (35,000 points)
Rewards: PayPal, gift cards, checks, or bonus options
Sign-up bonus: $10
5. Ipsos iSay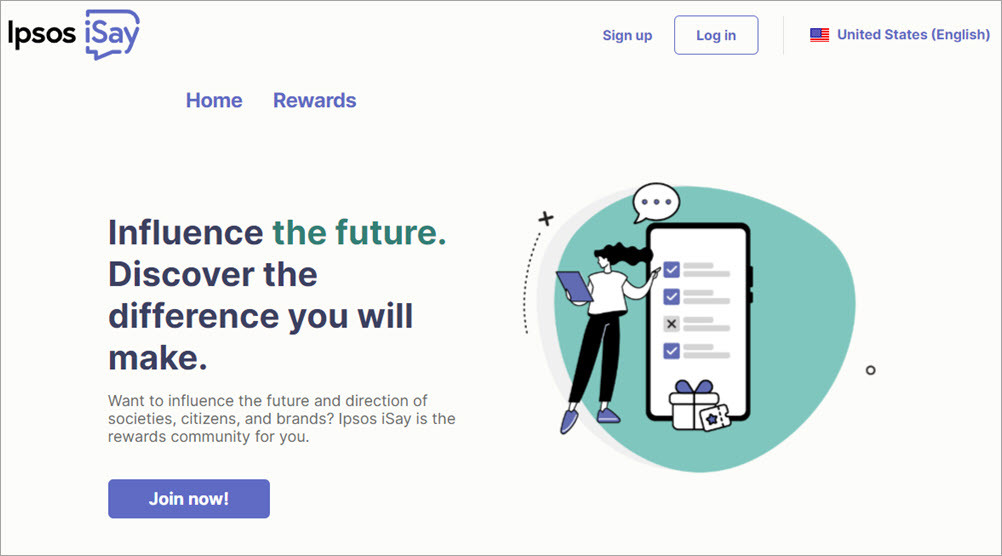 Ipsos iSay is a dedicated rewards community available in more than 50 markets globally. By making your voice and opinion heard, you make money as well. To get started, create an account and answer some screening questions so the website will offer you specific surveys based on your gender, race, marital status, education, and employment, etc.
You may get around 45 – 200 points for completing a survey or poll (equivalent to $0.45 – $2. Even if you're disqualified, you still receive 5 points for participation. While Ipsos iSay focuses on paid surveys, you can also earn an extra 100 points for every friend you refer to join the website.


Availability: Anyone over 18 from all over the world
Average earnings: $0.45 – $2 per survey
Minimum withdrawal: $5
Rewards: Gift cards, cash transfers, and charitable donations
Sign-up bonus: $10
6. LifePoints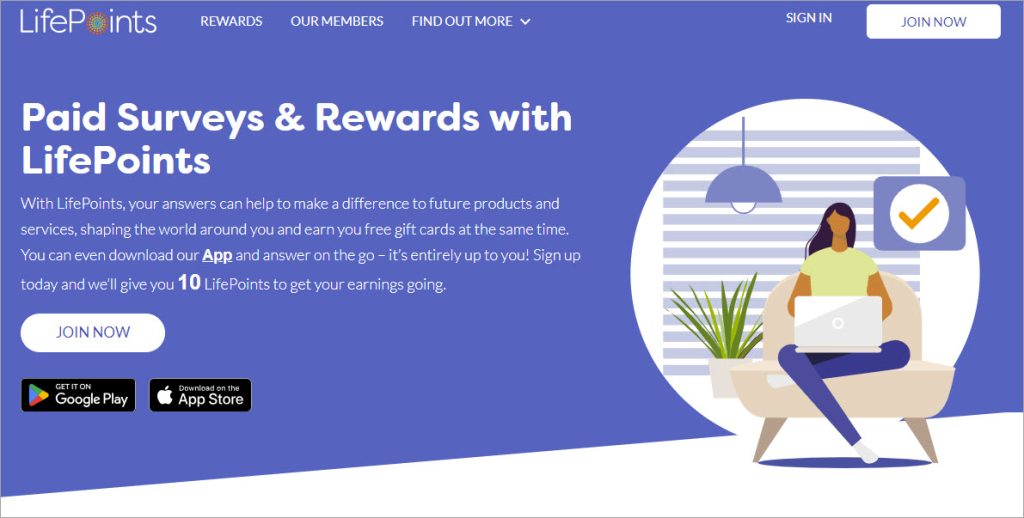 Originating as National Family Opinion in 1946, LifePoints is a well-established global platform that allows anyone over 16 to complete surveys on all sorts of brands and products for rewards. It's an excellent and lucrative side hustle where casual users may earn $25 to $100 monthly, and even $1,500 a year if you finish all the survey invites.
Similar to Ipsos iSay, LifePoints offers only one way to earn cash and rewards, which is the paid surveys. Taking them during standard office hours, when most surveys are available, may yield better results. Mystery shopping or product testing is not included in LifePoints, but you can participate in the giveaways on Twitter, Facebook, and Instagram to win $10 – $20.
Every survey gives you a different amount of LifePoints, and the value of those points also varies depending on your redemption options. For example, 110 points equals $1 when you redeem points through gift cards or charitable donations. For PayPal credit, the points' value is lower – 575 points for $5 PayPal cash.


Availability: Anyone aged 16 or above in 45 countries
Average earnings: $0.25 – $5 per survey
Minimum withdrawal: $5
Rewards: PayPal or Venmo cash or a variety of gift cards
Sign-up bonus: 10 LifePoints
7. InboxDollars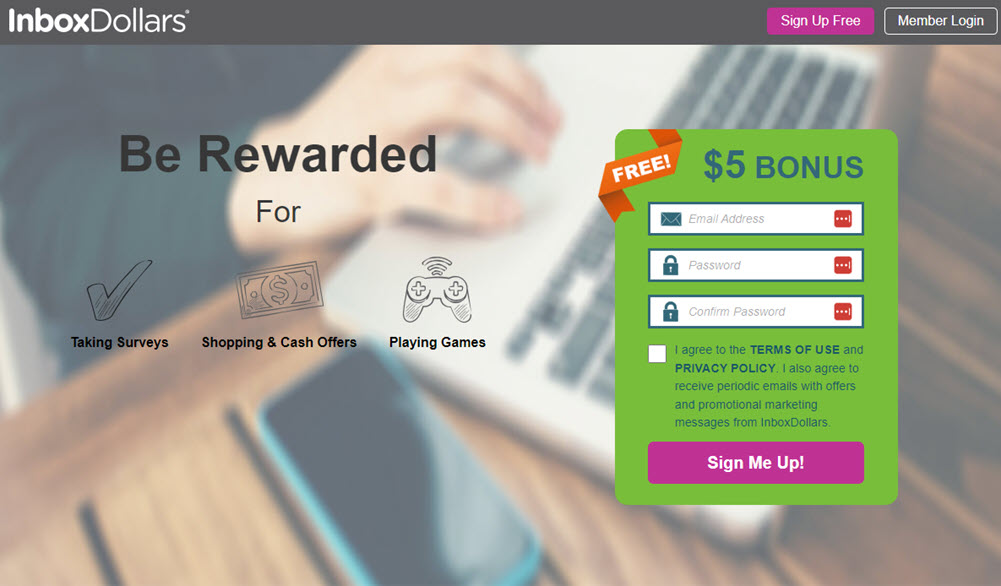 InboxDollars is a popular rewards site for people to earn extra income in a fun and flexible way. Join for FREE now and you can start making money during your downtime by:
Taking online surveys
Reading paid emails
Printing and redeeming coupons
Shopping online
Inviting friends
Searching the web
Daily trivia
Installing free apps
Watching videos
Playing popular games
Scanning product barcodes
After signing up, you'll immediately grab a $5 bonus. To make sure you're qualified for the surveys, the website requires you to answer a few demographic questions. Most surveys take from 6 to 15 minutes and pay you around $0.5 – $5. To max out the earnings, refer your friend to InboxDollars. You will get $1 for each referral together with 30% of the earnings your referrals made.


Availability: Individuals aged 18 or above living within the United States
Average earnings: $0.5 – $5 per survey
Minimum withdrawal: $15 for first-time payment requests, then $10 for subsequent requests
Rewards: PayPal, Visa, or gift cards
Sign-up bonus: $5
8. MyPoints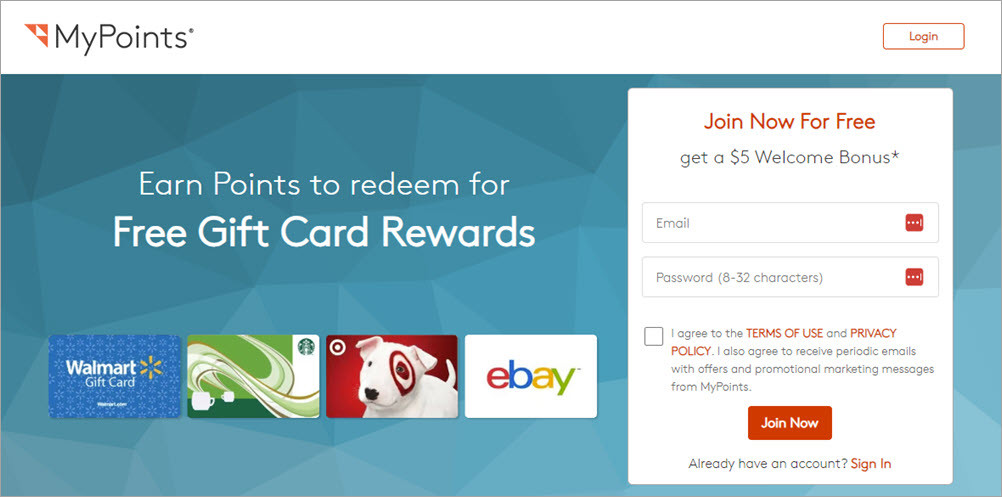 With over 20 million active members, MyPoints is undoubtedly one of the best websites for taking surveys for money. By answering your opinions, you can earn up to 400 points for each market research survey. Alternatively, you could get paid to shop online, read emails, explore the latest details, search the web, or play games. If you successfully refer a friend and they activate the accounts, you'll be able to grab 10% of their qualifying points.
To redeem the points for rewards, you'll accumulate at least 480 points, which can be exchanged for a $3 gift card. The points you earned will be valued a bit differently according to your redemption options. For example, a $10 gift card costs 1,580 points while a $10 PayPal cash requires 1,590 points.


Availability: Anyone at least 18 years old in the U.S. and Canada
Average earnings: $0.6 – $1.8 per survey
Minimum withdrawal: 480 points
Rewards: PayPal, gift cards, or air miles
Sign-up bonus: $10
9. Opinion Outpost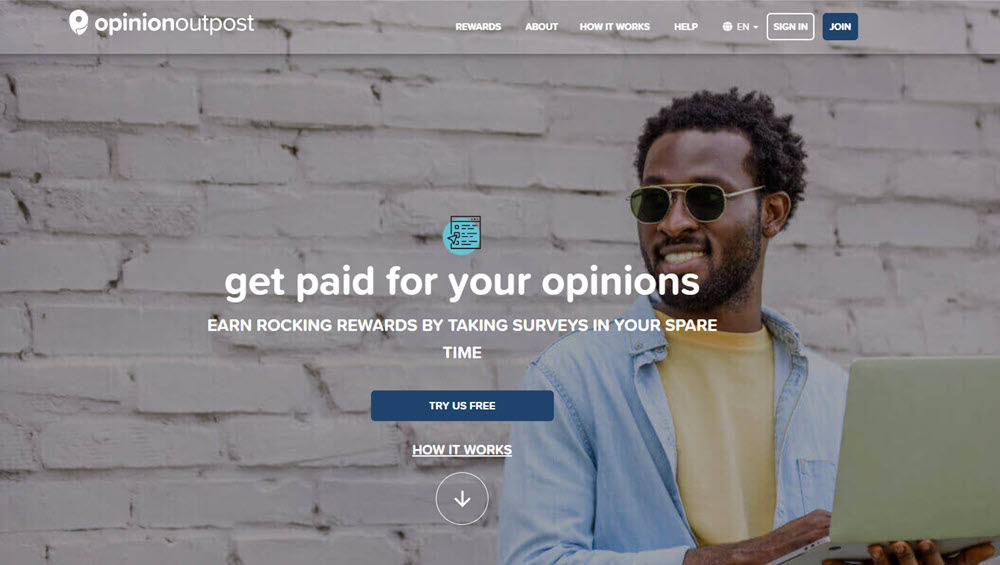 Opinion Outpost is a market research panel where users can collect and get rewards by doing surveys. Most surveys pay between 10 and 250 points, worth $1 – $2.5. Beyond that, it provides a range of interesting ways for you to express yourself, via product tests, advert reviews, location-targeted services, diary studies, and more.


Availability: People over 18 years old in the U.S., Canada, UK, and Germany
Average earnings: $1 – $2.5 per survey
Minimum withdrawal: $5
Rewards: PayPal or gift cards
Sign-up bonus: No
FAQ: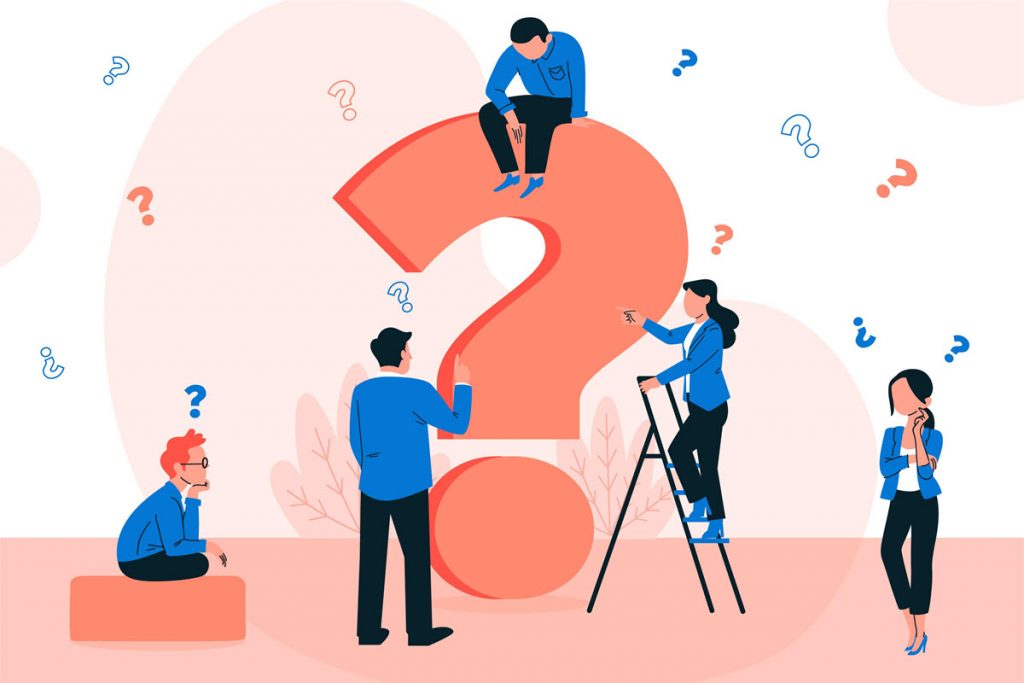 Is it legit to take surveys for money?
Online paid surveys are legitimate businesses. Companies and organizations look for honest feedback and thoughts from consumers about their brands, services, and products, so they partner with market research companies as mentioned above to tap into their audience. Simply put, companies pay for helpful insights, and you, as consumers, earn money by voicing your opinions. And survey websites (known as get-paid-to websites) connect both of you.
Typically it's free to take surveys for money. So if a website is asking you to pay upfront costs in order to earn money, it's very likely a scam. To protect your personal information online, avoid websites if they:
Pay too much. Things that sound too good to be true are often fake.
The website isn't secure. A secure and reliable website should at least have a padlock icon next to the URL, which means it's safe with a digital certificate and the information you send will be kept securely.
Ask for sensitive personal information. Never give away your social security number, bank account, driver's license, or anything you think is important.
Requires a large number of points to pay out. Most survey websites offer points valued at 1 cent and let you cash out at $5 – $15. Don't waste time on websites that have high disqualification rates or strict payout terms.
Are paid surveys available for everyone?
Short answer: No. Most survey websites require people at least 14 years old to join, and some are open to certain countries or regions.
But compared to other side gigs, paid surveys are suitable for the vast majority of individuals, stay-at-home parents, busy college students, or anyone in between. There are no startup fees or skill or career requirements. All you need is a device, e.g. tablet, computer, or smartphone with an Internet connection to access the survey websites
How much can you earn by taking surveys?
Doing surveys online won't make you rich overnight, but it can provide a great boost to your financial life, such as helping you cut down on the bills or earning a free cup of coffee. It's perfect for people who don't mind filling out some surveys in their spare time to earn extra cash. The surveys have different payouts, depending on their types or estimated time to finish.
How to get paid?
Most legitimate websites offer various redemption options. Once you've accumulated enough points by taking surveys, you can redeem them for cash, usually via PayPal or Visa credits, e-gift cards to popular retailers, or charitable donations.
The payout process usually will take a few business days, usually 1 – 7 days. Here is how long the payment of the survey websites above will process:
Branded Surveys: 1 – 2 business days
Survey Junkie: Instantly
Toluna: It varies. Points for some surveys may be credited within a few days or a maximum of six weeks.
Swagbucks: 1 – 10 days
Ipsos iSay: Virtual rewards are delivered instantly; PayPal cash takes up to 3 – 4 days to be received.
LifePoints: Up to 10 days
InboxDollars: About 3 business days
MyPoints: Up to 30 business days
Opinion Outpost: Up to 6 weeks
---
So that's it – 9 best websites for you to take surveys for money. If you have any questions or suggestions, please feel free to leave a comment below.