Star Wars The Old Republic Codes – 2023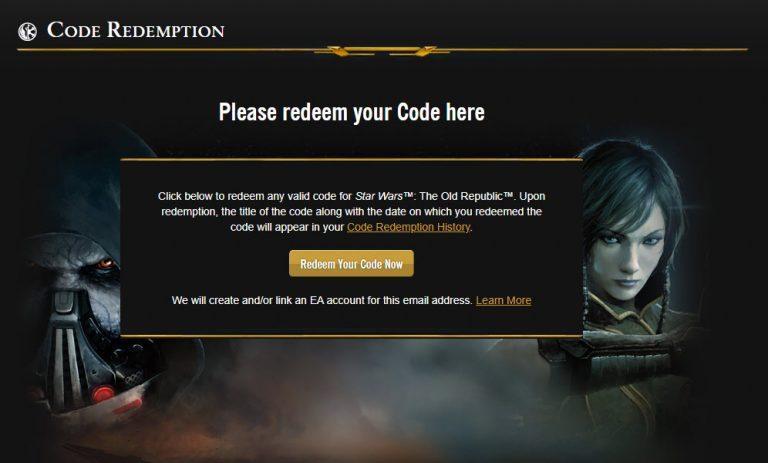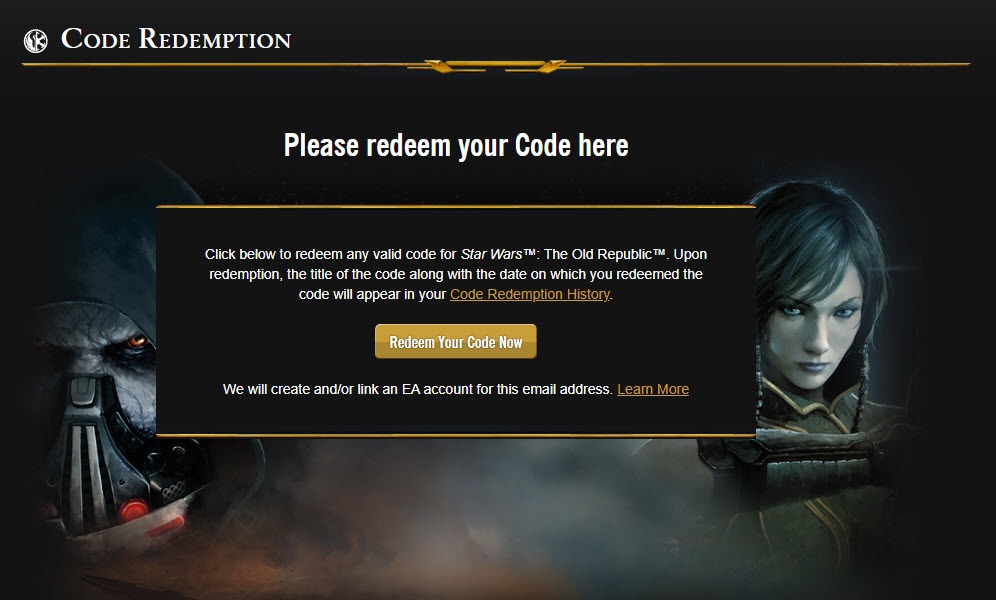 Star War: The Old Republic (SWTOR) includes a bunch of in-game items, such as vehicles, pets, and more. These can be unlocked by completing various achievements, or spending Cartel Coins. Otherwise, if you want exclusive in-game items for free, then you can use codes and redeem them at the Star War: The Old Republic Redemption center.
To save you all the trouble of searching for redeem codes, we've compiled all the latest SWTOR codes, unlocks and how to use these codes. We'll keep adding new codes once there are any available. If you want to stay updated, please bookmark this guide and check back regularly.
Star Wars The Old Republic Codes (SWTOR Codes)
What is Star Wars The Old Republic Code
SWTOR codes are promotional freebies that the game's developer releases randomly. You can use it to get free awards like XP boosts, pets, and mounts in-game without spending real money.
Active Star Wars The Old Republic Codes
Getting Star Wars The Old Republic codes can be a little bit challenge sometimes, as most codes are time-restricted. Below is a list of codes that hopefully can help you get exclusive in-game items.
While our goal is to provide only active codes, unfortunately, gift codes expire in a short term. If the codes here are not working for you, you can also follow The Old Republic official Twitter account
for new codes.
If you know any active codes that're not listed here, please share them with us in the comments. Also, if you find any codes that are expired, please let us know the exact code number so we can remove it. Thanks!
How to Redeem SWTOR Codes
To use these codes, follow the instructions below:
1) Go to the Star Wars: The Old Republic Code Redemption center and log in to your account. Then, click Code Redemption > Enter a Code.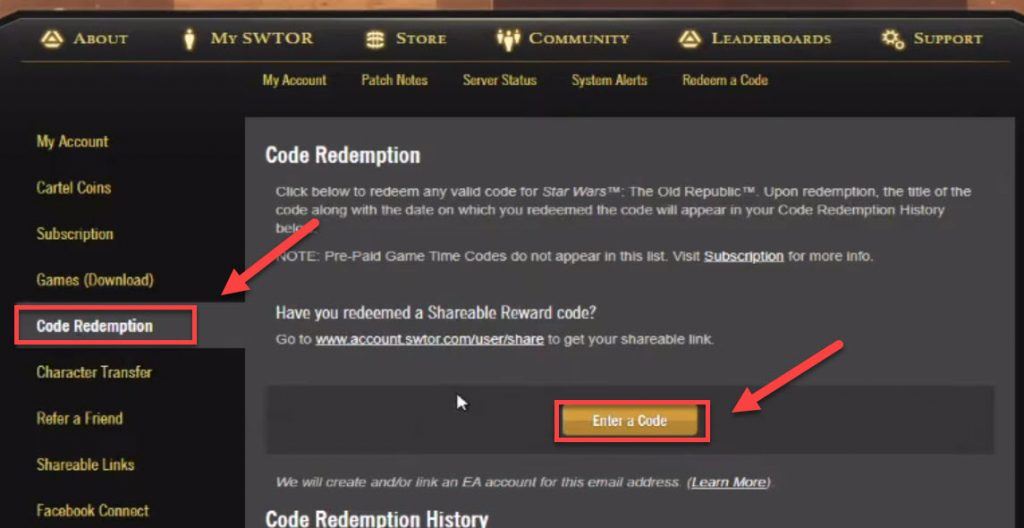 2) Enter the code you want to use into the Code box. Next, click the check box underneath the text box and click Continue. You'll receive the reward in your in-game mailbox. (If you're logged in when you're redeeming the code, you'll have to log out and log back in the game.)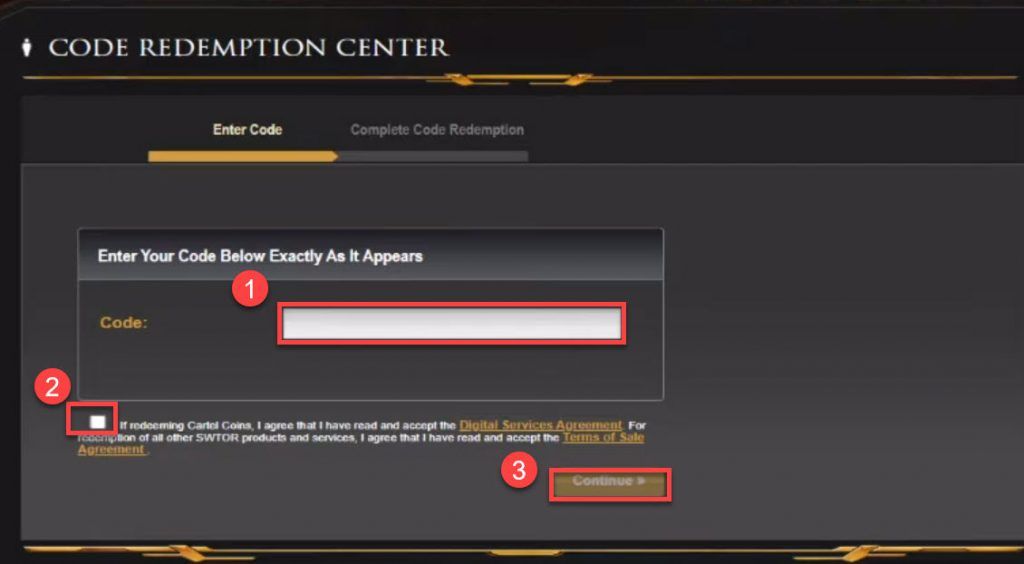 How to Get Free Stuff in SWTOR
In SWTOR, there're many ways to get free in-game items including Cartel Coins for free. Below are some easy tips to try:
Method 1: You can earn Cartel Coins is by completing achievements in game. Make sure you open the achievement window and click the achievement to claim your rewards.
Method 2: You can also get 100 Cartel Coins monthly by attaching a Security Key to your account. The security key provides an extra layer of security to your game account. To see how to hook up a security key to your account, you can check the official SWTOR Security Key page.
Method 3: Another way to get rewards in the game is by referring a friend to the game. If you're an active Premium player, you'll have a personal referral link to send friends. To refer your friend, log in to your account and click My Account > Refer-A-Friend. After you successfully referred a friend, you'll get 500 free Cartel Coins plus 100 Cartel Coins for each month your friend remains a Premium player. You can also get special in-game rewards including the Kurtob Alliance Speeder and adventurous Battle Droid; one new reward for each referred friend up to 5.
Conclusion
So, that's all you need to know about Star Wars The Old Republic codes, unlocks and ways to get free stuff in the game. If you're a hardcore gamer, these codes will help you a lot. Don't forget also to check out SWTOR official social media accounts where you might have a chance to win a lot of giveaways. Enjoy!
Hopefully, this post helped. Feel free to leave a comment below if you have any questions or suggestions.