If you've been on the internet a lot, you may have at least bumped into Access Denied. Error 15/16 "This request was blocked by the security rules" a time or two when trying to access a certain website but getting blocked instead.
Frustrating as this may be, there are several reasons why. Here in this article, we're helping you narrow down the cause of this issue and resolve the problem. Just work your way down the list until you find the one that does the trick for you.
Fix 1 – Sync date & time
This request was blocked by the security rules error could be triggered by incorrect time and date settings on your computer. So you should check your date & time and make sure it's synced to see if it fixes the error.
Here's how to sync date & date in Windows:
On your keyboard, press the Windows logo key and I at the same time, then in Settings window, select Time & Language.

Set the toggle for Set time zone automatically to On, then click Sync now so that Date and Time will be synchronized with the Microsoft Servers.

Close Settigs window.
Open the website again and see if you can access. If yes, great! If you're still prompted with the Access Denied error, please try Fix 2, below.
Fix 2 – Reset your web browser
Error code 15 or 16 this request was blocked by the security rules may also be related with an outdated browser or incorrect browser settings. In this fix, you reset your web browser to see if it helps fix the issue.
Here's how to reset Google Chrome and Firefox:
In Google Chrome:
Open Google Chrome.
In the top-right corner, click the three-vertical-dot icon, then click Settings.

Scroll down to the bottom of the Settings page and click Advanced.

Click Restore settings to their original defaults.

Click Reset settings.

Restart Google Chrome.
Check to see if the website can be accessed properly. If yes, congrats. If it's no joy, please continue with Fix 3.
In Firefox
To reset Firefox, simply click this button as you're viewing this post in Firefox, then click Refresh Firefox as a new window pops up. Firefox will close the refresh itself. Once finished, Firefox will open. You can then check to see if the website can be accessed properly. If yes, congrats. If it's no joy, please continue with Fix 3, below.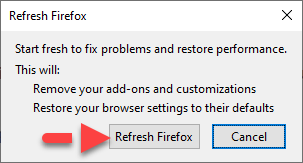 Fix 3 – Disable your antivirus temporarily
If you're running antivirus in your computer, try disabling it temporarily. It is possible that the antivirus software is being over-protective, detecting the website as some sort of threat and thus blocking your access to it.
Doing so will leave your PC susceptible to cyber-threats. So be extra careful about what sites you visit, what emails you open and what files you download when your antivirus is disabled.
If this approach has helped you resolve the access denied problem, then the antivirus program is the culprit. You can contact the distributor of your AV program for further advice.
Still getting This request was blocked by the security rules error. Don't worry, here are two more fixes for you to try.
Fix 4 – Use a VPN
You could bump into this error 15 or 16 access denied error if the website you're trying to visit is blocked by your ISP. There are several reasons why your ISP may do so, but it isn't really hard to get around ISP blocking – if you use a VPN. A VPN (virtual private network) is a service that routes your internet traffic through a dedicated server, hides your real IP and makes it appear as though you were browsing from a different location (for example, a country where the website is accessible).
You can set up a VPN connection manually, but this requires a lot of time, patience and computer skills. So it's easier to use a VPN service, such as NordVPN.
As a top-notch VPN service, NordVPN is very easy-to-use. It helps you set up a fast, stable and secure VPN connection to anywhere, all within a couple of clicks!
Not quite sure whether NordVPN is worth the commitment? NordVPN's 30-day money-back guarantee allows you to test run the service for as long as 30 days – if you're not 100% satisfied, refund anyway.
Download and install NordVPN.
Run NordVPN, then choose a location you want to connect to.

Check to see if you can open the website without problems this time. If yes, then you've worked around the issue. If no, please head on to Fix 5, below.
Fix 5 – Install all available Windows updates
This request was blocked by the security rules error could be a vulnerability in your system. To rule out this as a possible cause, you could check on your system to see if there are any pending updates – if yes, you should let Windows install them all. After that, you can go on to check to see if the error is fully resolved.
Here are the steps:
On your keyboard, press the Windows logo key and type check for updates, then click on Check for updates as it pops up as a matching result.

Click Check for updates.

Wait a while for Windows to check and automatically install the updates for you.
Restart your computer.
Open the website once again and see if it loads properly now.
---
That's the end of this post. Hopefully it has pointed you in the right direction in fixing the This request was blocked by the security rules issue. If you have any questions, ideas or suggestions, you're more than welcome to leave us a comment below.