[SOLVED] This Content is Unavailable in Your Country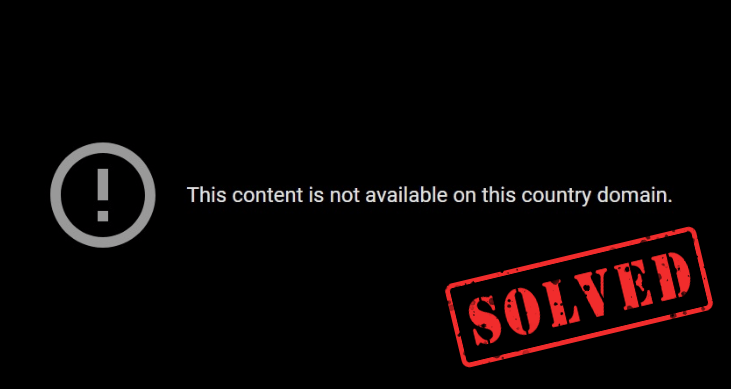 It's such a bummer when you see notifications like "This content is not available in your country." The exact wording doesn't have to be identical, but their inner meaning is quite the same – now you're most likely faced with geo-blocking, which implies the country you're in doesn't enable you legal access to the content you're browsing. So what should you do to bypass such geographical restrictions and head over to the content that tickles your fancy? I'll hit the point straight off the bat – use a VPN.
Aside from guiding you through how to use a VPN, I'll also include other related information in this post such as "is VPN safe to use" and the benefits of using a VPN. Simply jump to the section you're interested in:
---
How to use a VPN to unblock geographically censored contents
Prior to following the procedure below, you should first select an ideal VPN provider. Personally, I'll recommend NordVPN and ExpressVPN to you. For one thing, these two VPNs are the pick of the bunch in their kind, topping the charts with a mostly positive reputation; for another, they are as easy to use as falling off a log (even foolproof I'd say) – that's my real thoughts after trying both of them.
Besides, you can use a VPN on every device you have (as long as it's equipped with an operating system) including desktop computers, laptops, tablets, and game consoles like PS4 and Xbox One. Sounds charming? Read on and I'm sure you can explore more wonderful features.
OK, enough intro. Now I'll show you how to use a Nord VPN on Windows step by step:
Go to the NordVPN official website.
Choose your plan and click Continue to Payment.

Finish the payment and download NordVPN. For example, you can click Choose Your Apps on the pop-up page of the last step.
Select the version you want to download based on your operating system.
After choosing your desired version, click Download. (The following screenshot is an example for the Windows version.)
Wait till the download process is complete. Then, double-click on the downloaded file and follow the onscreen instructions to install it on your PC.
If you've never used NordVPN before, you should click Sign up as a new user to create a new account. Then you'll be prompted to choose a purchase plan.

After you successfully set up a new account, return to the login window and enter your credentials. Click Sign in.
There pops up the main app screen. Notice a Quick connect button at the bottom of the map? Click it to allow the app to automatically choose a server that suits you best.
But there's one thing you need to know: if the website or whatever you want to visit is only available in certain areas, then you should choose a server located in the required areas in order to bypass the geographical censorship. 
If you opt to connect to a server in a specific country (like what I've mentioned in the last step), click on the country pin on the map and then wait for the connection to complete. Once finished, you'll see the country pin turning into green and the bottom label indicating you're PROTECTED. 
Besides, you can connect to a specific server using the Search here… box at the top left corner. Simply type in a country, a category or a server's number with a hashtag (e.g. United States #3433) and select the result you want.
Note that NordVPN lies in the notification area of your taskbar. When you want to turn on/off the app, you can right-click on the NordVPN icon to make the changes.

As of this moment, everything seems quite a breeze, right? Next up, you need to check whether you have access to the contents that are geographically blocked. If you do, then congrats; if you don't, make sure you've connected to a correct server in the required areas.
For more details on how to set up and use NordVPN on other platforms such as android and iOS, please refer to the official tutorial of NordVPN. Easy peasy!
As for ExpressVPN, it's also among the top-notch so you can rest assured of its safety and effectiveness. Meanwhile, it's as easy to use as NordVPN.
All right, so here's how you can cope with the unpleasant issue of "This Content is Unavailable in Your Country." If you're also interested in other information about VPN, move on to the sections below.
---
What's VPN & What can it do
VPN is short for Virtual Private Networking. It serves as a safeguard for your internet data, including browsing history, IP address, etc. Note that some of this information can be quite private and even has a bearing on your money and personal safety.
For instance, guess how hackers get their hands on your location? By your IP address. You might think it's not a big deal, and your IP address won't leak out so easily. But the truth is, anyone with necessary know-how can trace back to your geological location from your IP address, as long as they do know that piece of information. So the next problem is, is it difficult to "capture" anyone's IP address online? Sadly, not at all. The only way you can shut those prying eyes out is not participating in any online activity – even browsing a single webpage – and this is apparently impossible. You need to know that when you send emails to others, visit websites, or do anything interactive, your IP address will be unveiled to those who interact with you, whether they're companies, institutions, or individuals. Sounds creepy? Honestly, it's not illegal to view somebody's IP address so you should just pray that no one (especially those with nefarious intentions) cares about your geographical location or bothers to find it.
Then it's time to explain what a VPN service can do to shield your online privacy:
1. Encrypt your internet data
When you're using public WIFI, such as the one in a coffee shop which you may not fully trust, VPN can give you an extra layer of protection to your online privacy.
Public WIFI, highly susceptible to hacking, may leave you at risk of information leakage. This is particularly dangerous when you're checking your bank accounts or making transactions via a public network, because cybercriminals can easily intercept your WIFI traffic and then steal your credentials, contacts, etc. But if you use a VPN, hackers won't be able to access your data encrypted by the VPN server. I'm not suggesting VPN is 100% perfect in protecting your privacy, but at least it's far better than no protection at all (and make your devices far more difficult to hack in). However, if you really need a perfect solution, maybe you should just avoid using a public network.
2. Hide your real IP address
As I said, the IP address will give away your geolocation so what VPN does here is to cover your real IP address with a "veil," making it seem like located somewhere else. In this way, it's impossible to track you down merely from your IP address and – voila! You won't lose any sleep over this safety problem anymore.
On another note, you can take advantage of this feature to bypass geographical restrictions on some video streaming websites, such as Netflix and Hulu. This is actually our focal point here, for you're probably wondering how to get rid of the "this content is unavailable in your country" issue. Usually, your IP address will be sent directly to the website servers to let them judge where you come from and whether to enable you access to the geo-blocked content. If you are, unfortunately, in a country where the content is unavailable, then you'll be prevented from viewing it.
But if you use a VPN, then this problem can be solved quite easily. With a VPN, you can connect to any servers around the globe (only those provided by the VPN servers of course, but that's already a large number) and pretend that you're located elsewhere. Here's how it works: first, you send your access request for a specific site (alongside your online information) to one of the VPN servers outside your country; once the VPN server receives that, it transfers your request to the website server you want to visit; lastly, the website server will think you actually "come from" the country where the VPN server locates and allow you access to the geo-blocked content. If you still don't have a clear idea of how VPN works – never mind, just leave it to the VPN server. It'll do everything it can to change your location and protect your online privacy.
IMPORTANT: Some video streaming websites, such as Netflix, don't allow its users to use VPNs. Take Netflix as an exmaple. Most VPNs cannot get through its ban so when the websites suspects you're using a VPN, you'll get an error message that stops you watching the video.
Luckily, both NordVPN and ExpressVPN have still been available to use in Netflix as of 2019. Check them out and unblock your favourite online videos!
3. Protect your identity
This part should be easy to understand based on the two paragraphs above. For people who are privacy-conscious, VPN seems essential because it can protect their personal information from leaking out.
Just think about it: for one thing, your IP address will be changed once you connect to a foreign VPN server so no one can track you down through your IP address; for another, with your data encrypted by the VPN, even if a hacker did succeed to intercept your online information, they could hardly decrypt it. Even those who legally receive your data (e.g. website servers) cannot find out who you are and where you come from. But bear in mind that VPN doesn't make you invisible online – it just makes you rather anonymous and safe from the prying eyes.
In addition, as both NordVPN and ExpressVPN firmly stick to no logs policy – which means they won't collect or store your online data such as browsing habits – you can rest assured that your privacy won't be disclosed to these VPN providers, too. But if you opt for other VPNs, don't forget to check whether they have a no logs policy first.
---
Is it safe or legal to use a VPN
Well, regarding the former question, it depends on what VPN you're using. VPN providers like NordVPN and ExpressVPN are reliable to count on, but those free VPNs providers… I won't say they are all bad but more often than not, you'll leave your personal information at risk while using them.
As for the second, the answer varies from country to country. In China, Russia, and some other countries, VPNs are prohibited from using. Also, you should never use a VPN to do illegal things, such as spreading copyright material without permission.
Here's more for explanation:
1. Don't use a free VPN
Never use a free VPN. Also, be extra careful when you decide to pay for a VPN that's much cheaper than other brands. As the phrase goes, "If You're Not Paying For It, You Become The Product." VPN providers are no charitable organizations; they have to make money in some way, if not asking you to pay for their services.
So how can a free VPN or a low-priced VPN earn profits from you? It's not that hard to imagine – they may collect your personal data and sell them to third parties, squeezing a profit from what they should've promised to protect. Besides, your bandwidth and IP address may be shared with people in other countries, just as what Hola VPN (a free VPN) does to its users. You may wonder, "what would happen if I share my bandwidth and IP address with others?" The answer is simple: a) your Internet speed may be affected and b) cybercriminals can do bad things via your ISP connection, to which you may fall victim. That sounds extremely rare, but does exist sometimes. Nobody would want to get involved in an unexpected investigation, right?
Worse still, some of the free VPNs are literally scams for they contain adware, trojan, and other types of malware that spy on your private information and even do harm to your computers.
2. VPN cannot be used as freely as you want
Like I mentioned above, VPNs are illegal to use in some countries. So if you happen to live in those countries, think twice before you decide to go for a VPN because that may cause you dire problems such as certain accusations.
Besides, some video streaming websites (such as Netflix) and video games (including WoW, Fortnite, etc.) do not allow you to utilize VPN or proxy services. They have their own reasons to do so, and it's your call whether to break such rules. If you're caught using a VPN, the worst thing that would happen is your account getting banned permanently. In other cases, you may not be punished in a very harsh way.
---
Hope this post guided you in the right direction towards solving "This content is not available in your country." If you have any follow-up questions or ideas, please feel free to leave a comment below. Thanks for reading! 😉