[SOLVED] How To Fix Netflix Error Code NW 2-5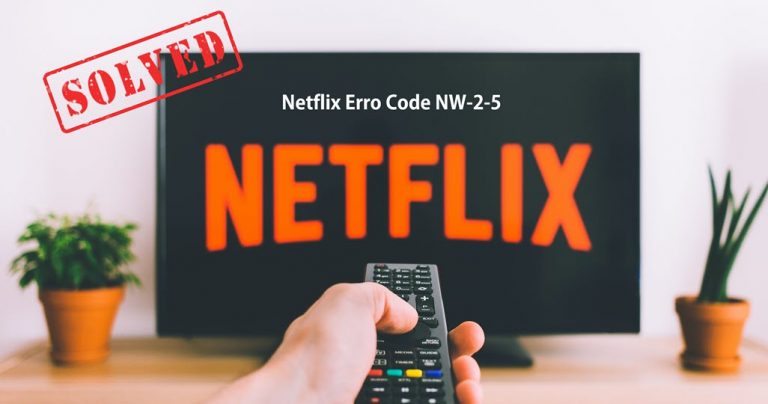 Netflix error code NW-2-5 is a common error code. It usually occurs when this is an interruption between your device that you're streaming Netflix and the network. Don't worry, you're not alone, there're working ways to fix the issue.
How to fix Netflix NW 2-5
There are 5 ways to fix Netflix error code NW 2-5. You don't need to try them all, work your way down till you find the one that suits you.
These fixes are available to the Blue-ray player, PlayStation 3/4/5, Roku, Smart TV and Xbox 360/Xbox One, Xbox Series X/S.
Make sure the network allows Netflix streaming
The first thing is to make sure the network you're connecting allows Netflix streaming service. If you're using Wi-Fi at work, school, or other places where has restricted Netflix from the network, you could be experiencing the Netflix error code NW-2-5.
If you're not using public Wi-Fi in a restricted place, there might be other issues to dig down. Head to the next fix.
If Netflix doesn't have permission on the network you're connected to, you can use a VPN service to bypass the restriction. Here we recommend NordVPN, a 100% safe and legit VPN service with fast speed.
Download and install NordVPN.
Click Sign up as a new user to create a new account.

Click Quick connect, the app will automatically choose a server that suits you best. Or you can choose a server that is located in a specific country you want manually.

Streaming Netflix and check the error.
Check your internet connection
Check your internet status to make sure your network does not drop intentionally.
If you're streaming from your PC or your PC is using the same network, follow the steps below to check your internet status.
Press the Windows logo key + I together.
Click Network & Internet.

In the left panel, click Status. You can click Network troubleshooter to fix network problem.

Follow the on-screen instructions to finishe the process.
If the Netflix error code still there, move to the next fix.
Restart your router
It's a simple and common fix but works.
Simply switch off your device that streaming Netflix, then turn off your router. Wait for about 30 seconds, open the router and your device.
Make sure the WiFi signal is strong. Put the router close to your device and move appliances like phones, microwave ovens, radios, and so on away from the router to avoid signal interference.
Relaunch Netflix and see if the error code appears again.
Verify your DNS settings
This fix is only for certain devices (PS3/PS4/PS5/Xbox One/Xbox 360/Xbox Series X/Xbox Series S).
If you're not streaming Netflix on these devices, move to the next fix.
For PlayStation 3/4/5
Open the PlayStation menu and head to Settings.
Go to Network Settings > Internet Connection Settings.
choose Use Wi-Fi or Use a LAN Cable accroding to your connection method.
If your connection is wired, select Custom for Operation mode.
Confirm the settings on your device match these options:
IP Address Settings: Automatic
DHCP Host: Don't Specify
DNS Settings: Automatic
Proxy Server: Don't Use
MTU Settings: Automatic
Select Test Connection.
If the connection test is successful, try Netflix again.
For Xbox devices
Press the Xbox button on your Xbox controller to open the Guide.
From the Profile & system menu, select Settings.
Select General > Network Settings > Advanced Settings > DNS Settings.
Select Automatic.
Try Netflix again.
Set NordVPN on your smart TV
We all know the Netflix error code NW-2-5 is related to the internet connection. Smart TVs like Apple TV, Chromecast, Roku, except of Android-based TVs, don't support the built-in VPN functionality, but you can use NordVPN for secure streaming.
There are three ways to set up NordVPN on the rest of the platforms:
That's all the fixes for Netflix error code NW-2-5. If you have other working fixes or suggestions want to share, you're welcome to drop a comment below.