3 Best Ways to Search for License Plate Owner | 2023 Tips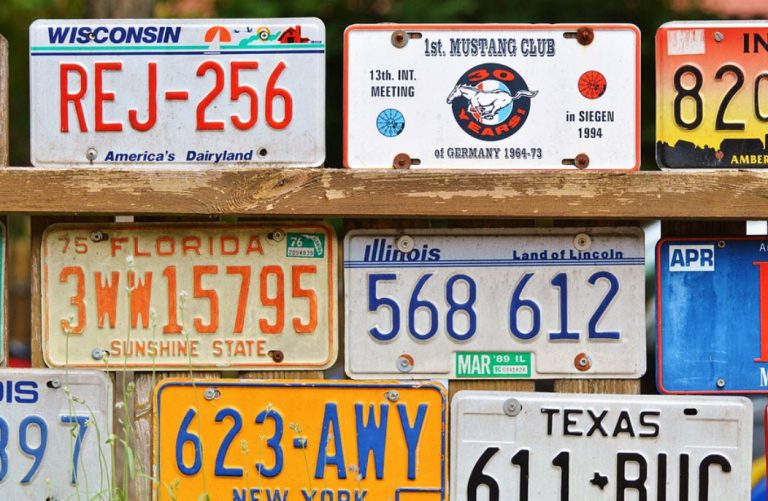 License Plate Lookup
Search for detailed vehicle history and owner info
Are you thinking about purchasing a used car and need to know more about the vehicle's history and registered owner? We can never be too cautious as we could possibly end up buying a car from someone who's not the real owner. Therefore, looking up the vehicle owner information is more than necessary to protect yourself against any potential scam. Plus, it can never hurt to know more!
In this article, we'll show you 3 useful methods to help you search vehicle owner info & detailed vehicle history quickly and accurately.
If you're in the middle of a hit-and-run accident, however, you'd better call the police and report it.
Method 1: Make a request at DMV
The Department of Motor Vehicles (DMV) is a government agency that administers the registration of motor vehicles and the issuance of driver's licenses. By looking up the license plate record from DMV, you might be able to find the person associated with the record.
However, please note that the agency will usually charge you a fee for this kind of service. Moreover, it's highly possible that DMV wouldn't be willing to provide personal information such as the vehicle owner's name or address. In the US, the privacy of vehicle owner information is protected by the Driver's Privacy Protection Act (DPPA). Normally you could only look up a vehicle owner from DMV when you have a good reason (car theft, arbitration proceedings, driver's safety, insurance, etc.).
If you want to skip all the hassle and take advantage of professional online vehicle lookup tools, you should probably try the second method below.
Method 2: Research the vehicle with BeenVerified
In the past 15 years, BeenVerified, a powerful people search tool, has been offering to the public an easy and efficient way to access different kinds of public records. Being an expert in vehicle lookup, BeenVerified has a large database which is updated regularly as new information is reported.
Here's how you run a lookup with the tool:
Input the license plate number of the car and select the state. Then click the Search button.
License Plate Lookup
Research a Vehicle by License Plate
2. Wait for BeenVerified to search its millions of vehicle records in its database. After a few seconds you'll get a full report that contains all the available data.
What information can you search for using just a license plate number?
When you run a vehicle lookup with BeenVerified, what you get may actually be more than expected:
Accident history
Sale history
Auto theft records
Market value

Vehicle specifications (photos, color, accessories, safety features and more)

Salvage records
Recalls and warranties
Fuel efficiency
If you have the VIN number of the car (the 17-digit Vehicle Identification Number), a VIN lookup may bring up more information than a license plate lookup: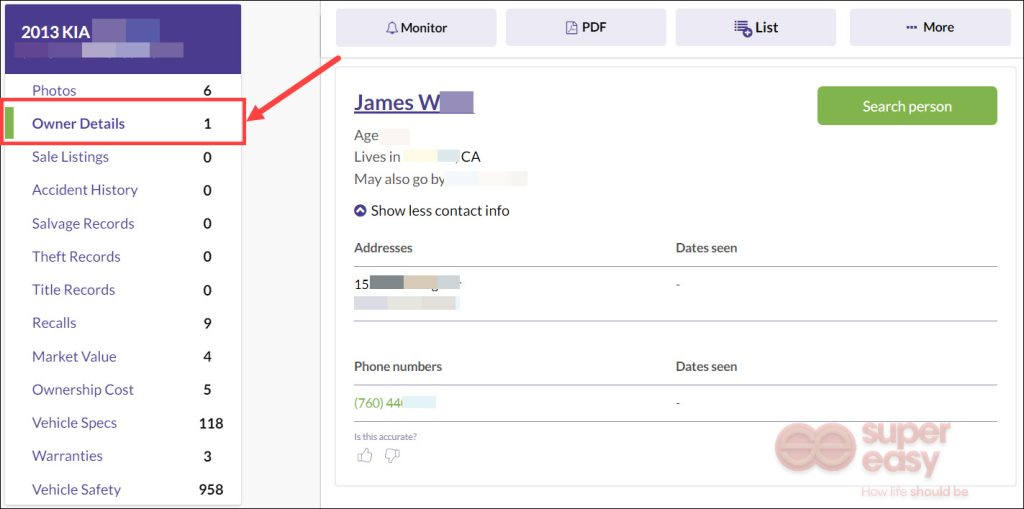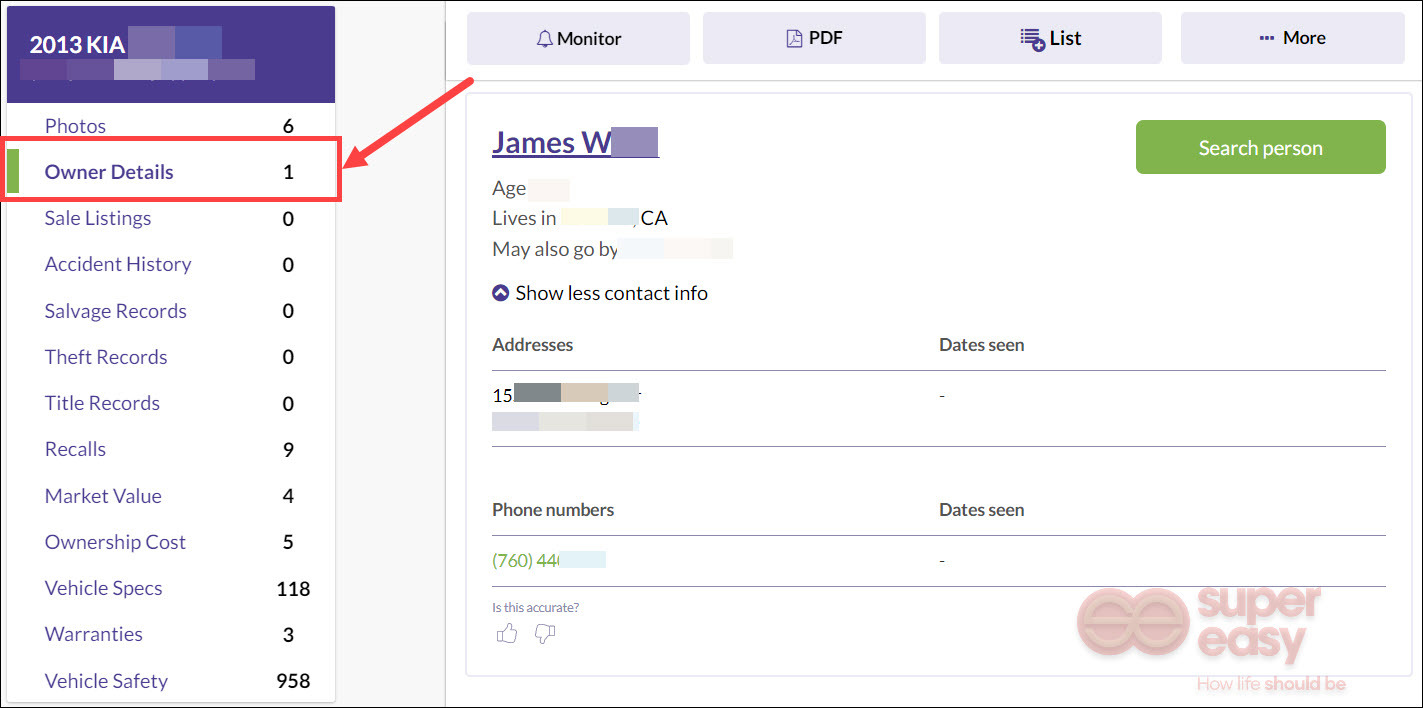 With BeenVerified, you can access all search types in one membership. That means you can actually look up more detailed information about the vehicle owner if you want, simply by clicking Search person in the Owner Details section.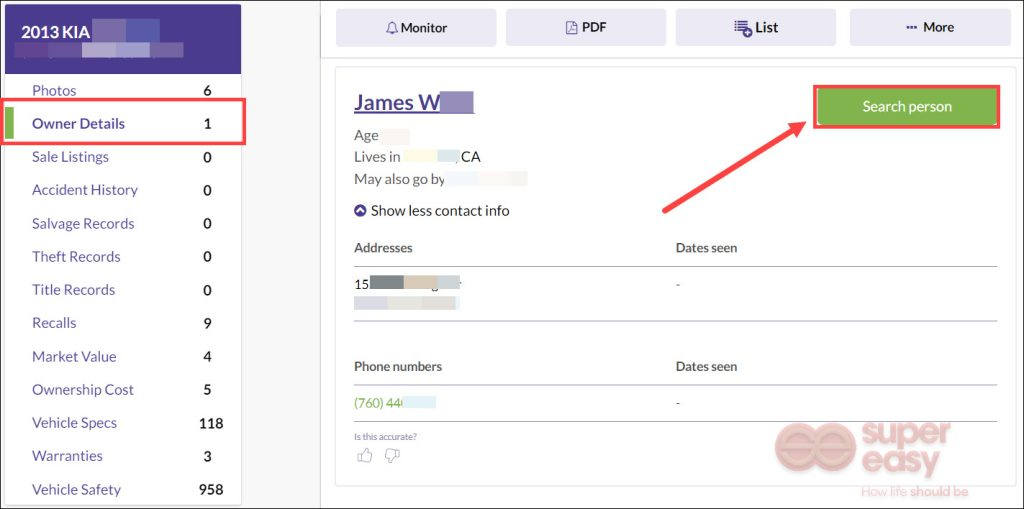 Method 3: Look up vehicle details with Bumper
To learn more about a vehicle you own or plan to buy, you can also use Bumper. Exploring abundant and reliable data coming from government agencies and trusted partners in the automotive industry, Bumper can help you know a vehicle's accident history, salvage, theft records and much more. It can also help you compare two similar cars if you want.
Here's how you run a Bumper search:
1) Go to Bumper.
2) Click the License Plate option, then enter the License Plate and select the State. Click SEARCH to get your result. (If you have the VIN number, don't hesitate to try it.)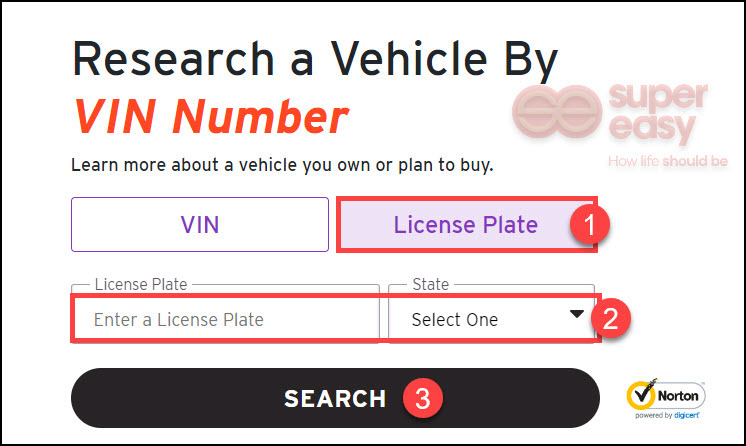 3) Wait for the site to scour its database and give you a report with all the information you need.
Conclusion
In short, if you have the time and energy, you can totally check your vehicle ownership information at your local DMV. If you prefer getting all the information associated with the license plate or the VIN number in just one single search, use professional search sites like BeenVerified instead to save your time.