Phone Number Search | Find Out Who's Calling You for Free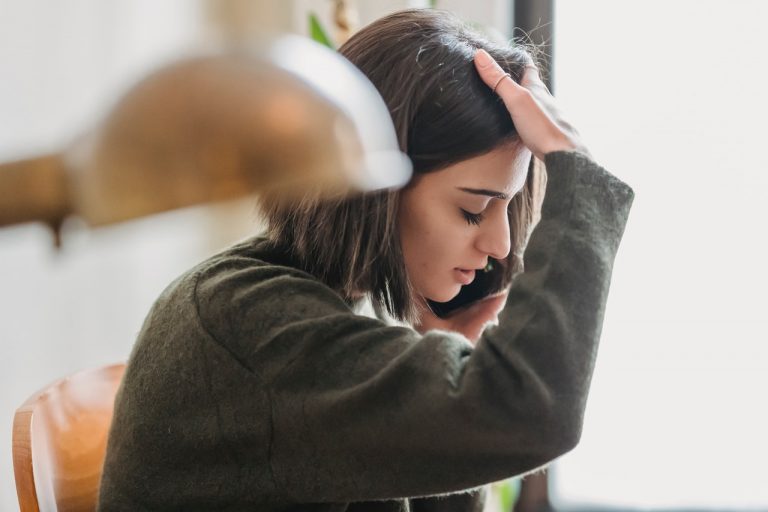 Received unwelcome phone calls or messages? Sometimes it's so annoying that you may want to identify unknown phone numbers and know who's behind them.
Or you are merely out of interest and wonder what information you can search with a phone number. Below, we'll walk you through the working ways to search a number (run a reverse phone number lookup).
Reverse Phone Lookup
Search for Owner's Name, Address & More!
Free phone number tracking services
A reliable and free source for you to search a number? What information are available when your use a free service?
Landline phone number – the owner's name, address, and possibly relatives or associated businesses. Everything you can find in a phone book.
Cell phone number – the city and state associated with the cell phone number as well as mobile carrier for free.
If you want to know the name and address of the owner, you may need to go to the paid services part.
The absolutely free service – Google Search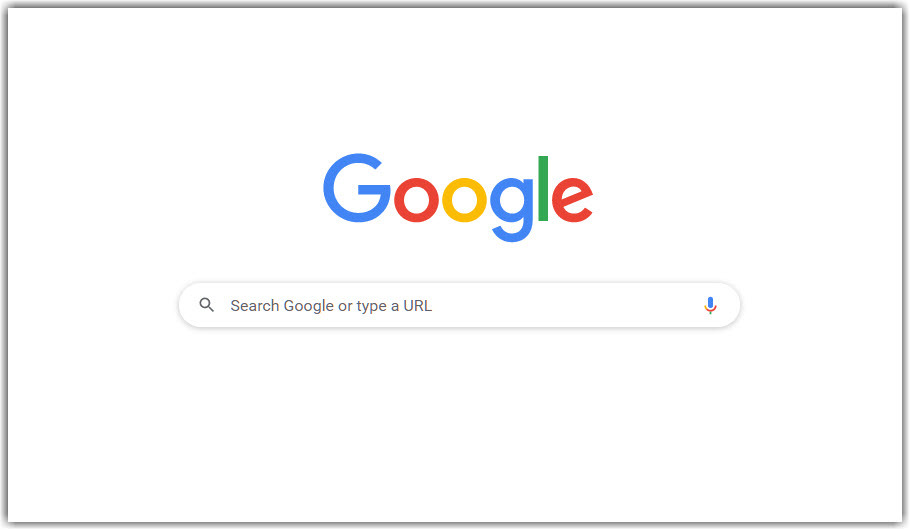 Using Google or another search engine you prefer is the only cost-free method, and it never hurts to try this method prior to any more advanced ones.
Go to your browser, enter the phone number, and search. Type the phone number in the search field with the numbers separated by hyphens e.g. 123-456-9999. With this, you will get information on the name, address, and specific location of the phone owner.
You may find all the related information associated with this phone number, but not all of it. It takes a lot of time to dig deeper.
What about other "free" number search services?
Search the number quickly with White Pages and you will get the location it belongs for free. To view the full listings, you will need the subscribe to the Premium plan. It's not 100% free, and the information you get for free is not helpful at all.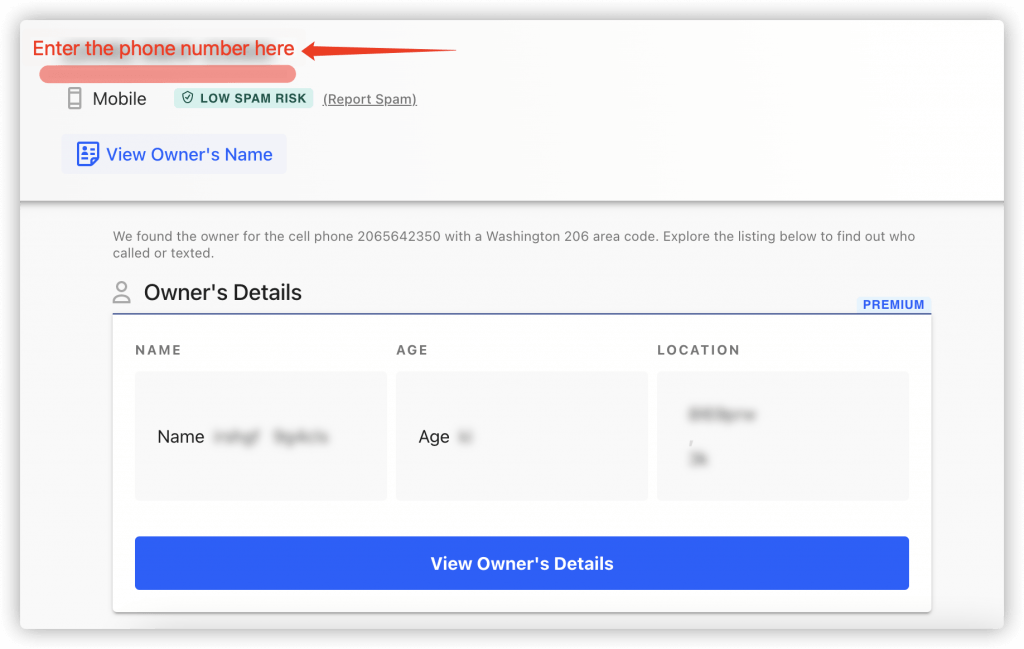 This is exactly the same with other phone number reverse sites, even though it claims it is 100% free. Yes, these services can be free at first for providing the information you don't need. Therefore, we don't recommend you visit any of these websites because it can be a great waste of time.
Best paid phone number reverse lookup services
Reverse Phone Lookup
Search for Owner's Name, Address & More!
Rank
Company
Pros
Cons
1
BeenVerified
· The best tool to run numerous people searches
· Offers powerful social media handle search
· Uncover criminal history information, educational history available
· No hidden fees
· $29.99 per month
· Doesn't offer single reports
2
PeopleFinders
· Offers personal information from above 6000 data sources
· Quick results
· Detailed self background check
· $9.95/first month
· Offers individual reports options
· $24.95 per month
· No free trial
3
PeopleLooker
· Has access to over 10 million public records
· Offers a very thorough people search
· $23.99 per month
· Average accuracy rate
· Reports are not always comprehensive
1. BeenVerified
BeenVerified, founded in 2007, is one of the top phone number lookup engines in the US. It combines a vast database of aggregated public data from public records, social media accounts to criminal history information, property records, and more.
BeenVerified is a subscription-based service. You'll need to sign up for a membership plan to view the final report.
How to search a number with BeenVerified?
1) Search number can be easily done with BeenVerified–enter the phone number and hit Search, BeenVerified will then search billions of public records for information related to that phone number.
Reverse Phone Lookup
Search for Owner's Name, Address & More!
2) Your search will begin automatically.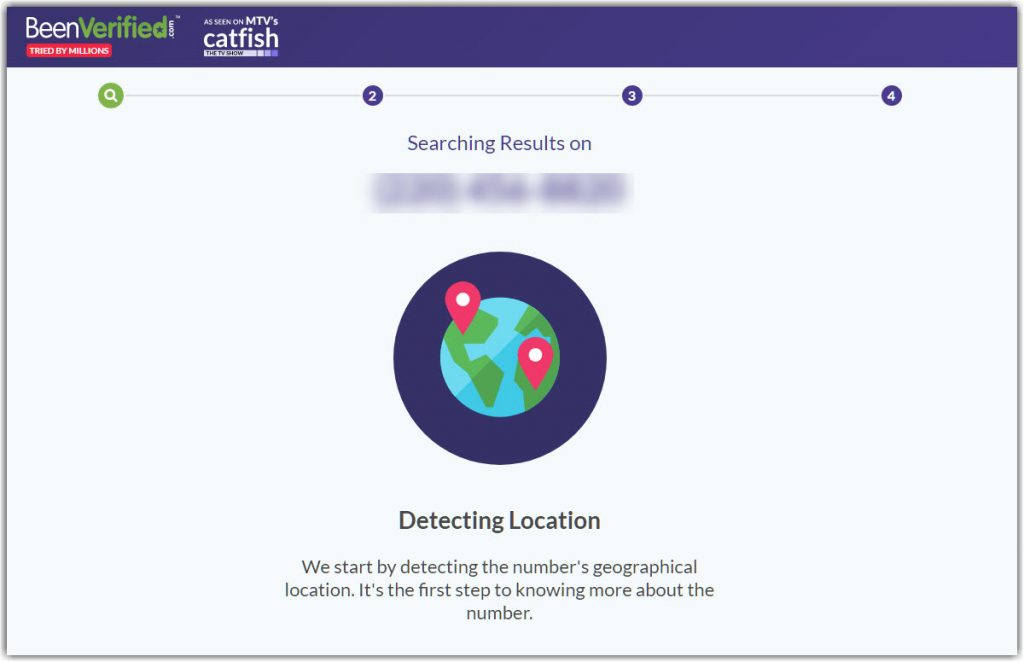 3) Follow the on-screen instructions and wait for your report to get ready.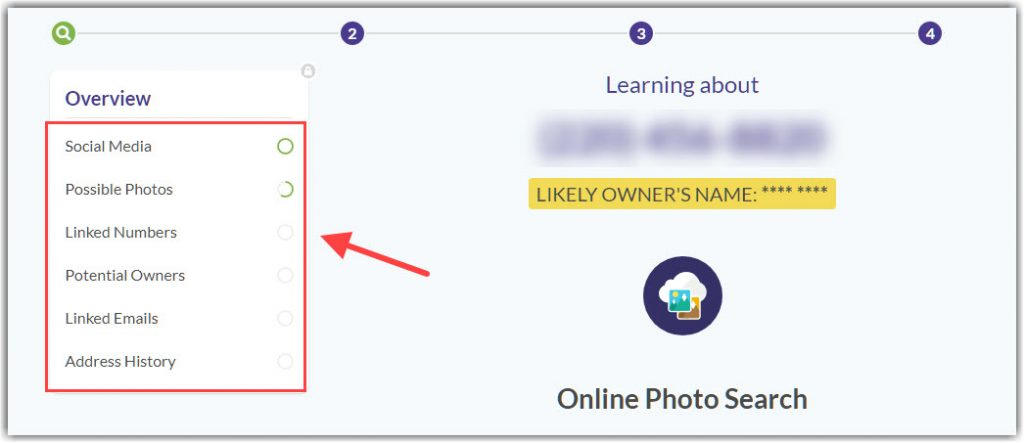 4) You will get a report on the number you searched.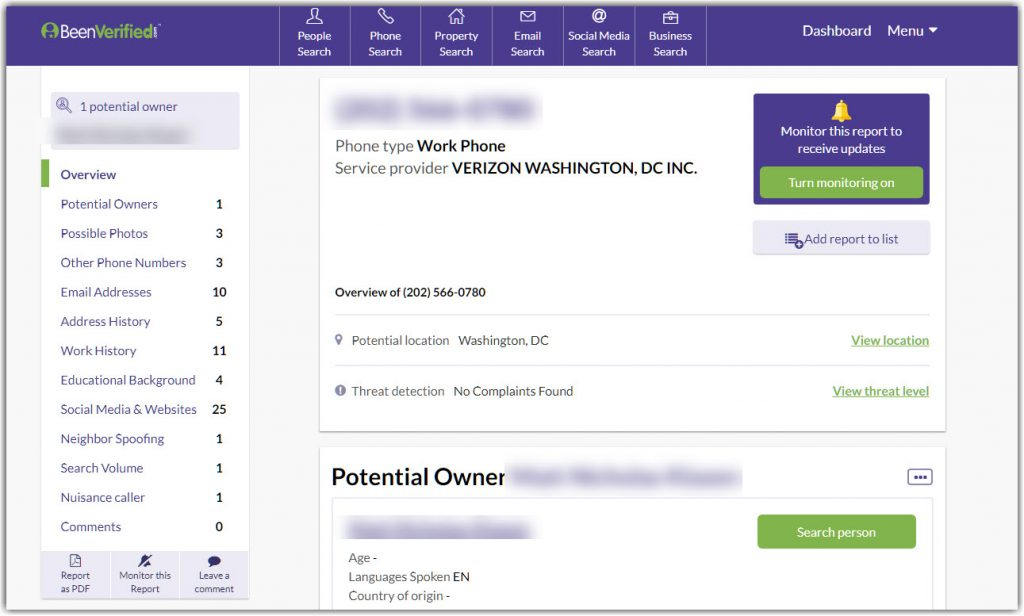 For those who prefer doing everything on an app, BeenVerified is available on both iOS and Android. With a premium service, you can run a reverse lookup on a number safely and legally at any time.
2. Spokeo
Spokeo is one of the most powerful phone number tracking tools you can find. It is very popular for providing accurate background check results and offers a variety of background check reports behind the number you searched for. Property, historical, court, and consumer records.
How to search a number with Spokeo?
1) Go to the Spokeo official page.
2) Choose the Phone option, and type in the phone number, and hit Search Now.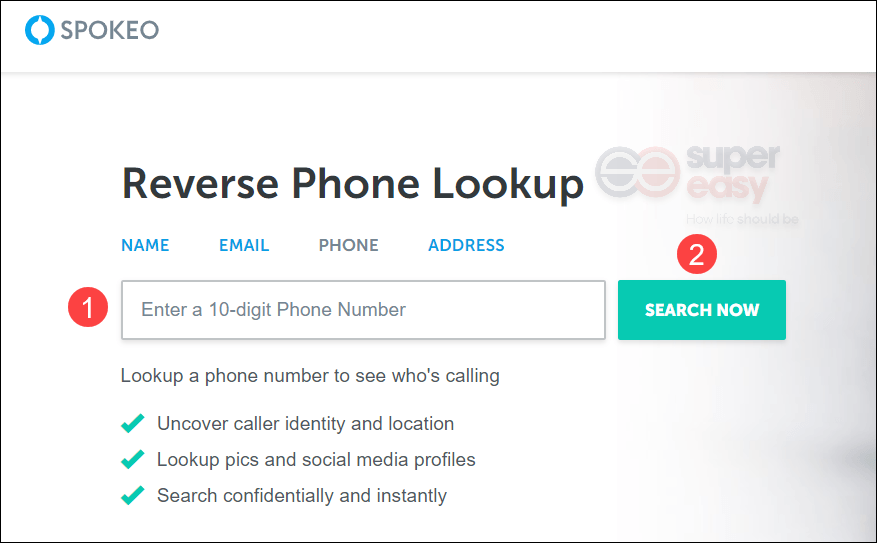 3) It will start searching for the name, address, and everything available associated with the phone number.

4) Without a membership, you will only have access to the phone carrier, phone type, and current location. Spokeo offers a special price for new subscribers. (Cancel anytime, and after your 7-day free trial, you will be billed $24.95 per month.)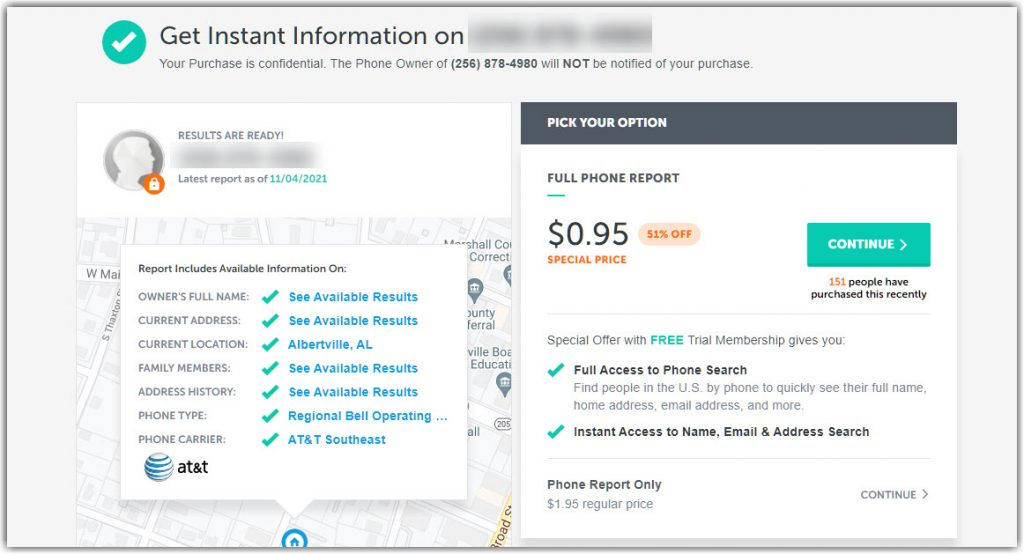 5) Now you can get access to their name, address, and email address. I searched the same number, but I get far less information than on BeenVerified. Although Spokeo claims it has powerful social media searches, I find zero results with Spokeo, whereas I get 25 results for the same phone number with BeenVerified.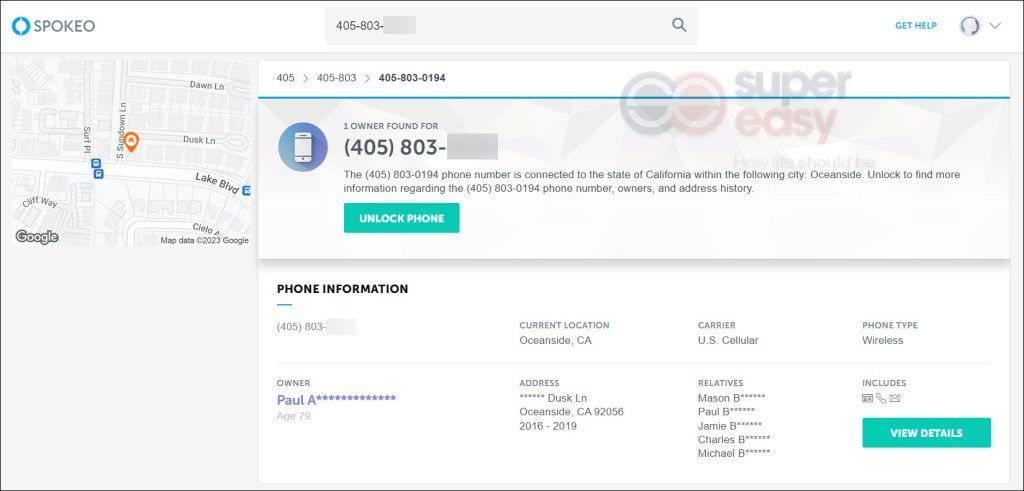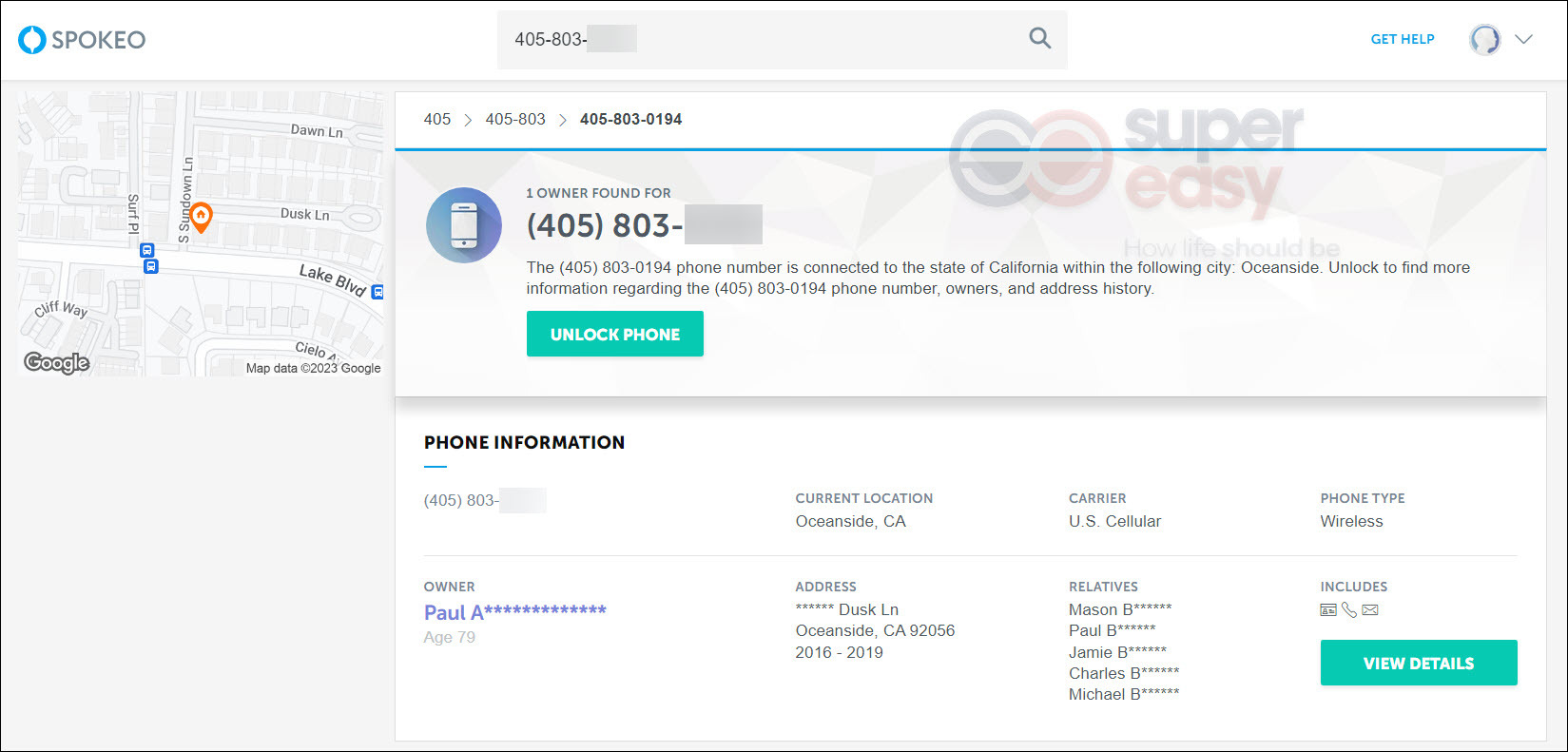 Spokeo is also available on both iOS and Android, and you can use the app to track any phone number quickly and easily.
3. PeopleFinders
PeopleFinders, founded in 1998, is a DaaS (data-as-a-service) provider that can help you perform various types of online background checks with only a name, phone number, or address. Since the company has been active for over two decades, it has received access to a huge variety of US public databases and created a huge information-sharing network that grows with every search.
How to search a number with PeopleFinders?
1) Go to the PeopleFinders official page.
2) Type in the phone number and hit Search.

3) You'll get the up-to-date information you need about the unknown caller, such as the name, address, and other pertinent background info about the phone number's owner.
4) There's also a 7-day membership trial ($0.95), but it also supports a one-report option ($3.95). You get the following information, which is far less than BeenVerified.
Owner's Name
Current Address
Relatives
Address History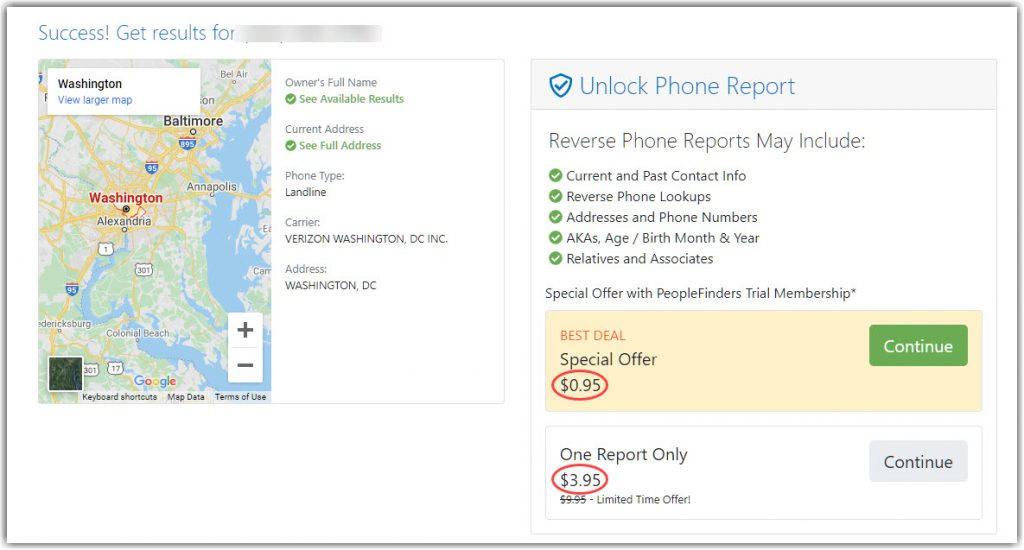 5) Once the payment is complete, you can get instant information for the number you searched.
PeopleFinders is also available on iOS and Android (called IdentityWatch).
4. PeopleLooker
PeopleLooker is an online data aggregator where you can search addresses, contact information, relatives, age, pictures, social media account information, criminal and public records, and more. A preliminary search takes less than 2 minutes to complete, and your report will be ready for download in under 5 minutes.
How to search a number with PeopleLooker?
1) Go to the PeopleLooker official website.
2) Choose Phone Search, and type in the phone number, and hit Search.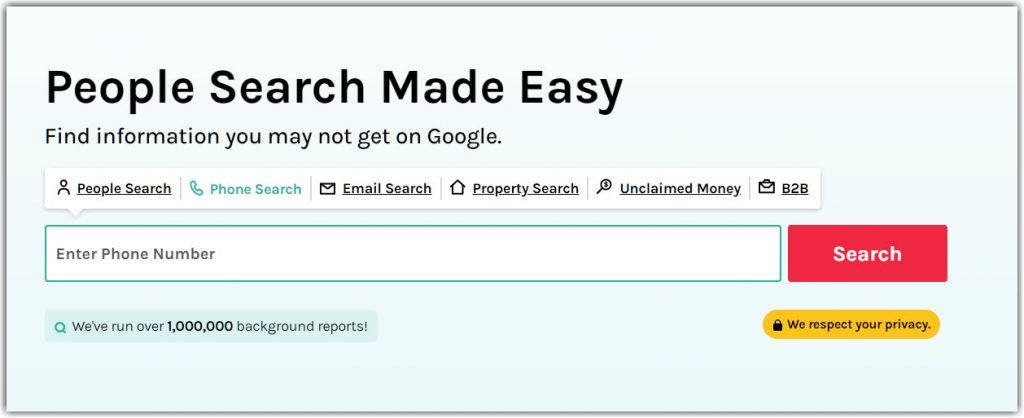 3) Once the payment is complete, you can view the report.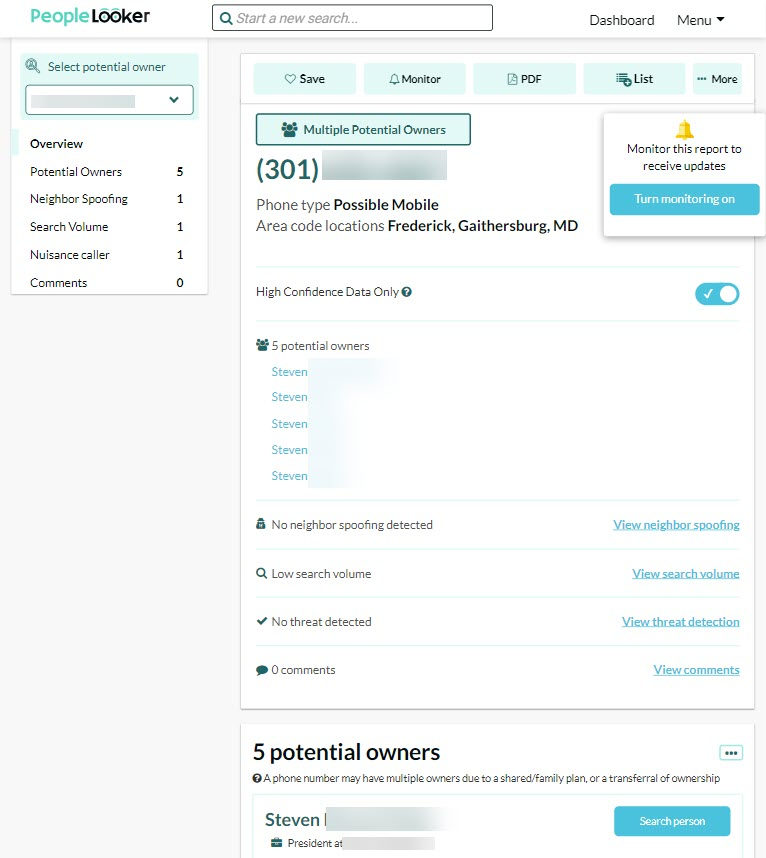 The PeopleLooker app is available both on iOS and Android. Some searches are only available on mobile.
Everything about phone number search
You may want to know more about the phone number lookup industry.
1. How does a phone number search service work?
With so many people wanting to get more details about an unknown number, there are some applications and sites that are completely dedicated to providing information about different phone numbers.
They got their database legally from public information, cell phone carrier companies, data brokers, and several other proprietary sources.
Therefore, it's totally legal to run a phone number reverse lookup.
2. What you can get from a reverse phone number lookup?
Reverse phone lookup sites can be free or paid.
If you prefer a totally free service, you are likely not going to get more than the name and address associated with a particular phone number.
You will likely find the city and state associated with the cell phone number as well as the mobile carrier for free. However, you won't find the owner's name or location. Cell phone data falls into a more premium category of data that requires expensive processing and cleaning to identify owner's and associated locations.
With a paid or premium service, you might get the following:
Name
Address
Marriage and divorce records
Possible friends, relatives, and neighbors
Birth, adoption, and death records
Email addresses associated with the number
Phone issuing location, carrier, and company associated with the number
Court records, legal records, criminal records, and so on
What's the best phone number search service for me?
The best reverse phone number lookup service is the one that completely suits your needs but also charges you the least.
To make sure you're using a reliable source, we've done a lot of research online, and tried every single one of them.
First, your objective. What do you expect to know from a reverse phone lookup? If you want their name and address, you can use free services.
However, some "free" services are not free. They will fail you at first and ask you to join their membership to get a more comprehensive search.
But if you want to know everything about them, we would recommend a paid service, which will search the phone number out of billions of records from leading sources.
The methods in this article provide you with easy access to public record information, but without a guarantee for accuracy and may include links to websites not listed as a Consumer Reporting Agency (CRA). Information acquired from these bodies is illegal to be used for employment, housing, credit, and other purposes alike, according to laws such as the Fair Credit Reporting Act (FCRA). If you're not sure whether your use of our methods is appropriate, click here for details.