Released on November 12, Godfall does look great with vibrant environments and incredible characters. And players are quite surprised to see the REDEEM SHIFT CODE option in the game menu. It just looks similar to Borderlands Shift codes, with which you can unlock limited time offers within the game.
If you're looking for Shift codes in Godfall, then don't miss this post! We'll show you the full list of active codes and tell you how to redeem them in detail.
How to get Shift codes
Unfortunately, since its launch, they haven't released any Shift codes for Godfall. But you can find them in these platforms in the coming future:
Gearbox Twitter
Godfall Twitter
Gearbox Facebook
Godfall Facebook
Shift codes will be regularly posted in these platforms. What you need to do is keep tracking it and redeem the code before they expire. It's also a good idea to bookmark this page as we'll update it once there're Shift codes available.
How to redeem Shift codes
To redeem Shift codes is pretty straightforward. You can either go to the in-game menu or the Shift website.
Through the game's menu
1) Go to the game's menu and select REDEEM SHIFT CODE.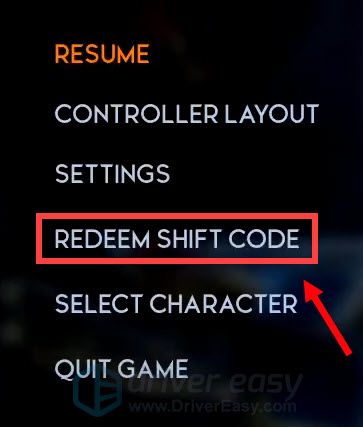 2) Then you can follow the instructions and enter the code into the box. Items will be automatically added to your account.
On the Shift website
1) Go to the Shift website and create a new account or log in.
2) Link your Epic account with it so that you can redeem codes for your PC. Then you'll have the option to redeem your Shift codes.