Released in December, Rainbow Story could be a good game to kill time. But with a gift code, your adventure would be more fun. So check out these valid codes to level up your game.
Table of contents:
Working codes list
Below is the full list of Rainbow Story codes that are currently available. They do have deadlines, so redeem them before they expire.
| | | |
| --- | --- | --- |
| CODE | Rewards | |
| RS333 | x100 Pearls, x4 Enhance Stones, x3 Mount Rations | |
| RS666 | x100 Pearls, x1 Offline AFK Ticket, x5 Mount Rations | |
| RS777 | x200 Pearls, Starup Stones, Starup Small Angel | |
| RS888 | x20 Black Pearls, Starup Small Angel, x3000 Gold | |
| RS33333 | Pet Recruiting Ticket, x200 Pearls, x2000 Gold | |
| RS66666 | Pet Recruiting Ticket, x200 Pearls, x2000 Gold | |
More working codes…
3WV46RB153 redeem this code and get the rewards
We will keep this page updated once they release any new codes. It would be a great idea that you bookmark our page so that you won't miss a code.
Expired codes list
Unfortunately, this code is not working anymore. So stop trying.
3682L9J152
3QMAUGX151
3WANSMB150
3Z4C4MS146
34RYHBC145
37B6THW144
3WYXFMM143
33D4BEC142
3J35H38141
3CQLQ9N138
3QH9FJK139
3GU3CF9135
3N3AZX136
36PMM5G122
3EBGPDG133
35RYUP2128
FBSHARE
32YNZ24134
3D65H4Y132
How to redeem codes
Redeeming codes in Rainbow Story is pretty simple. Here are the steps you can take:
1) Go to your game. Tap on the right side menu button and expand the menu list.
2) Tap the Settings option.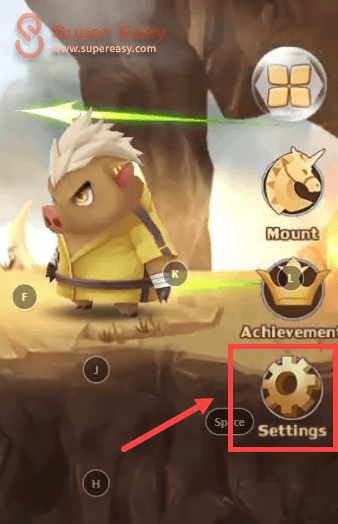 3) Select the Code tab. Enter your code into the box and then tap Confirm. Then you'll get the rewards and you can start your relaxing adventure across a gorgeous open world.