Polaris VIN Lookup – Polaris VIN decoder for history, accidents, recalls…

Polaris VIN Decoder
1. Enter VIN 2. View Report
Approved NMVTIS Data Provider – Just Ener a VIN Number
Performing a VIN (Vehicle Identification Number) lookup on a Polaris vehicle (whether it's Polaris Ranger or any other model) serves as an essential step in ensuring a seamless ownership experience. Whether you're considering purchasing a pre-owned Polaris or conducting maintenance on an existing one, a VIN lookup provides vital information that empowers you to make informed decisions and safeguards your investment.
In this guide, we'll walk you through all the details on how to decode a Polaris VIN and how you can perform VIN lookups to gain a comprehensive vehicle history report.
How to decode a Polaris VIN
Polaris vehicles use the industry standard of a 17-digit VIN:
Digits 1-3: Manufacturer of the vehicle
Digits 4-8: Vehicle attributes
Digit 9: Check digit
Digit 10: Model Year
Digit 11: Plant code
Digits 12-17: Sequential numbers
For units that are older than 1999 the VINs are 7 digits long. And the second and the third digits indicate the year.

Polaris VIN Decoder
Check vehicle information with Polaris VIN
How to do a VIN lookup
As stated above, you can decode a Polaris VIN on your own. However, this will only give you access to the information that is pretty basic, which may not help much with your decision-making. To get more details about a Polaris vehicle, you should perform a VIN lookup and obtain a vehicle history report from the Polaris website or by using some online services.
Polaris Vehicles VIN Search
Polaris offers users a portal to conduct VIN searches. What you have to do is head to the Polaris VIN Search page. Then enter the VIN number into the search box and click FIND VEHICLE.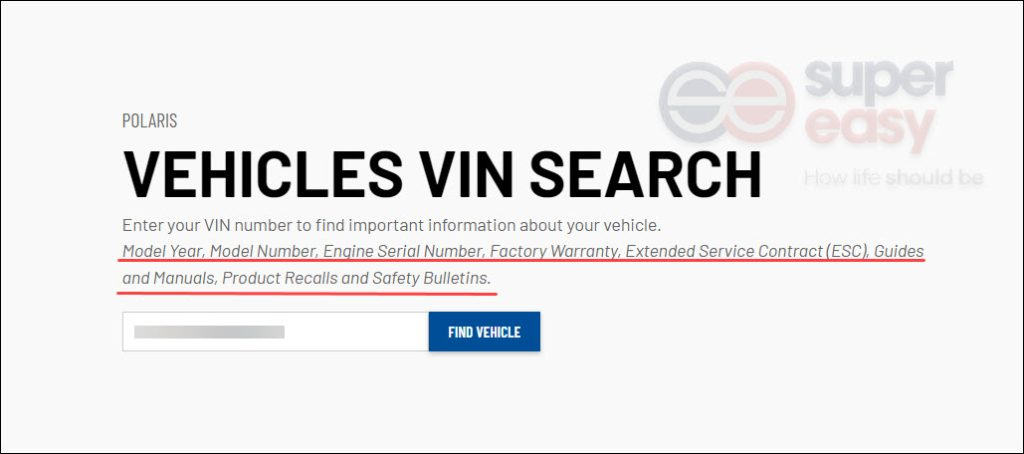 Below is the sample report.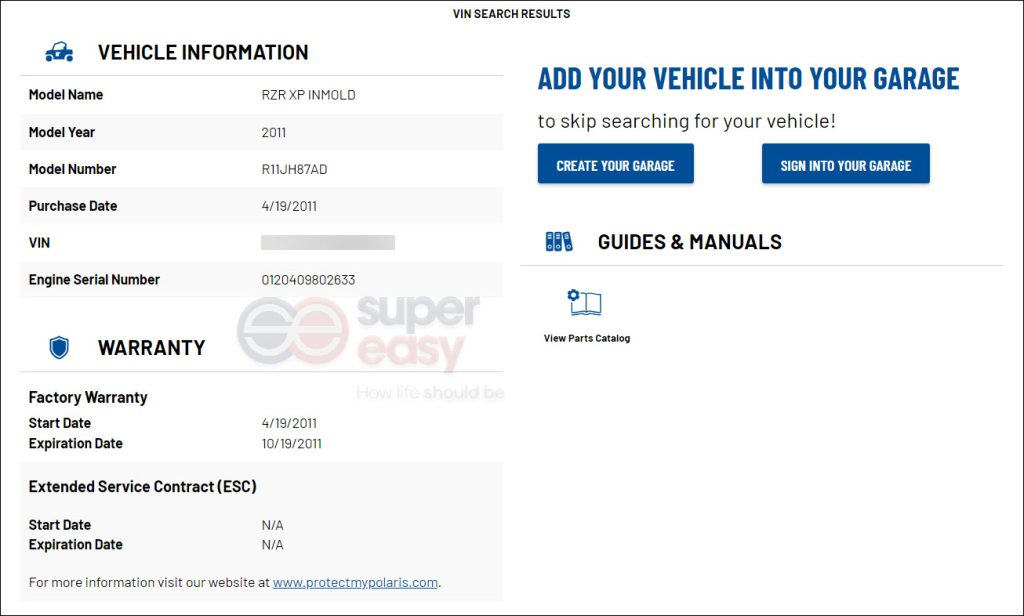 Your results would include Model Year, Model Number, Engine Serial Number, Factory Warranty, Extended Service Contract (ESC), Guides and Manuals, Product Recalls and Safety Bulletins.
However, if you're looking for more details such as:
>Accident History
>Ownership History
>Service Records
>Auction Data
>Sale & Lien Records
>Title Check
>Mileage History
>Insurance Data
>Safety Ratings
>Market Value
>Inspection Records
You'll need to access a comprehensive vehicle history report. Below we've listed two online services that are approved NMVTIS Data Providers for you to perform VIN searches to have access to valuable details about the vehicle's history. Continue reading.
Approved NMVTIS Data Providers VIN Search
To avoid purchasing a problem vehicle and get the most information, you should receive a vehicle history report from an online service. You've probably come across Carfax, a well-known vehicle data provider. However, that could be expensive. Below is their current pricing policy:
1 CARFAX Report: $44.99
3 CARFAX Report: $64.99
5 CARFAX Report: $99.99
If you're looking for more affordable options, we've got you covered! BeenVerified and Bumper are both powered by NMVTIS Data Providers and performing searches won't break the bank!
BeenVerified VIN Check
Why BeenVerified?
BeenVerified makes things easier. And with 10+ years of data expertise and more than 100 million searches performed, BeenVerified should be the place where you can perform VIN lookups. It aggregates public record information from a wide range of sources, providing a one-stop service.
Running a VIN check on BeenVerified just takes a few mouse clicks.
1) Navigate to BeenVerified's Vehicle Search page.
2) Enter the VIN number into the search box and click SEARCH. If you do not have the VIN number, you can search by license plate.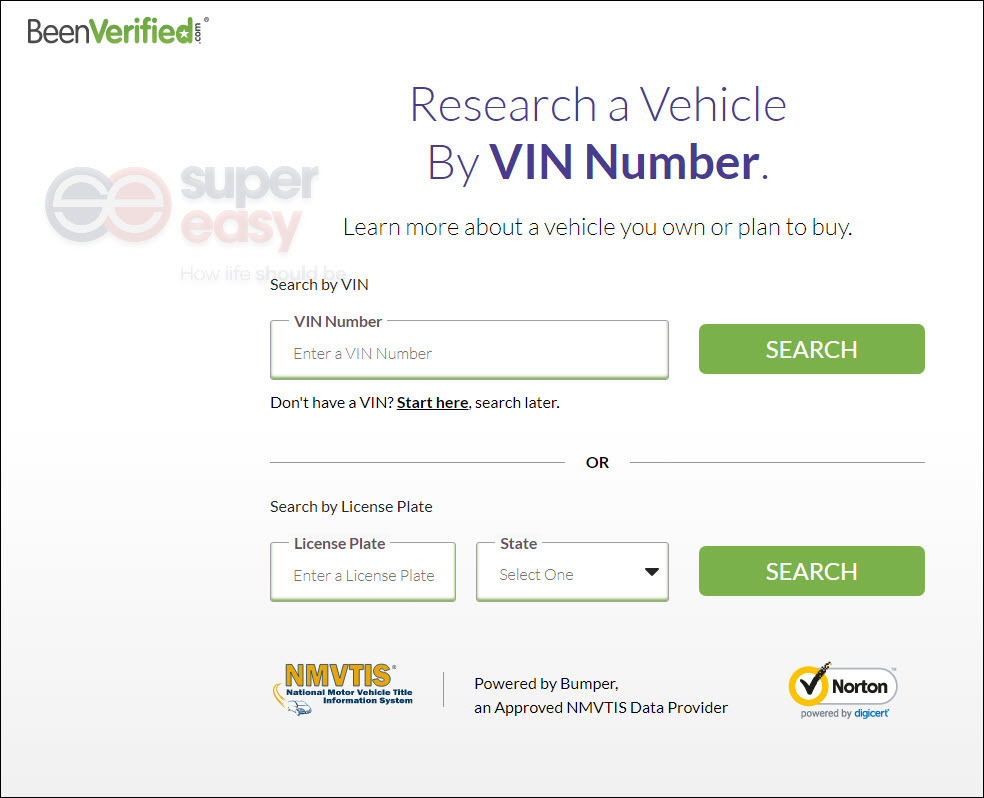 3) Wait for BeenVerified to scan its database and finds your match. To view the report, you'll need to purchase a membership plan.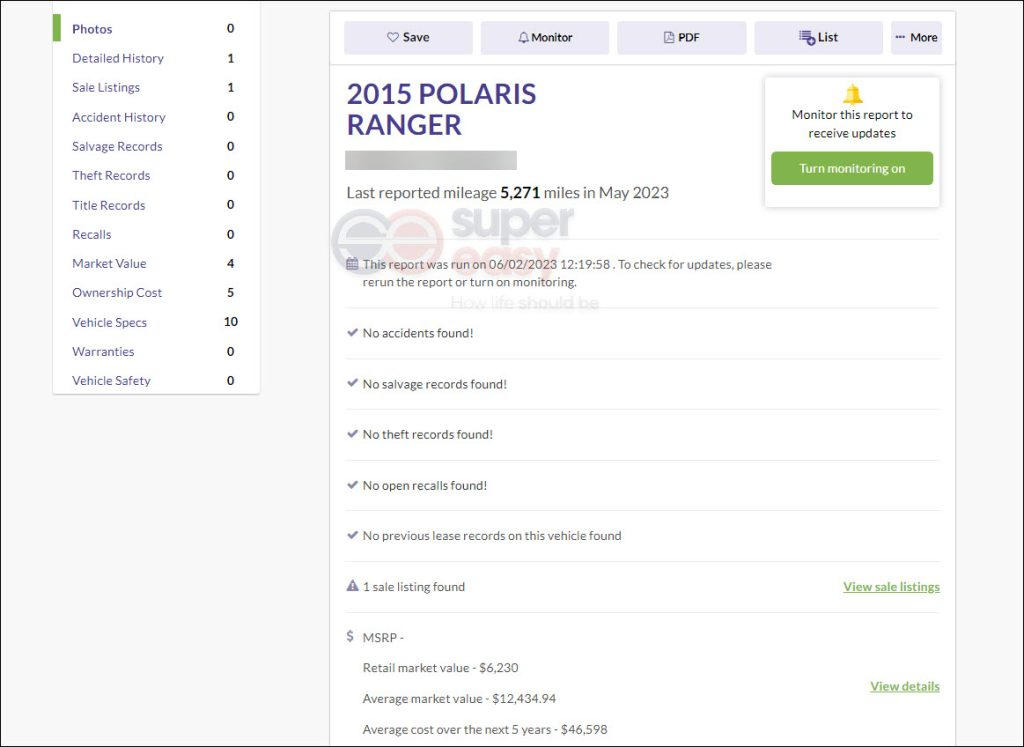 If you need any assistance during your searches, feel free to reach out to their support team:
support@beenverified.com
1-844-823-2869
Bumper VIN Check – Special $1 Trial Offer
Why Bumper?
Starting at just $1, Bumper offers you affordable vehicle history reports that may include information on accidents, recalls, market value data, in-depth ownership cost protections and more.
Researching a Polaris vehicle starts at just $1. Follow the steps below to get reliable, regularly updated information that Bumper compiles from NMVTIS, JD Power, NHTSA, and many other top industry data sources.
1) Go to Bumper's search page.
2) Feed in the VIN number. Then click SEARCH.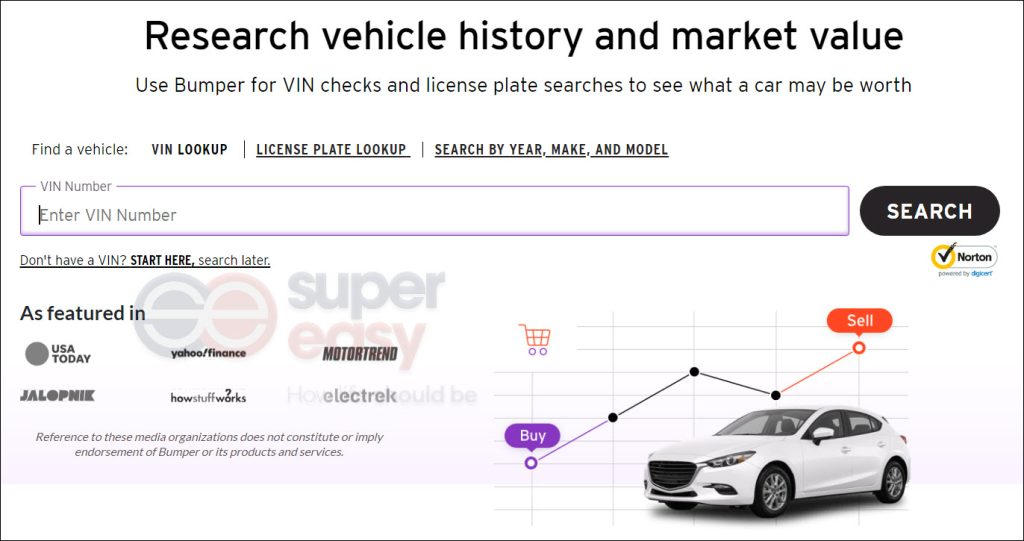 3) Patiently wait for it to search all the available records. To unlock the full report, you'll need to subscribe to a membership. Till then, view each section of the report to get the information that may be helpful for you.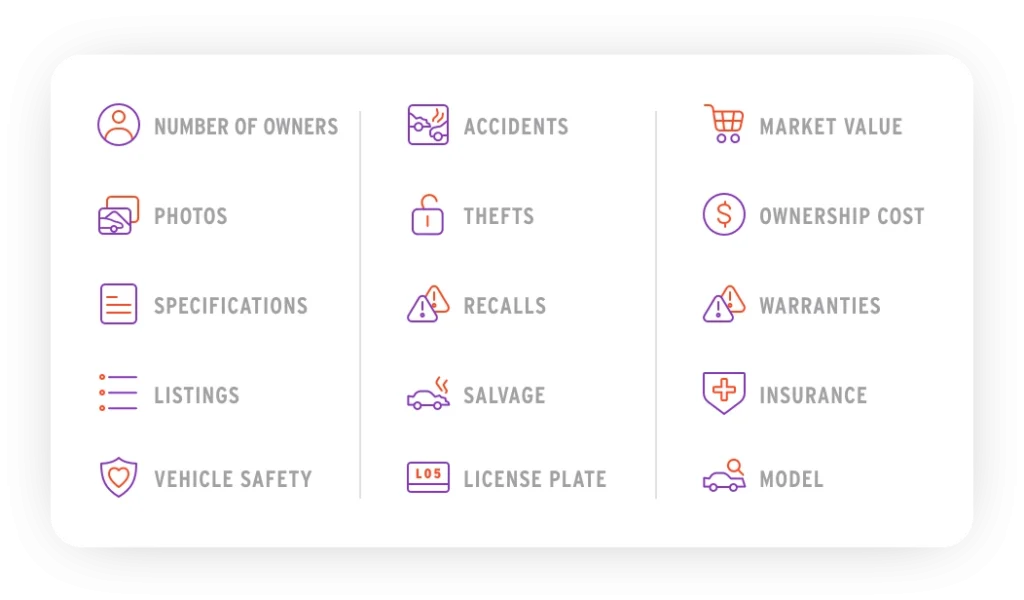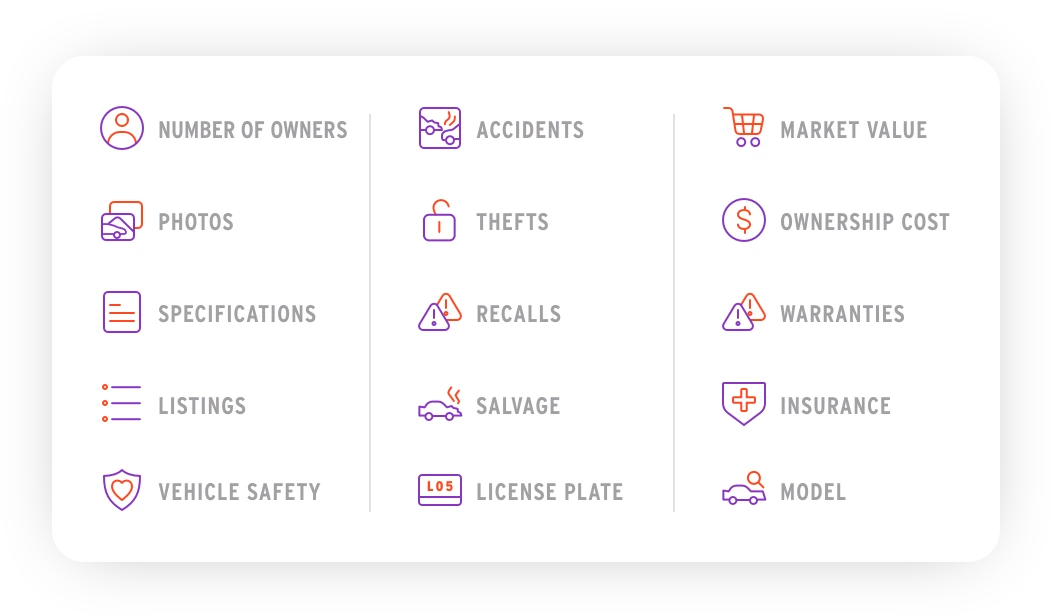 If you encounter any issues while using Bumper, do not hesitate to contact their support team:
support@bumper.com
1-332-225-9745
*All product names, logos, brands, trademarks and registered trademarks are property of their respective owners.