Philo Review: Is It Worth It? Packages, Pros and Cons…
In the era of cord-cutting, finding the right streaming service can be overwhelming. Philo stands out as a versatile and affordable option.
In this comprehensive review, we'll address frequently asked questions and delve into the pros and cons of Philo to help you decide whether Philo is the right choice for your streaming needs.
Pros
What sets Philo apart from its competitors can include the following key factors:
1. Affordability and availability of a free trial
How much is Philo?
With a starting price of $25 per month, Philo offers an attractive package that won't break the bank! This makes it an excellent choice for budget-conscious individuals and families looking for a cost-effective streaming solution.
Does Phio have a free trial?
YES!
Philo offers a 7-day free trial period for new subscribers. During the trial period, you can have full access to its channel lineup and features. Explore the service before you're billed.
2. Extensive channel lineup
Philo has a wide range of content that caters to diverse viewers.
Currently, you can watch 70+ entertainment, lifestyle, and knowledge-focused networks, like A&E, AMC, Comedy Central, Discovery, Food Network, HGTV, and History, as well as the Paramount Network where you can binge-watch Yellowstone.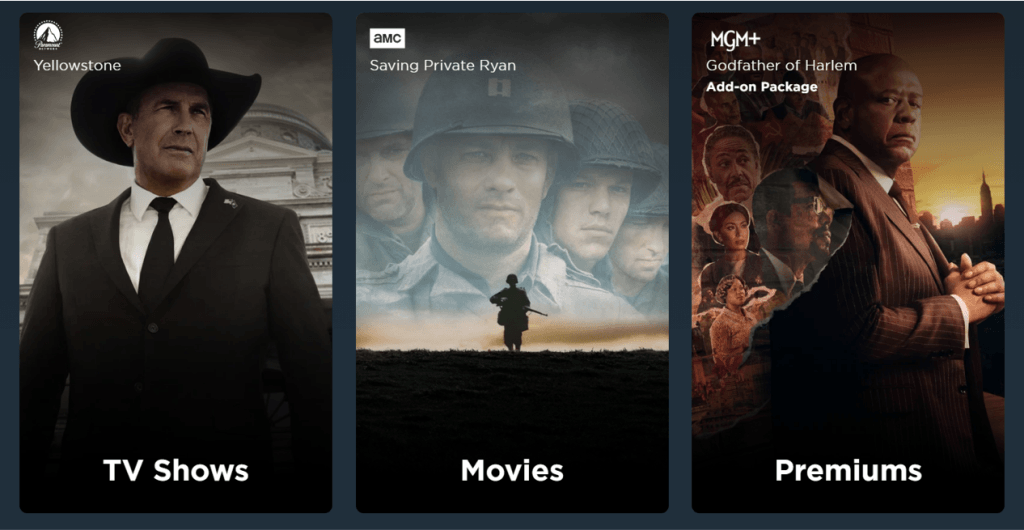 In addition, you can select add-ons upon signing up for an extra fee per month. Below are the add-ons that are available:
(Add-ons also come with your free trial. )
STARZ for $10/month

STARZ
STARZ Encore
STARZ Kids & Family
MGM+ for $6/month

MGM+
MGM+ Hits
MGM+ Marquee
Movies & More for $3/month

FMC
HDNet Movies
REELZ
Sony Movies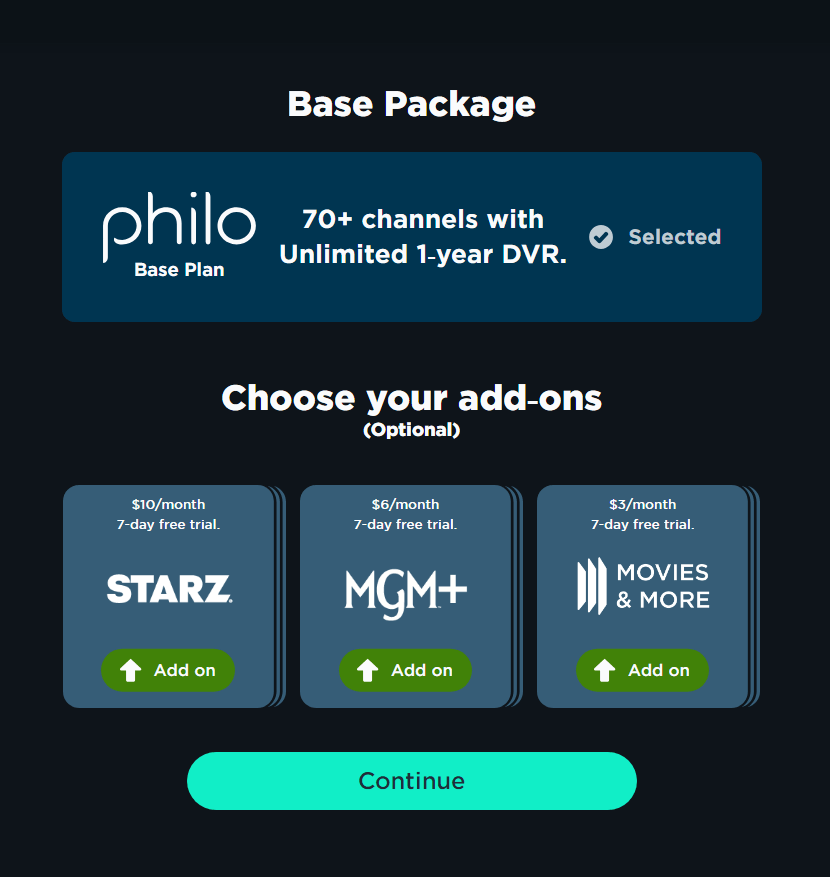 3. User-friendly interface
Ease of use is a top priority for Philo. The user-friendly interface makes it easy for viewers to discover and access the content.
4. High-definition (HD) resolution
Philo allows you to go live in 720p and stream videos on-demand in 1080.
For the audio, it is streamed in standard, 2.0 stereo quality.
Keep in mind that the video or audio quality can be automatically adapted based on your internet bandwidth.
5. Unlimited 1-year DVR
Philo goes beyond just on-demand content. Apart from the live TV streaming that allows users to watch their favorites in real time, Philo's $25 subscription plan also includes a cloud DVR feature for users to record and store shows for up to 1 year. With this functionality, you will never miss an episode.
6. Simultaneous streaming
Philo allows viewers to stream up to three devices at the same time.
And viewers can create up to ten profiles per account.
7. Multi–device compatibility
Philo is committed to bringing you the best television experience on your favorite devices.
Currently, you can watch Philo on the following supported device:
PC
Mac
Android phone or tablet
iPhone or iPad
Roku

Is Philo available on Roku? YES! You can access it via the Roku Channel Store.
Fire TV
Apple TV
Android TV
Chromecast
Samsung TV
This list may not be the most updated as they're working to bring Philo to more platforms. For the most up-to-date information, you can visit the Philo website.

Cons
While Philo offers lots of advantages, it's important to consider the potential drawbacks as well. Let's now turn our attention to the cons of Philo.
1. Absence of sports or news channels
Does Philo have local channels?
Unfortunately, Philo does not offer local channels that broadcast local news, sports, and other regional programming specific to your area.
If you're an avid sports fan or if you rely heavily on news channels, Philo may not cater to you.
2. Absence of parental controls
At this time, Philo doesn't have any parental controls.
So families with kids may need to set restrictions in order to stop them from stumbling upon inappropriate content.
It's not the downside. But you may want to know whether Philo is free with Amazon Prime, actually, the answer is NO. You can download the Philo: Live & On-Demand TV app directly from Amazon, but you'll need to have an active Philo subscription in order to access its content.
Conclusion
To conclude, Philo can be an ideal choice if you're looking for quality entertainment at an affordable price.
However, it's important to consider the absence of sports and news content, as well as parental controls.
Hope this guide can help you make an informed decision and you can now have your answer for "Whether Philo is worth it".
Don't break the bank. Break up with cable. | Philo
Monthly price
$25
Free trial
Yes,
7 days FREE
Channels
70+
DVR
Yes,
unlimited included