Online shopping security threats and how to avoid them

Get Proactive Online Protection Today.
Try a no-risk 14-day free trial today.
Thanks to the internet and the Covid-19 pandemic, more and more people are turning to online shopping. It's true that online stores provide us with a more comfortable and convenient way to buy products online; however, it's far from risk-free. As online consumer activity has grown, so has the online shopping security threats–cybercriminals are working to strip shoppers like you of hard-earn money.
While online shopping scams and security threats exist, that doesn't mean we need to ditch online shopping. Safe online shopping is possible as long as you're aware of the security threats of online shopping and take the necessary precautions.
Online shopping security threats
The pitfalls of online shopping aren't always obvious since cyber frauds are carried out in cunning ways. The more you know about online shopping security threats and fraud, the better your chances of spotting something suspicious.
Let's take a quick look at the most common online shopping threats.
Identity theft
Identity theft occurs when cybercriminals or hackers break into e-commerce websites and steal customers' login credentials or credit card details. Once those bad guys obtained the sensitive information, they either sell personal details to other criminals on dark web or impersonate users to make unauthorized purchases.

Get Proactive Online Protection Today.
Try a no-risk 14-day free trial today.
Unencrypted data
HTTPS is a must for all the e-commerce websites. However, there are still some websites that operate on outdated SSL certificates and HTTP protocols, which make them vulnerable to attacks. If you notice that a website's URL starts with HTTP rather than HTTPS, you should never input sensitive data like your credit card details and login credentials on it.
Fake online stores / apps
Not all online stores are reliable. Some websites may appear to be well-known, legitimate retailers; however, they may be created and managed by scammers with the intent to rob your money and personal information.
Sophisticated scammers usually replicate designs, layouts, and logos to trick unwary users into believing they are on a reliable website. Some fake online store even sell products at unbelievably low prices. If you sign up or place an order on those fake online stores, the scammers would harvest your personal data and scam you out of money.
Data breaches
Shopping online inevitably involves sharing your personal information with online merchants. For example, when you register for an online store, you need to submit your address, contact information, and when you place an order, you need to enter your bank or credit card details. All the sensitive information are stored in the database of the online store website. If hackers or cybercriminals hack into those e-commerce websites, customers' personal data is at risk and could be exposed in a data breach.
Unsecured Wi-Fi
It's not a good idea to use unsecured Wi-Fi (e.g. public Wi-Fi) for online shopping. When using unsecured Wi-Fi, the traffic is not encrypted, which gives hackers a good opportunity to steal the personal information your submit, such as your contact information and your credit card details.
Adware
When browsing online, you've probably seen those unsolicited ads popping up on your screen. They may be adware–potentially unwanted software that automatically displays or downloads advertising material such as banners or pop-ups when a user is online.
The purpose of adware is to generate revenue for its owner; however, more and more cybercriminals are using it for fraudulent purposes–for instance, you may be tricked into visiting malicious websites that attempt to steal your personal information.
Phishing
Scammers often send fake emails that look like they are from a real retailer. These emails usually have an attachment or a link that is designed to deceive the recipient into clicking on it. If the recipient clicks on the attachment or link, it may launch a malware infection.
How to protect yourself from online shopping security threats
Hackers take advantage of network vulnerabilities and human mistakes to launch attacks. Recognizing the existence of cybercriminals is a good first step for protecting yourself when shopping online. Check out the tips below and learn how to secure your network and what actions to take.
1. Keep your browser and operating system up to date
Software developers regularly release updates to their applications and operating systems to fix bugs and improve performance. If an update is available, download and install it right away, as the update typically improves the security of your system and protects you from online shopping scammers.
2. Install security suites
A security suite is a group of tools that safeguard your devices from online dangers. It typically includes a variety of features such as an anti-virus, spam detection, and password manager to help protect your online identity and prevent online sopping scams.
Aura is a comprehensive digital security solution that protects your identity, finances, credits, and devices from threats. It offers the following features to keep you and your loved ones safe:
Identity Protection
Password manager
Antivirus
Secure VPN
Parental controls
Credit lock
3 bureau credit monitoring
24/7 US-based customer support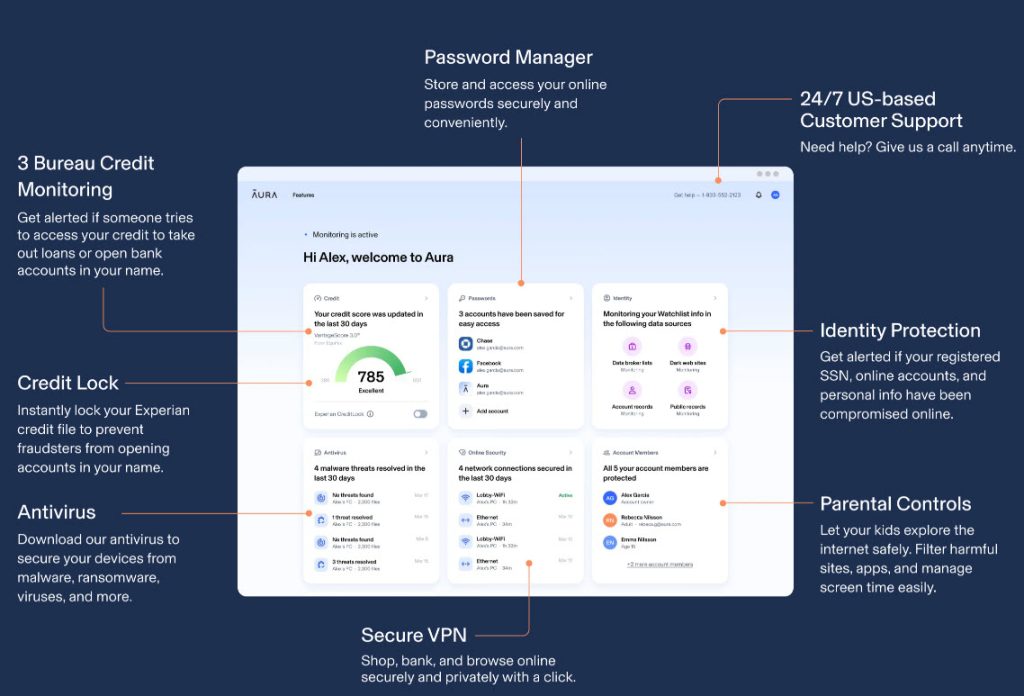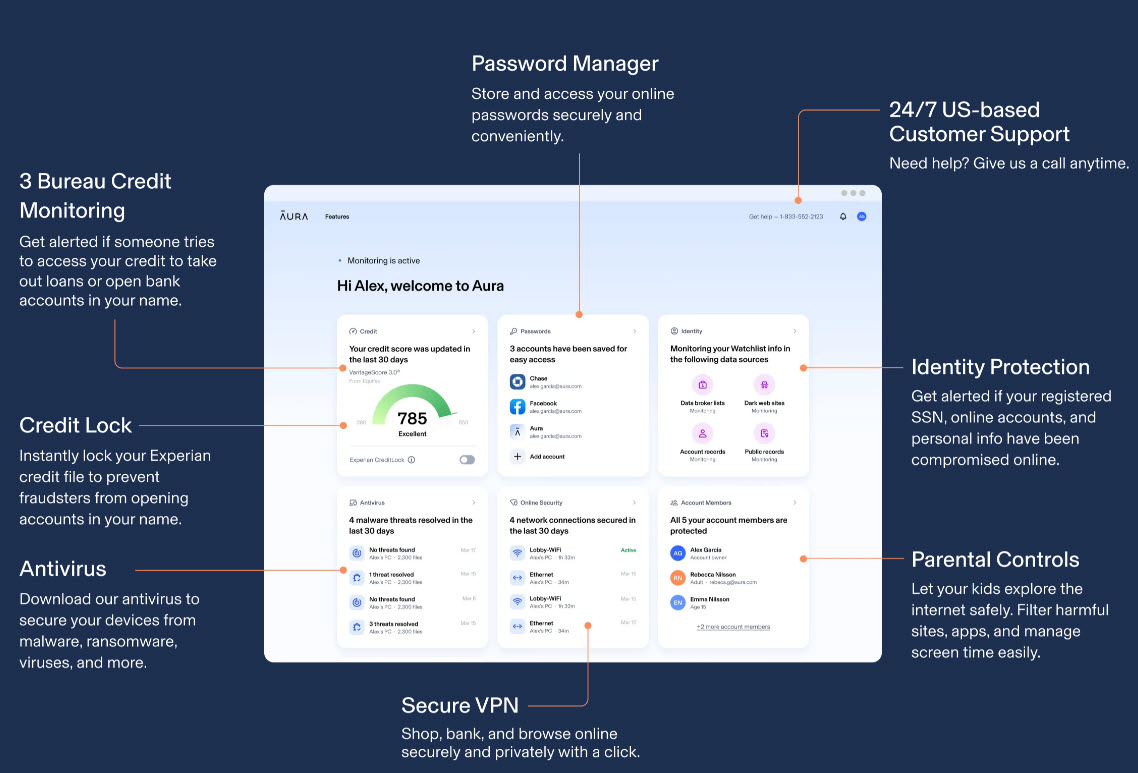 Get Proactive Online Protection Today.
Try a no-risk 14-day free trial today.
3. Use a virtual private network (VPN)
As mentioned above, you should avoid using unsecured Wi-Fi like public Wi-Fi, as the network connection is not encrypted, and can be easily hacked. To secure your network connection, install a VPN on your device.
A VPN encrypts all data that is transferred between your computer or mobile device and the VPN server. This prevents hackers from intercepting the data, even if they have the password for the Wi-Fi network you are using.
Wrap it up
Shopping online can be safe as long as you are aware of potential security threats and know how to avoid them. This guide introduced you to some common online shopping security threats and provided tips on how to protect yourself while shopping online. Hopefully, this guide helps. Feel free to drop a line in the comment area below if you have any questions or sugggestions on this topic. Thanks for reading!

Get Proactive Online Protection Today.
Try a no-risk 14-day free trial today.