NumLookup Reverse Phone Lookup | Trace the Owner
Reverse Phone Lookup
Enter Number and Get Owner's Name, Address & More!
NumLookup is a free, easy-to-use reverse phone lookup tool that provides basic information about the caller behind a phone number. For example, the caller's name, the phone type, and the risk level. In this post, we'll discuss how to do a reverse phone lookup on NumLookup and show you how to gain more details about the caller.
How to do a reverse phone lookup on NumLookup?
NumLookup is quite user-friendly. Simply navigate to their official site numlookup.com and you'll see the phone number search box. Put the number you want to search there, click on the search button, and finish the reCAPTCHA.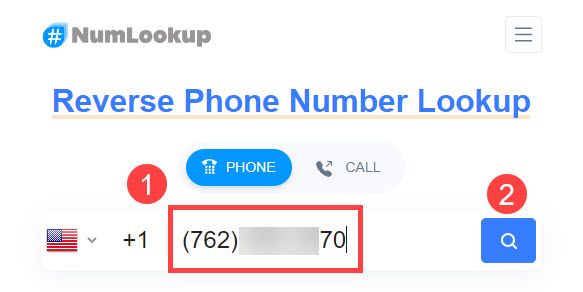 The NumLookup will then provide you with the potential caller's name, phone type, phone carrier, and some other basic details.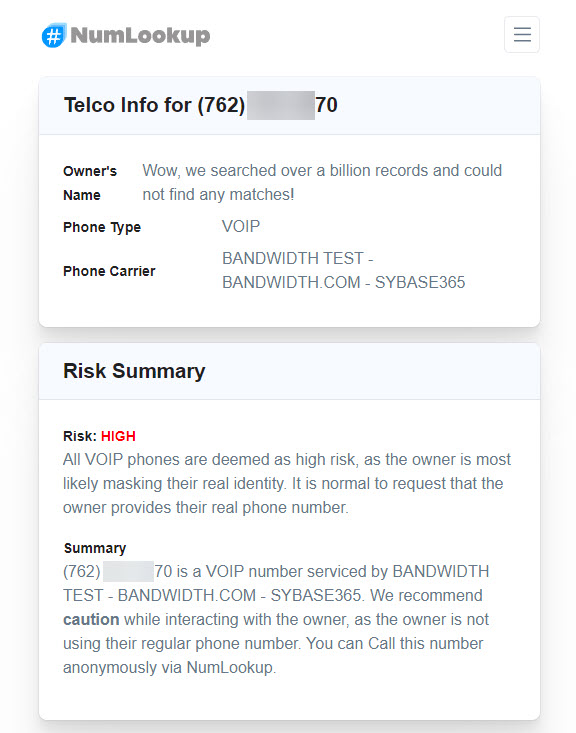 That's enough information to help you verify an unrecognized phone number. But note that NumLookup has a daily free limit that requires a monthly subscription to remove. And it doesn't cover information like the caller's social media, photos, email addresses, and more. To discover more details about the caller, you can try the following options.
Reverse phone lookup on BeenVerified
BeenVerified is also a great choice as you do a reverse phone number lookup. It's capable of finding detailed information about the number searched, which may include the potential owner's name, social media, and more. Besides, BeenVerified offers other search features such as username, email address, and vehicle lookup. One subscription allows you to access all.
Visit the BeenVerified Reverse Phone Lookup page.

Wait as BeenVerified searches and gathers information to generate a report. Once finished, you'll need to purchase a plan before viewing the report.

By clicking on the potential owner's name, you can get a further background report on the person.
Look up the number on Intelius
Intelius is one of the best reverse phone lookup tools that can provide wide and in-depth information related to a phone number. And its search process is quick and simple. With its access to multiple sources of data including public records, social media, and government documents, Intelius can help you find the potential caller's name, contact information, addresses, and more.
Go to Intelius.
Enter the number and click SEARCH.

Click CONFIRM and the search will start.
Wait until it finishes and click the VIEW REPORT button. You'll need to purchase a plan before you can view the report. And you can click on the VIEW BACKGROUND REPORT button to get a thorough insight into the person.

The above image is from a sample Intelius report. Actual reports may contain more or less information.
Free options to do a reverse phone lookup
Listed below are some of the free yet convenient options to do a reverse phone lookup. You can check them out and select the one in accordance with your needs.
Use carrier and CNAM directories
Online phone numbers directories like freecarrierlookup.com and freecallerlookup.com can help you verify the phone carrier and the caller ID (if available) of the number, as their domain names suggest. But note that they may limit the number of searches you conduct within a certain period of time.

Find linked social media pages by syncing contacts
Social media accounts linked to the phone number are another source of information to identify the caller – only if you can find them. By syncing your contacts, you can find the possible social accounts linked to the phone number. For example, we take Instagram as an example to show you how.
Save the number to the contact list of your phone.
Open Instagram, go to your profile page and click the hamburger icon in the top right corner.

Go to Settings – Account – Contacts syncing, and set the button to ON.

You should find the account linked to the phone number on your page.

Note that you need to open each social media platform one by one and look for the phone number user. If you'd prefer and cross-platform search, you can try a professional search tool like BeenVerified.
Google the number
Google is also a useful way to gather information. For example, if the number is marked as a scam or spam in some online directory, a simple Google search will direct you there and help you identify the caller.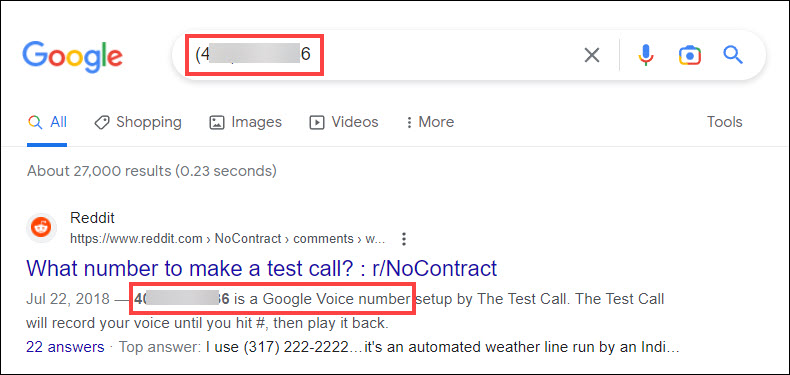 ---
That's all we have to offer on how to run a NumLookup reverse phone lookup and gather more detailed information related to the phone number. We hope you find the post helpful!
All product names, logos, brands, trademarks and registered trademarks are property of their respective owners.
The methods in this article provide you with easy access to public record information, but without a guarantee for accuracy and may include links to websites not listed as a Consumer Reporting Agency (CRA). Information acquired from these bodies is illegal to be used for employment, housing, credit, and other purposes alike, according to laws such as the Fair Credit Reporting Act (FCRA). If you're not sure whether your use of our methods is appropriate, click here for details.