50% Off Now TV Voucher Code Hack Oct 2022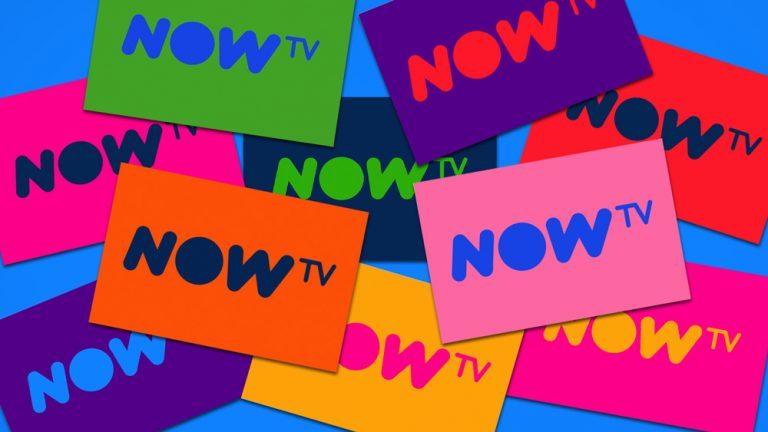 Now TV is the only way to watch Sky's impressive movie library – the only one that can rival Netflix and Amazon Prime. If you're looking for Now TV voucher codes that help you grab a Now TV pass for less, we've included everything you should know about how to save money by getting a cheaper Now TV voucher code.
How does a Now TV voucher work?
There are three types of Now TV vouchers:
Money voucher – this adds credit to your skystore.com balance.
Offer Code – this will add a discount on selected Buy & Keep titles.
Automated Discount offer – this will automatically drop the price of selected Buy & Keep titles for eligible customers
Can I get a Now TV voucher for free?

I haven't seen any deals for existing customers on the Now TV website for a while, but it's possible that Now TV will provide offers especially for you. To check if you're offered a voucher code, keep looking under My Account > Passes & Vouchers section when you're signed in.
So are there any other hacks to get a Now TV voucher code for free? Unfortunately, there isn't one. But the good news is that you can always get a Now TV voucher code cheaper – much cheaper than you expected. Besides getting an official offer right from Now TV, we've put together every imaginable way to get your a Now TV voucher code.
Now TV code generator: Is it spam?
You may begin wondering if you can get a voucher code just by using a code generator. No matter how good the offer may sound to you, they're fake sites and may put your account at risk. So don't fall for any of those sites that claim to offer you free Now TV codes.
How to get cheap Now TV voucher codes?
You don't need to pay full price while enjoying your favorite TV programs; your money deserve a better place.
Way 1. Find a cheaper pass on CDkeys
Now TV entertainment charges you £8.99 every month while on CDkeys you can grab an Entertainment pass for only £3.99. This is your go-to option when you don't want to commit to a long-term contract. By far it's the cheapest deal anyone can find online.
1) Check CDkeys for all available Now TV offers, and here're over 10 plans for you to choose from. All plans are available at a discounted price.
2) Click on the month pass you prefer and check out, your Now TV voucher code will be included in your order confirmation email.
3) If you find it out of stock, you can let them notify you when back in stock.

If you're still looking for other cheaper ways to get your TV binge on, you can read on to find more saving tips.
Way 2. Take advantage of Now TV free trial
Each Now TV month pass comes with a 7-day free trial, except for Sky Sports. So feel free to try them but don't forget to cancel your subscription before your free trial ends.
It can be done very quickly by visiting Now TV official site or going to Now TV Android app or Apple app to start your free trial
1) Go to Now TV.com.
2) Select the plan you prefer and click Start free trial.

3) Select Checkout.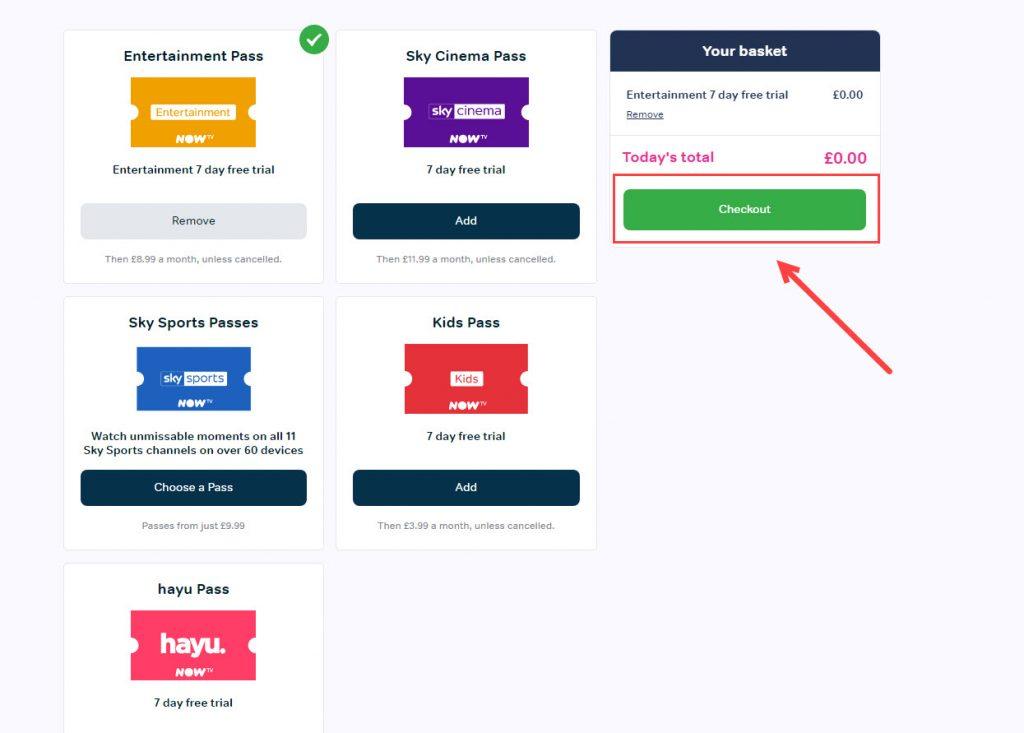 4) You'll be prompted to choose NOW TV Boost, which also comes with a 7-day free trial. You can either choose Add to basket or directly select Checkout.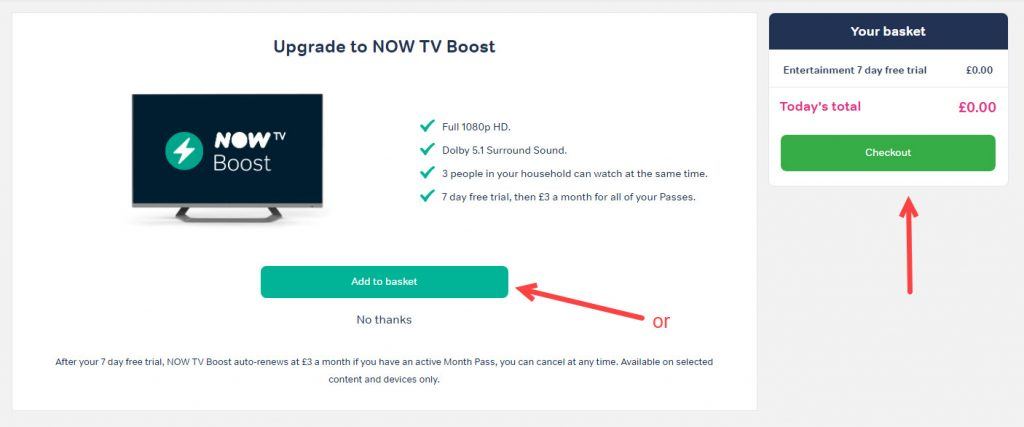 If you need full 1080p HD, Dolby 5.1 surround sound, or need to watch TV on multiple devices, you can try Now Boost at the same time.
5) Click Continue to checkout. You don't need a Now TV voucher code here since you're on free trial.

6) After filling in Personal details, Address and Payment, click Start free trial.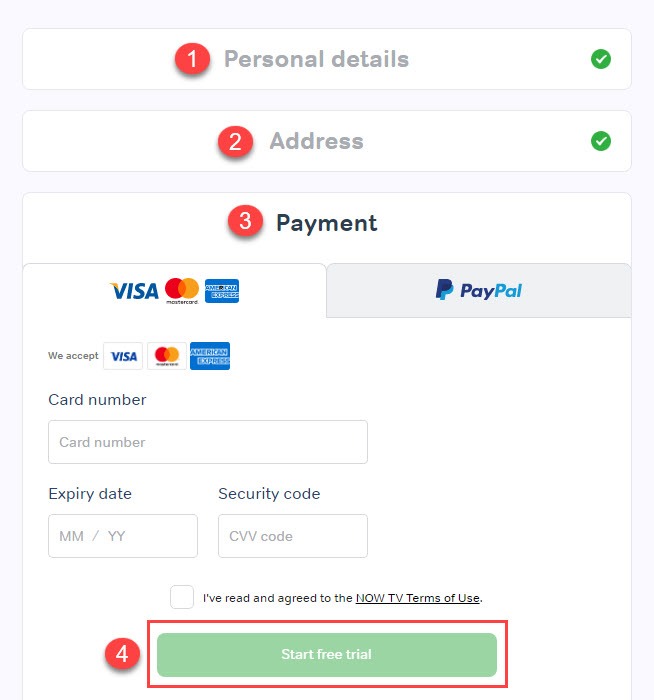 Now you have a free Now TV pass for7 days. If you don't really feel like auto-renews, you can go to My Account > Passes & Vouchers, and hit Cancel Pass to the pass you don't want anymore. Plus, it's okay to cancel the pass today and you'll still have the full duration of the trial.
Way 3. Cancel your subscription to get a discount
If you're on a Now TV subscription, there's a trick to get you a cheaper Now TV—canceling your pass. When asked about why you're canceling, tell them it's too expensive and Now TV will try to entice you with a better deal.
1) Go to Nowtv.com and log in to your Now TV account.
2) Log in to your Now TV account.
3) Click My Account button in the top right -hand corner to bring up the drop-down menu.
4) Select Passes & Vouchers.
5) You'll see a list of your passes. Find the pass and click Cancel Pass.
6) When asked about why you're canceling, select I can't afford at the moment.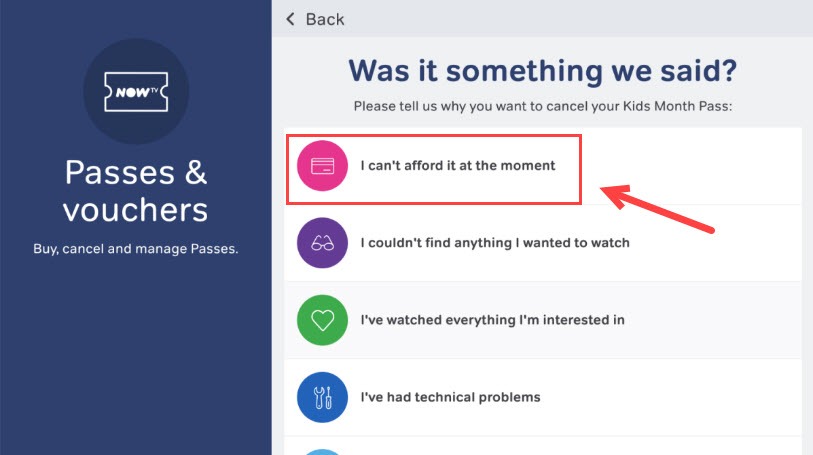 7) They will offer you a discounted monthly price for the pass you're trying to cancel. When a offer pops up, click Get offer.
Tips: For many, they can grab an Entertainment Retention deal of £1.60/ month for 3 months (the price may vary from £1.6 to £4.8). The offer runs for a limited time (several months). Not everybody will be offered this bargain.
If you don't see the Retention deal, you'll need to try other means of saving.
Way 4. Buy cheaper Now TV voucher codes
If you don't want to pay full price, you can find cheaper in some online shops., such as Amazon or eBay.
At Amazon you'll receive voucher codes instantly after you place an order.

At eBay, there's a special offer that offers a Now TV Smart Stick with a month Cinema Pass & Sports Pass at £29.99. However, you'll need to wait for a few days for the Pass to arrive.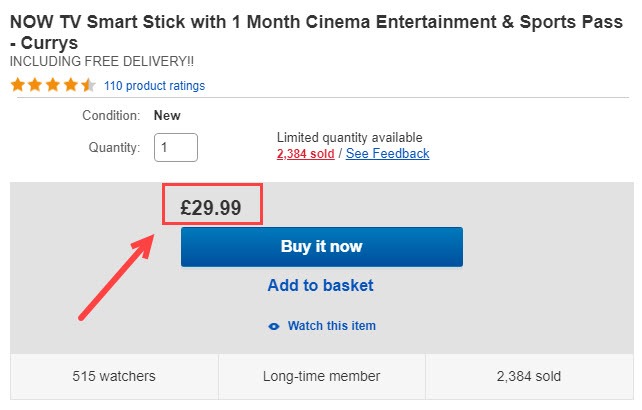 When you buy directly from a seller, make sure you read the customer reviews carefully so you don't get scammed.
Way 5. Earn cashback
If you fail to find a working Now TV voucher code or special offer, always consider saving money with cashback sites. Not all cashback sites pay the same.
We've checked rates for a dozen cashback sites, and find the following two sites pay the best rate: TopCashback & Quidco.
All you need to do is join TopCashback or Quidco and shop with Now TV as usual.
However, all the offers are for new members only, so you won't be able to earn cashback if you're an existing user of Now TV. You'll need an email address that has never been registered on Now TV before and a different payment method.
| | | | |
| --- | --- | --- | --- |
| Now TV Pass | Regular price | Topcashback | Quidco |
| Entertainment Month Pass | £8.99 | -£6.00 | -£8 |
| Sky Sports Month Pass | £9.99 | -£4.00 | -£4 |
| Cinema Month Pass | £11.99 | -£12.00 | -£10 |
| Kids Month Pass | £3.99 | -£4.00 | -£4 |
Your purchase must be completed immediately and fully online to receive the cashback. You won't be able to earn the cashback if you use a promo/voucher code not posted or approved by TopCashback.
Conclusion
You probably won't find any hacks to generate a working voucher code for Now TV, but you can get it in a much cheaper way. Never pay full price on your TV bills for the money can be saved for better use.