How to Fix Not Receiving Emails in Outlook (2023)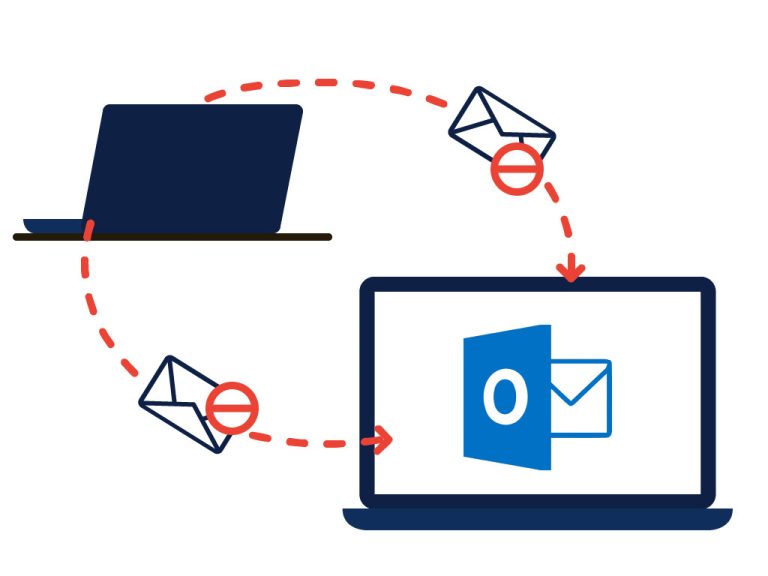 Microsoft Outlook is used by hundreds of millions of users across the globe. It's popular but it's not error-free. Some users are not able to receive emails sent by others. We can practically feel your frustration as this may cause you to miss important information and you have no clue how to fix it. But we're here to help by walking you through the step-by-step guide.
1. Check your internet connection
In order to receive emails successfully, you'll need a stable internet connection.
To ensure that, you can try restarting your router. Simply unplug it, wait 30 seconds, and then plug it back in. After that, perform a reboot on your computer. Then connect your PC to the internet.
Once you've confirmed that you have a good internet speed, it's time to check whether your Windows firewall and any antivirus software are blocking your email from accessing the internet. You can attempt to temporarily disable the firewall by following the steps below.
On your keyboard, press the Windows logo + R keys simultaneously to open the Run box.
Type or paste control firewall.cpl and press Enter.


Click Turn Windows Defender Firewall on or off.


Tick Turn off Windows Defender Firewall (not recommended) for Domain, Private, and Public network settings. Then click OK to save changes.


If you have any antivirus software installed on your system aiming to protect your PC from malware attacks, you should also try to disable it temporarily from the system tray on the taskbar.
After applying the changes, refresh your Outlook inbox. If that doesn't give you any luck, before proceeding to the next fix, remember to take similar steps to turn your Windows firewall and antivirus software on. Otherwise, your computer will be put at risk.
2. Check the Outlook service status
Sometimes the problem might not be on your side. Occasionally, the Outlook server is under maintenance and users cannot have other options but to wait. To check if that's your case, all you have to do is go to the Outlook Service Status page and check its current status.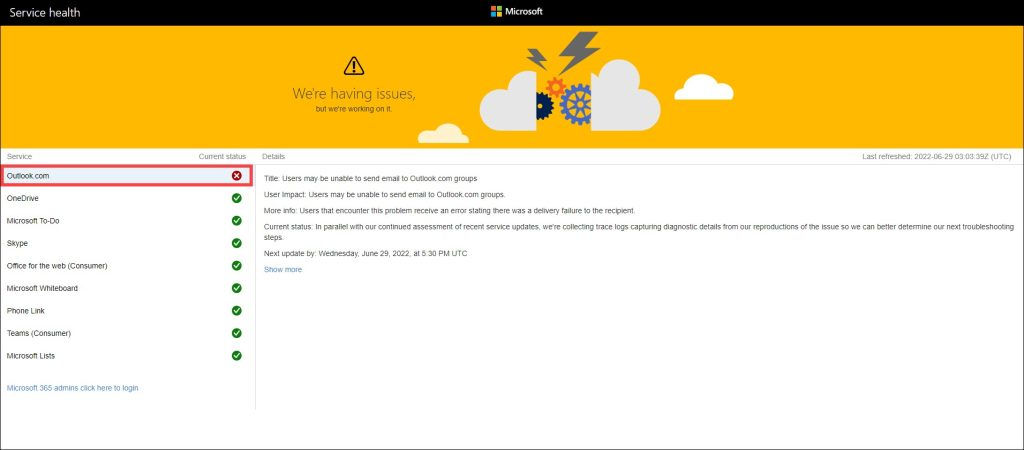 If it displays a red or yellow symbol next to Outlook.com, then it indicates that Outlook is currently experiencing an issue.
If it displays a green checkmark, then everything is working correctly on the server side. To troubleshoot your issue, you may need to dig deep into the settings.
3. Check the Junk Email folder
Chances are, you have received the emails, but Outlook marked them as junk instead. In this situation, you'll need to check the Junk Email folder, find that email, and try to mark it as not junk. Below are the steps you can take.
Start Microsoft Outlook.
Open the Junk Email folder. Right-click your email and select Security options > Mark as not junk. Then the email will be moved to the inbox.


However, if you can't find the email from the dedicated sender here in the Junk Email folder, you should try the next method below in order to fix your issue.
4. Free up space in Outlook
Whether your Outlook is for business or personal use, your inbox may be filled with large amounts of emails and has reached the storage limit. Needless to say, if your inbox is full, Outlook would not receive emails. To solve this problem, just go to the inbox and delete unwanted emails and make space for new emails.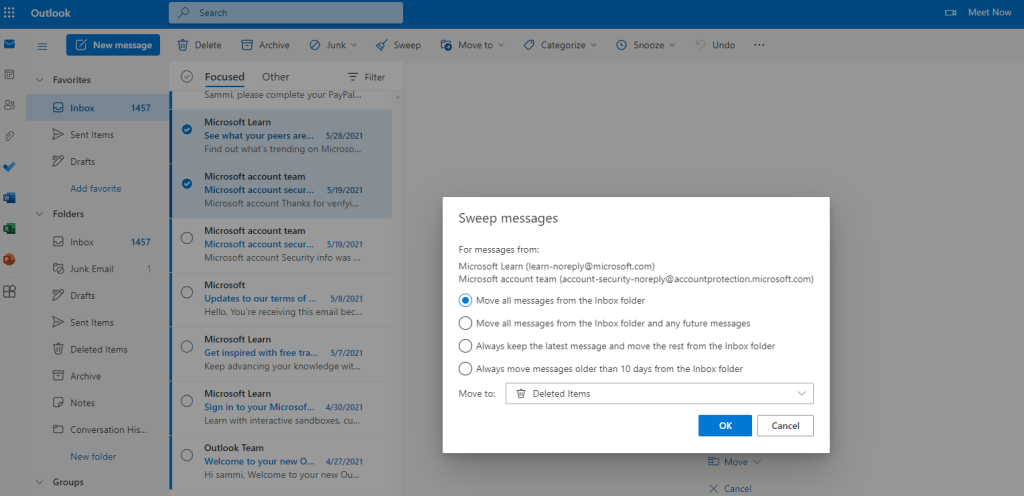 After you've done this, you'll have to go to the Deleted Items folder in order to permanently delete emails.
If you're still not receiving any emails, move on to the next method.
5. Check the blocked users' list
There are situations when we needed to block certain users. But afterward, we may forget to whitelist these email addresses, which will result in not receiving emails from them. To check if that's your case, follow the steps below.
On the top-right corner of the screen, click on the gear icon to open Settings.
Scroll down to the bottom and click View all Outlook settings.


Select Mail > Junk email. Then look for the sender that's on the list. Click on the delete icon to remove it from the list.


Then ask that user to resend the email and check if you can receive it.
However, if you've exhausted all methods and this vexing issue still persists, you should try creating a new Outlook profile. If that doesn't do the trick, there's a possibility that an Outlook .PST file is corrupt or damaged. Read below for more details.
6. Repair corrupt Outlook PST files
A PST file is a personal storage table that stores contacts, calendar items, emails, and reminder messages when an email account is created in Outlook. However, sometimes they can become corrupted and trigger some issues such as stability and unexpected access errors.
In this scenario, you can solve the issue with Outlook's built-in Inbox Repair Tool called ScanPST.exe, which is located in the Outlook installation directory. What you have to do is double-click on it to run and follow the on-screen guide to repair files.
However, this proprietary Inbox Repair Tool isn't foolproof. It might fail to repair corrupt PST files. If that's your case, you'll need a more advanced tool such as Stellar Repair for Outlook to help do the work. It comes with a very intuitive user interface that anyone should be able to understand how to use to repair corrupt files and recover Outlook mailbox data.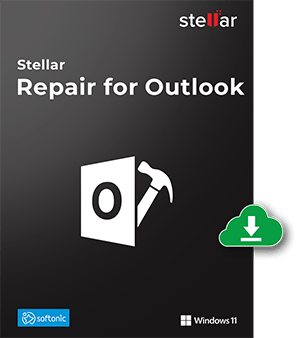 How to repair a corrupt PST file using Stellar
Download and install Stellar Repair for Outlook.
Launch the program and you'll be on the Home tab. Then a pop-up screen will appear, click Choose Manually.


If you know the location of the PST file, click Browse. Or you can click Find to search the PST. Next, click on the Repair button to initiate the PST recovery process.


It'll be scanning the corrupt PST file. Depending on the size of the PST file and the extent of corruption, the duration will vary.


After the scanning is finished, it will show you a preview of the restored Outlook mailbox items in the left pane. To preview them, simply click on the folder.
Select a specific folder or all items for recovery, and click Save Repaired File. Select PST file format from the pop-up window and click Browse. Then click OK to save the mailbox data.


Confirm to save the repaired file at the specified location.


Then you can check if your problem has been solved.
---
Hope this guide helped! Feel free to drop us a line in the comment section below or drop us a line if you find any methods listed above work for you.
Stellar Repair for Outlook

Recover mailbox items from a corrupt/ inaccessible .pst file, trusted by IT administrators and MVPs. Free Download