[NEW] Roblox Heroes Legacy: Secret Codes December 2023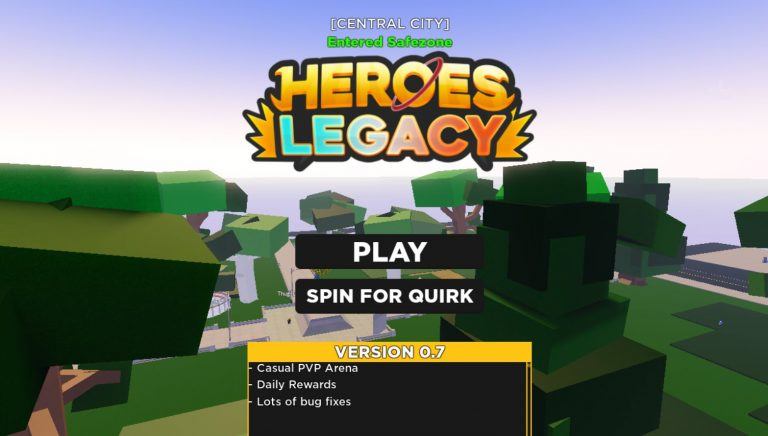 If you're a fan of My Hero Academia and a Roblox aficionado, you need to check out the new Heroes Legacy, which is a unique take on the Hero Academia world. As an extra, this new game offers you codes that you can redeem for some free Epic Spins. And here are all the codes we can find.
Latest working codes
The following codes have been verified. Mind the capital letters and act quick before it's too late.
| | |
| --- | --- |
| CODE | REWARD |
| Ty16M! | 2 Rare Spins (NEW) |
| NomuVsAllMight! | 5 Rare Spins |
| S0RRY! | 1800 seconds of 2x Experience |
Expired codes
Unfortunately, these codes are no longer redeemable.
15KTHANKS
StatRefund
100KFAVS!
eXpBooStLoL
thank_you!! – cash
750PLAYERS! – cash
paradiser – cash
goketsu – cash
bangthefighter – cash
20KLIKES – 2000,000 cash
18KLikes – 200,000 cash
Absolut3R!ghtful – 100,000 cash
16KLikes – 100,000 cash
Boros – 100,000 cash
Aliens – 100,000 cash
LegendsNeverdie – 10,000 cash
RIPKobe – 10,000 cash
13000LIKES – 200,000 cash
DEEPSEAKINGSEAWATER – 100,000 cash
RIPSpins – 200,000 cash
Zeke_y – 200,000 cash
LeePungg – 200,000 cash
BrokenClass – 5 spins
12000LIKES – 5 spins
10000LIKES – 5 spins
9000LIKES – 5 spins
How to redeem codes in Heroes
When you have any available codes, you can follow these steps to use them:
Launch Heroes Legacy and enter the game.
From the left menu, select SETTINGS.

Click Codes @RBXAprilGames. Type your code and click REDEEM.

How to get more codes
Heroes Legacy is new, it's likely that there'll be many codes coming in. If you're looking for more, you can stay tuned to the official Twitter and catch up with the latest events and codes.
Conclusion
Codes for Heroes Legacy come and go very fast. So make sure you claim them when you see any. You can also stick with this post as we'll update the list as soon as we can.