20 Money Making Apps to Earn Real Cash (2023)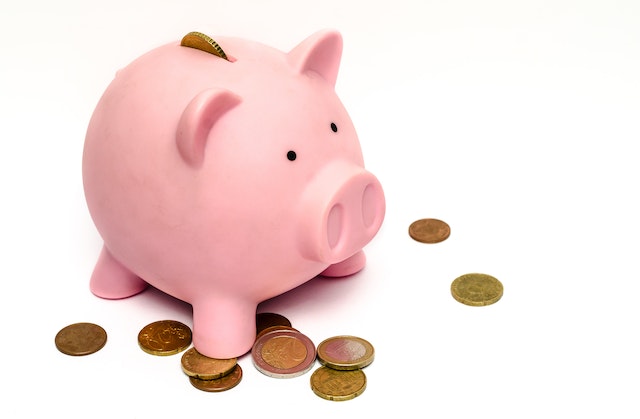 Making money has been much easier than before. Numerous money-making apps are available online, allowing you to explore a variety of earning opportunities catered to your spare time, interests, or skills. It's fun, rewarding, and hassle-free!
Different methods of money-making varies by the time you may need to invest, the average earning potential, the entry barrier, etc. You could take a look at how they work below and choose one or a few that fit you the best.
Best apps that pay you to do surveys
There's no better way to monetize your spare time than taking paid surveys. Without startup fees or complex threshold, it only requires you to have an Internet connection. While this won't make you rich overnight, it may provide a great boost to your financial life!
To make the most of your time and effort, select reputable and high-pay survey websites rather than those that pay out slowly or offer very low rates. And here are some options we've tested and approved.
#1 Branded Surveys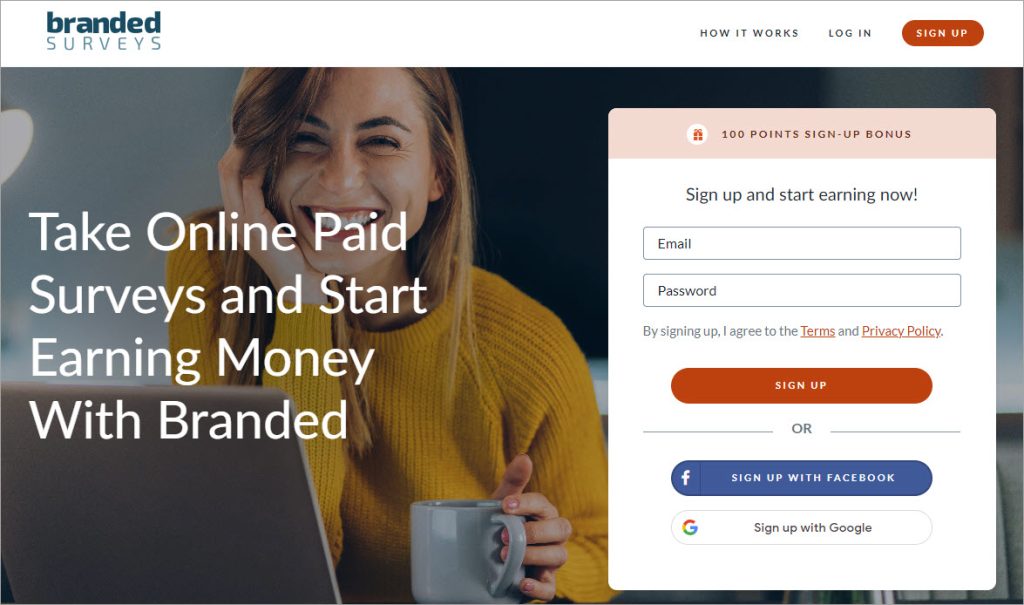 Branded Surveys is the world's leading market research community that rewards people for their opinions. The platform is straightforward to use: you take surveys or polls or refer friends to get paid. Most surveys are worth between $1 and $3. By completing surveys consistenly, you'll be upgraded to Branded Elite and unlock extra weekly bonus points.
Availability: Anyone aged 16 or up in the U.S., Canada, and the UK
Average earning per survey: $1 – $3
Minimum withdrawal: $5
Reward options: PayPal Cash, bank transfers, or e-gift cards
Sign-up bonus: $1
#2 Survey Junkie

Founded in 2013, Survey Junkie is a popular community where millions of people are sharing opinions and ideas in exchange for rewards. By enrolling as a member, you have various fun ways to join and earn, such as taking surveys, participating in focus groups, or sharing your digital browsing activities.
Availability: People at least 18 years old in the U.S., Canada, Australia, or the U.K.
Average earning per survey: $0.5 – $3.5
Minimum withdrawal: $5
Reward options: PayPal Cash, e-gift cards, or bank transfers
Sign-up bonus: No
#3 Toluna

Toluna has over 21 million members earning reward points by taking surveys every day. Different from many paid survey websites that are only available to the U.S., Toluna is open to users from 50 countries in Europe, Asia Pacific, and North America.
Availability: U.S., Canada, India, Singapore, United Kingdom, and 49 other countries
Average earning per survey: $0.5 – $2.5
Minimum withdrawal: $10
Reward options: PayPal, gift cards, or gifties (chances to win real-world objects)
Sign-up bonus: 500 points (3,000 points are worth $1)
#4 InboxDollars

InboxDollars is a convenient reward website that pays you for a range of simple activities such as doing surveys, redeeming offers, reading emails, watching ads, and so on. Sign up today to grab the $5 welcome bonus!
Availability: People at least 18 years old in the U.S.
Average earning per survey: $0.5 – $5
Minimum withdrawal: $10
Reward options: PayPal, checks, or gift cards
Sign-up bonus: $5
#5 InboxPays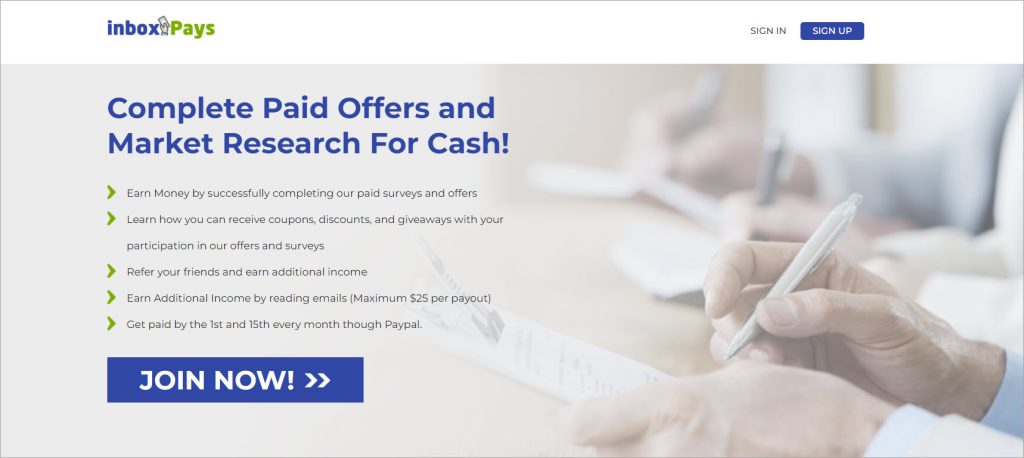 InboxPays is the sister company of InboxDollars, another well-known get-paid-to website. It pays you not only for answering surveys, but also for registering services, purchasing specific products, reading emails, clipping coupons, and more.
Availability: U.S. only
Average earning per survey: $0.5 – $1
Minimum withdrawal: $50
Reward options: PayPal
Sign-up bonus: $5
Best apps that pay you to play games
If you're an avid gamer, you can also get paid by playing games. And you don't have to be a pro!
#1 Mistplay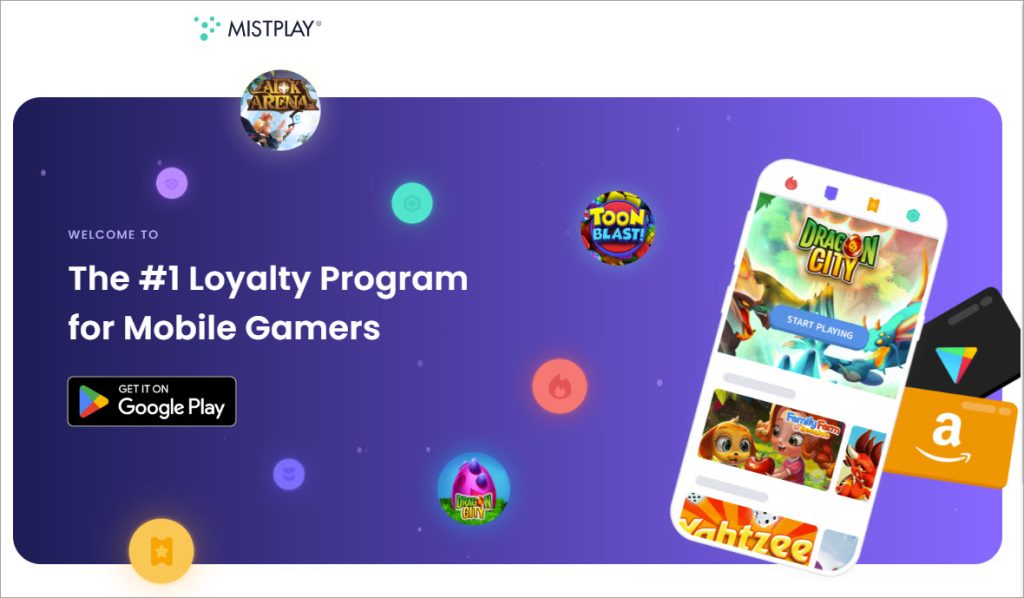 Mistplay is one of the best loyalty programs for mobile gamers on Android to get rewarded. You just play the games selected from a personalized library and earn Units that you can redeem for gift cards to Amazon, Google Play, or PayPal. By winning contests that are launched weekly and unlocking achievement badgers, you may earn a lot more Units or even epic grand prizes.
#2 Swagbucks


Launched in 2018, Swagbucks is a top loyalty and consumer rewards program that gives diverse money-making opportunities. You can make real cash by completing surveys, watching ads or videos, testing samples, answering polls, playing trivia, shopping online, and so on.
Everything you normally do on the phone may bring you different amounts of Swagbucks points. 100 points equal $1, and you can easily redeem them for PayPal money or various gift cards.
Best apps that pay you for shopping
Believe it or not, a shopping app can also be the one that makes money for you. Install a cashback app or browser extension, and some dollars will get back into your pocket when you're shopping with your favorite retailers.
#1 Coupert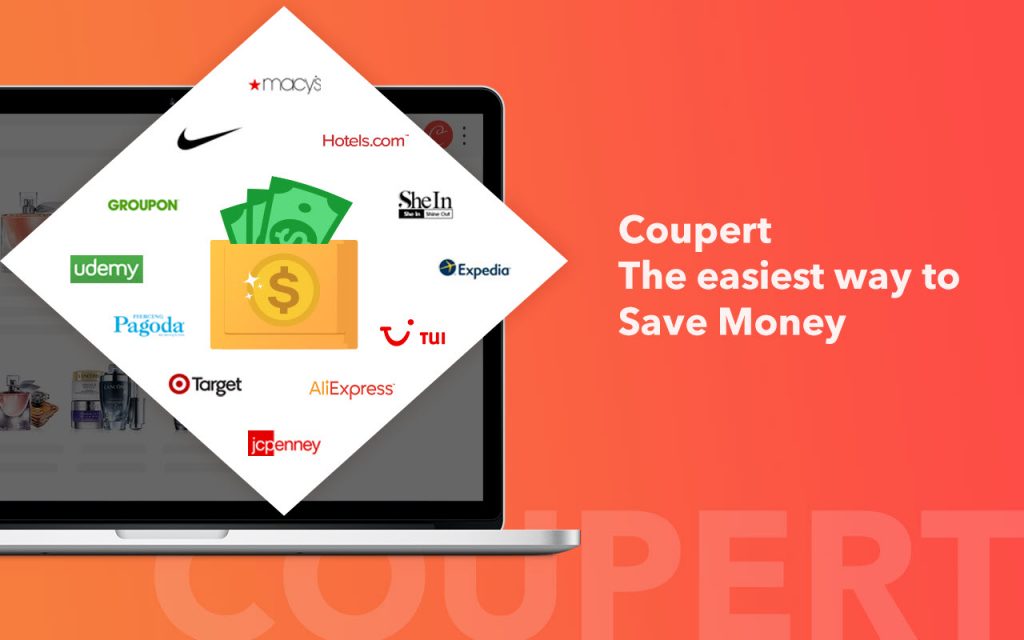 Coupert is a free browser extension used by 8 million+ global users to save money and earn cashback. It partners with 100,000+ stores, covering the most popular brands like Grubhub, Macy's, Nordstrom, Dell, Walmart, etc, where you could shop online and get cashback.
#2 Rakuten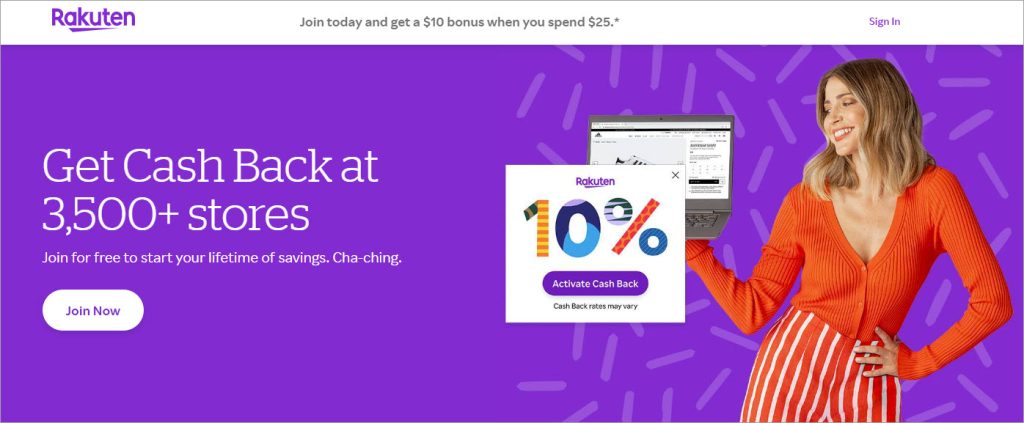 Rakuten, similar to Coupert, is dedicated to helping people find coupons and earn cashback at 3500+ stores. In addition to online purchases, it gives you an average of 5% cashback in brick-and-mortar stores, travel, groceries, dining, and more. So make sure to check what Rakuten offers before you're visiting a store to boost your savings.
#3 Ibotta

Ibotta is another popular website for you to earn cashback on everyday purchases online and offline. Apart from activating cashback and claiming offers online, you can also upload paper receipts to get cashback. The app will automatically match the receipts with available offers and provide you the best savings.
Best apps that pay you to rent space
Have an empty room or house? There are infinite possibilities to earn passive income from your properties. Whether you're going to make it a vacation rental or a space for storage, you could do it and reach out to potential consumers easily with an app.
#1 Airbnb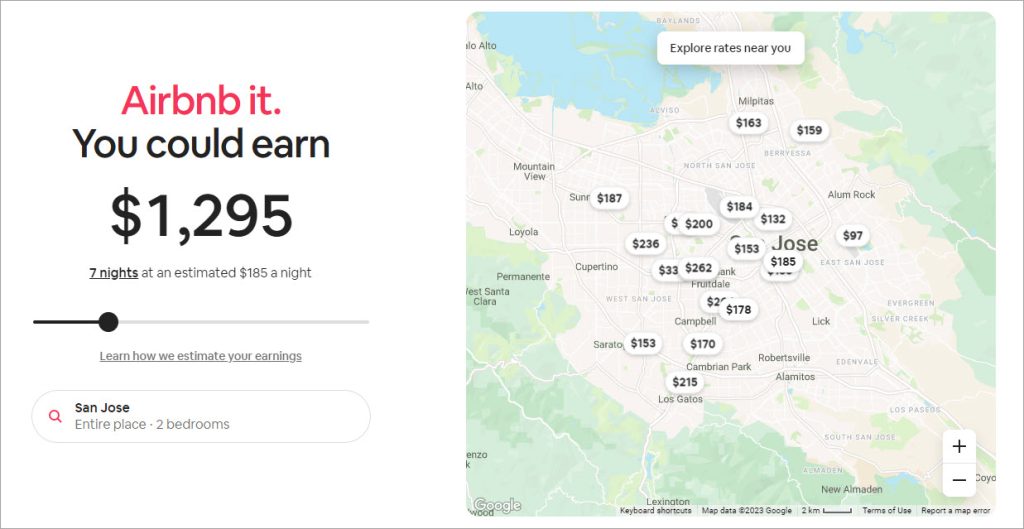 Airbnb is the largest online marketplace for individuals looking to rent out their spaces and those looking for accommodations. You can apply for hosting on Airbnb so your unused rooms or the vacant whole could become a source of income while you're traveling out of town.
To list your space, you'll need to:
Provide basic information such as what types of space or property you're listing, how many guests you can accommodate, the number of bedrooms and bathrooms, amenities offered, and other details.
Upload photos.
Create an availability calendar, and the maximum and minimum number of stays, if required.
Set the price.
Establish rules and expectations for guests
#2 Neighbor

Neighbor is a leading peer-to-peer storage platform. This website/app connects storage hosts with people who have demands for storage. An empty attic, a garage, a basement, a closet, a bedroom, a shed, or any other potential space could be turned into a substantial source of income.
Best apps that pay you to sell unused stuff
If you have lots of unused stuff, it's a good idea to sell them via apps and make money.
#1 Decluttr
Decluttr provides an easy, safe, and reliable way to sell your used cell phones, tech, CDs, DVDs, and games. Simply tell Decluttr what you're going to sell and it will give an instant price valuation. Then you just need to pack your items into a box, ship it to Decluttr for free and they'll pay when your items are processed.
#2 Poshmark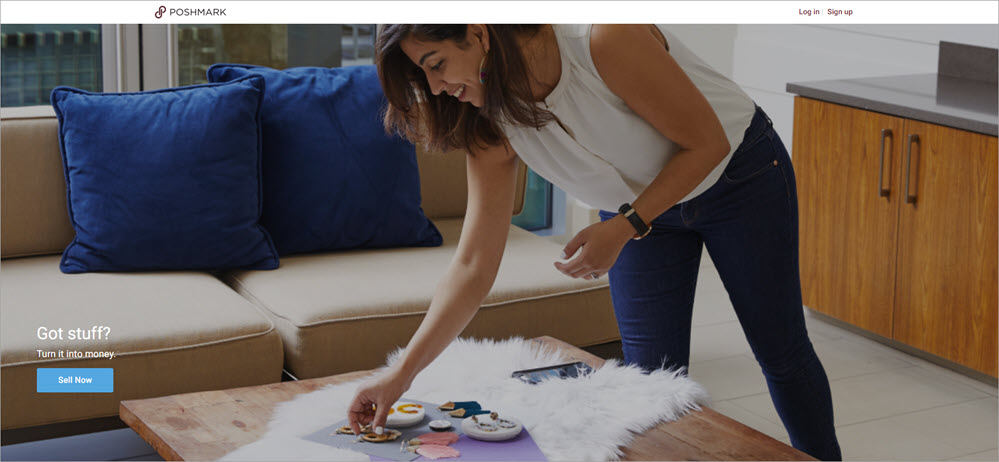 Poshmark is a leading social commerce marketplace for buying and selling new and secondhand fashion, home decor, beauty, and more. You can sell your personal styles by listing on Poshmark, which is as simple as three steps: 1) upload the picture of the items; 2) fill in a description; 3) set the price. Once your item sells, you can ship it for free and earn cash.
#3 OfferUp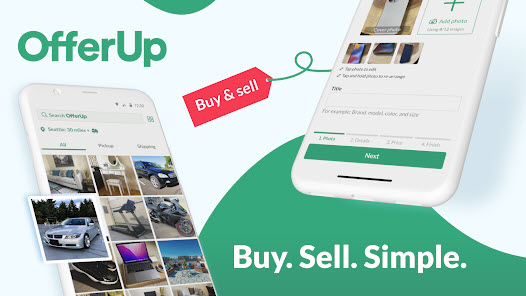 As one of the largest peer-to-peer marketplaces, OfferUp allows you to sell almost everything from used cars, furniture, and electronics, to clothes. You can choose to ship the items nationwide or meet up with the buyer in person and get paid in cash. OfferUp recommends a list of Safe Trade Spots to make sure both are safe during the transactions. Throughout the process, you won't be charged any listing or transaction fees.
Best apps that pay you for driving
Got a car? There are a plethora of flexible ways for you to earn money while driving around the town.
#1 Instacart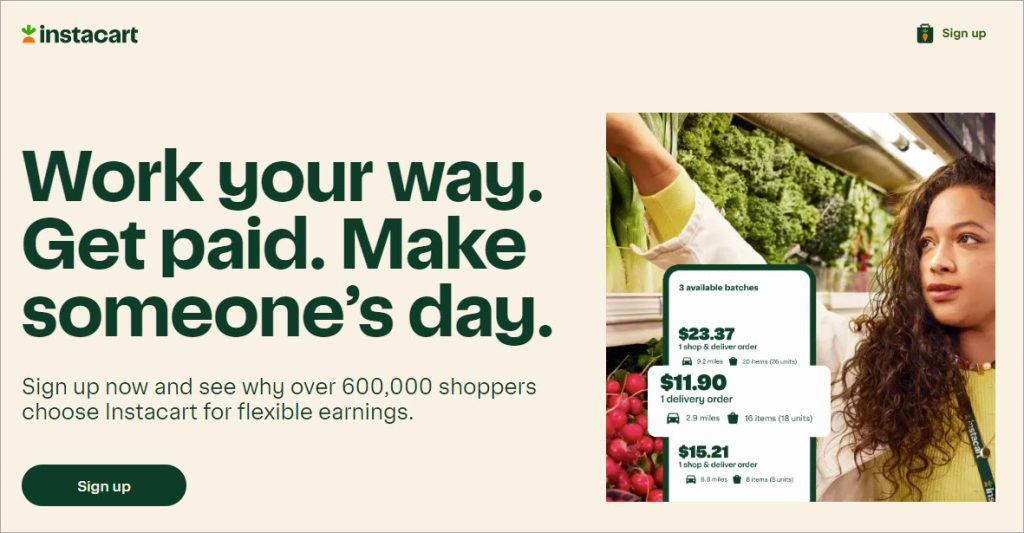 Instacart is an American grocery delivery company, where consumers can order groceries from retail partners with shopping and delivery fulfilled by independent contractors.
So if you have access to a car and look for flexible earning opportunities, a full-service Instacart shopper is a great choice. You just shop for the groceries the customer wants and deliver them to the address. The average earning would be $15 – $25 per hour (plus 100% of customer tips) and much higher when the demands spike.
Similar services such as Uber Eats, DoorDash, GrubHub are also offering lucrative delivery gigs that pay up to $25 – $30 per hour.
#2 Uber
Ridesharing is a common way to make money with a car. Additionally, it offers a chance for you to meet and chat with new people every day. If you love this side hustle idea, sign up with Uber Drive. You could drive people around whenever you're convenient to earn a good amount of extra cash.
#3 Wrapify
If you don't mind driving cars with stickers or wraps, car advertising programs like Wrapify are worth a shot. The platform matches you with decent advertisers and gets your vehicles wrapped with vinyl decals featuring the advertiser's branding and messages. When driving your normal routes every day, you're also earning hundreds per month.
If you don't frequently drive and your vehicle sits idle for most of the time, you could rent it for money just like a property. Taking advantage of a car-sharing service like Turo, Getaround, or Avail, you're able to rent your car to gig drivers or tourists at ease.
Best apps for finding freelance work
If you're thinking about starting a freelance career to translate your expertise and skills into a second income at home, here are the two freelance apps for beginners.
#1 Fiverr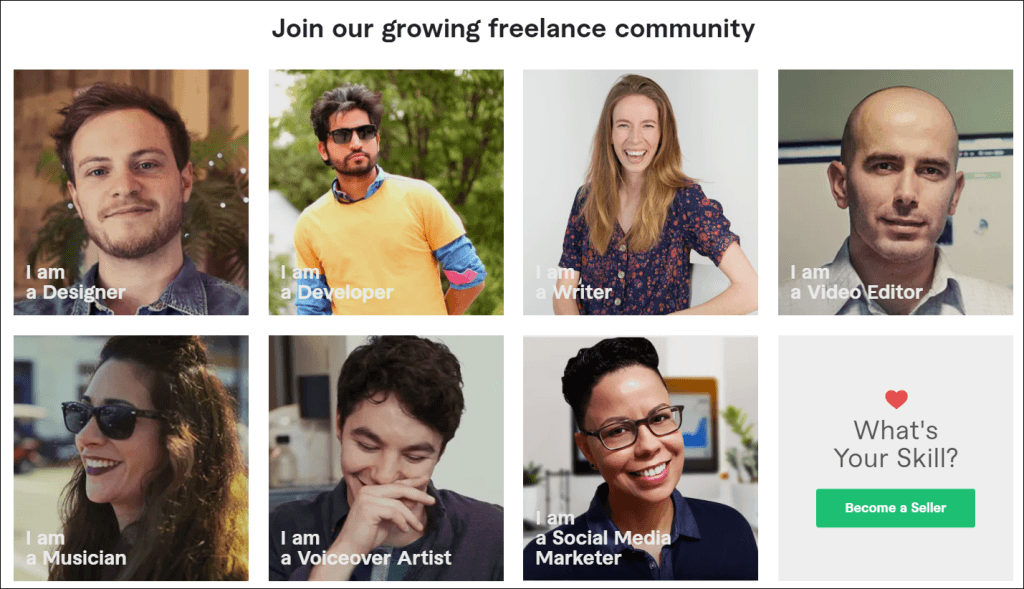 Fiverr is a multinational online marketplace for freelance services. Freelancers (or sellers) offer services or talents in 600+ categories (website development, design, copywriting, proofreading, and more), and set their desirable prices starting from $5 to $995. Relying on the Fiverr app, you're able to create jobs hassle-free and connect with global clients from home. What's more, it guarantees safe and timely payments for you.
#2 Upwork
With the mission to pioneer a better way of working, Upwork is a renowned marketplace for businesses and independent talents from around the globe.
To find work, you'll need to create a compelling profile that includes your basic details and then submit proposals to the projects you're interested in. While the whole process seem a bit challenging and time-consuming, Upwork offers a suite of tools and resources to get you on your way with ease.
---
So here are 20 money-making apps that you can try to earn easy cash. If you have any questions or suggestions or want to recommend other great apps, please feel free to leave a comment below.