6 Best Free Meme Makers – Create Memes Online Easily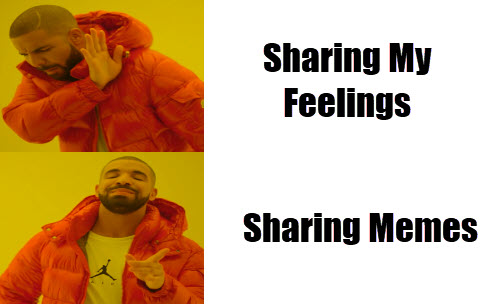 Memes have become an important way for people to convey messages and express feelings online. If you're tired of just scouring the memes from social networks and looking to make something on your own, here are 6 free meme makers for you. Let's tap into the world of meme creation with your unique and hilarious ideas!
1. iLoveIMG Meme Generator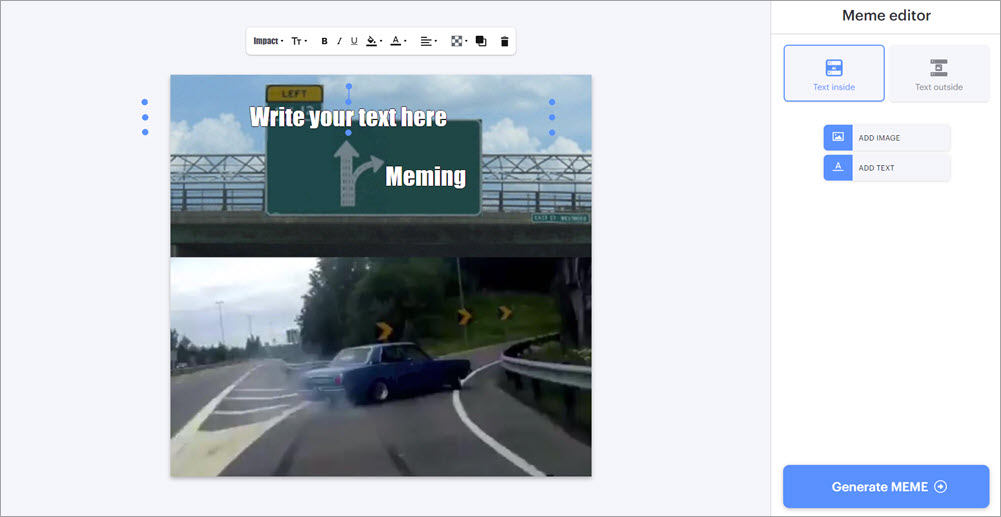 iLoveIMG is a simple and powerful solution for editing images online. It provides a range of intuitive tools for you to compress, resize, crop, convert, edit, and rotate images, and add watermarks with a few clicks. Using its Meme Generator, you can caption existing memes or upload any local or cloud pictures (JPG, PNG, or GIF) to make custom memes.

Pros
A variety of custom caption options
You could also upload images from your Google Drive or Dropbox
Memes can be exported to various formats and saved to Google Drive or Dropbox

Cons
Limited existing memes
Not support importing videos
2. Imgur MemeGen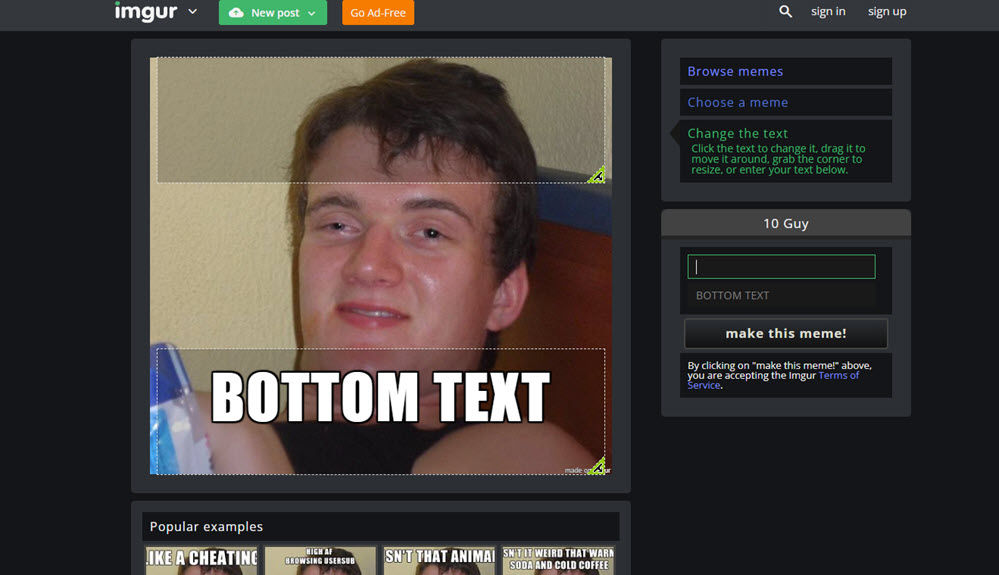 Imgur is the best-known meme-sharing and hosting website. Beyond just displaying viral memes, it makes meme creation hassle free by integrating a convenient meme maker (known as MemeGen) as well as a video-to-GIF tool. To start making your funny work, simply pick a meme from the default library or upload your own picture and then add text in your preferred styles. Once finished, you can download the memes or publish them on Imgur, so they can be viewed and spread by more audiences.

Pros
Easy-to-use interface
Free video-to-GIF tool
Seamless integration with the Imgur community

Cons
The finished meme can only be downloaded as PNGs
3. Filmora Meme Maker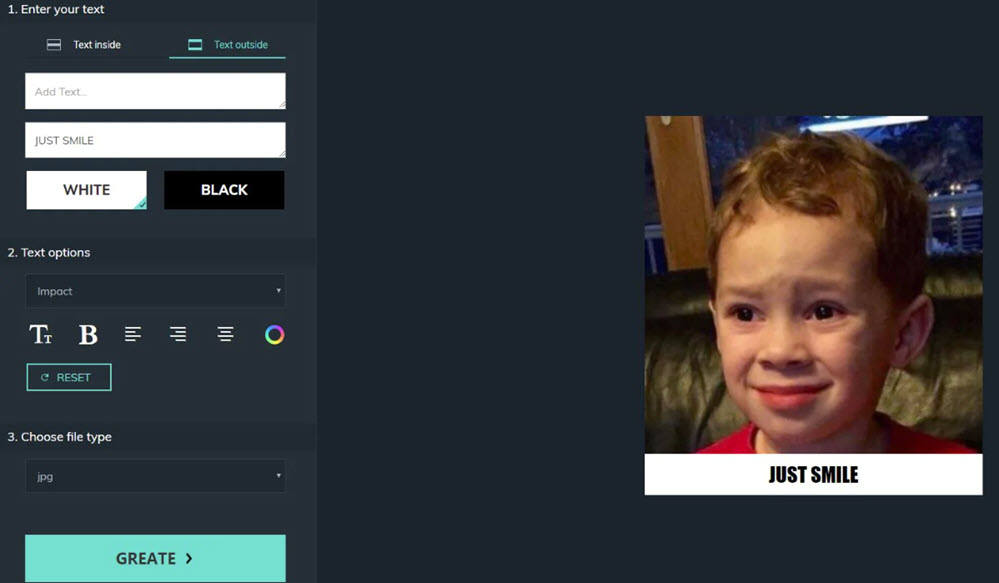 If you want to transform a piece of viral video into a meme, you'll want to give Filmora Meme Makera shot. It's a 100% free tool to use without watermarks, and doesn't even require you to log in or register. After uploading an image, GIF, or video, a link to which also works, you could format the text by adjusting its size, color, and position. The finished meme could be downloaded or shared directly to social media.

Pros
Free to use without watermarks
You make turn an image, GIF, or video into memes

Cons
No meme templates
Downloads and link uploads not working occasionally
4. Kapwing Meme Maker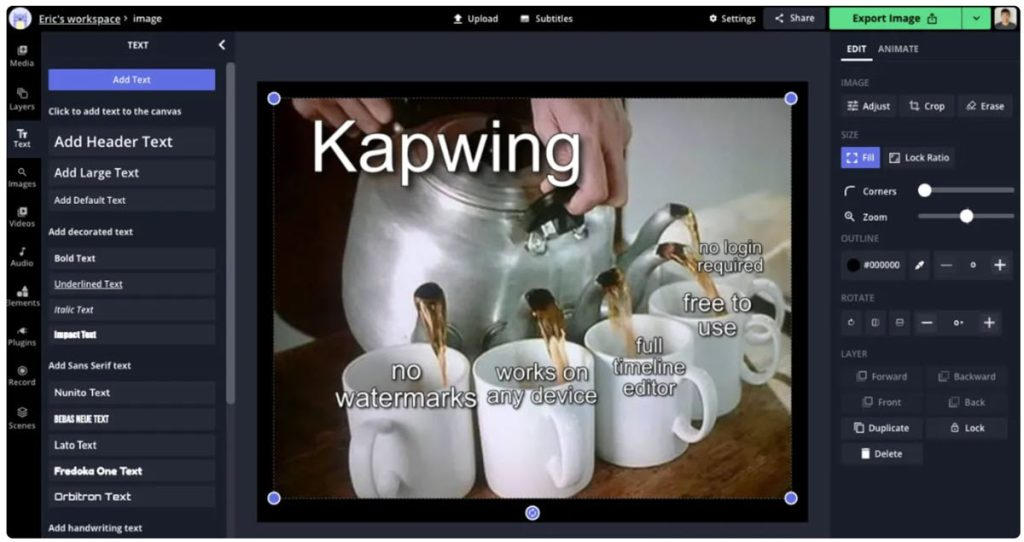 Kapwing is an all-in-one content creation platform, where you can edit and convert videos, record screens, create PNG images, or make memes online. The Kapwing Meme Makeris perfect for producing creative memes from images, GIFs, and videos. It has a massive template library of the most popular memes, well-organized in different categories. 
Alternatively, you could choose to upload your own images or videos to start from scratch There's a suite of handy tools from cropping, adjusting, and effects, to music, and so on, which will faciliate your design. For exports, you could not only select the format but also the resolution to better fit your desirable social media platforms.

Pros
Decent functions for content creation
A huge library of meme templates and helpful resources for different social networks

Cons
Exports are watermarked for the free version
Too many frills for users who seeking a basic meme maker
5. Imgflip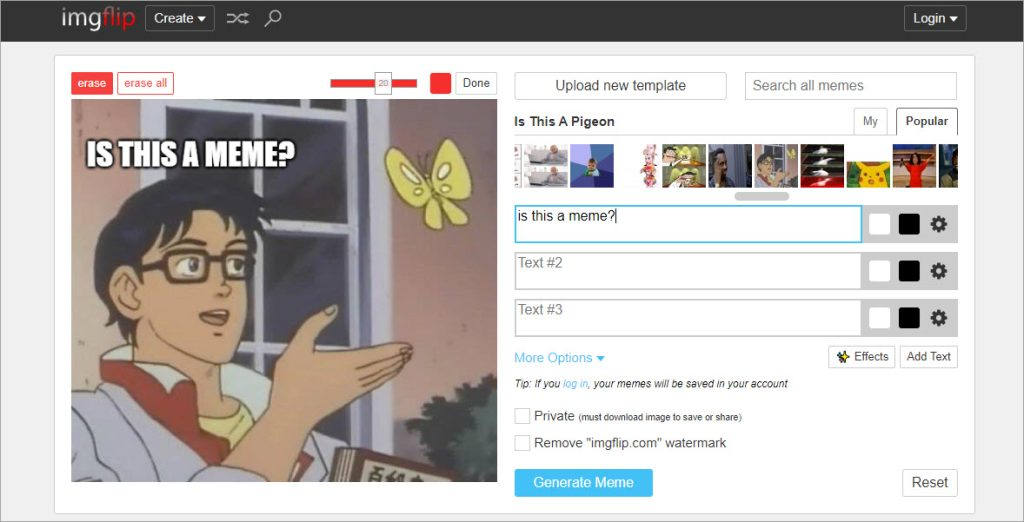 Imgflip is one of the fastest meme generators online, which enables you to easily add text to images or memes. This website builds up a robust database where users uploaded and updated over 1 million image and GIF templates. If that still doesn't satisfy you, its AI meme generator can help you generate text for the top 48 established images randomly and automatically.

Pros
A robust collection of over 1 million user-uploaded meme templates in both images and GIF
AI meme creator available

Cons
Memes are exported with watermarks for the free version (removal requires Imgflip Pro subscription)
Ads on the website (removal requires Imgflip Pro subscription)
6. Mematic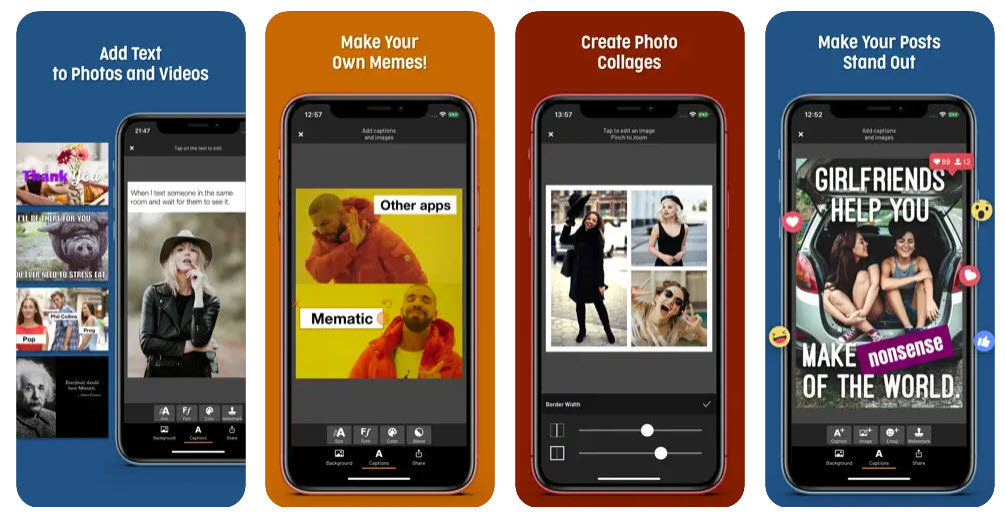 Mematic is a mobile-friendly meme generator available on iOS and Android devices. You could add captions freely on any images or video of your own or choose from the huge selection of popular memes. A bunch of stickers, layouts, effects, and caption styles will spice up your memes.
This handy and versatile tool is popular among not only memers but creative folks to design postcards, greeting cards, collages, and so on. If you want to unlock more exciting features and access premium meme templates and layouts, the Pro version ($2.99/month) is completely worth it.

Pros
Apps available on iOS and Android

Cons
There are ads for the free version
---
So that's 6 free online meme makers that top the list. If you have any questions or suggestions, or want to recommend another great meme creator, please feel free to leave a comment below.