How to Watch MTV Without Cable (2022)
If you've been considering leaving behind your cable company while still keeping MTV, don't worry. There are actually plenty of options for you to stream your favorite shows and music.
Read on and choose the one that suits your needs: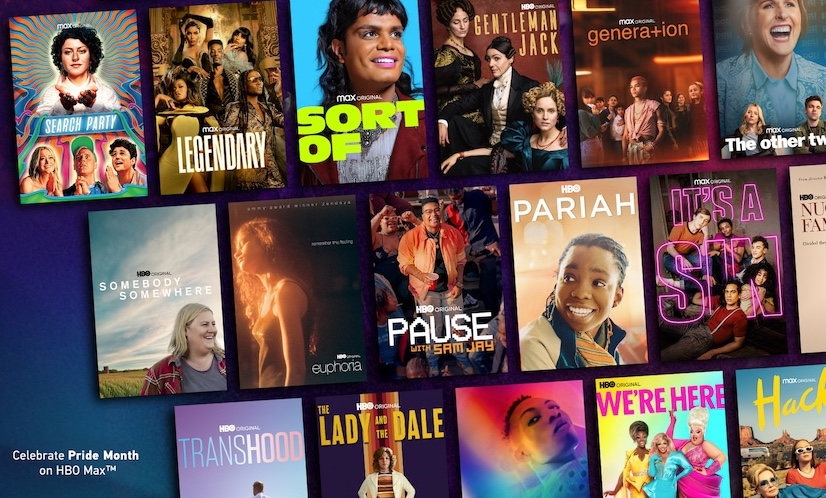 DIRECTV STREAM 14-Day Free Trial
Get 3 months of free HBO Max™, SHOWTIME®, STARZ®, EPIX®, and Cinemax®.
1. DIRECTV STREAM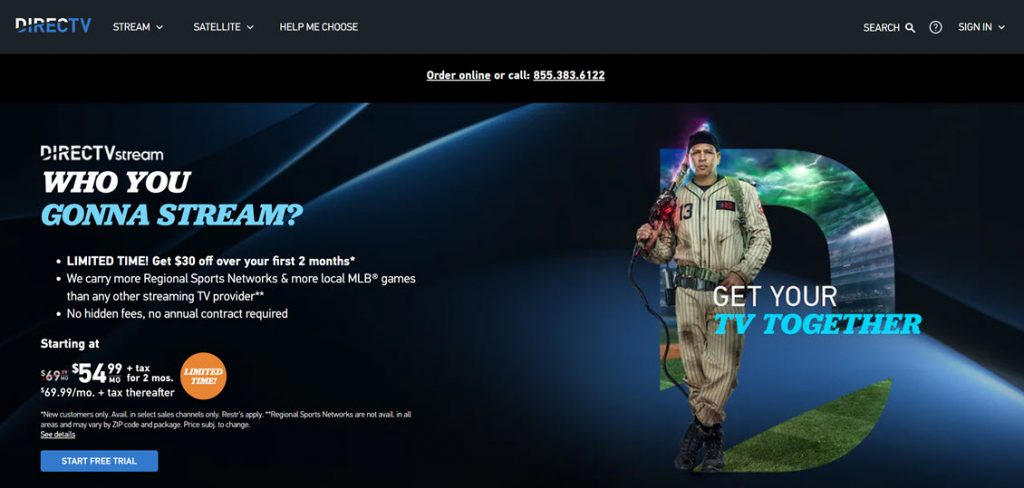 DIRECTV STREAM has 4 tiers of plans: Entertainment, Choice, Ultimate, and Premier.
MTV and MTV 2 are included in its starter package for a monthly price of $69.99. MTV Classic is available in Ultimate ($104.99/month). And if you're ready to splash out an extra $4.99/month, you can get the Movies Extra Pack for MTV Live along with 8 other premium movie channels.
The pricing of DIRECTV STREAM may come off a bit more expensive than average, but its excellent lineup of up to 140 channels, generous hours of DVR storage, and a maximum of 20 simultaneous streams make it a magnet for family households, channel flippers, and devoted sports fans all around.
Good News: DIRECTV is offering a 5-day free trial and $30 off over the first 2 months deal. If you feel like giving DIRECTV a try, grab the deals as soon as possible because they may be gone anytime.
2. Fubo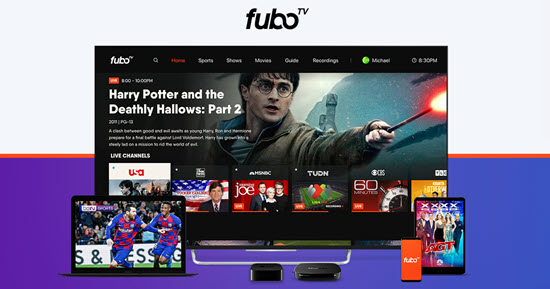 Fubo includes MTV as part of its initial package with an offering of 105+ channels. On top of that, you can buy the Extra add-on ($7.99/month) which gives you access to MTV2, MTVU, and MTV Live as well as 45 other live channels.
Fubo started out sports-oriented, but over the years, it has evolved into a streaming giant with "the perfect mix of entertainment and sports". This is particularly true since you will also get a variety of big-time non-sports channels such as A&E, BBC America, Discovery, USA Network, and so on.
For a starting price of $69.99/month, Fubo, too, is on the higher end of the pricing spectrum. With sports being its specialty, it'd be a buffet for die-hard sports fans.
Good News: If you're a new subscriber to Fubo TV, you can sign up for the 7-day free trial and start binging right away!
3. Sling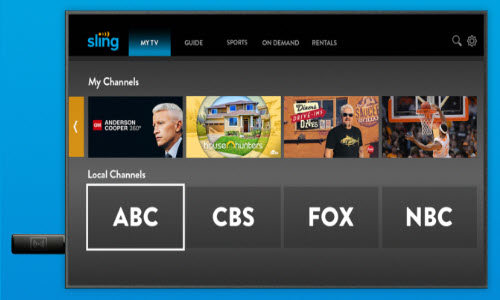 MTV isn't included in Sling TV's base channel line-up, but you can get it as an add-on for $6 per month extra.
As the oldest live TV streaming service, Sling TV offers the base plans for only $35/month, allowing viewers to add a la carte channels for as little as $3/month. The base plans are known as Orange and Blue. Specifically, Orange packs in 31 channels and is more focused on family-friendly and sports programming. Blue, on the other hand, gives you 10 more channels with an emphasis on news and entertainment. Combining them together, you get the Orange + Blue bundle for only $50/month.
With affordable base packages and cheap add-ons, Sling TV is good value for money. It's a not bad TV streaming service overall.
Good News: Sling TV does not do free trials at the moment, but the $10 off for the first month is definitely worth a try. Also, it doesn't tie you into a contract as cable TVs do, so cancel anytime if you don't like it.
4. Philo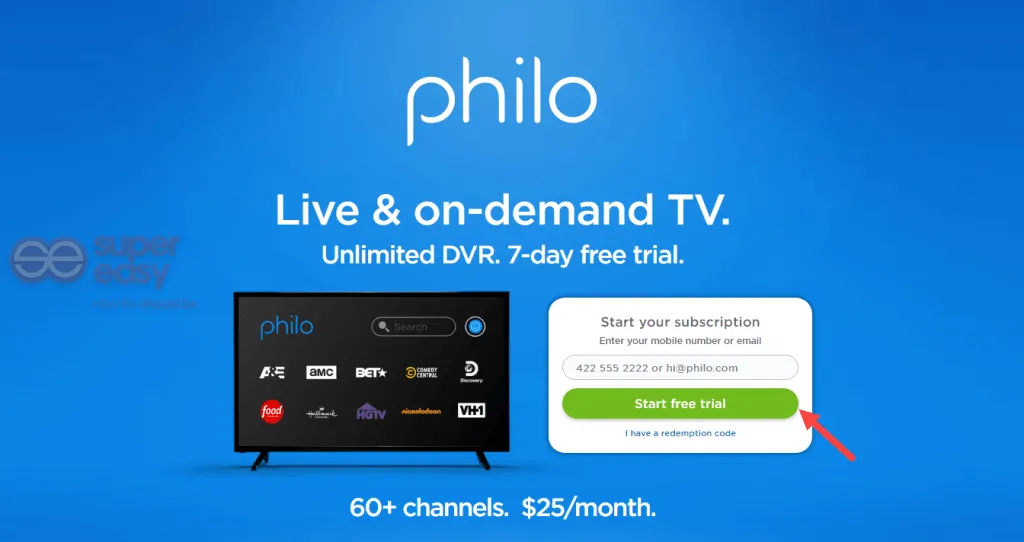 If you're looking for a wallet-friendly streaming service, look no further than Philo. Its single-tier plan includes MTV, MTV2, MTV Classic, MTV Live, BET, and VH1.
Philo costs only $25/month, and it's a skinny bundle in its true sense. As part of the package, you get 60 channels in total, unlimited DVR, three simultaneous streams, and a maximum of 10 profiles per account, which is enticing for large households.
That said…though, Philo doesn't offer add-on customizations, so it may be a bummer for some viewers.
Good News: All you need to do is enter your phone number and email address, then you'll instantly get a whole week to watch whatever you want on Philo, all for free.
5. Vidgo

Despite being a relatively new player in the streaming market, Vidgo stands out for providing a simple yet competitive cord-cutting solution.
It doesn't have add-on customization. What it offers for its English-speaking viewers are known as the English Plus and English Premium packages. Tied at $59.95 a month, English Plus gives you 110 live channels and on-demand content, which include access to MTV – Music Television, MTV Classic, MTV 2: Music Television, BET, and VH1. The English Premium is an upgrade of Plus: for $20 extra per month, you can enjoy free DVR and 40 more channels of programming.
If you're looking to tune into Latino sports, entertainment and news channels, you can opt for its Spanish Mas plan. It offers a solid selection of 50+ channels for just $25 per month.
Good News: Although the 7-day trial is no longer available, you can take advantage of its special prices: $53/month for English Plus, $66.33 for English Premium, which saves you up to $40 in total.
Summary
MTV channels are available on streaming platforms such as DIRECTV, Fubo, Vidgo, Sling, and Philo. If you're a cord-cutter who can't live without MTV, you can choose one according to your own entertainment needs and viewing habits.