How to Check If a Phone Number is Real | Phone number validation
How to tell if phone number is fake
Phone Number Check
[1]Enter Number [2]Find Owner
You'll see almost every post you find on the internet says the most direct and easiest way to check if a phone number is real is to call back. If it's disconnected or not in use, clearly it's a fake phone number. However, if you're searching online trying to find a way to check if a phone number is real, I believe you're not looking for the "call it" answer.
What are fake phone numbers?
Fake numbers can be divided into two types. Some people made up fake phone numbers when they meet strangers in public in real life. It brings two results: You find out the phone number belongs to others, or it's invalid.
Another type of fake phone number work as a real phone number. These fake phone numbers are called temporary phone numbers. They are virtual numbers that aren't connected to a telephone line and an owner but function the same way as a real phone number as long as they're active.
These temporary phone numbers can be get in 2 ways: purchase a burner phone and get from fake phone number apps.
There are many online services that provide fake temporary phone numbers. People use fake phone numbers for various reasons. Most of them aim to protect their own privacy.
How to check if a phone number is real
It's easier to get a fake phone number than you think, how to check if a phone number is real becomes a problem, especially for business people. Here are methods you can try.
1. Google® the phone number
Google should be your first stop when you check if the phone number is real. As one of the biggest search engines, people can find fake phone numbers on Google and there's a chance you can find the truth with a simple search. It's also the easiest way to check if a phone number is real for free.
2. Use a phone validator
Phone number validation is as fast as calling the phone number. It may cost you a little, but it would check public and proprietary databases to get the most current and accurate information about a phone number. What's more, you can check phone numbers in bulk with a phone number validator if you're running a business and want to check your customer's contact list.
All you have to do is find a reliable phone validator, then follow the instructions to finish the process. You'll get the result easily.
3. Use reverse phone lookup services
Wondering who is behind the number calling you? To find out the unknown caller, Intelius® would be the first option to choose when tracing a phone number. It's a people search portal to find out the owner of a phone number. It searches records from available public sources, all searches are private and its site is encrypted for security. You can search to find the information you need quickly and safely.
Note that a fake phone number cannot be traced. It isn't assigned to anyone. So when the reverse phone search doesn't return any results, that could be a sign that you're searching for a fake phone number.
1) Go to the Intelius Official Website.
2) Choose the search type: name, phone number, and address, then enter the information and click Search.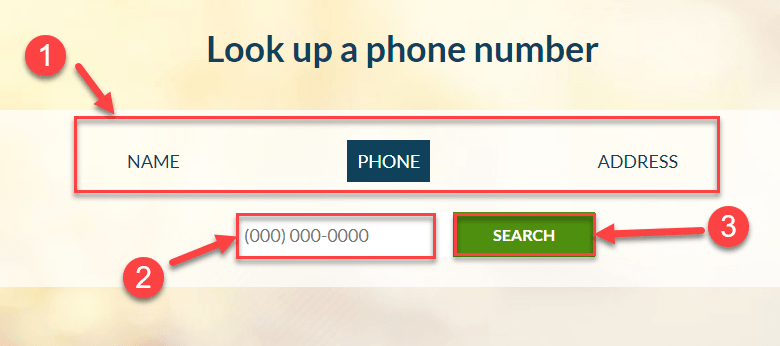 3) Within seconds, Intelius will search to find available public record info associated with the search subject. To discover additional information about the owner of a phone number, such as birth record info, click "background report" when available on the sidebar of the phone report.
In order to access the report, you will need to purchase a membership plan that best fits your needs.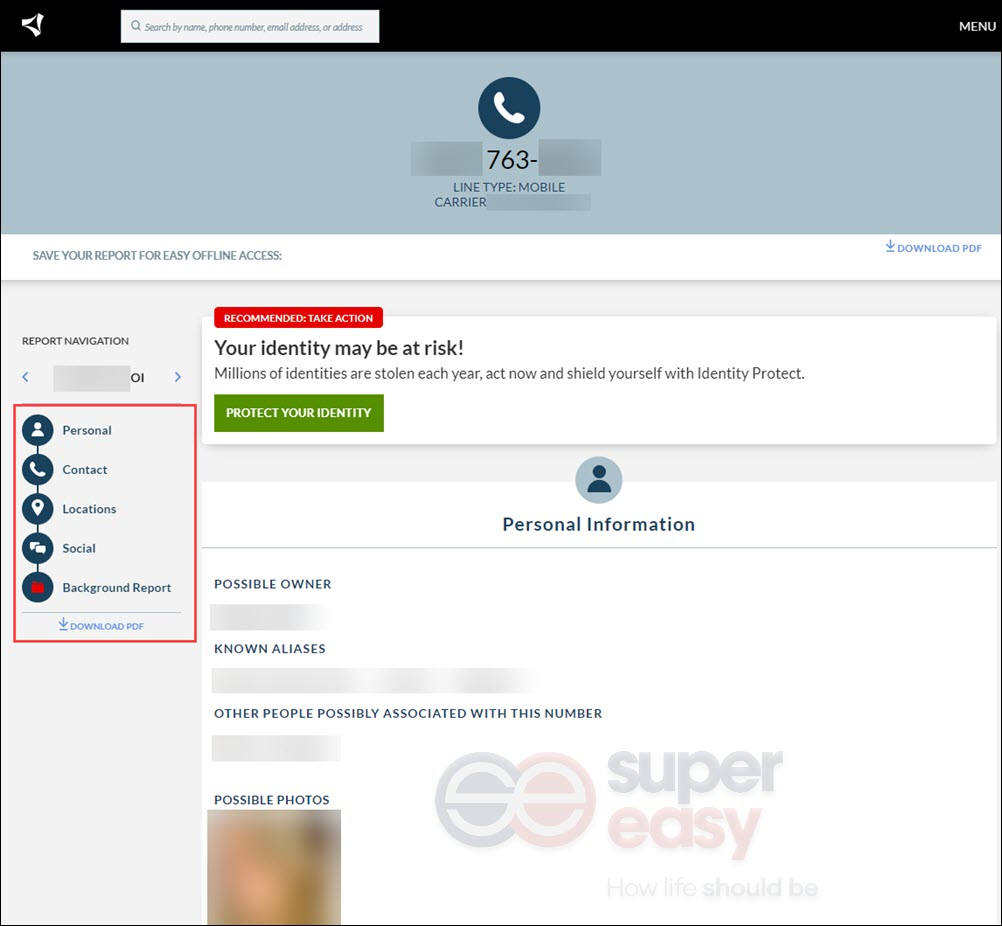 Check the owner's name by SocialCatfish
If the phone owner's name is a common name, it could be difficult to remember who the owner is. Having an image of the phone owner could certainly be helpful in identifying them. Social Catfish is a reverse phone number lookup service that also provides a unique powerful photo search. You can find the phone number owner's name as well as their photos. In addition, it also has a VOIP number warning function.
1) Go to Social Catfish.
2) Enter a phone number and click Search.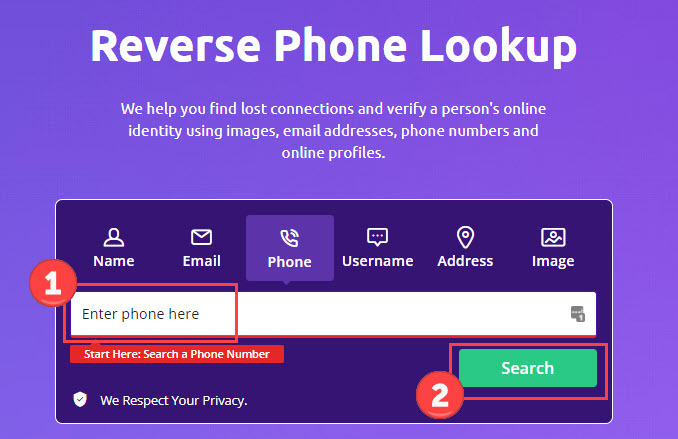 3) It might take a few minutes for Social Catfish to search the database. Once done, unlock the profile and get the information you need.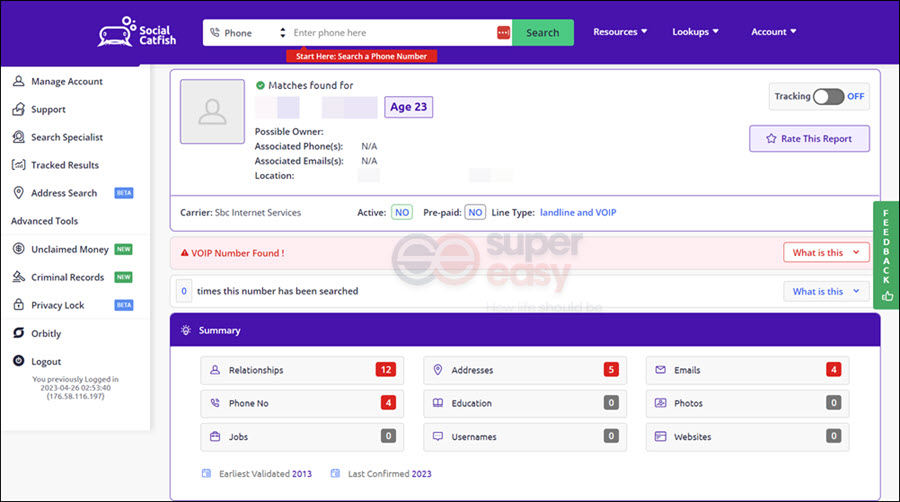 Conclusion
In conclusion, verifying the authenticity of a phone number is crucial in today's digital age where scams and fraudulent activities are prevalent. By utilizing the methods discussed in this article and staying informed about the latest scams, we can better protect our privacy, financial well-being, and overall peace of mind in the digital realm.
All product names, logos, brands, trademarks and registered trademarks are property of their respective owners.
The methods in this article provide you with easy access to public record information, but without a guarantee for accuracy and may include links to websites not listed as a Consumer Reporting Agency (CRA). Information acquired from these bodies is illegal to be used for employment, housing, credit, and other purposes alike, according to laws such as the Fair Credit Reporting Act (FCRA). If you're not sure whether your use of our methods is appropriate, click here for details.