2022 | How to start a WordPress blog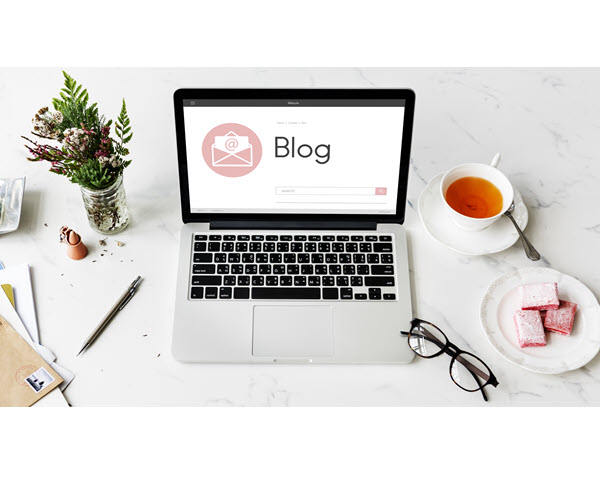 Blogging is not just a way of expressing yourself. It has become a way of life. Thanks to some user-friendly tools, it's never been easier to start your blog and share your thoughts with the world, even if you know very little about how to build a site. If you've decided to start your blog, you've come to the right place! In this aricle, you'll learn how to create your own blog quickly and easily!
Why choose WordPress
WordPress is our preferred way to start a blog, because it's quite easy to work with. Besides, WordPress is so SEO-friendly that the web search engines like Google and Bing can easily discover and index your blog.
Most importantly, WordPress has been the most popular CMS (content management system) and site building platform since 2011, and many web hosting providers have integrated one-click installation for WordPress, which means that whether you're 18 years old or 80 years old, you can easily build a site without having to deal with code.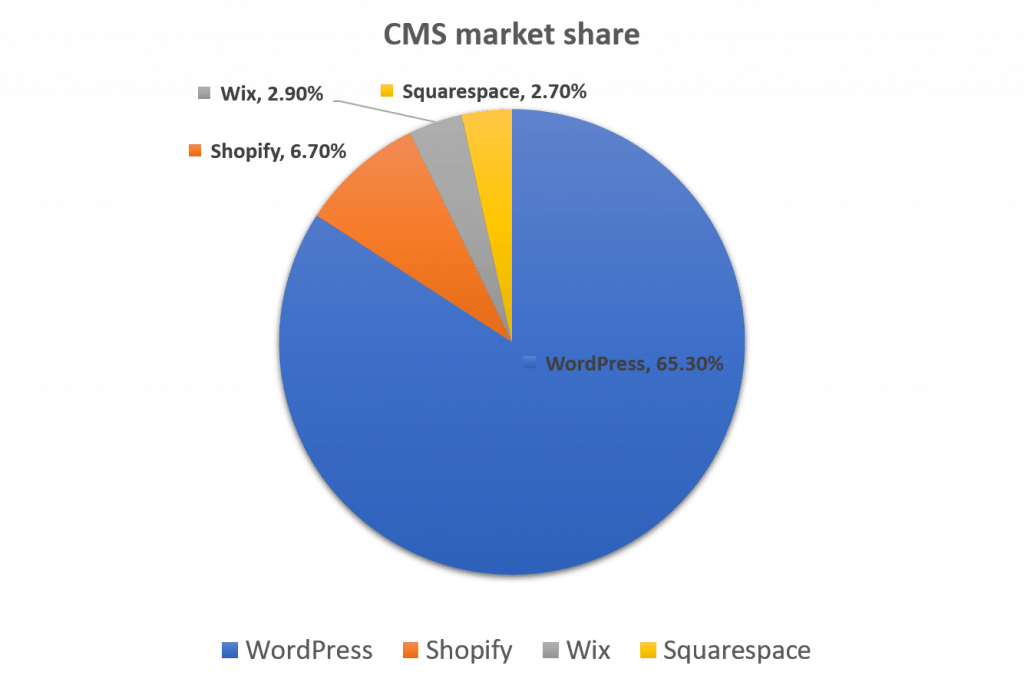 What do you need to start a WordPress blog
To start a WordPress blog, you'll need a domain name and a web hosting service.
A domain name is your blog's address on the internet. For example, the domain name of this site is supereasy.com. To visit our site, you just need to type supereasy.com into the address bar on your browser and hit the Enter key on your keyboard.
A web hosting service is where your blog live on the internet. It hosts your blog, offers the facilities required for you to create and mantain your blog, and makes your blog accessible on the internet.
You don't have to worry much about the domain name and the web hosting now. Just read on and we'll walk you through all the process step by step until you start your blog.
How to start a WordPress blog
Many web hosting providers offer WordPress hosting plans, which can help you build a WordPress site with just several clicks, no special techinal knowledge required. In other words, you just need to select a WordPress hosting provider and they will handle the rest for you.
If you're not sure which WordPress hosting provider you should trust, here we recommend Bluehost and Dreamhost.
Bluehost

As a leading web hosting solutions compnay and one of the top recommended WordPress providers by WordPress.org, Bluehost is powering over 2 million websites.
For blog beginners, Bluehost offers WordPress hosting plans that are tuned for WordPress:
Bluehost installs the latest and most secure version of WordPress automatically
They will install the WordPress updates for you when there are updates available
Bluehost will help you securely change your login credentials from the WordPress default to whatever you choose
You can enjoy a free domain name of your choice for one year with your new account
You can boost your image and recognition with Microsoft email accounts brand
Dreamhost

DreamHost is another reliable WordPress hosting provider which has been committed to WordPress and its community for over 10 years. The WordPress hosting plans from DreamHost are optimized for WordPress, offering choice, performance and value for new users and experts alike.
Besides, DreamHost's support team are all WordPress experts who actively contributes to the WordPress community, which means that even if you're new to WordPress, you don't have to learn the website-building stuff; you just need to focus on content creating, and the Dreamhost team experts will handle the rest for you.
DreamHost offers reliable, lightning-fast hosting solutions optimized for WordPress. Take WordPress Basic plan as an example, Dreamhost offers:
Free Domain for the first year
WordPress Pre-Installed
WP Website Builder
Fast SSD Storage
Free SSL Certificate
Unlimited Traffic
Free Automated WordPress Migrations
---
Start a WordPress blog on Bluehost
Step 1: Visit the Bluehost official site and select your plan
Go to the official Bluehost WordPress Hosting page. You'll need to pick a hosting plan. If this is your very first blog, just go with the BASIC plan, which is $2.95/mo only.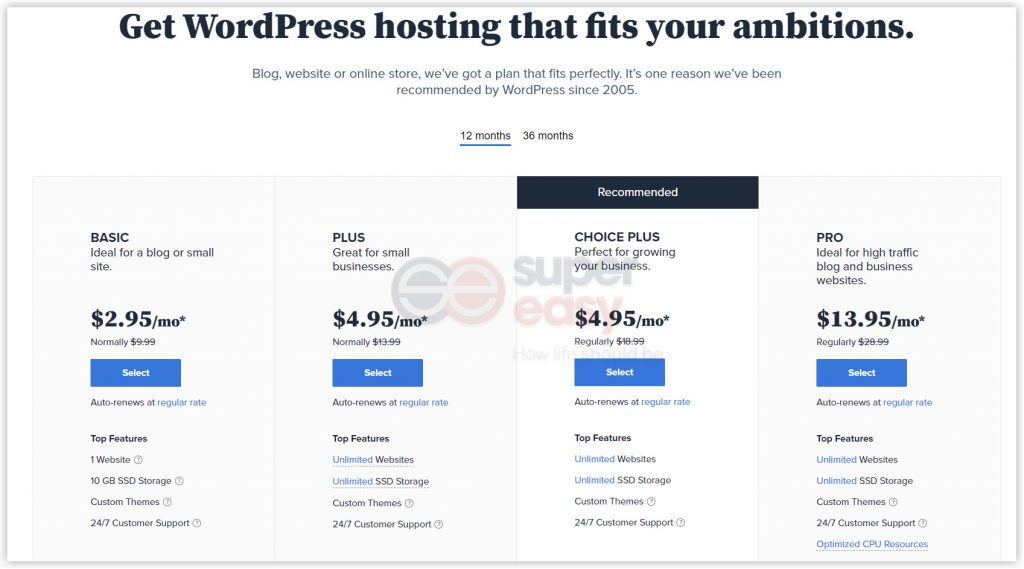 Step 2: Set up your domain
Once you selected a hosting plan, Bluehost will ask you to choose a domain name for your blog. You can enjoy a free domain name of your choice for one year with your new account. Just enter the doamin name you love and click the Next button.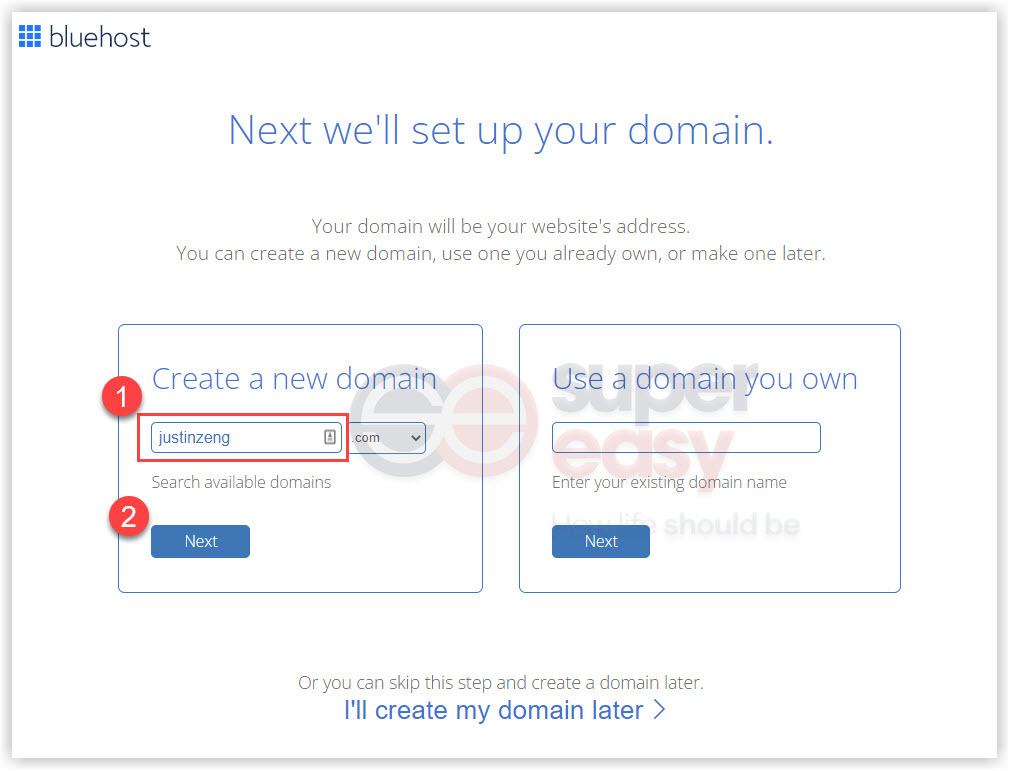 Step 3: Create your Bluehost account
After you choose your domain name, you'll see the Create your account page.
Add your account info
You can either use Google Single Sign-on to create your Bluehost account, or fill in your account information manually.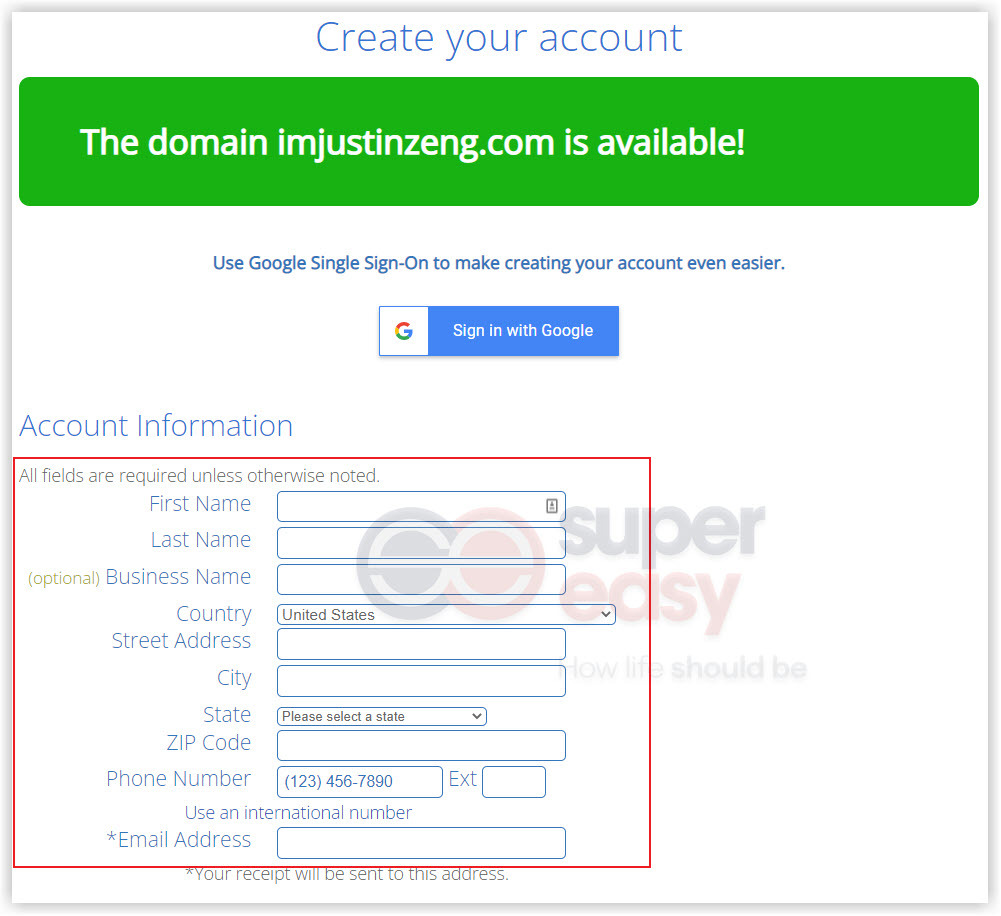 Select your hosting package
Bluehost offers 1, 12 and 36-month packages. You'll find that with a 12-month or 36-month package, you'll get a better deal.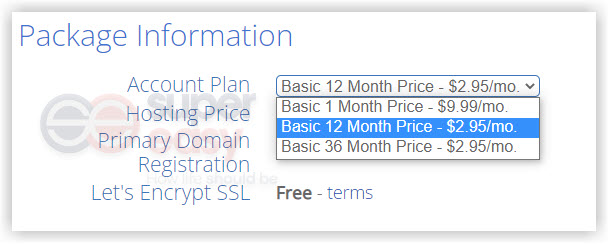 Package Extras
You need to review the packgae extras part carefully, as not every extra is essential. Please note that you can always add extras later if you need them in the future.
Here I suggest that you select Domain Privacy + Protection, because this service will help protect your personal information from leaking on the internet.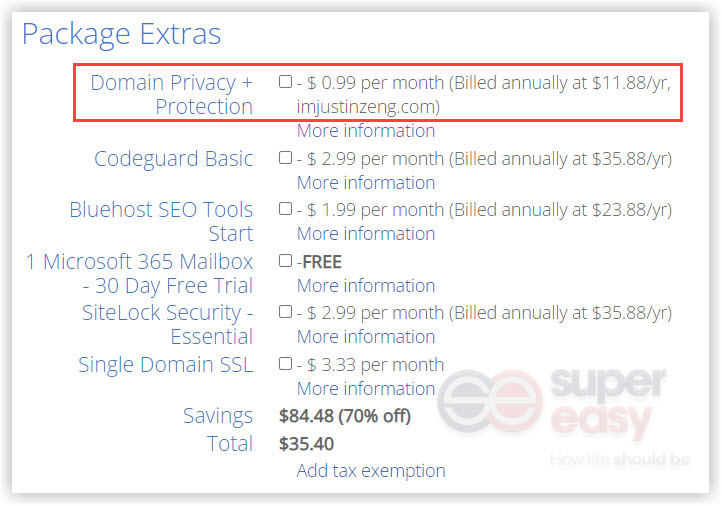 Payment information
Now you need to fill in your payment information. You can either pay by credit card, or pay with PayPal.
Check the box next to "I have read and agree to the TOS", and click the submit button.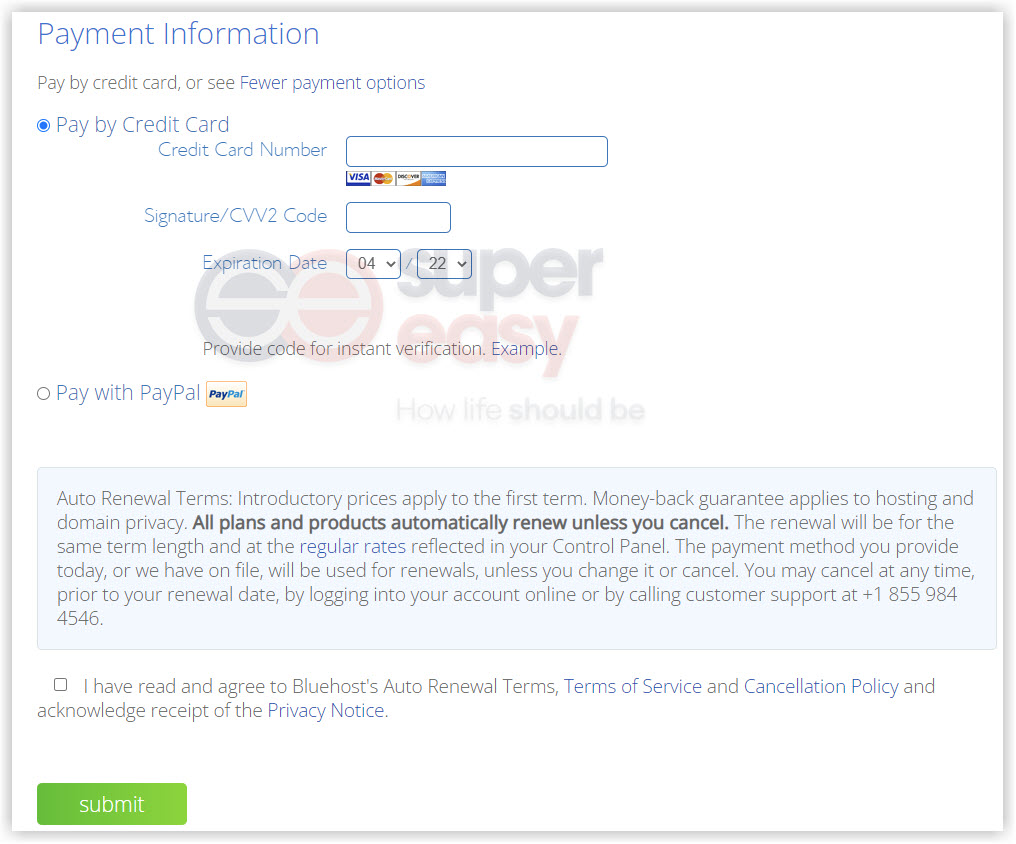 When your payment goes through, you'll receive a confirmation email from Bluehost, along with an verification email to verify your email address so that you can activate your domain.
Next, you need to create your Bluehost account. Click Create your account button and follow the on-screen instructions to create your Bluehost account.
Step 4: Start your WordPress blog
After you logged in to your Bluehost account, you just need to follow the 4-step process offered by Bluehost to create your WordPress blog:
Answer 3 questions first: What kind of site are you creating? What type is it? And who are you creating a site for? My answers to these questions are Blog, Personal and Myself.

You can either select the same options, or choose what fits your individual case.

Select what else you would like to add to your site. Bluehost offers a few options for you to choose from. Usually, you just need to choose Blog, About me and Custom logo for your blog.

In this step, you need to answer a few questions such as the name of your blog and tagline so that Bluehost can help you get your blog set up.

Note: you can always change your site name and tagline later in WordPress Settings page.

Pick a theme for your blog. You can skip this step if you don't find the theme you like.
Note: You can always change your blog theme or use a different one later.

You will be redirected to your Bluehost account page after you finished setting up your blog, and Bluehost has installed the WordPress software for you.
You just need to click the Launch my site button, your blog will go live!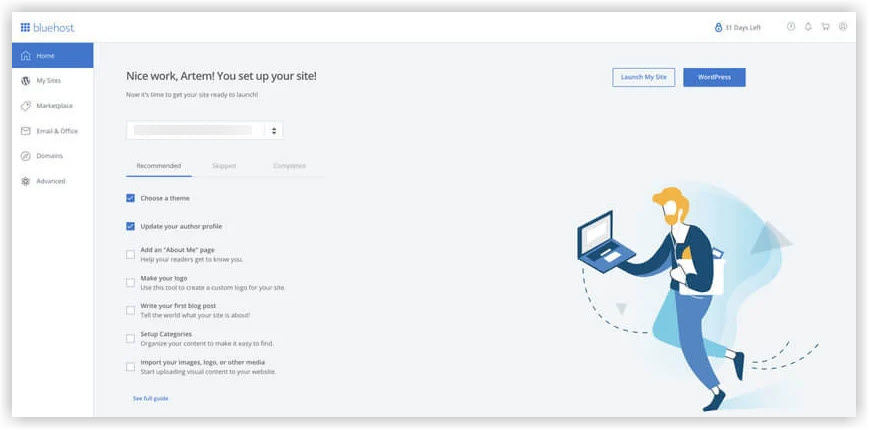 It's quite easy, isn't it?
Start a WordPress blog on Dreamhost
Step 1: Select your plan on the official Dreamhost website
Just like Bulehost, you'll need to choose a hosting plan on Dreamhost first. For website beginner, it's recommended that you select an affordable WordPress hosting like WordPress Basic. Starting at $1.99/mo, the WordPress Starter plan is the most affordable way to get all the basics for your WordPress blog.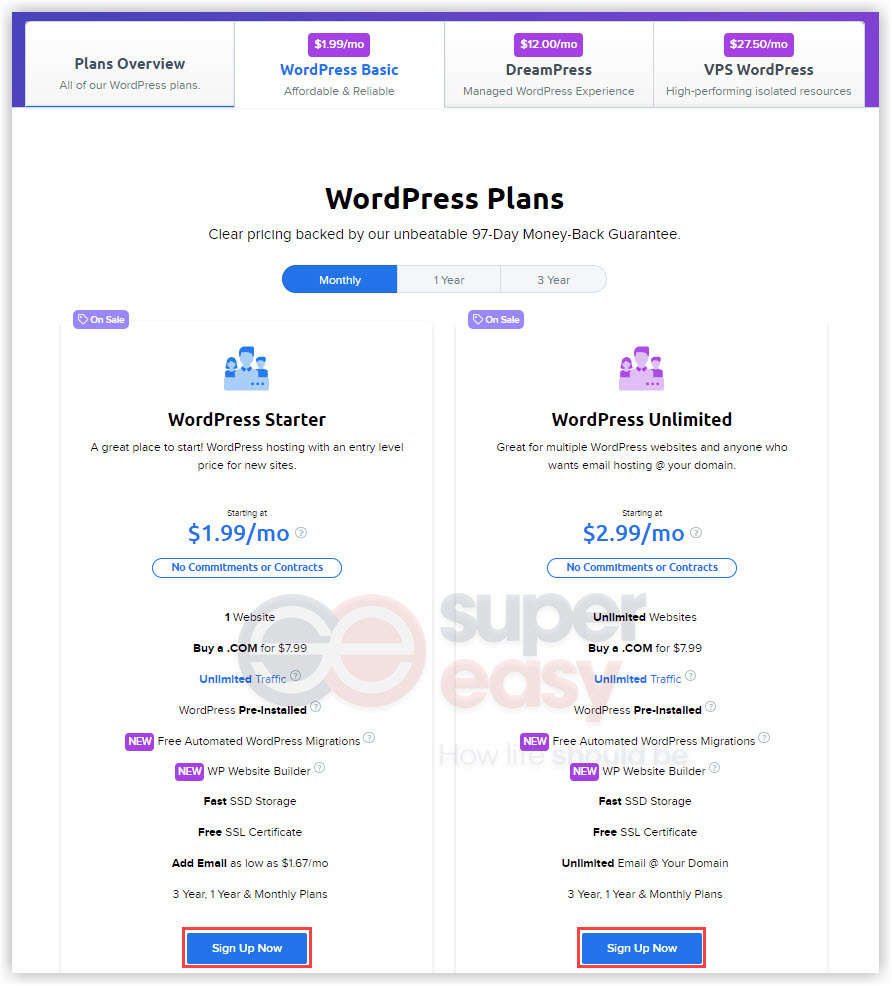 Click Sign Up Now to select the affordable plan of your choice.
Step 2: Set up your domain
Choose a domain for your web hosting. If you selected the annual terms for your hosting plan in Step 1, you're qualified for one free domain registration credit for the first full year.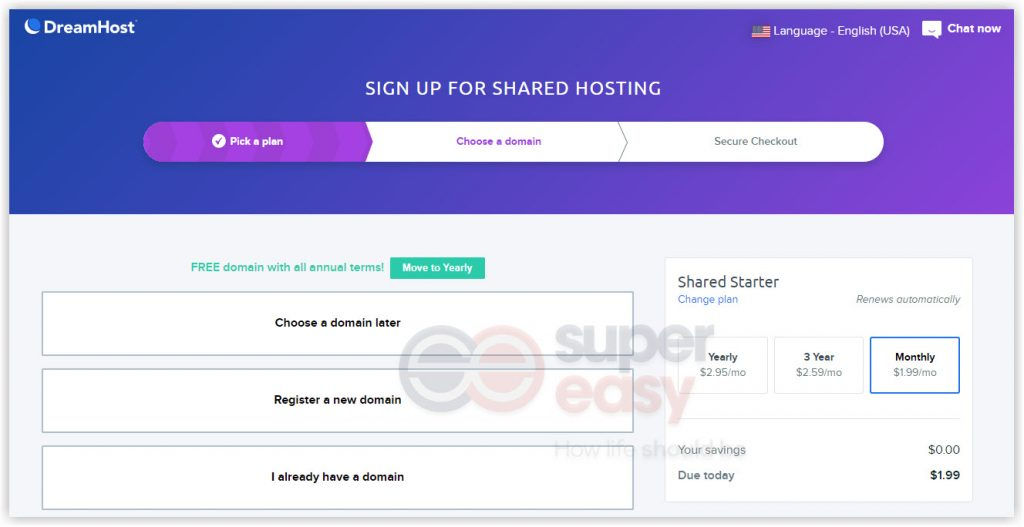 If you don't have a domain, it's suggested that you register a new domain right at Dreamhost, because Dreamhost will help you point your domain name to your web hosting, so you don't need to do it manually.
Step 3: Create your Dreamhost account
In this step, you need to update your payment method and finish your Dreamhost account setup.
Payment method
For the payment method, you can either add your credit / debit card, or connect to your PayPal account.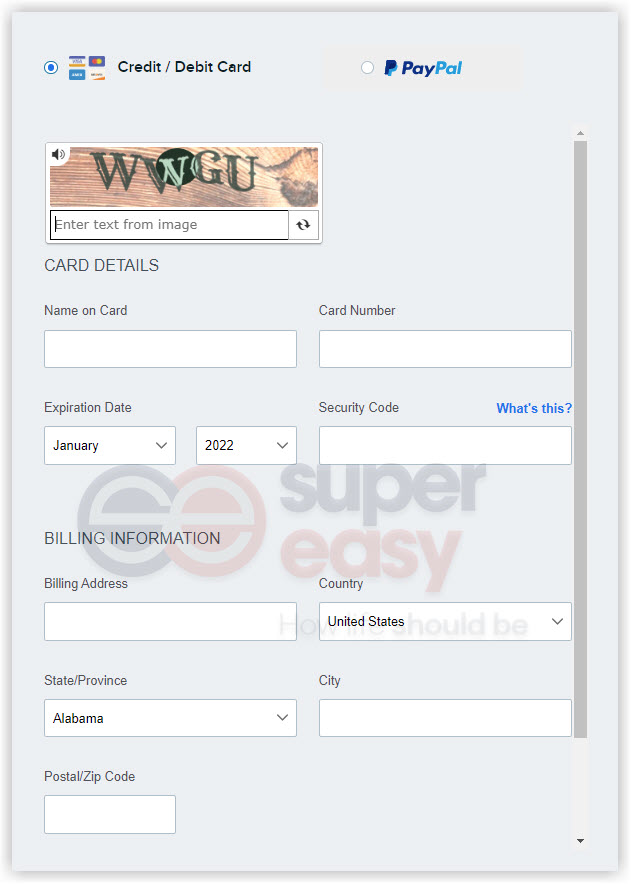 Account setup
You can sign up with Google, or fill in your contact information (email address, name and phone number) to create a Dreamhost account.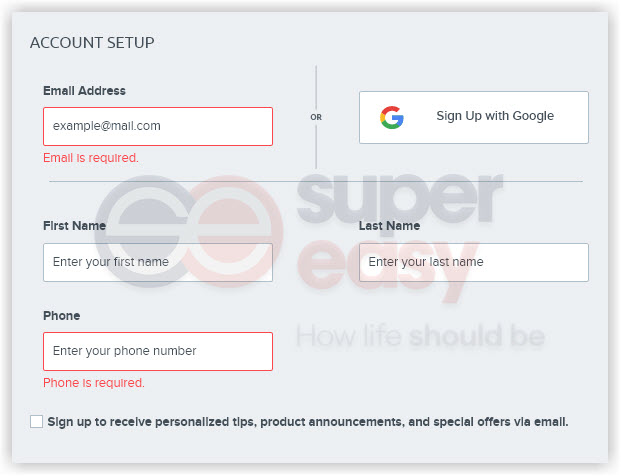 Additional options
Before submitting order, you need to carefully review the additional options offered by Dreamhost, as not every option is necessary.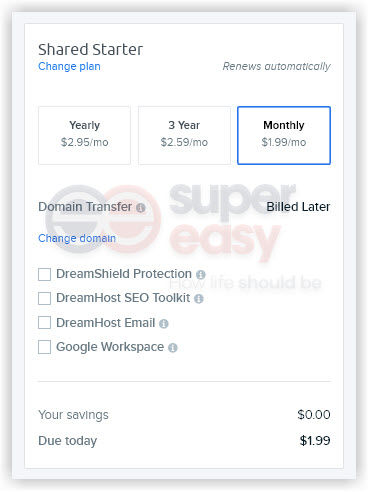 You can always add these options later if you need them in the future.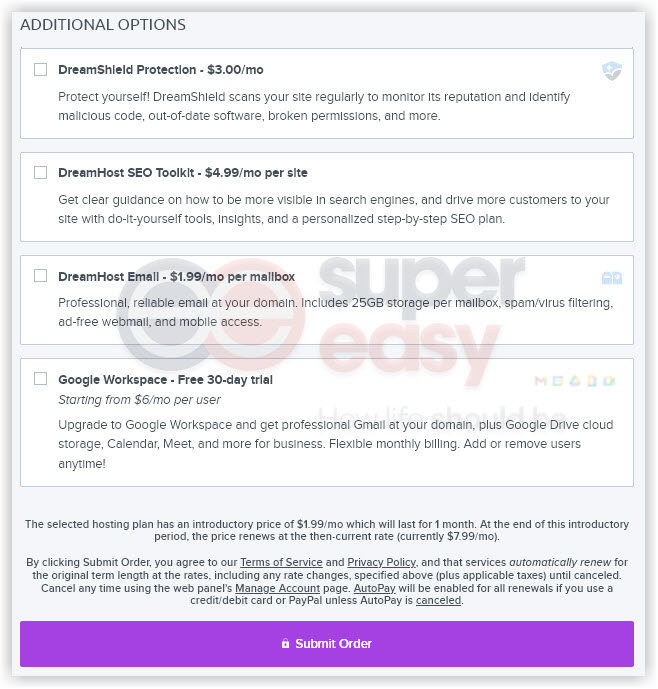 Click Submit Order and Dreamhost will do the technical part of website building for you. You just need to wait a few minutes and your blog will go live!
---
Hopefully, this guide helped you launch your blog. If you have any questions or suggestions on how to start a blog, feel free to drop a line in the comment area below. Thanks for reading and enjoy blogging!
You may also like…
Credits: Internet photo created by rawpixel.com – www.freepik.com