2023 Guide | How to Sell a Car Quickly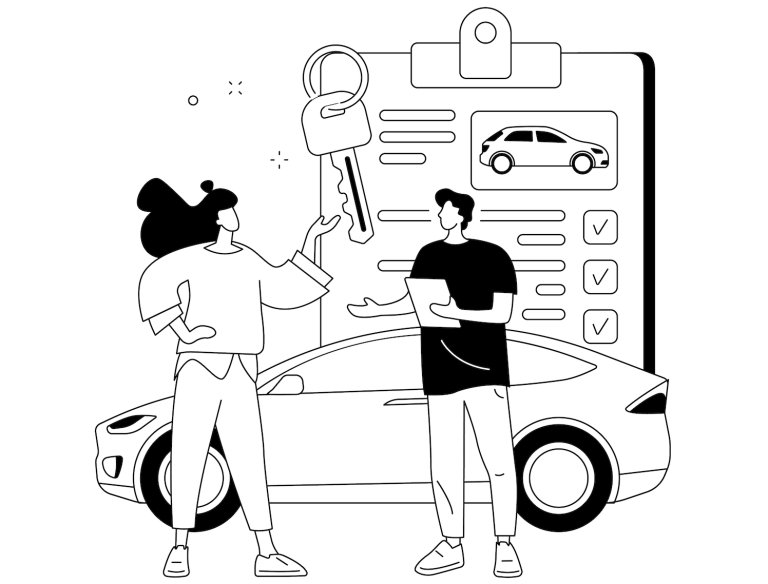 When it comes to selling your car, time and convenience are just as crucial as obtaining the best price. Maybe you need to free up space in your garage, upgrade to a new vehicle, or simply want to avoid the hassle of prolonged selling processes. In this article, we will provide you with a step-by-step guide on how to sell a car quickly, ensuring a smooth and efficient transaction.
Option 1. Sell your car to Carvana: unmatched speed and convenience
When it comes to selling your car quickly, online platforms have revolutionized the process, offering convenience and efficiency. Among these platforms, Carvana, established in 2012 and headquartered in Tempe, Arizona, stands out as a reputable option that streamlines the selling experience. As one of the largest online retailers for used cars in the United States, Carvana offers a quick and efficient way to sell your car: the whole process is simple and 100% online.
How does Carvana work
Trade in or sell your vehicle to Carvana in just a few easy steps:


Get your offer
Simply provide a few vehicle details, and within 2 minutes, Carvana will provide you with a real offer.


Schedule your pickup
Set the pick-up time that suits your convenience. They can arrange pick-up as early as the next day.


Get paid right there
After a quick on-site evaluation of your car, Carvana will provide you with an immediate payment on the spot.
>> For more details, check out how Carvana works.
How to sell your car quickly with Carvana [step by step]
Go to Carvana's official website.
Enter your license plate number or vehicle identification number (VIN), then click Get My Offer.

Carvana will ask a few quick questions about your vehicle's overall condition, mileage, and features to determine what your car is worth.

They will analyze hundreds of data points to make you a real offer instantly. This offer is typically valid for 7 days, which means you have a week to make your decision.

If you accept the offer, you can conveniently complete the remaining steps from the comfort of your home. Once you upload a few required documents to verify your eligibility to sell the car, you can select your preferred payment method and schedule an appointment to finalize the sale.
A Carvana representative will come to you for an on-site inspection, key collection, and on-the-spot payment. If there is any outstanding debt on the vehicle, Carvana will handle the title, registration, and loan payoff process, ensuring a smooth and hassle-free transaction.

How does Carvana determine the value of your vehicle
Carvana takes the vehicle details you provide, including options, accident history, and mileage, and combines them with data from service history records, trusted pricing guides, and their own market analysis. Carvana's comprehensive analysis considers hundreds of data points to generate a personalized and competitive offer for your vehicle. Rest assured that the offer you receive reflects their careful evaluation of your vehicle's value and the current market conditions.
Pros and cons of selling a car to Carvana
Pros
Instant offer based on thorough assessment of your car's unique characteristics and market value

No haggling with salespeople or potential buyers
Fast and easy appointment
Instant payment at your pickup or drop-off appointment
100% secure car sales, no risk of scams
They handle paperwork, logistics, and transportation
Flexibility to choose between selling or trading-in

You can sell your car to Carvana even if you still have a loan on your vehicle

Possibility of selling a leased car
Cons
Might not always be the highest possible price you could get
No private sale option
Alternatives to Carvana
Vroom is another online car buying company, providing a convenient and straightforward solution for selling your vehicle. It's important to note that Vroom does not purchase leased vehicles and has specific limitations on pricing and purchasing vehicles from certain areas. Also, based on our research, it appears that the offer provided by Vroom may be slightly lower compared to Carvana.
CarMax is another popular online car buyer. If CarMax is interested in purchasing from you, they may ask you to bring your car to a physical location for inspection. Once they inspect your vehicle and make sure it is up to their standards, they will purchase it from you. It's worth noting that CarMax offers relatively competitive offers for your vehicle. However, if you prefer to have your buyer pick up your vehicle, you should probably consider Carvana instead.
Option 2. Sell your car on Craigslist: potential for higher price, more effort on your end
Alternatively, you can explore online marketplace platforms that connect car sellers with potential buyers, providing a compelling overall value. Craigslist is a widely recognized online classifieds platform where you can create a free listing with details, photos, and contact information. Craigslist's local focus can attract potential buyers in your area, enabling quick and convenient transactions.
How to sell your car on Craigslist [step by step]
1. Estimate your car's value and set a competitive price
This is an important step in the selling process to ensure you set a competitive and realistic price. The best way to do it is to use online valuation tools such as BeenVerifed, Kelley Blue Book or Edmunds. These tools consider factors like car specs, mileage, condition, and location to provide a general estimate of your car's value. With BeenVerified, you can also check out comparable vehicles for sale, including their prices and detailed vehicle information.
Remember, It's always a good idea to consult multiple sources to get a more complete picture of a car's value. Based on the information you've gathered, set a price that attracts potential buyers while still leaving room for negotiation.
2. Gather the paperwork
To ensure a smooth and successful sale of your car, it's essential to have your car title readily available as proof of ownership. However, gathering additional paperwork can greatly benefit you as well. Supplemental documents such as vehicle service records and original sales paperwork can help you identify valuable features to include in your Craigslist ad and validate your asking price to potential buyers. Additionally, considering a Vehicle history report (VIN check) may provide further assurance to buyers and enhance the transparency of your sale.
3. Take high-quality photos
Capture clear and appealing photos of your car from various angles. Highlight its exterior, interior, and any unique selling points. Clean the car beforehand to enhance its visual appeal.
4. Post your ad on Craigslist
Visit the Craigslist website and choose your specific location and select the Create a posting option.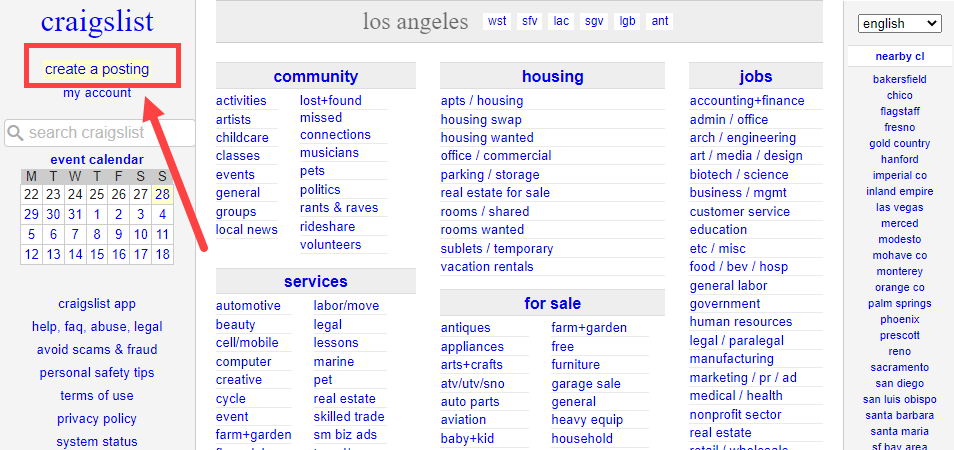 Follow the on-screen instructions to categorize your sale.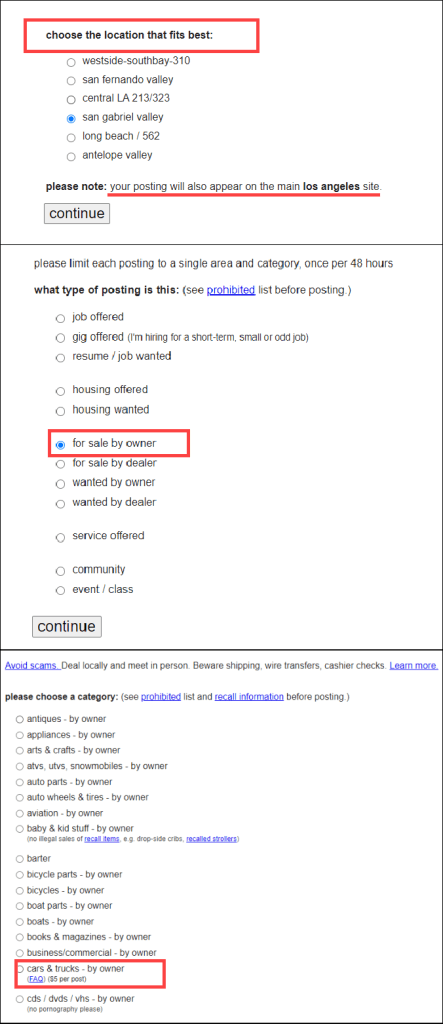 Alongside posting high-quality photos, it's equally important to dedicate time and effort to crafting a detailed and engaging description of your car. Focus on highlighting the most valuable features of your car, particularly those that may go unnoticed by potential buyers. On the other hand, it's crucial to maintain honesty and transparency about the condition of your car to attract buyers genuinely interested in what you have to offer.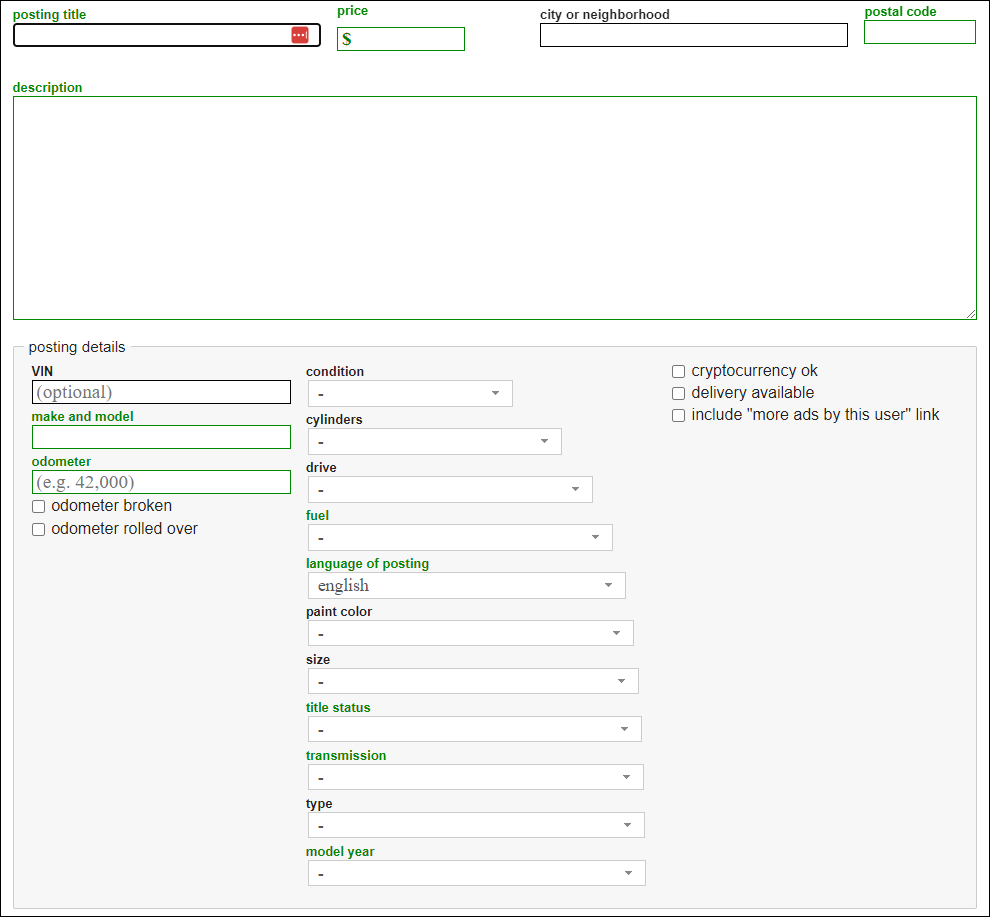 5. Respond to inquiries
Monitor your Craigslist inbox and promptly respond to inquiries from potential buyers. Answer questions, provide additional information, and schedule test drives or inspections when necessary.
6. Meet potential buyers
Selling through Craigslist can present challenges when it comes to interacting with strangers. So it's important to exercise caution and be aware of potential scams. Always prioritize safety and follow best practices for meeting with potential buyers:
If something feels off or suspicious about a potential buyer, trust your instincts.
Choose a public location to meet with potential buyers (e.g. coffee shops, shopping centers).
Don't go alone. Bring a friend or family member.

Only share necessary information during initial interactions.

Opt for cash payments whenever possible, as cash can be immediately verified, and there's no risk of fraudulent payment methods.
Be vigilant for potential scams. Be cautious of buyers who offer to pay more than your asking price or propose unusual payment methods. If something seems too good to be true, it likely is.
Be wary of common scams. One prevalent scam involves buyers providing false information about their identity. Another common scam: a supposed buyer presents fabricated documentation of a wire transfer, deceiving the seller into releasing their keys and documents without receiving proper payment.
7. Negotiate your sale price
Preparing for negotiation is crucial to effectively sell your car. Striking the right balance in your sale price is important – setting it too high may scare away potential buyers, while offering a reasonable negotiation margin is expected. It's advisable to be ready to lower the price by a few hundred dollars, considering buyers often anticipate negotiating for a better deal. However, it's essential not to agree on a reduced price before the buyer has inspected the car. This ensures that the buyer evaluates the vehicle's condition firsthand and acknowledges its value before any adjustments are made.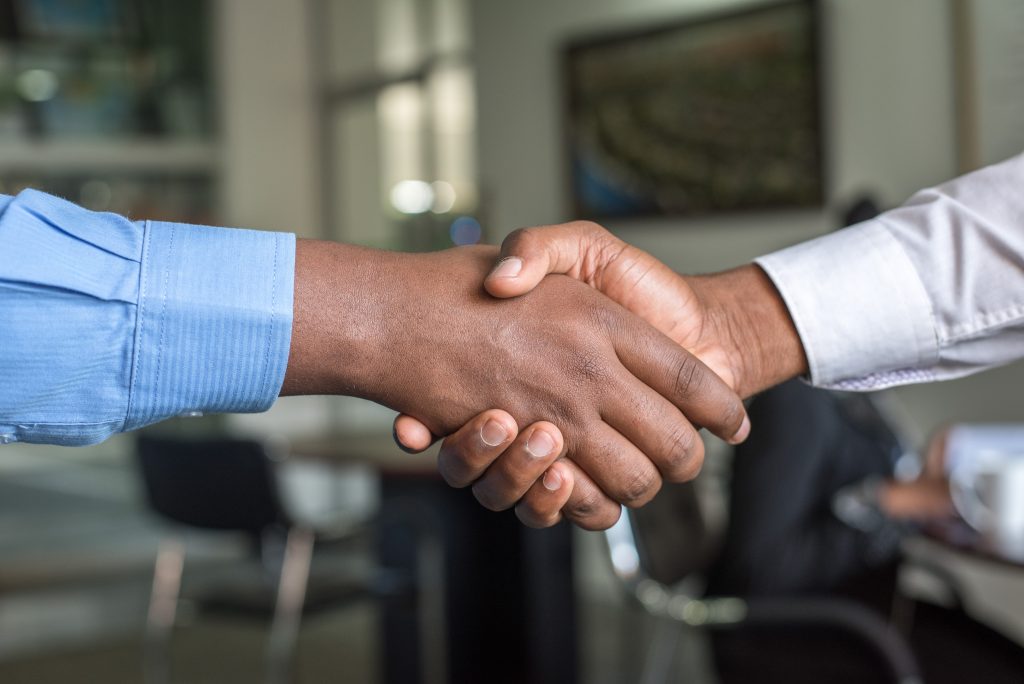 8. Draft a bill of sale
When completing a car sale, the process of transferring ownership varies by state. Generally, you should be prepared to sign over the title (also known as the "pink slip") and provide a bill of sale. These documents serve as the buyer's receipt and are necessary for them to transfer ownership through the DMV. Be sure to familiarize yourself with your state's specific requirements for a smooth transfer of ownership.
Pros and cons of selling a car on Craigslist
Pros
Potential for higher price
No middleman
Setting the price and selecting the buyer by yourself
Flexibility to set your own terms and conditions for the sale, such as payment methods and negotiation options
Control over when to list your car and how long to keep it listed
Cons
Need to be cautious of fraudulent buyers and payment scams
Dealing with strangers
Haggling about the price with potential buyers
No guarantee of when or if someone will buy your car
Limited target audience (primarily local buyers)
More work and effort on your end
Alternatives to Craigslist
Facebook Marketplace provides a convenient platform for selling a car quickly. It leverages Facebook's vast user base and offers easy listing creation with photos, descriptions, and pricing. The advantage of Facebook Marketplace is the ability to target local buyers directly and foster efficient communication. It also allows for easy sharing of your listing within your social network.
Autotrader is a popular online marketplace that connects car sellers with potential buyers. It also offers paid options to boost your listing's exposure and reach even more potential buyers.
Wrapping up
In this article, we've explored the top platforms for selling a car quickly, providing valuable information on how they work, their advantages and drawbacks, and the steps to follows to sell your car fast on these sites.
The whole process is pretty straightforward. Start by determining the type of sale that aligns with your priorities: selling to an online dealer for a quick and hassle-free sale or opting for a private sale for potentially higher cash value, albeit with some inconvenience. Once you've made this decision, choose the platform that suits you best. Ultimately, the choice is yours, and it depends on what matters most to you in the car-selling process.