If you're a fan of arts, crafts and home decor, you'll probably love Hobby Lobby. It's a great source for all your hobby needs and all at a low price. You're guaranteed to find good deals any time you walk into their store. Then how can I get a steep discount at Hobby Lobby like 90% off?
40% off discount is nothing new at Hobby Lobby. Read on to find how to grab the biggest discount when you shop at Hobby Lobby—both online and in store!
1. Never forget about Hobby Lobby 40% off coupon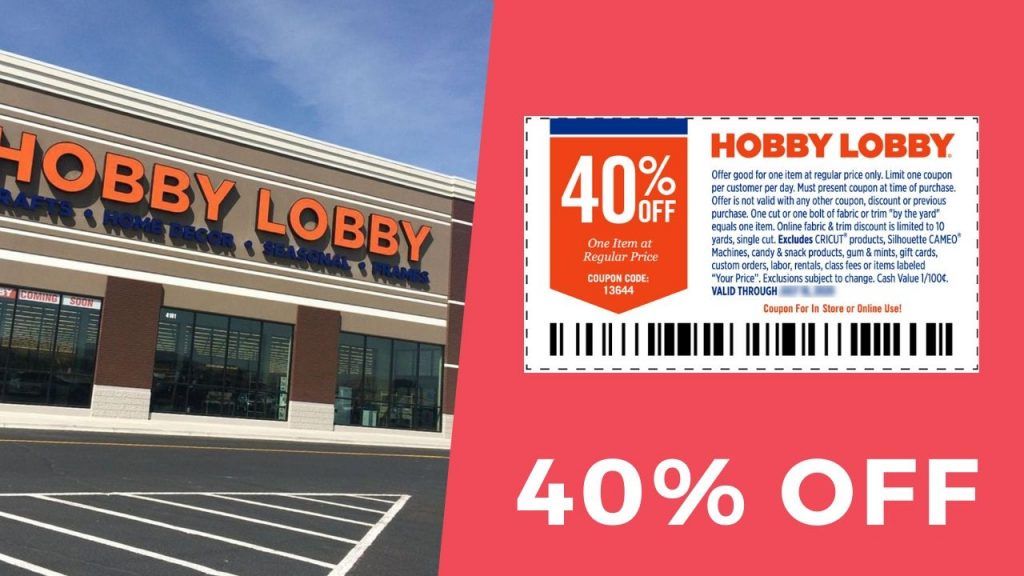 Hobby Lobby coupon code changes every Sunday, so make sure you check the weekly ads or go to the Hobby Lobby app to get the latest coupon.
I'm shopping online
You'll never miss a 40% off highest-priced item when you shop online because it's hard not to notice. When you're at the checkout page, the 40% off coupon will automatically apply.
Note that this coupon will give you a 40% off on a regular price. So use this coupon only on full-price items and sale items that are under 40% discount.
I'm shopping in store
Remember to print your coupon before you shop at Hobby Lobby. The coupon is limited to one per customer, per day.
If you're planning to purchase multiple items, you can bring your husband or family member to come along with you to save more. There are some exclusions such as you cannot use the coupon on items marked as "Reduced" or "Your Price"
2. Check the clearance section first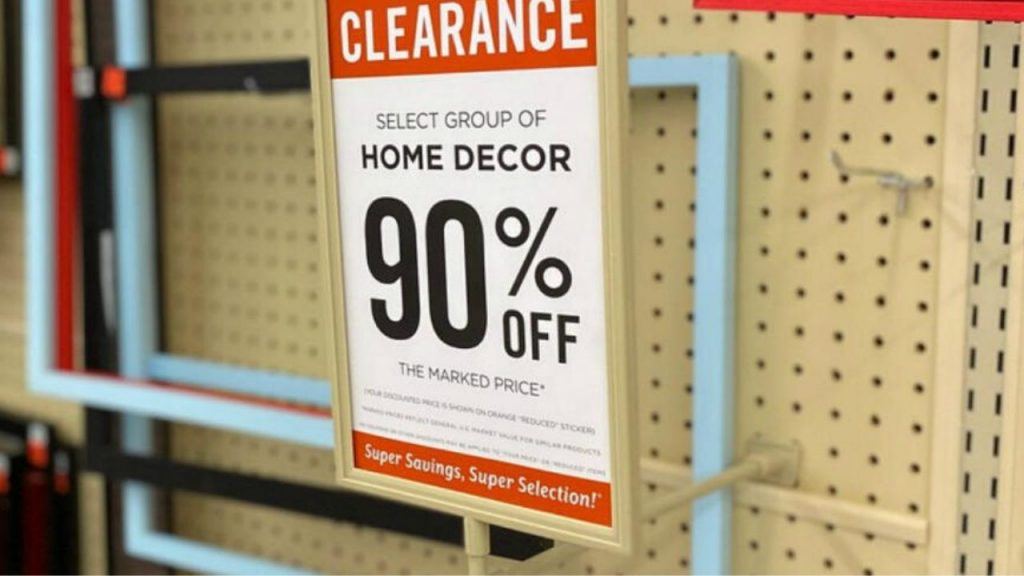 Red tags indicate clearance prices. There are always clearance sales and you can always find something that could be added to your shelves. Check the clearance section first as the discount starts at 40% off and damaged stuff can be up to 90% off.
What's worth mentioning is that there are secret sales twice a year—one right after Mother's Day and one right after Christmas. These two sales can net you some serious savings. Items that are still left for a few weeks will be discounted by 80% or 90%, which means you can snag a few for practically nothing.
While the bummer is some items are excluded from sales such as cards, gift wrap, specialty paper, party supplies, licensed products, cake decorating and candy making supplies etc.
3. Consider bringing competitors' ads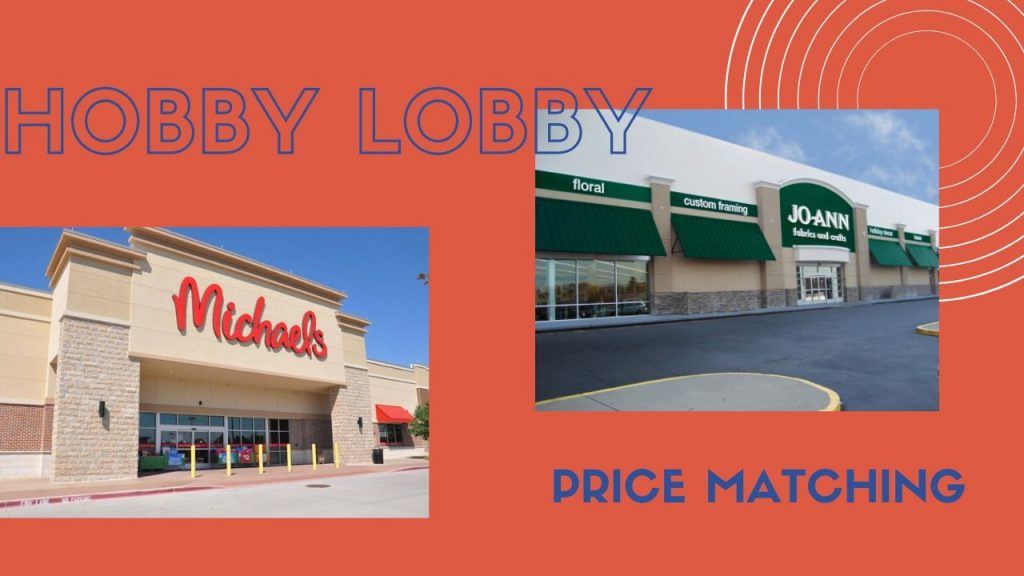 Hobby Lobby doesn't honor a competitor's ads online but does so in store. As long as the item is an exact match and you have the physical ad, they will match that price for you. However, you cannot apply the 40% off coupon on a price-matched item. So do the math to make sure price matching will give you a lower price compared to an instant 40% off discount.
Note: Some exclusions may apply. Hobby Lobby doesn't honor percentage-off sales.
4. Don't go for 30% off sales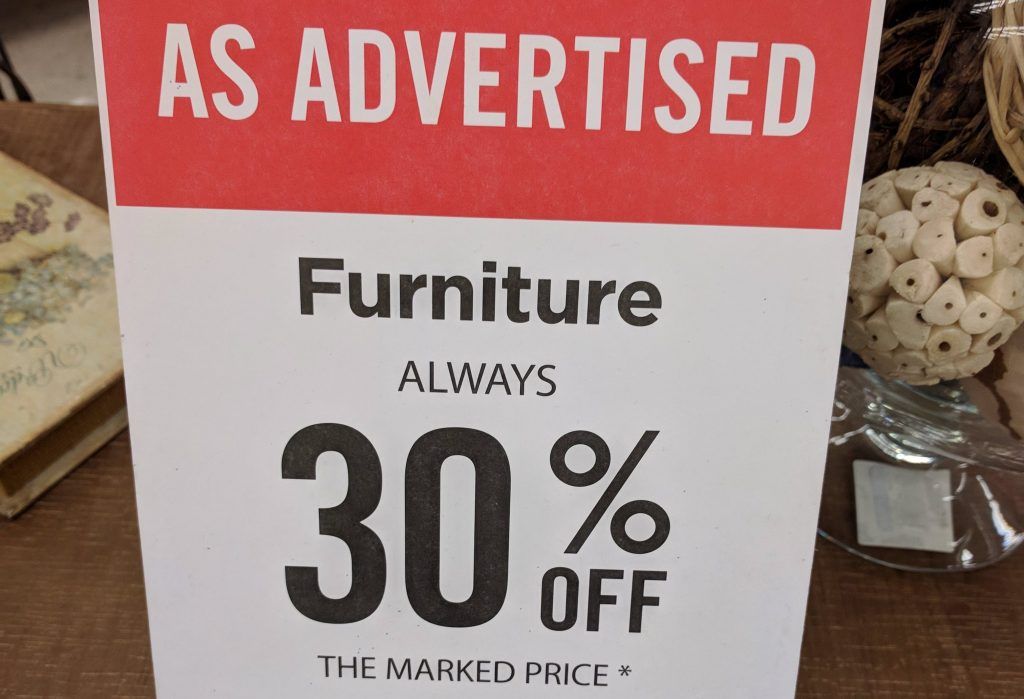 30% off doesn't seem like a real sale. Furniture, fabric, trees & plants and posters are always on 30% off. Instead of taking the sale price, you can save an extra 10% if you apply the 40% off coupon. You can ask the cashier to void the sale price since you'll be using a coupon. However, the furniture is now listed as "Your Price", meaning you won't be able to use your 30% off coupon. Check Home Depot coupons to save on your furniture instead.

5. Ask for a rain check
If a sale item (over 40% off) is out of stock, you won't need to ask whether they have extra stock since what you see is what they have. Instead, you can ask for a rain check. Next time you visit Hobby Lobby, they'll offer you the exact same price you're missing today.
6. Don't shop online. If so, wait for free shipping.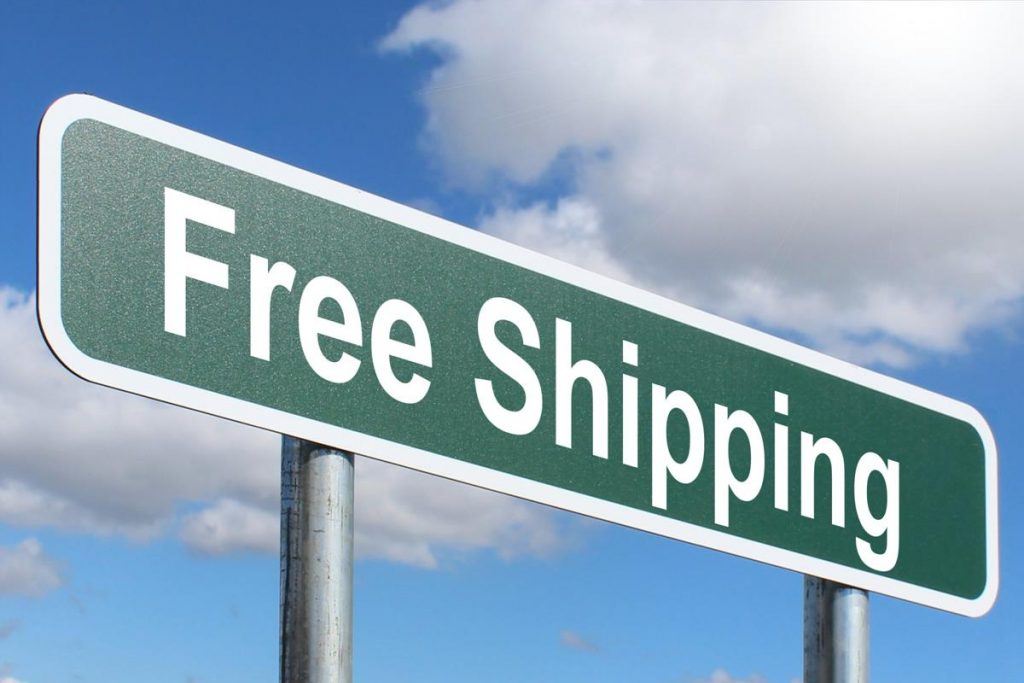 You'll have a better selection when you shop in store. Some items are not available online because they may be fragile or difficult to ship. Plus, there are some seasonal items in store that you can't buy online. The prices are basically the same and you won't need to pay the shipping fee.
If you must shop online, wait for a free shipping sale. Hobby Lobby offers free shipping on orders of over $50 several times a month. You can sign up for their emails to be alerted.
7. Ask for price adjustments if the price drops
If you're in a hurry to finish a project and there's no sale right now, don't worry. Keep your receipt and ask for a price adjustment within 14 days if the product is back on sale. Note that you'll need to bring both your receipt AND the item (even when you have used) with you.
8. Don't hesitate to return the items you don't like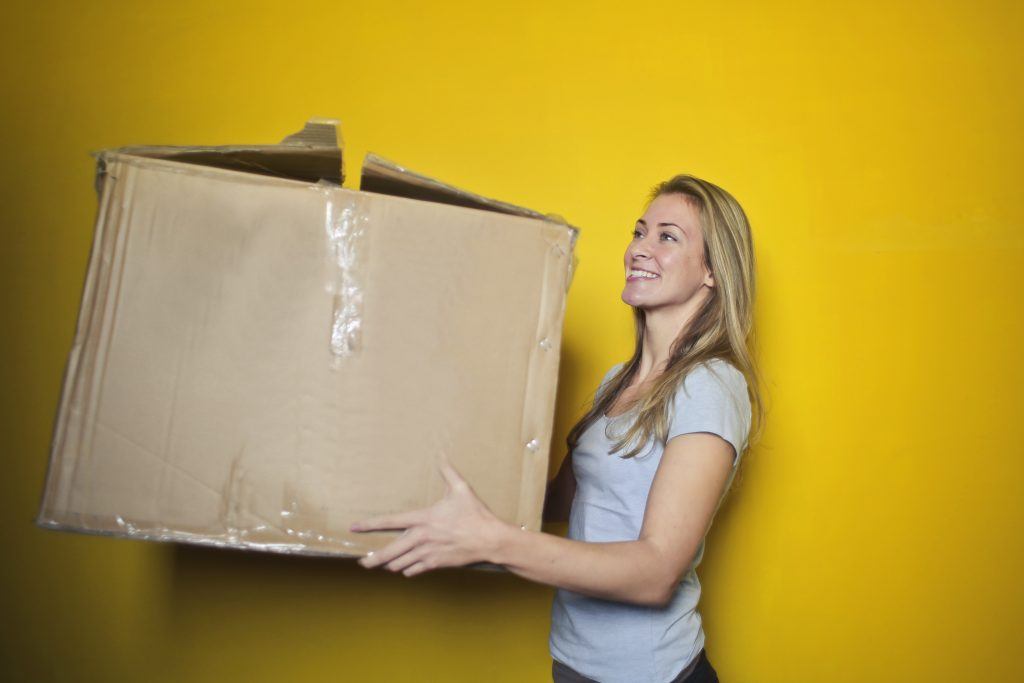 Whether you shop in stores or online, it's quick and easy to return your unwanted items. It would be a total waste of money if you keep something that you may not need.
For in-store returns, you can return the items within 90 days of purchase even without the original store receipt (based on the lowest selling price in the last 60 days).
For online orders, you'll need to complete the return form first and send the product back to Hobby Lobby.
9. Save an extra 10% if you're a charitable organization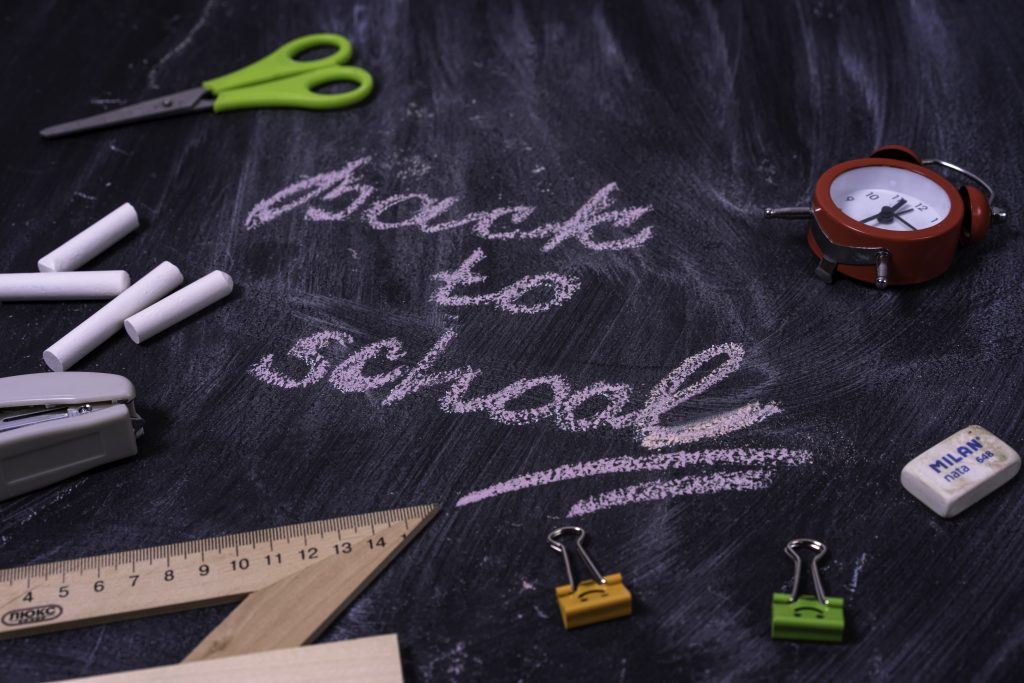 Hobby Lobby offers a 10% discount to churches, schools and national charitable organizations. The payment method is limited to an organization check or credit card. To enjoy this discount, please consult the local store manager first.
10. Get discounted gift card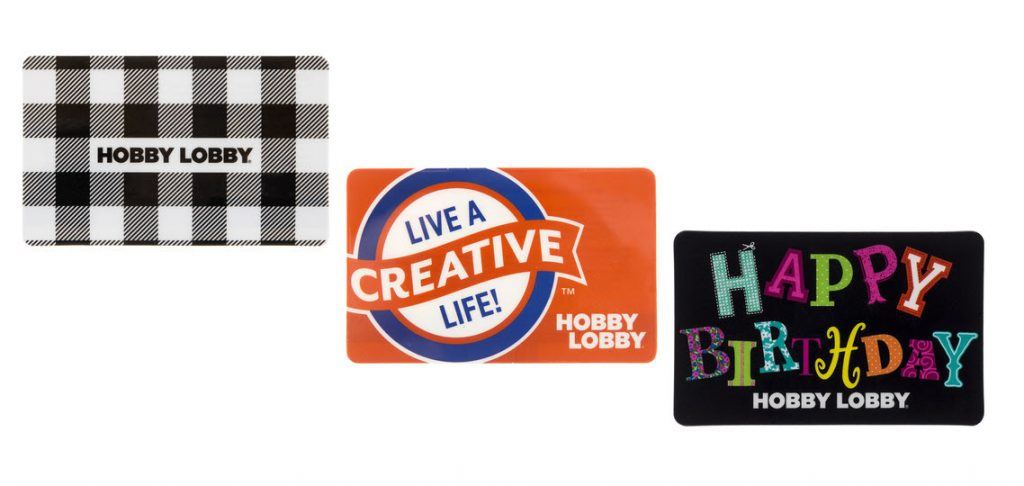 You can buy discounted gift cards from retailers such as Raise, GiftCardGranny or CardPool. Hobby Lobby gift cards can save you extra 5% to 7.5%. However, those discounted gift cards are always out of stock, so you can purchase it on eBay if you could find any elsewhere.
11. Be familiar with Hobby Lobby sale cycle
Besides Hobby Lobby clearance sales, which might save you 90%, you can save 30% to 50% if you know their sale cycle.
Once every two weeks
Floral – 50% off
Frames – 50% off
Paper crafts – 50% off
Ribbon & trim spools – 30% off
Once every three weeks
Needle art – 30% off
Crafts – 30% off
Art supplies – 40-50% off
Jewelry making – 50% off
Once every four weeks
Home décor – 50% off
Paper crafts – 50% off
Fabric – 30% off
Every two out of three weeks
Canvases – 50% off
Glass beads & hair accessories – 50% off
Every three out of four weeks
Some home decor such as candles, clocks etc.
These items are always on sale
Furniture – 30% off
Potted trees and floor plans – 50% off
Frames – 50% off
Best selling books – 40% to 50% off
Wearable art – 30 to 40% off
Party supplies – 30% off
Conclusion
You can always save 40% using their coupons both online and in store. The 40% off coupon updates every Sunday, but it doesn't mean you can only use one within a week. It allows a coupon per day per person. What makes Hobby Lobby even more affordable is their secret sales. Shop the clearance or wait for the largest sale by knowing their sale cycle. In addition, you can always save money with pricing adjustments and price matching.