How to Reduce PDF File Size — By 80%!

Want to reduce your PDF file size by a large percentage? The real method here — help you reduce your PDF file size even by 80%!
Suppose you want to share a PDF file with your colleague, or a PDF e-book with your friends, if the file size is too large, you would find it really slow to transfer the PDF to them. You would then feel frustrated.
Don't give up hope. You can compress your PDF file size before sharing. In this small guide, you'll learn how to reduce your PDF file size by a large percentage like even 80%. Sounds fantastic, isn't it? Read on…

To reduce your PDF file size by a large percentage, we highly recommend using Adobe Acrobat DC. It's a very popular and using-friendly software for viewing, creating and sharing your PDF files easy and quickly. Follow these steps to reduce your PDF file size:
1) Go to the Adobe Acrobat DC official website.
2) Click Get Started.
3) You'll be asked to sign in Adobe. You can choose to sign up with a new account for Adobe or just sign in with your either Google or Facebook account. Just select a way you prefer.
4) When you sign in Adobe successfully, the software would be downloaded automatically. Then double-click the downloaded .exe file to install it on your computer.
5) Run Adobe Acrobat DC.
6) Click File > Open to locate and open the PDF file you want to reduce its size.

7) Click File > Save as Other > Reduced Size PDF… when your file is open.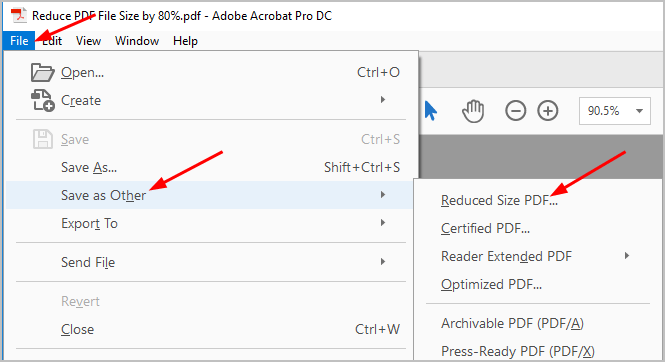 8) Click OK. You'll then choose a place to save your new PDF.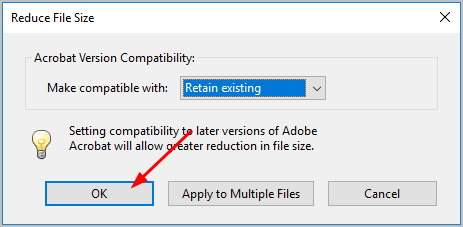 9) Adobe Acrobat should then start to reduce your PDF file size. Then you can share the new PDF file with a much smaller size.
Important: The Reduced Size PDF feature is only available in Acrobat Pro DC, you can have a 7-day free trail. If you love what it helps for you, you can buy it for ongoing using.