How to Make a Home Gym (Complete Guide 2023)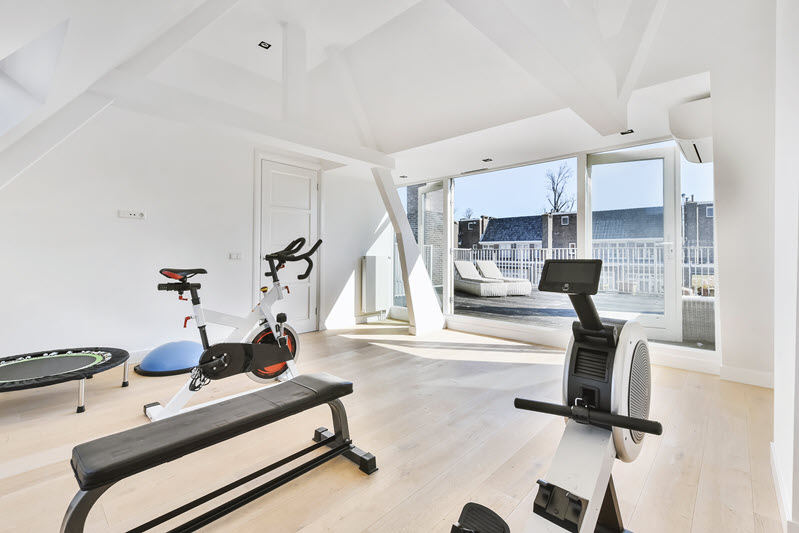 Building a home gym is a great way for you to achieve your fitness goal in 2023 while saving on the expensive cost of gym membership. From planning out the space to buying the right gear and picking up decoration, it's quite a challenging task. But don't worry. Following this guide, you'll be making your dream home gym within steps. And you don't have to break the bank!
Step 1 – Plan the workout area
To get started building a home gym, you should first plan a dedicated workout area. It could be the unused garage or basedment, a spare corner in your bedroom, living room, or anywhere in the house. You don't necessarily have to convert a whole room into a home gym. But if you get a lot of bulky equipment like treadmill or rower, or if you prioritize HIIT workout, the more spacious the space, the better.
Then you need to measure the space accurately, including the width, length and height. So you'll know what type of equipment would best fit.
Step 2 – Choose home exercise equipment
The next step is to add your favorite fitness equipment and accessories to the space. Depending on your fitness goals and budget, you could choose strength training machines to build your muscle or cardio equipment that helps you burn calories while improving heart and lung health. Or you can combine both to enjoy a varied training style.
1. Treadmill
Treadmill is a perfect choice for people who love running and walking. Although it takes up a large space, there are plenty of size options, and many treadmills are foldable.
Read more: 5 Best Treadmills for Home (2023 Reviewed)
2. Exercise bike
Riding an exercise bike is a fantastic exercise with many physicial and mental health benefits [*]. It helps burn your calories and strengthen your heart and muscles without putting much stress on the knee joints. 
3. Resistance band
Resistance band is an inexpensive and great accessory for a variety of full-body exercises, strengthening your muscle groups in arms, legs, chests and more.
4. Adjustable dumbbells
Dumbbells are always considered a home gym essential. Rather than a traditional whole rack, we recommend adjustable dumbbells for versatility and easy storage. With a wide range of weight loads for different body parts, it takes up less space. And it actually costs less in the long term if you progress fast and require heavier weights.
5. Yoga mat
A soft and quality yoga mat is a must-have for Yoga, pilates, stretching, and a lot of equipment-less exercises. Providing the right amount of gripping, it will protect your joints against the hard floor and keep you stable for the right poses.
6. Foam roller
A foam roller can not only help you prepare the body before workouts but also recover your muscles afterward, releasing tension and alleviating aches.
Step 3 – Complete your home gym
Equipment is crucial to a home gym but it's not everything. To make the space a real place that you'll enjoy spending time with, there are a few more things to do.
Install gym flooring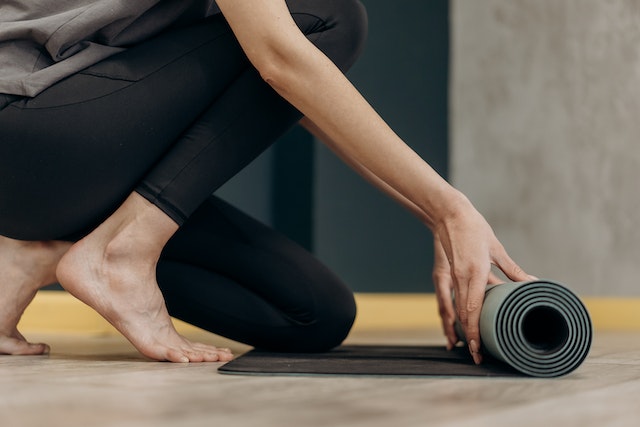 Flooring is important for a complete home gym, as it can not only protect your knees and other joints but also help avoid damage (and sweat drips) to your floor. Moreover, it will reduce the noise when you place heavy equipment like dumbbells or weights.
Interlocking tiles made of rubber or EVA foam is considered the best home gym flooring. Specially designed for workout space, they are heavy-duty, easy to clean, and can be installed and removed individually to suit any room. Alternatively, you could buy horse stall mats in local stores. At a cheaper price, it's capable of withstanding any strenuous exercise and provides excellent gripping as well as shock protection. Horse stall mats, however, are notorious for strong and horrible rubber smells, so you'd better let it air out before using them.
Set up entertainment options
If you love listening to music while working out, it's a good idea to put a soundbar, a pair of speakers or a radio in the home gym. It's also a good idea to install a TV to the wall, so you can better follow the video classes or stream your favorite shows to get distracted from the long tedious cardio workouts.
Add inspiring decoration
Many people find it difficult to stick to an exercise routine at home. But by adding some personalized elements, you can make the home gym more inviting and enjoyable. For example, you can decorate the room with a photo of your favorite team, scenic pictures, or whatever will get you motivated and inspired. 
A full-length mirror is also useful. It allows you to monitor your form and ensure you're practicing correctly, and makes the space look more spacious.
Pay attention to the lighting
Lighting will affect the space atmosphere as well as your physical performance. Natural light from large windows is always the best to boost your energy levels. For windowless spaces or if you usually exercise after dark, the full-spectrum LEDs will do the trick. It imitates natural daylight and uses less electricity.
The lighting should also change depending on your workout type. Softer and dimmed lighting feels relaxed and fits better with exercises like yoga or Pilates, while high-intensity cardio will require sufficient and bright lighting.