How To Look Up License Plate Owner | License Plate Owner Lookup
Find who owns a car anonymously by license plate number or VIN.
If you have a license plate number, can you find the license plate owner's information? Is it legal to look up a license plate owner? Don't worry, this post will give you the answer.
Is it legal to search for a license plate owner?
No, it's illegal to look up a license plate owner in the US. The US has the DPPA (Driver's Privacy Protection Act) which prohibits the looking up of information based on license plates except for some specific reason. As an ordinary citizen, you don't have the right to look up the license plate owner.
If it's a hit and run or you want to report a bad driver, you can tell the police and let them do the work.
What information can a license plate give?
When you run an online license plate search, you can get the information related to the vehicle:
Vehicle specifications
Vehicle accidents records
Recalls and warranties
Market value
Fuel efficiency
Indicators of potential auto fraud and theft
How to search vehicle history by license plate
1. Search license plate on BeenVerified
There're many websites that indicate they provide a free license plate lookup service. However, free lookups usually can't give accurate information, some may get your personal information to send you harassing emails or messages. You get what you pay for, so we recommend a reliable and powerful vehicle lookup website — BeenVerified.
BeenVerified is a professional vehicle lookup website that allows you to use license plate numbers and VIN numbers to search vehicle history records. If you don't have specific information, it allows you to run a rough search with Year, Make, and Model. Back up by billions of real-sourced data, both from governments and the public, the search engine will provide you with a detailed and accurate report.
Here is how to use BeenVerified to run a license plate lookup.
1) Go to BeenVerified Vehicle Search.
2) Type the license plate number, select its state, then hit SEARCH.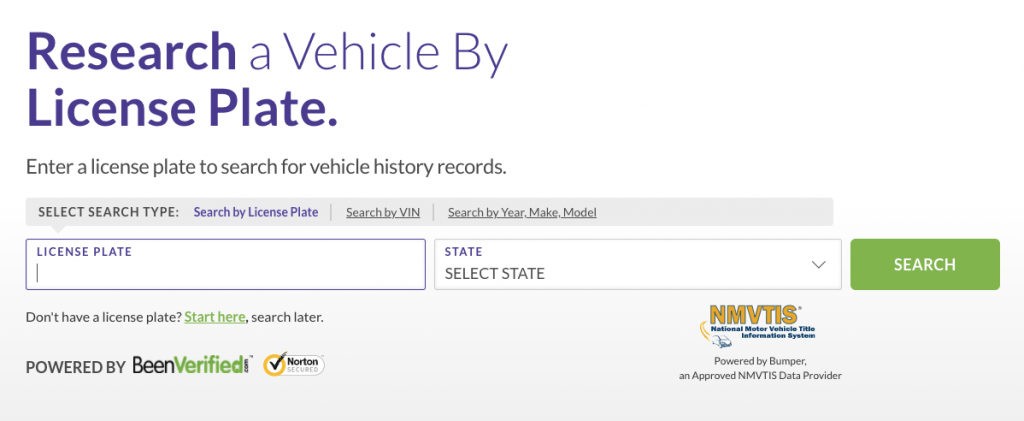 3) Wait a few seconds as BeenVerified searches its millions of vehicle records in its database and generates a report for the vehicle for you.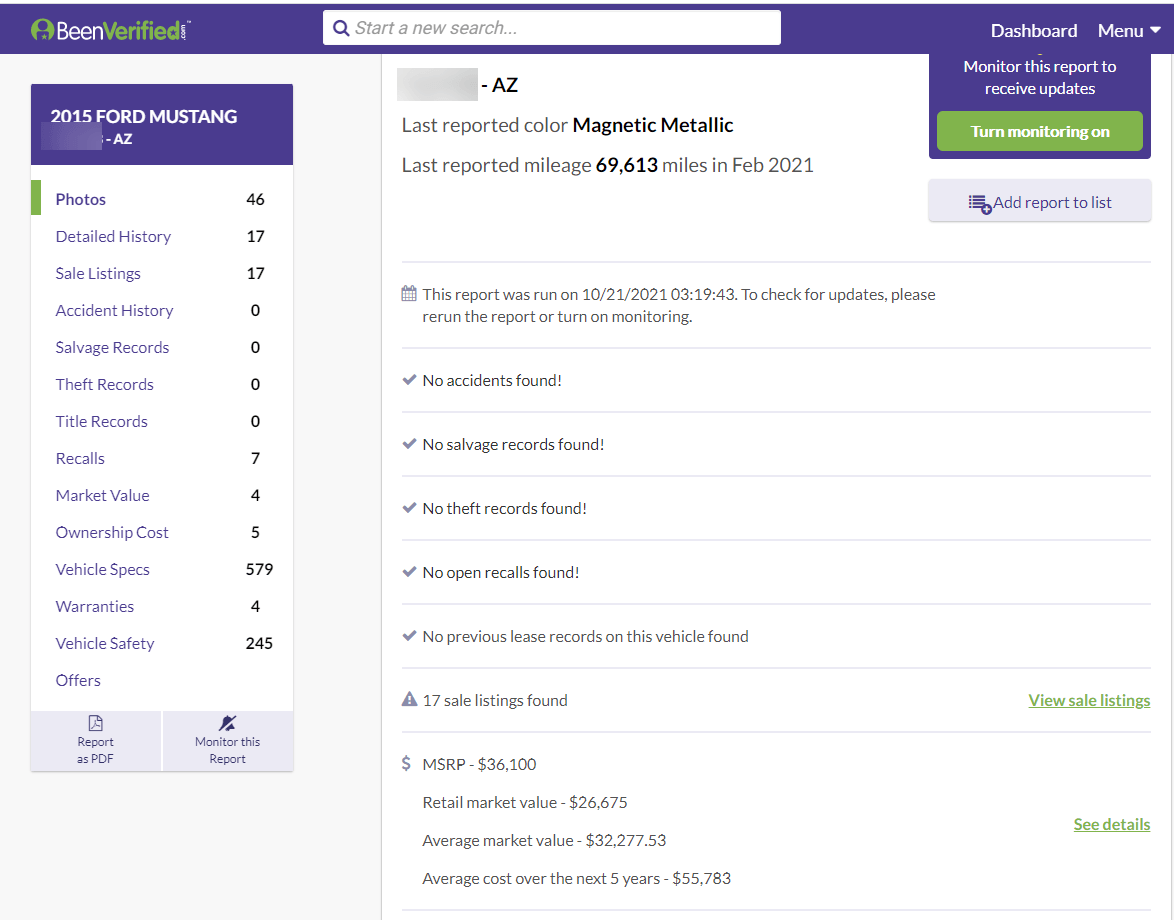 2. Contact DMV
Department of Motor Vehicles (DMV) provides information related to the license plate. Go to DMV's official website the state, and type the license plate on the search bar. Then you'll get information about the registration date of the vehicle, the model, the vehicle specification, etc.
But the service comes at a fee. And DMV doesn't provide personal information such as the name, phone number, or address of the owner of the vehicle.
3. Run Bumper search
To learn more about a vehicle you own or plan to buy, you can use Bumper to research a vehicle by the license plate. Bumper can help you know a vehicle's accident history, salvage, and theft records. It's also a great tool to help you compare the two similar vehicles. With the help of their cost data and 150+ data points of vehicle specs and recalls, you can make a wiser decision.
1) Go to Bumper.
2) Click SEARCH BY LICENSE PLATE, then enter the License Plate and select the State. Click SEARCH.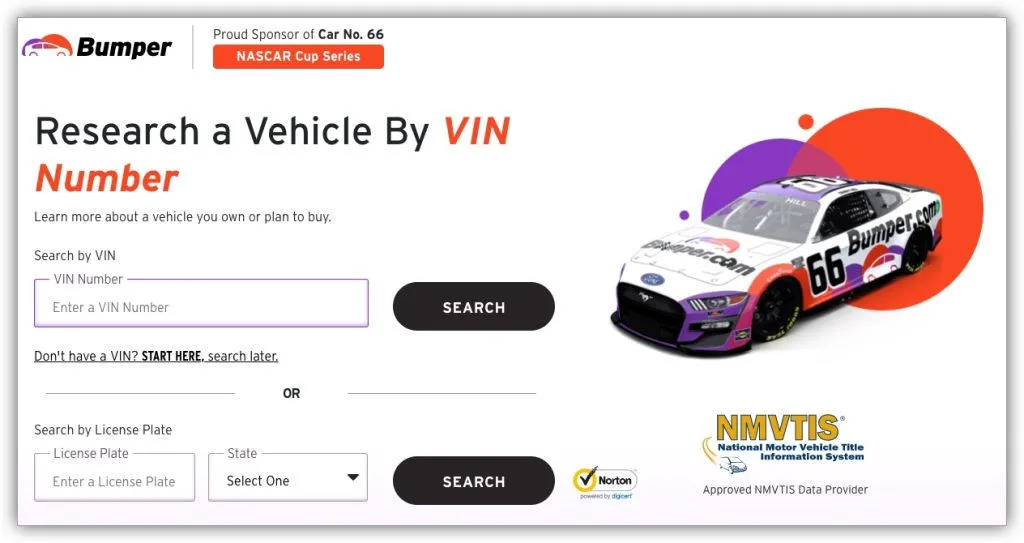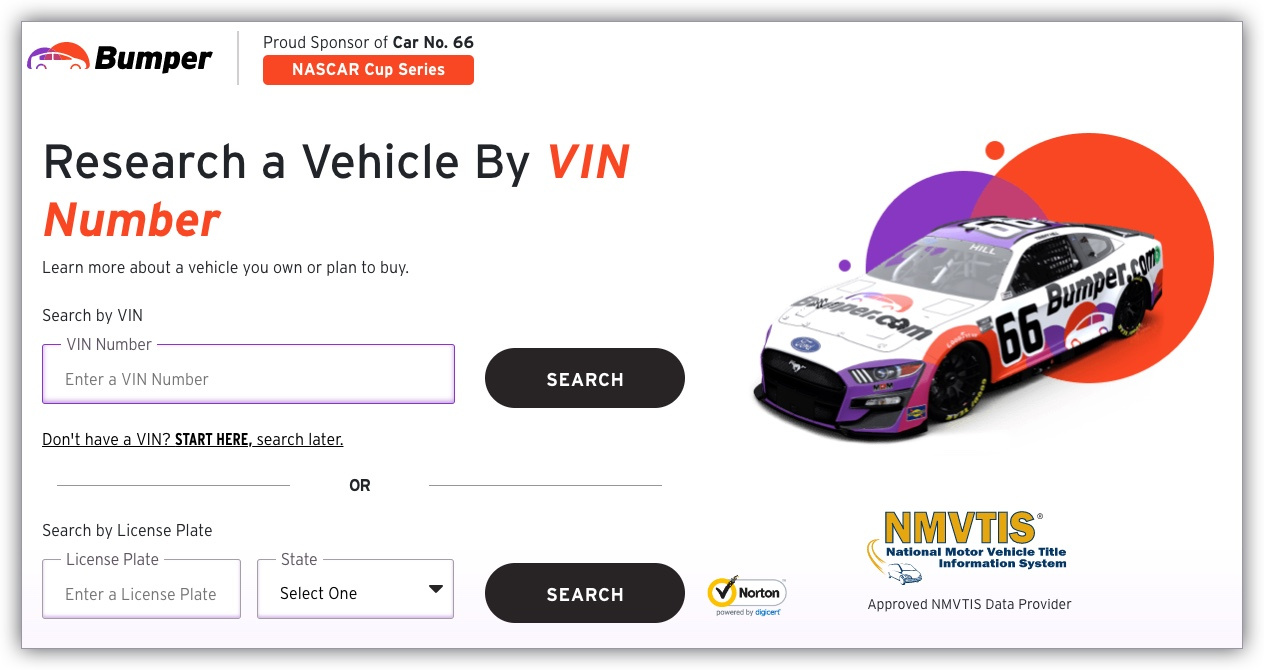 3) Bumper will search on its database and give you a report that contains the information you need.
Conclusion:
Looking up a license plate owner is illegal, if you encounter an accident, turn to the police for help. But you can run a license plate search before buying a second-hand car. Knowing a vehicle history would help you know better about the car and get a good deal.
License Plate Owner Lookup
Unlock car history and previous owner with license plate.
Search