If you're a fan of K-dramas, you may already know Viki. If this is your first time hearing about Viki, it's a streaming website where you can watch thousands of Asian dramas with subtitles, even the latest ones on air. It's available in the United States, Mexico, and 14 other countries.
You may also like: [SOLVED] Viki Content "Not Available in Your Region"
Although Viki contents are not subscription-only, having a Viki Pass will allow you to access all the available shows ad-free. In this post, we're gonna show you: how to get Viki Pass for free, if you don't have one yet, and how to pay less for your Viki Pass. Keep reading and don't miss the deal!
Do I have to pay for Viki?
You may be wondering, is Viki just like Netflix or HBO? Do I have to pay for it to watch the contents? The answer is a Yes, and a No.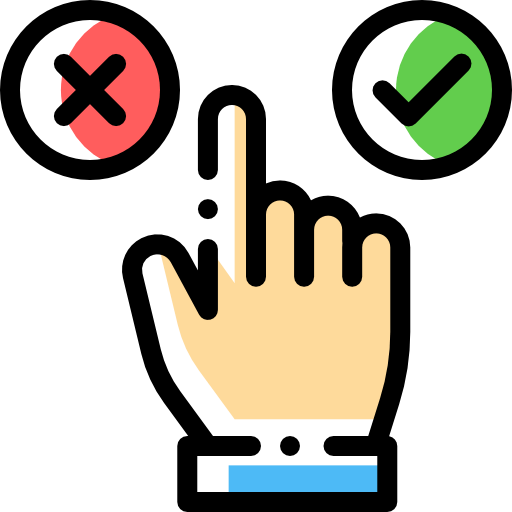 ? You can access the Viki website or its app for free, unlike many streaming services that require a subscription to view their TV show lists. In fact, you don't even need an account to watch the free content!
If you're wondering what are the free shows on Viki, simply filter for Watch Free when you do a search. The shows that are labeled as Watch Free are completely free, and the ones labeled with Free Episodes will be partly free.
? But here's the downsides. You will get loads of ads while you watch any show without a Viki Pass, which can be extremely annoying. Plus, the free contents are quite limited. Sometimes when you watch the first few free episodes of a show and find it interesting, you may end up getting the Viki Pass anyways. So, read on to find out how to save money on a Viki Pass!
How do I get Viki Pass for free?
1: Sign up for a 7-day free trial
2: Apply to be a Qualified Contributor
1: Sign up for a 7-day free trial
Viki offers a 7-day free trial for all new customers, so why not make use of it? Note that there are two type of Viki Passes, Standard and Plus, and both of them have free trials. I recommend trying the Viki Pass Plus because you can access all the latest content without any waits!
Steps to get your free trial:
Visit Viki's official site, and click Create Account at the top-right corner of the webpage.
After you created your account, log in and head back to homepage.
Click Get Viki Pass at the top-right corner of the page.
Choose Viki Pass Standard or Plus, and click Start 7 days free trial.
You'll be directed to the checkout page (don't worry, you won't be charged until the trial ends and you can cancel the subscription at any time.)
Fill out the information, and you're done! Now you can enjoy the dramas and variety shows on Viki!
2: Apply to be a Qualified Contributor
As briefly mentioned above, Viki provides subtitles for their audience in many languages. Most of the work is done by volunteers in the Viki community, also called the Qualified Contributors (QC). QC members are eligible to get rewards including a free subscription to Viki once their QC status reaches the tier. Below is what's included in this reward system: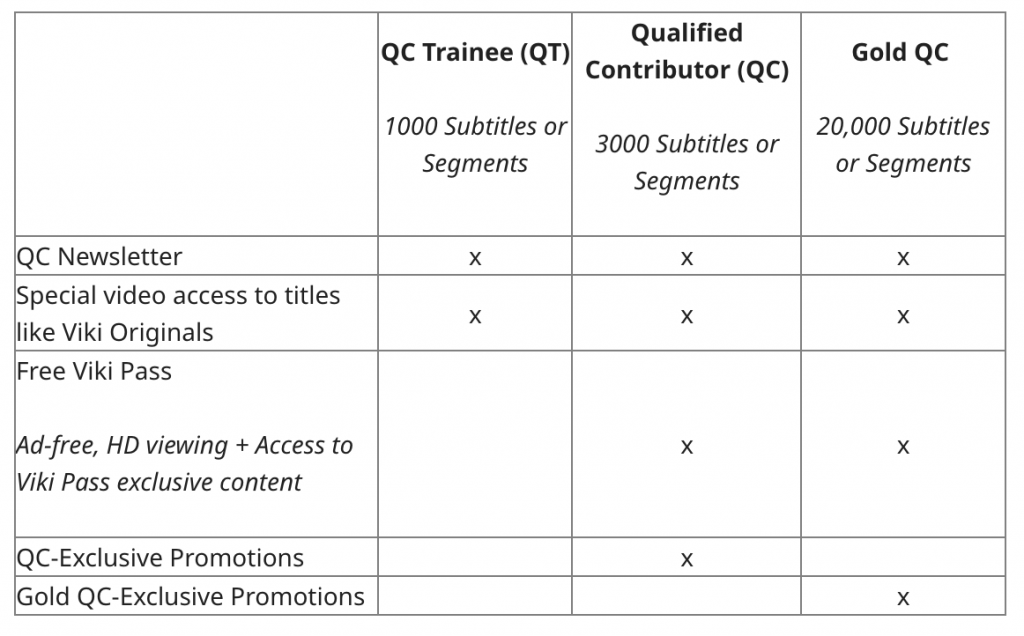 If you want to make some contribution and gain your reward, here's what you should know and what you can do:
The two main roles you can apply for are segmenters and subtitlers.
Go to the Viki Volunteer Community page, and click Get Started at the top-right corner. You'll be prompted to log into your Viki account and directed to your Viki Community dashboard. There will be a few guides for you to read.

If you're interested in contributing a specific drama, go to its Viki page, and click Subtitle team. You can either look for recruiting notice or send a message to the channel's manager/moderator for inquiry.

Or, you can use the Project Finder or browse the volunteer discussion forum for open projects.
As shown above, you will need to make some progress before you're certified as a Qualified Contributor to gain the free Viki pass. I would recommend this method to earn your free Viki pass if you have enough spare time for it or you're interested in subtitling!
Can I spend less money for my current Viki subscription?
? Of course you can! The three ways below would work 100% for everyone:
1: Search for coupons automatically
If you're on a monthly bill, consider canceling it then repurchase your Viki Pass with coupons! You can use Coupert to search for available coupons for Viki automatically, and save some $$$.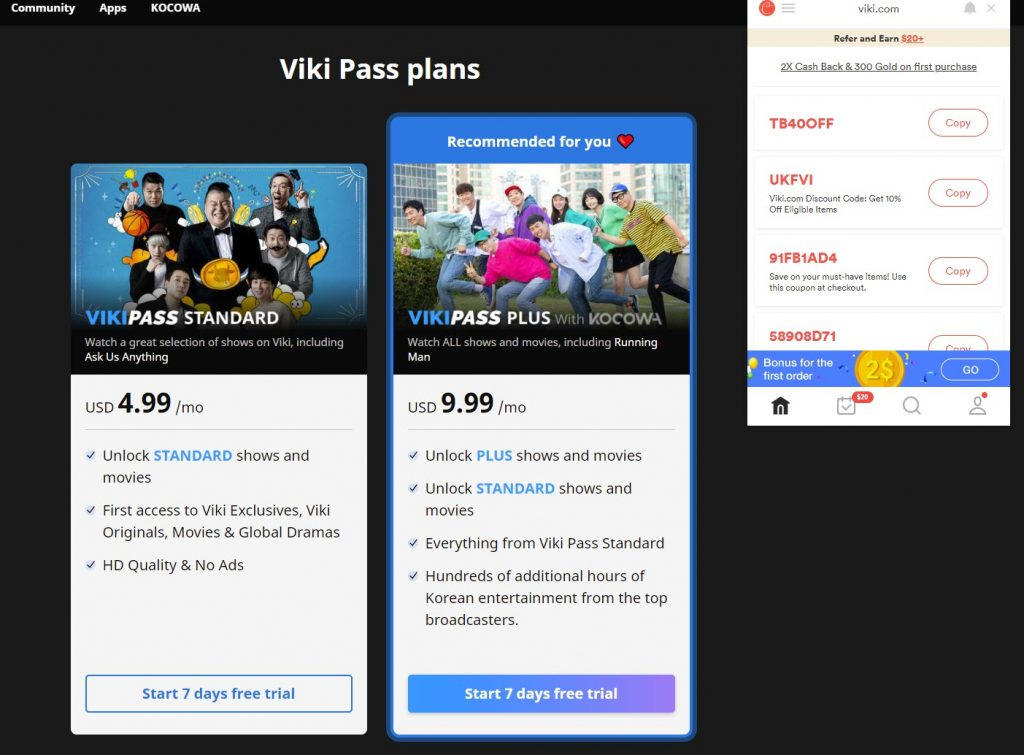 Coupert is a browser extension that tells you when there are coupons available for the site you're on. Once you've signed up and installed the extension (for Chrome, Firefox and Edge), you just shop as you normally do. When you visit a site with available coupons, the extension will pop up an alert. You can copy the codes, or just click 'Apply Coupons', and it will try them all to find the one that gives you the best discount, then apply it for you automatically. So you get the best available discount without even lifting a finger!
2: Share your account with family & friends
As for now, Viki does NOT limit the number of devices that one account can be used on. That said, you can share a Viki pass with family or friends and split the bill! You'll all be able to watch Viki contents at the same time, no matter how many devices it's used on.
3: Create your Watch Party
One amazing feature on Viki is that you can create a Watch Party and watch the show with your friends as if you're chilling together in the same room!
This feature is sort of like sharing your screen. For free shows, everyone only needs a Viki account to use this feature. For subscription-only content, the host needs to own a Viki Pass. This way, you can also split the cost of a Viki Pass. Plus it's definitely more fun to binge some shows with friends!
Steps to create your own Watch Party are quite simple:
Log into your Viki account, and choose the show you want to watch with your friends.
Click the popcorn-like icon.

You can name your Watch Party, then click Create Watch Party.

Now you can copy the link and share it to your friends!

Bonus: alternatives for Viki
As we know, Viki is known for its diverse collection of Asian TV dramas, especially Korean dramas, as well as the delicate translation in multiple languages. Given this, two alternatives that are similar to Viki are Viu and Netflix.
Viu is pretty much the Asian version of Viki. It also has a large library of Asian Tv shows, especially Korean content. But it's only available in some countries and regions in Asia, Middle East, and South Africa.
In terms of Netflix, it has a growing number of Asian content, with a large proportion of Korean and Japanese dramas and variety shows. Although it doesn't cover as many shows as Viki does, Netflix is doing a great job by adding the popular ones into their library as well as creating their originals (Viki has originals too.) When it comes to translations, many users seem to prefer Viki. Netflix's translations seem to be easier to understand, while Viki's translations can be more accurate, fun, and seem to have some nuance.
Conclusion
You can get your free Viki Pass by signing up for the free trial, or become a Qualified Contributor to earn the reward. Also, you can reduce your Viki Pass bill by using a promo code, sharing the account with others, or make use of the Watch Party feature.
Hopefully this article is helpful! Don't forget to grab the deal and enjoy the latest Viki shows! Please leave a comment if you have any questions or suggestions.
---
Attribution:
Icons made by Freepik from www.flaticon.com