Get Thrive Market Free Membership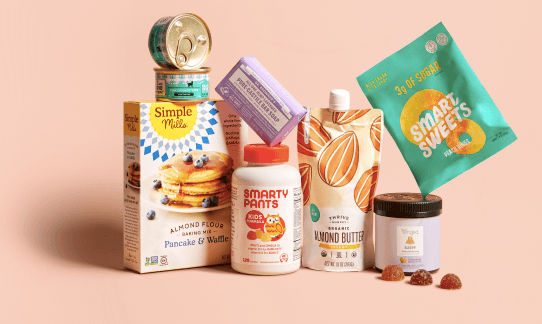 Thrive Market is a membership-based online grocery store. This market curates the best organic, non-GMO groceries, beauty, pet supplies and cleaning supplies. The price is great but the retail prices only face to its members. You need to become the member to enjoy the price and services.
This post will tell you why choosing Thrive Market and how to get free membership. You're able to take the free membership in stride.
Why Thrive Market
Thrive Market aims to make healthy living easy and affordable for everyone. This online retailer provides wholesome food at wholesale prices, their products at a discounted rate of 25% to 50% off retail prices to its members. Thrive Market also has low-price promise to their members.
What can you get from Thrive Market?
25-50% off retail prices for wholesome products
Free shipping on orders over $49
Carbon-neutral shipping
There are over 6000+ wholesome food, home and beauty products on Thrive Market for members. Brands including Burt's Bees, Milkadamia, Annie's and Primal Kitchen. Thrive Market offers food that made of real ingredients, safe for the environment, fairly prices, created for members needs and delicious. Thrive Market work work key industry watchdogs to identify partners who catch sustainable and traceable seafood.
Then members will enjoy the carbon-neutral shipping, 100% recyclable packaging and zero-waste warehouses.
How much does a Thrive Market membership cost?
The membership has 2 options: a yearly basis for $59.95 or a monthly basis for $9.95.
You'll get free shipping on your first order over $25, plus all orders over $49. Items can be returned for a refund within 7 days of delivery. Certain perishable products are not eligible for refunds.
If you're on a diet or spend a lot of time searching for healthy foods like organic products and non-GMO products, Thrive Market is right here to help.
How to get free membership
Thrive Market is a great choice for people who concern about food quality, sometimes the products are cheaper than Costco and Amazon. It's totally worth to get Thrive Market membership. And there're ways to get membership for free.
1. Try free trial
Thrive Market offer risk-free 30-day trial membership, you can cancel at anytime.
Please note Thrive Market won't remind you that your free trial has ended or the paid portion of your Membership has begun. So don't forget to cancel the membership before the last day, all membership renew automatically for the membership term.
The only way to cancel membership is to chat with Member Services team.
After your 30-day free trial, if you're a teacher, a student or a veteran, move to the next part to apply for free membership.
2. Apply for free membership
Thrive Market membership provides a free membership for low-income family, student, teacher, veteran, active member of the military or a first responder. They use ID.me to verify the status of applicants.
If you or your family member is qualified, follow the steps below to apply for a free membership.
1. Open the website.
2. Enter your email address and choose an option. Then click Apply for your free membership.
3. Finish the whole process and become a member.
4. Start shopping on Thrive Market.
More ways to save at Thrive Market
Don't rush to quit the page after you successfully join the membership, there're ways to save more at Thrive Market.
1. Get Thrive coupon
When you become a member, you can get 25% off for your first order (up to a maximum discount of $20). The discount is automatically applied at checkout.
Search some coupons before shopping on Thrive Market. New deals are always online.
Copy the coupon code and back to the Thrive Market website. Click your cart, then click Checkout. Paste your code below the billing address and apply your code. After your code is applied, you'll see your adjusted total.
2. Get Thrive Market cash back
Thrive Market provides cash back products that you can earn Thrive Cash back after purchase. It's a simple way to get rewarded for buying the products you like.
Except for purchase specific products, you can refer your friends and family to your website to earn Thrive Cash. Each person that becomes a paid members earns you $25 Thrive Cash.
What's more, submit a review of an eligible products will be rewarded with Thrive Cash.
Thrive Cash will be automatically applied at your next checkout and you don't need to do anything. But it's not redeemable on Gift cards or memberships.
---
That's it! Here's everything about Thrive Market free membership. If you have any questions or suggestions, you're welcome to leave your comment below.