How to Get Sephora Birthday Gifts and Gift Cards Free in 2023
Sephora is many customers' go-to for high-quality makeup, skincare, and body care. Just like many other shops, they give you access to Birthday Gifts! If you're wondering what is included in the gifts this year, this post is for you. In this post, we'll tell you how you can get your birthday gifts. Apart from this, you'll get to know how to get a Sephora gift card for free.
Sephora birthday gifts in 2021 and how to get them
Sephora birthday gifts in 2021 include NARS, LANEIGE, Moroccanoil, and Rare Beauty by Selena Gomez mini set. To get them, you need to become a Sephora Beauty Insider.
Sephora Beauty Insider is a free-to-join program. When you sign up, you'll have access to the following perks:
Rack up points with each purchase (earn 1 point per $1 spent)
10% off every 500 points you earn during Sephora Seasonal Savings Events
Get samples from the Rewards Bazaar section (new samples drop on Tuesdays and Thursdays at 9 am PT)
Birthday gifts
During the month of your birthday, you can redeem your gifts. No purchase is necessary if redeemed in-store.
For the points you add up, they won't expire unless you aren't active at Sephora for 18 months. To check how many Sephora points you've earned, just log into your account and click on your profile at the top right. Then you should see the words Rewards Bazaar followed by your current points balance.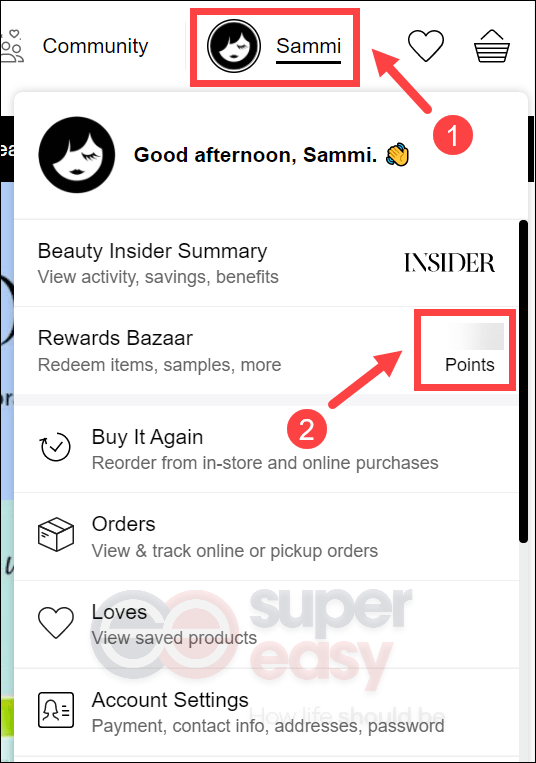 How to get Sephora gift cards for free
Claiming a Sephora gift card doesn't necessarily mean that you have to pay for it. There are tons of ways to get it for free. One of them is to rack up points by doing surveys and participating in some activities. When you gather a certain amount of points, you can redeem them for a free Sephora gift card. Below are some platforms where you can earn points to claim a free gift card.

1. Toluna
Toluna is a veteran survey site where you take various surveys to earn points and redeem them for gift cards or money. Much like other survey sites, joining Toluna is completely free! If you have enough time to spare and have strong consumer-driven opinions about products, definitely check out this website. If you rack up 45,000 points or more, you are able to redeem a $15 Sephora eGift card.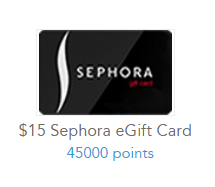 2. Swagbucks
From Swagbucks, you can earn SB (Swagbucks) Points by completing surveys or playing free games. Moreover, you can invite your friends and families to use Swagbucks. When your referral earns 300 SB within their first 30 days, you and your referral get a 300 SB Bonus. When you accumulate more than 1,000 points, you can redeem them for a free Sephora gift card. Points needed to redeem a gift card are shown below.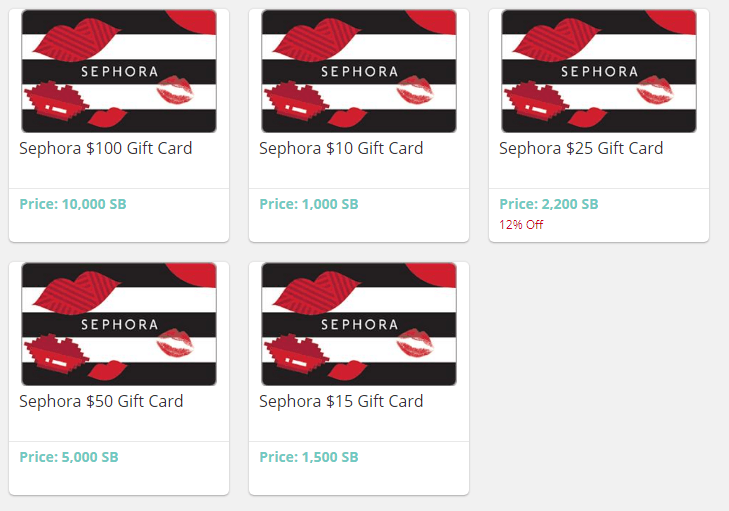 3. Survey Junkie
Apart from Toluna and Swagbucks, you can try Survey Junkie to earn points by taking surveys. Once you reach 1,00 points, you can cash out your points for a $10 gift card. The higher the points, the better the rewards.

You might also like: Sephora free shipping codes in 2021
If you're cosmetic-obsessed, you should snag a promo code before checkout. From Sephora's Beauty Offers page, you can take advantage of all the discounts and deals.
But offers aren't always available every time you shop on Sephora. You need to look for promo codes from other sources. Some coupon finders such as Coupert and Honey can actually help you. Both of them are free and legit browser extensions that automatically tell you when there are promo codes available when you shop on Sephora.
Tip1: get Sephora promo codes with Coupert
With Coupert, you don't need to bother searching for working promo codes and you can even earn cashback. To access these perks, follow the instructions below.
Add Coupert to your browser.
Head to sephora.com and click on the Coupert icon at the top right corner. Then shop as usual. Upon checkout, you'll receive an alert telling you if there are available coupons and then it will apply the best discounts for you automatically. If there are no codes showing up, click on the Coupert icon at the top right.



Then you will see all the available promo codes. (Additionally, for each order Coupert gives you a certain amount of cashback. Once the cashback reaches $10, you can cash out to PayPal.)

Apart from getting coupons and earning cash back, you can take advantage of its referral program to get $20!


Tip2: use Honey to find promo codes
If you don't really enjoy using Coupert, here's an alternative for you – Honey, another coupon finder that helps you get the best discounts. All you need to do is add Honey to your browser extension. Then shop as usual. When you're on the Sephora webpage, click on the Honey icon and you'll see all the available coupons.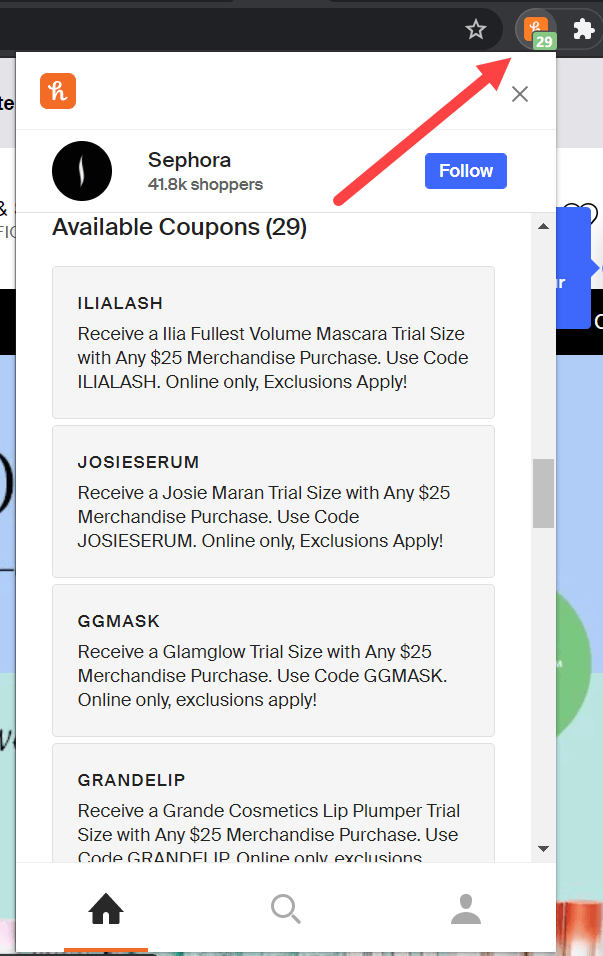 *featured image by Amy Shamblen on Unsplash