Love pizza? Then you're probably using Papa John's to enjoy the ease of ordering delicious pizza for delivery or carryout. Undoubtedly, food makes us happy. But free food or food at a discounted price can maximize that feeling, right? Continue reading to learn how you can always score a great deal and even free pizza at Papa John's.
How to get valid Papa John's promo codes
Using working promo codes is definitely one the best ways to reduce the total price of your purchases. To score a Papa John's promo code, you can either check the Specials section from the official website to get a deal or use a trustworthy promo code finder such as Coupert and Honey.
Option 1: Check the Specials section from papajohns.com
A fast and easy way that will almost always save you money is to check the SPECIALS section. If you don't have specific items to purchase in advance, definitely check this section.



Option 2: Use a promo code finder
To find available promo codes, you can simply do a search online. But you may waste your time searching for a valid code. Because chances are the Papa John's promo code you found is not working. Or you're not eligible for redeeming it as terms and conditions apply. This will take time to test the validity. To save you the hassle, we recommend you use a promo code finder that will automatically detect any codes or deals that are available and then help you apply the one that can save you big.
1. Try Coupert to get the best deal
Coupert is a free and legit browser extension (available for Chrome, Edge, and Firefox and is not restricted to certain regions) that helps you find and verify all the codes automatically. With Coupert, there'll be no more searching for codes, and you can always get the best deal on Papa John's and other stores. Additionally, for each order Coupert gives you a certain amount of cash back. Once the cash back reaches $10, you can cash out to PayPal.
To enjoy these perks, you just need to …
Add Coupert to your browser.


Head to papajohns.com and log into your account. Then order your food. Upon checkout, you'll receive an alert telling you if there are available promo codes and apply the best discount for you automatically. If there are no codes showing up, click on the Coupert icon.



Then you will see all the available promo codes.

When you use Coupert, you can also take advantage of its referral program to get $20!


2. Try Honey to get the best deal
Honey is another free browser extension that searches for some of the best deals on the internet. It helps you search for and test available promo codes at checkout. If it finds a working code, it will then apply the one with the biggest savings to your cart like magic. So definitely install this browser extension before you place your order on Papa John's.

Tips: How to get free Papa John's pizza
When you're using an online service, you may be wondering if it's possible to claim freebies. The answer varies based on which store you're visiting. But for Papa John's, the answer is YES. You can actually get free pizza – by joining the program Papa Rewards and using a gift card that is free-to-claim.
Method 1: Join Papa Rewards to get your birthday gift
If you're a pizza enthusiast, you should join Papa Rewards, a free-to-join program that comes with perks:
Get one point for every $1 you spend online or at the store (points can be redeemed for papa dough. )
Birthday gifts
When you're a member, you'll receive a free dessert from Papa John's. You'll receive notifications on your birthday that your free gift has been delivered into your account. Be sure to redeem it before the offer expires (expires after 14 days).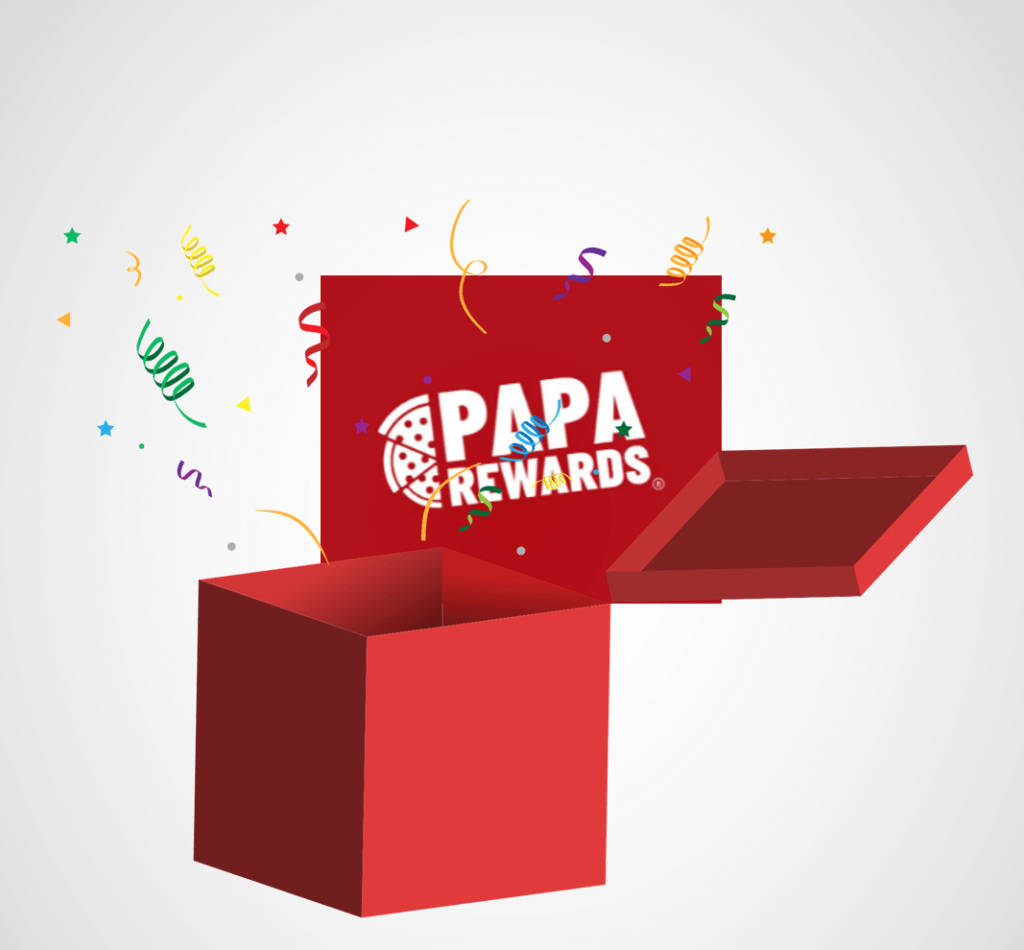 Method 2: Claim a Papa John's gift card for free
Apart from taking advantage of the Papa Rewards program, you can actually get free pizza by claiming a gift card that is free of charge. Papa John's gift cards can be used when in-store or online when you're requested for payment at checkout.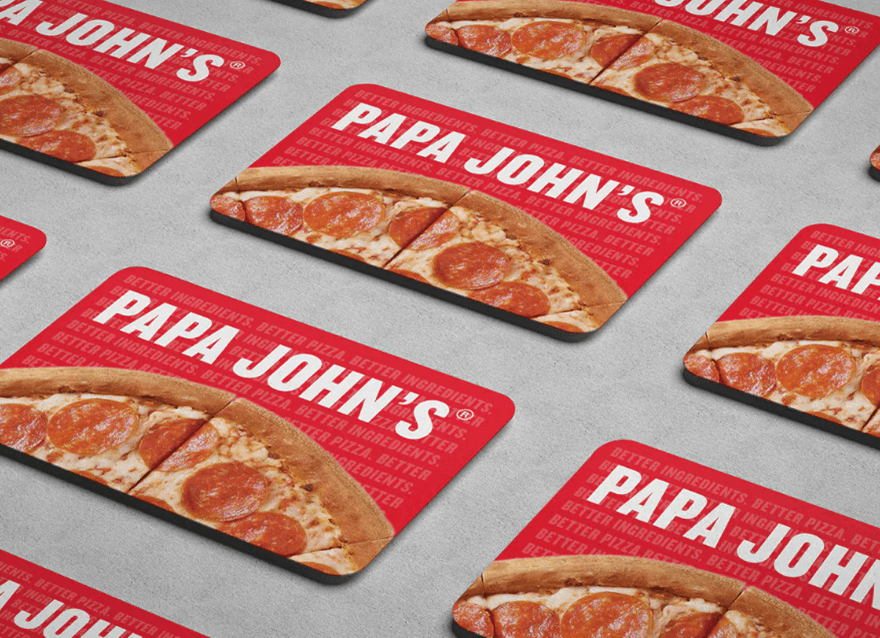 Earn points by doing surveys to redeem a gift card
A number of paid survey websites allow you to rack up points by doing surveys and participating in some activities. When you gather a certain amount of points, you can redeem them for a free Papa John's gift card. Platforms that offer Papa John's gift cards are:
1. Toluna
Toluna is a veteran survey site where you take various surveys to earn points and redeem them for gift cards or money. Much like other survey sites, joining Toluna is completely free! If you have enough time to spare and have strong consumer-driven opinions about products, definitely check out this website. When you earn 75,000 points, you can redeem a $25 gift card.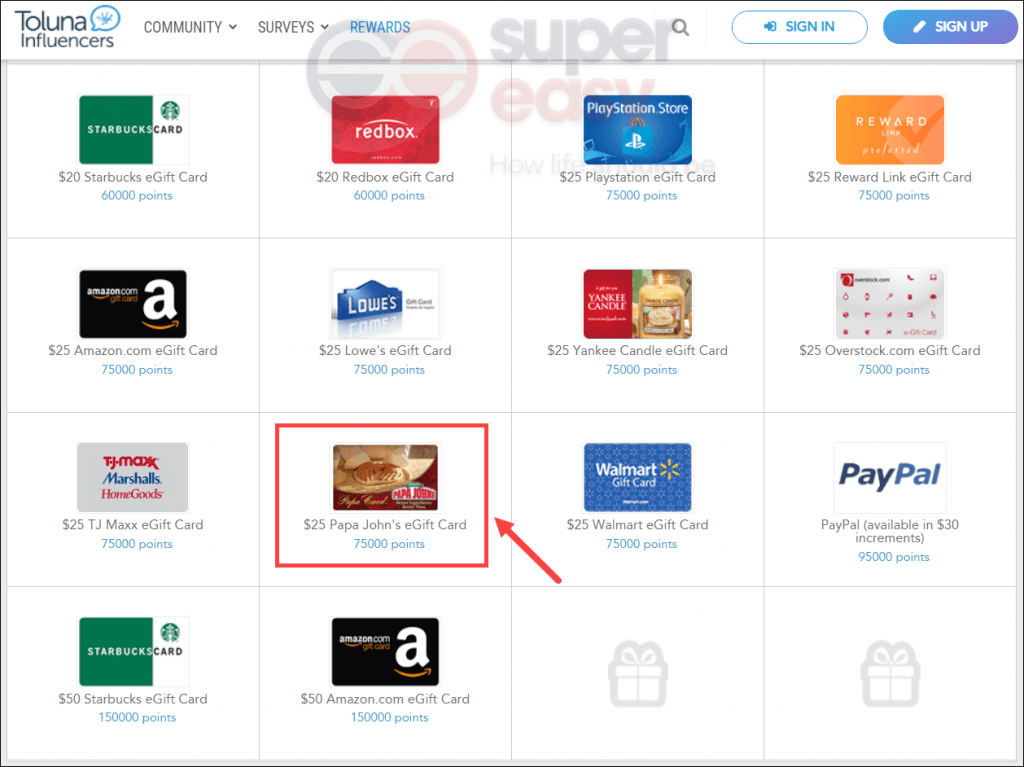 2. Swagbucks
Another website to earn points is Swagbucks. From Swagbucks, you can earn SB (Swagbucks) Points by completing surveys or playing free games. Moreover, you can invite your friends and families to use Swagbucks. When your referral earns 300 SB within their first 30 days, you and your referral get a 300 SB Bonus. When you accumulate more than 500 points, you can redeem them for a free Papa John's gift card. Points needed to redeem a gift card are shown below.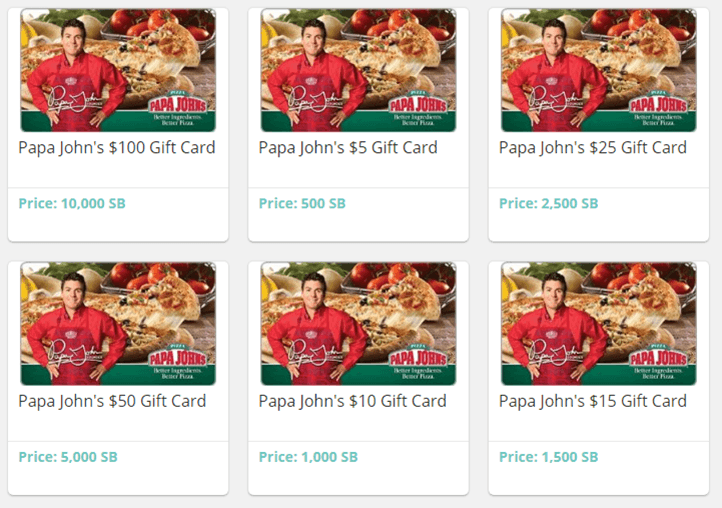 ---
Hope this post helped you get the best deal and score freebies from Papa John's. If you have any ideas on saving big, feel free to write them down in the comment section below.
*featured image from papajohns.com